Revry takes us up close and personal in the kitchen with Jonathan Bardzik!
On May 21, 2021 global LGBTQ+ streaming network, Revry, inspired your taste buds with its original series Jonathan's Kitchen: Seasons to Taste, a tantalizing 8-episode cooking show with gay storyteller, cook and author Jonathan Bardzik available to stream now!
Bardzik is the author of three cookbooks including Seasons to Taste: Farm-Fresh Joy for Kitchen and Table (Story Farm & Tarnów Entertainment), which is the inspiration for this fresh new cooking show. Jonathan Bardzik certainly is not a new name to any reader of Bear World Magazine. As a friend of the magazine and one of our favorite chefs, Jonathan's recipes and tips have been shared countless times with our online readers and social media audience. So, Jonathan's Kitchen: Seasons to Taste is just one other way to get even more up close and personal with Jonathan by actually going into the kitchen where all of the yummy magic happens!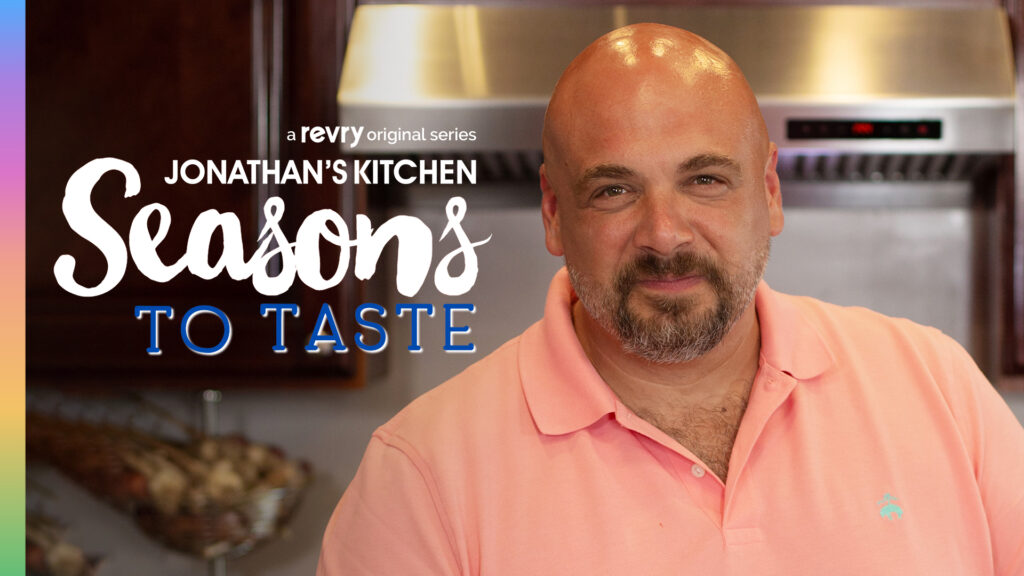 Check out this chat we had with Jonathan to discuss the show and what it was like inviting his husband, Jason, into the kitchen!
---
Kyle Jackson: Can you tell us a bit about your experience shooting Jonathan's Kitchen?
Jonathan Bardzik: Sure! Making Jonathan's Kitchen was everything you've heard about a show – hard work, sleepless nights, some surprise challenges and a few frustrations. But creating this show – especially the time filming – was filled with joy.
I started each day cooking breakfast for my guest and our team. We would sit down and talk through the outline and recipes for the episode and then film. Much of it happened in one take because these were our own stories and real relationships.
I think one of the coolest and most unusual things about how we filmed is that there were no swap outs. We cooked real food in real time. And, after the cameras turned off for the day the whole team sat down at the table and ate together.

KJ: How did you decide which recipes you wanted to share in the episodes?
JB: The show is based on my second cookbook, Seasons to Taste: Farm-fresh Joy for Kitchen and Table. The recipes were developed over several years for my weekly, live, farmers-market cooking demonstrations. The ones in the show are some of the most popular among friends, family and fans, and they are the ones I keep coming back to.
I also chose them to share some specific techniques. Cooking is such a pleasure and an escape for me and I wanted to share kitchen skills that would make cooking at home more fun and relaxing.

KJ: I hear that your husband will be making an appearance in one episode. What was it like inviting your husband into the kitchen/onto the set?
JB: It was amazing. When I moved to DC, I went through a couple years when I didn't cook much. It was Jason coming into my life that brought me back into the kitchen. He is truly my daily joy and inspiration. He makes me laugh, keeps me centered and is good natured when his dislike of beets becomes the butt of many (many) jokes!
The start of filming our episode was surprisingly challenging. Jason has been with me from the beginning. The transition from backing me up behind the scenes to playing to the camera took a few minutes for him to get comfortable with, but once he did the same warmth and humor that I feel every day came out and he had everyone on set laughing the whole time.
Keep your eyes open. You may spot him more than once.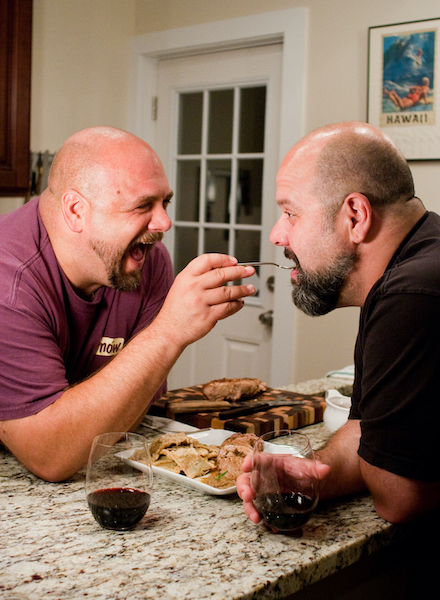 KJ: Will there be other special guests?
JB: In each episode a special guest joins me in my kitchen. I asked friends, culinary experts, even my parents, to join me.
The heart of this show really is in connection. I feel like today it's so easy for us to feel disconnected. We move more often, which often means living in places we have no history with and making new friends and coworkers. I wanted this show to create a place that people could come home to and feel connected, to literally come hang with me and the people in my life.

KJ: What was your favorite thing about filming Jonathan's Kitchen?
JB: When I started my career 10 years ago, I always said I wanted to create a brand that was authentic. I want a fan to be able to walk through the door on a Tuesday night and say, "Yup, that's who he told me he was and that's exactly who he is."
I loved that everything about this show, from the friends and family who joined me in our kitchen and the stories we shared, to the farmers who provided the food and the sponsors who made this show possible, were a part of my life coming into the show and we are only closer today.
---
Jonathan's Kitchen: Seasons to Taste is available to stream anytime on demand at Revry.tv. The show is produced by Parrlime Productions & Tarnów Entertainment and directed by Jonathan Bardzik.
Jonathan's Kitchen: Seasons to Taste sponsors include Central Farm Markets, Five Ways Forward LLC, All-America Selections, Red Bear Craft Brewery, and Seasons Olive Oil & Vinegar Tap Room.