Remembering Hank Hightower
Beloved bear porn star Hank Hightower dies at 57.
The death of iconic bear porn star Hank Hightower sent ripples through the bear world once word came of his passing on November 1st. We here at Bear World Magazine were debuting the Bear World Awards and launching our November cover late last week but believe me, Hank's death loomed large, especially for me.
I've always had a fascination with adult entertainers that goes way beyond the mere appreciation of their "hotness". They possess a confidence and presence I have always admired and wanted to harness for myself but never quite could. I also recognize that adult entertainers and escorts provide an invaluable service to society which is why the hypocrisy of people looking down on them infuriates me. Show me a man who hasn't jerked off to porn and I'll show you a bold-faced liar. Porn is a great way to explore fantasies and alleviate tension. It's a way to safely experiment and a way to learn what you like and what gets your motor running. For me, personally, it's how I discovered my lust for bears, and Hank Hightower was my entry point.
It was the late 90's in Queens, New York. I was in high school wrestling with my sexuality and the local bodega sold three-magazine bundles of gay porn which I would steal for fear of being outed (plus I was totally underage). After grabbing a bundle, I'd race home, head to my bedroom and crack them open. Men like Rob Cryston, Tom Chase, Marco Rossi, Max Grand and Ken Ryker graced their pages and of course they turned me on, but I remember the day I came upon a photospread of this hairy man with a gorgeous mustache and thick, thick stubble in the Advocate Men. He was wearing a zip up leather corset and had tattoos and chest hair and the biggest, most beautiful brown eyes I'd ever seen. It was Hank Hightower…. and I was in love.
It was a turning point for me. His dark good looks and the fur, (my God, the fur!) drove me crazy! I was hooked on bears from that point on, even though I didn't quite have the vocabulary for it at the time. When I turned 18, I bought every magazine and VHS of his that I could get my hands on (such as Total Corruption, Matinee Idol, Grizzly, Bear Skin, Latin Men Do!, Bear Country and Bear Trap just to name a few). And as any fan of Hank's knows, his weight fluctuated a bit, which was even better for me as a heavyset, hairy, newly minted bear trying to find his way in the gay community. My infatuation with him would eventually lead me to find the great Arpad Miklos, Anthony Gallo and Zak Spears, among others; but you always remember your first bear crush, right?
I've never gotten over my crush of Hank Hightower and never will. He awakened feelings in me that have ultimately led to some of the funnest, craziest and most pleasurable moments in my life and for that I will always be grateful. I always hoped I'd be able to meet him in person and tell him what an impact he had on me, but I think he knows now.
Obviously my story is not unique by any means. Lots of bears credit Hank Hightower with their sexual awakening. And of course, there was a complete person behind the public porno persona and stories of his time as a sweet natured bartender and as a dedicated volunteer for AIDS charities and animal shelters are making their way around the internet.  His personal friends are also posting their tributes. In fact, it was through Pete Finland's Twitter post that I initially learned of the news:
It is Jeff Yarbrough's post, however, that is gaining the most traction in the media: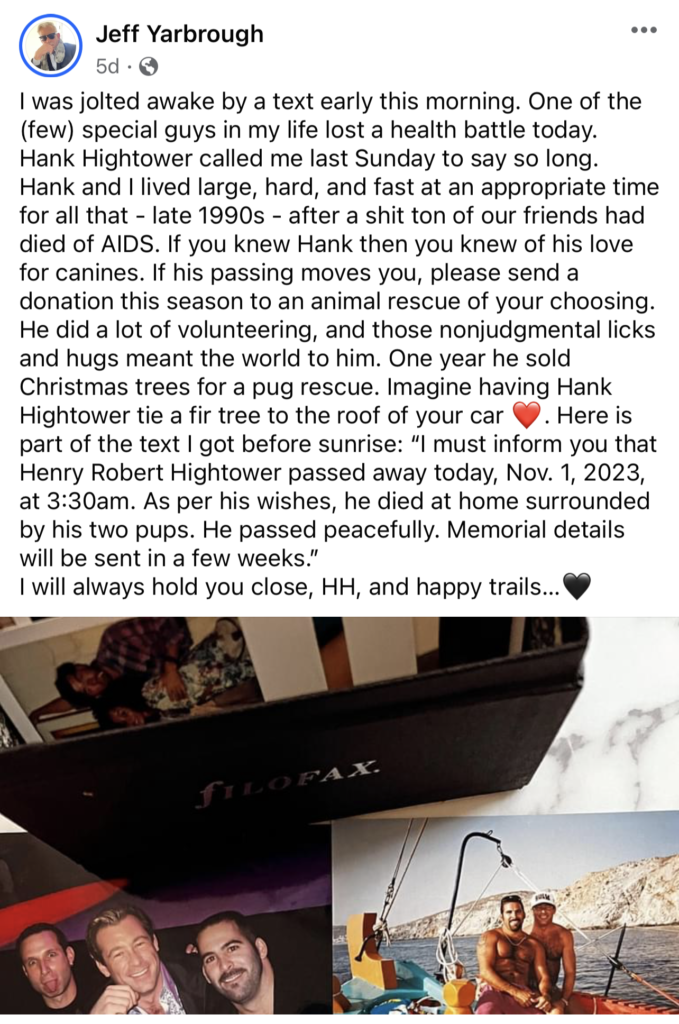 The outpouring of love for Hank is heartwarming. I am glad to see him celebrated and appreciated by the men who loved him. And though his time on earth was tragically cut short by cancer, it is gratifying to see the impact he had on a generation of gay men and to hear of the good he did for his community and the animals he so loved.
Rest well Hank, and thanks for everything.