Queer, Raunchy and Vulnerable: Bear Comic Joseph Schles
Huggable, handsome and hilarious, Joseph Schles is the new bear voice to listen for in the world of stand-up comedy.
Originally from SoCal's Inland Empire, Schles's first love was musical theater, for which he lived and trained in New York for years and got his first touring experience with the cabaret The Love Show. He then switched gears and relocated to L.A. to study comedy with the famed improv/sketch company The Groundlings. But it wasn't until some years later, in 2016, that he first took to the mic — for a small crowd that randomly included Julia Louis-Dreyfus — and realized he had a new artistic calling.
Fast-forward to 2018 and Schles is named the winner of the LA Pride Comedy Festival. Since then, he's released an original comedy album called Soliciting Dick Pics, been featured on the TV series Laugh After Dark — Live in Vegas (available on Amazon and elsewhere), and recently filmed his own first stand-up special, Thruple, produced by comedian Grey DeLisle. He's also appeared in Cathedral City at the CCBC resort for the beary popular Western Xposure and Dad Fest weekends.
 We caught up with Joseph recently while he was away at sea as part of the entertainment for an Atlantis cruise down the Mexican Riviera.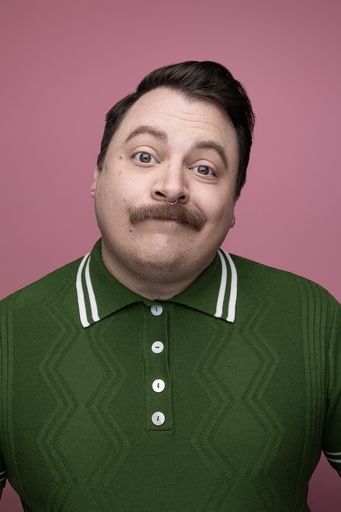 Bear World Magazine: How is the Atlantis cruise so far? Have you performed yet?
Joseph Schles: The Atlantis cruise is honestly so fun and one of my favorite gigs I've ever gotten. I've done two cruises with them so far and I do about three shows per cruise. The audiences have been amazing. The rest of the time I get to go see the other shows and just hang out and gay it up! Buffets, butts and bulges, everything a boy could ask for.
BWM: Do you hope to see more ocean gigs in your future?
JS: Absolutely! It's funny I kinda never really thought I'd like a cruise that much and was worried I'd be invisible in the sea of muscle twinks, but actually people are so friendly and welcoming and it's a lot more diverse and accepting than I had pictured, so I'm very pro-gay-cruise now and will hop on board any time they ask me.
BWM: Sounds like you kind of fell into doing stand-up to begin with—is that true? Tell us about your start.
JS: I did this musical cabaret with some friends about being a waiter in NYC like 15 years ago at the Duplex and was introducing a section of the show and just kinda saying my thoughts about it and people were laughing waaay more than I expected and I kinda thought, "Did I just accidentally do stand-up for the first time?" After that I had wanted to try actual stand-up for years but didn't know how or where to start really. I got involved in improv/sketch at the Groundlings and a friend of mine was doing stand-up and I went to see him. He casually introduced me to the producer of that show who was like, "You a comedian? Wanna do a show? I have a spot open in three weeks." I was terrified but also didn't want to miss this opportunity that just popped up so I said yes, came up with a seven-minute set, the show went great and someone else at that show booked me for another show and it just kinda snowballed from there.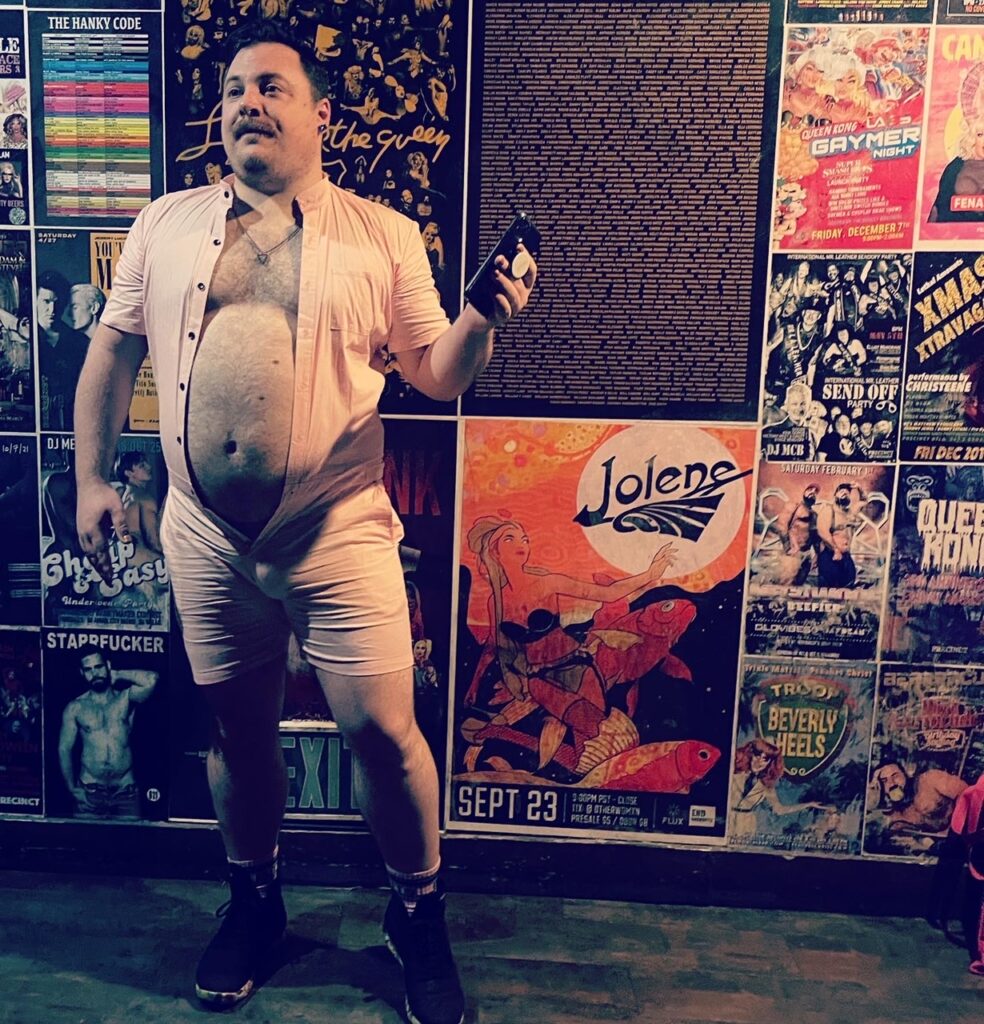 BWM: How would you describe your comedy? Do you mostly tell stories, share observations, tell jokes…?
JS: My comedy is very queer, raunchy, vulnerable and hopefully relatable even to people who are not part of the community. A little mix of storytelling and some observational, and the occasional extremely stupid joke that just makes me laugh even though it's dumb. I love telling stories and plenty of wild things have happened to me on my journey of being chubby and slutty and gay so sharing those with people is really fun for me and also cathartic. 
BWM: Who are your favorite stand-up comics? Would you say they influence your style?
JS: I always credit Margaret Cho as being one of the first comedians that made me want to get into stand-up and I think her style has influenced me a lot in the sense that she has such a unique perspective that is so specific to her and her life, and is also somehow relatable to so many people across the spectrum. I love a lot of comedians so I struggle to answer this sometimes cause there's too many, but a few off the top of my head are Gina Yashere, Beth Stelling, Chelsea Handler, Debra DiGiovanni, and Roz Hernandez, Michelle Buteau (but the list goes on!).
BWM: Do you notice any differences in how your material goes over when you play to an all-queer as crowd as opposed to a general/mixed audience?
JS: It's interesting, every audience is different in general so it's hard to really pinpoint, but sometimes I feel like a mostly queer crowd can be harder to win over, specifically all gay men. I think to a mixed audience I'm a nice change of pace from what they're used to and they are more easily shocked and delighted by some of my raunchy gay sex stories, but gay crowds are like, *puffs fake cigarette* "Yeah, that's just a Tuesday for me, honey," and can almost feel like they're challenging you to try to make them laugh. It feels like gay men mostly respond to drag queens, women, and men they want to sleep with, so if I'm not doing a bear-specific show it can feel a little intimidating cause I don't have that Matteo Lane body, but once you get one laugh out of them they slowly get on your side. That being said, I think I've won over plenty of queer crowds, and love doing queer shows.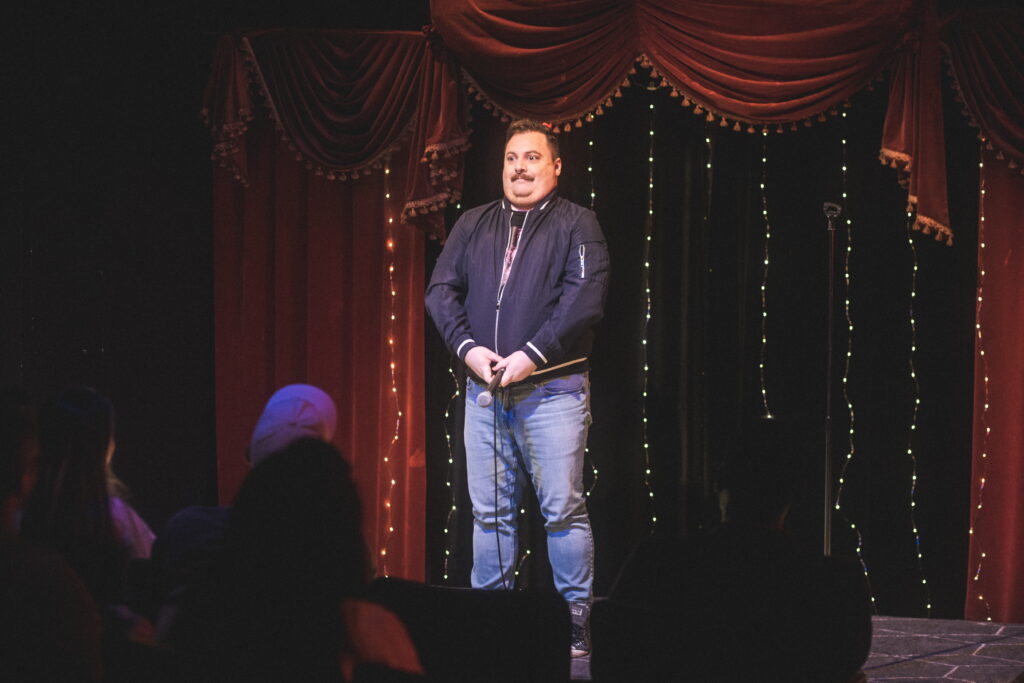 BWM: Stand-up has a rep for being competitive and cutthroat if you want the better opportunities. Do you find that to be true? And if so, what keeps you going?
JS: Yes and no. I am struggling with trying to figure out how to kinda level up because it all feels very nebulous in the LA hierarchy of it all. Any weird competitive vibes I've gotten have usually been from straight male comics (unsurprisingly). But also I've been lucky to meet so many lovely comedians (who knew any of those existed??) who have been generous with pointing me towards great gigs and recommendations, so it's not all cutthroat, but like any job in entertainment there definitely is an aspect of that and you just kinda have to be like, fuck them. 
BWM: What is coming down the line for you?
JS: Probably a little bout of depression. Haha. I'm not exactly sure what's next, I've been in talks for some possible really cool opportunities at a few bear events around the country, but nothing's been signed on the dotted line yet, so hopefully that happens. Definitely shows here and there in LA which I always post about on my social media (@josephschles), so follow me to check out where I might be telling jokes next. Hopeful for some more acting opportunities down the line too, so we shall see!
BWM: Anything else you'd like us to know?
JS: I'm a vers oral side.