Provincetown Brewing Co. Throws 2nd Annual Jockstrap Bike Ride
We've just learned about an event that combines hunky men, butts, beer and jockstraps in Provincetown – and it isn't Bear Week!
Provincetown visitors caught an eyeful this past September 1st when the Second-Annual Jockstrap Bike Ride from the Provincetown Brewing Co. took the city by storm!
Created as a bit of fun to mark the transition from the peak summer tourism season to so-called 'townie-summer' during Labor Day Weekend; the event had potential riders to meet up at the brewery's taproom where they proceeded to ride down commercial street in a fun and lighthearted parade that spread lots of cheer (among other things) to onlookers. Participants then met back up at the Provincetown Brewing Co for a night of drinking and dancing where awards were given to outstanding participants and given the exclusive opportunity to purchase the brand-new Provincetown Brewing Co. / Bike Athletic Jockstrap before anyone else. This got us thinking as to why such a collaboration even exists and what we found out was pretty incredible.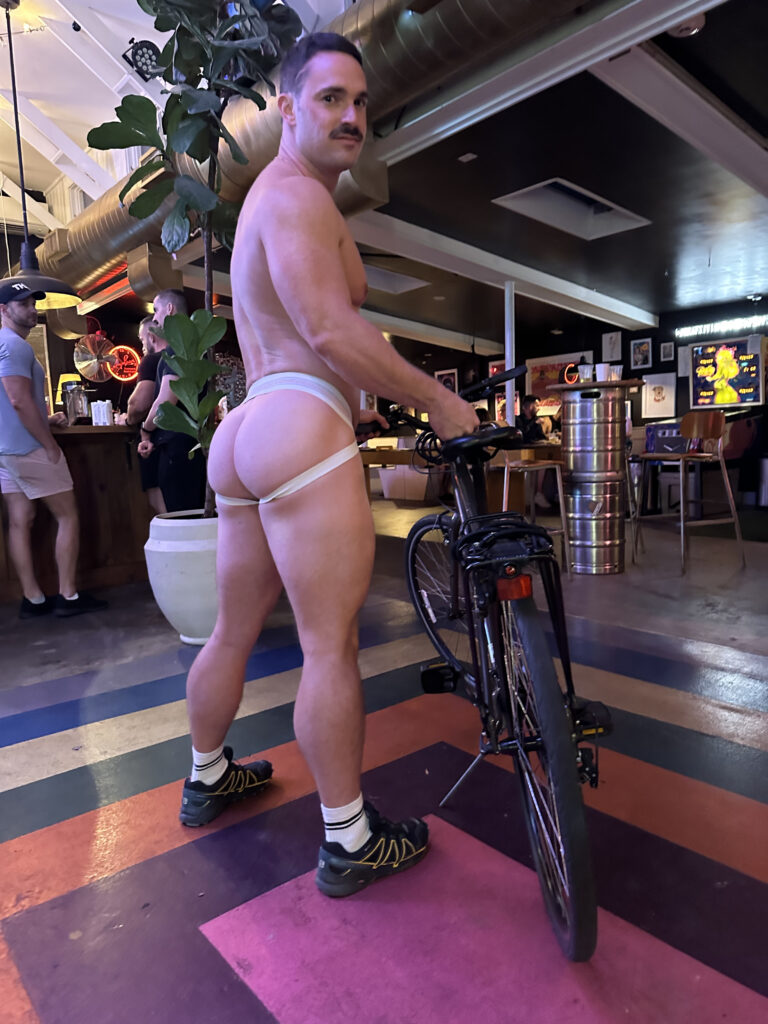 Here is the history of the Provincetown Brewing Co. and Bike Athletic Apparel collaboration as told to us by Rik Borg who works on sales and marketing for the brewery:
"In 2021, we got a surprise email from the new president of Bike Athletic who had recently revived the iconic athletic wear brand. He noticed that a few of the Bike's classic jockstraps were shipped to a craft brewery in Provincetown shortly after the brand's revival went live. (The classic Bike always was and always will be our favorite jock, and we were pumped to have them back.) That piqued his interest, and he dug in to discover that we are a queer craft brewery catering to some of the same market. He told us his plans to turn Bike Athletic into an entire line of athletic and casual wear, staying true to the brand's vintage feel and forever celebrating the piece of apparel that started it all – the Bike jockstrap.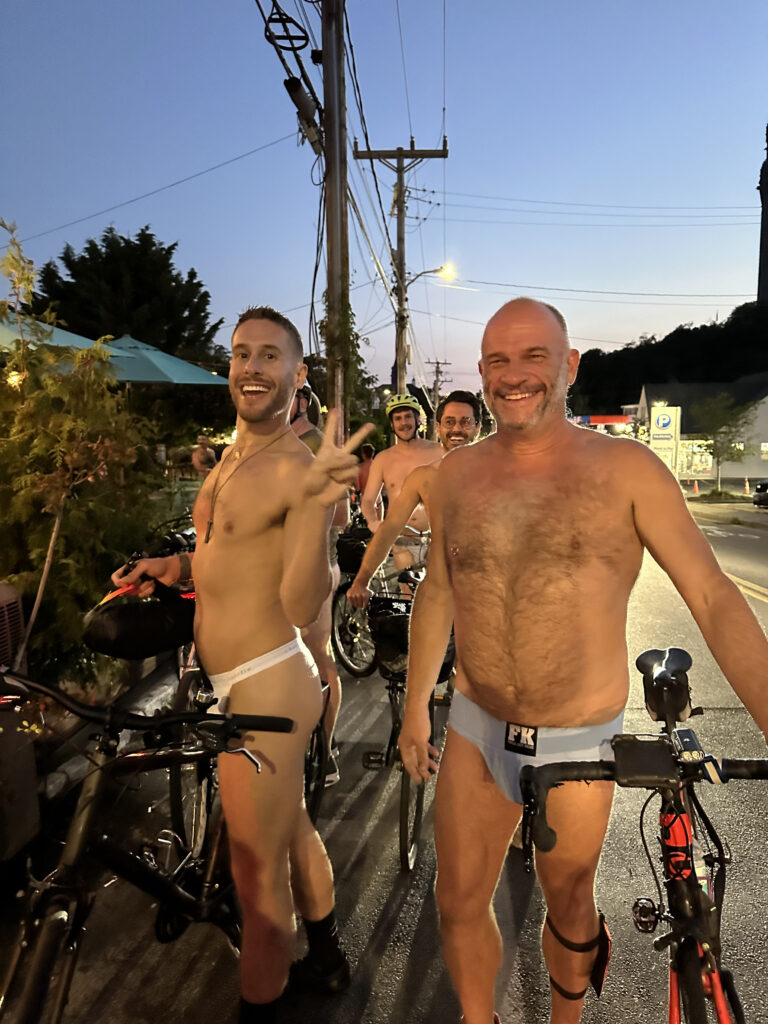 Needless to say, we were thrilled that our two-year-old queer craft brewery caught his attention, and that he saw a symbiosis in what both brands were trying to accomplish. He loved our commitment to giving back to the queer community and creating an authentic space for all walks of life in the heart of Provincetown. We began to work together in small ways. In Winter 2022, we decided to up the stakes of this fledgling partnership and sought to create our first collaboration merch. But what would we create? The concept fell into our laps when we reached out to the artist @sedgwick_guth, who was already well known for his drawings of Bike Jockstrap clad models in his distinct irreverent style, which he cultivated during his artist residency at Stowaway Provincetown and later showed at the @treadwell_gallery. He was the perfect person to bring this collaboration to life. Six months and a bunch of creative choices later, we were thrilled to unveil the first Bike / PBC collaboration shirt, featuring original artwork by Mr. Guth in Summer 2022.
That same summer, we created a Bike-themed limited-edition beer called the Fantasy Draft Gose, featuring Guth's original artwork. We described the beer as "A lightly citrus and sour gose brewed with elderberry juice and just a hint of salt". The salt, for obvious reasons, the name 'Fantasy Draft' chosen as the winner from our IG naming contest for the limited-edition beer.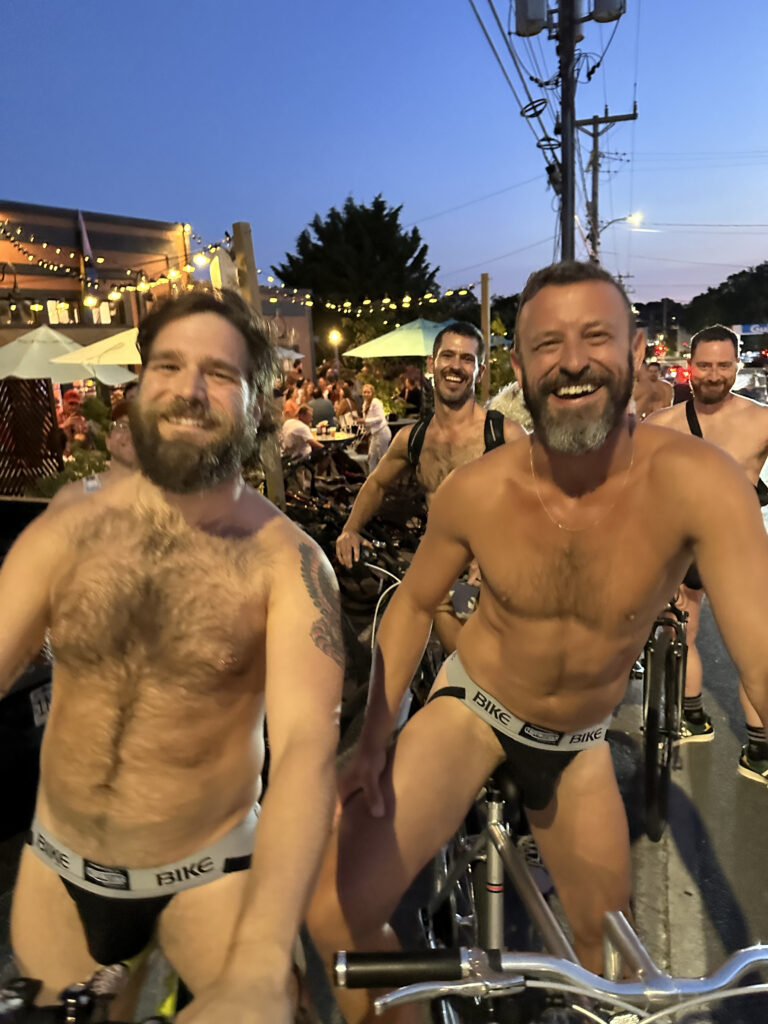 We stayed in touch over the past couple years and had Bike sponsor our first-annual Bike Jockstrap Ride last Labor Day Weekend as well as our annual Flip Cup Tournament over Halloween Weekend with free giveaways. We've supported Bike in Provincetown for two fashion shows of their entire catalogue the past two summers at Boatslip, and this year, we decided to collaborate on a limited-edition Bike / PBC jockstrap. Thanks to the idea of one of our bartenders Harrison Fish, we created a custom patch that says "If Found: Return to Provincetown Brewing Co." It's obviously a play on gym issued athletic wear, but also a fun nod to that fact that if you indeed get too twirly running around Provincetown in your PBC jockstrap, we will hold onto your lost item for you at the taproom.
We hope for more fun collaboration in the future as we feel that our missions and ethos are well aligned!"
Ain't that something?! One of our favorite Bear Week watering holes joins forces with one of our all time favorite jock brands?! You love to see it.
The good news is that the exclusive PBC/Bike jock is now on sale to the public at the Provincetown Brewing Co taproom and their website – and its quite a beaut!: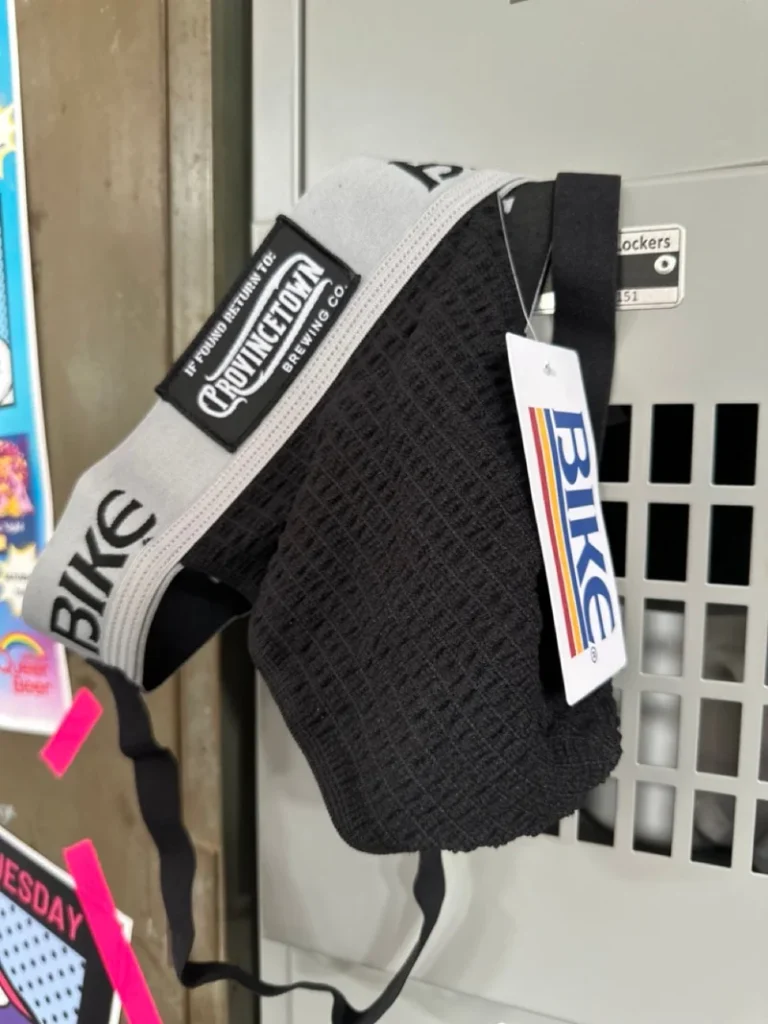 Get yours HERE.
---
And be sure to follow Provincetown Brewing Co. on Facebook and Instagram.