OPINION: Starz hit 'P-Valley' is challenging closed-minded ideas about male sexuality
If you haven't been under a rock, you've probably seen or at least heard about the hit Starz series P-Valley, created by Olivier Award and Pulitzer Prize-winning playwright, screenwriter and producer Katori Hall, based on her critically-acclaimed play, Pussy Valley.
The Memphis, Tennessee native is the first Black woman to win the Olivier Award for Best New play for her breakthrough play The Mountaintop, and won the Pulitzer Prize for Drama for her critically-acclaimed play The Hot Wing King. Hall is also the bookwriter and co-producer of the West End and Broadway hit, Tina: The Tina Turner Musical.
P-Valley centers around a group of strippers and staff at a strip club called "The Pynk" owned and operated by the flamboyant, bearded, acryllic nails and heels-wearing nonbinary owner, Uncle Clifford. Set in the fictional southern American town of Chucalissa, Mississippi, it draws on typical Southern Gothic themes, and adds a dose of flavor by telling stories centered specifically on the Black southern American experience and southern Hip-Hop culture.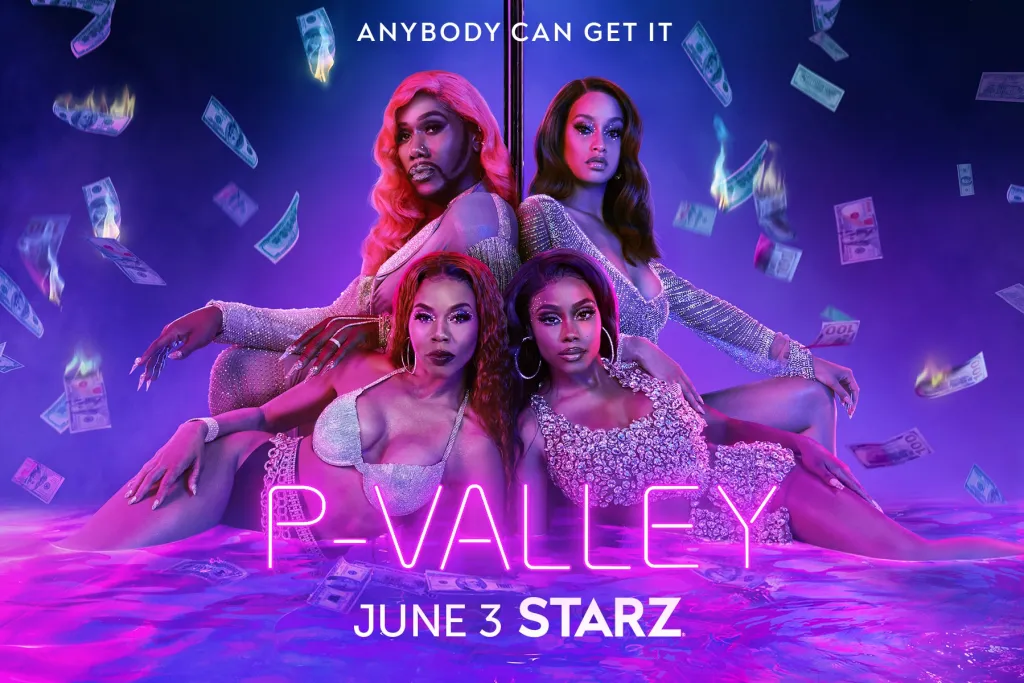 The first season of P-Valley was a bonafide hit with critics and audiences, securing the much coveted 100% Rotten Tomatoes rating, while the second season is currently sitting at 89%, making it a total of 94% for the series overall. Despite the outstanding reviews and such career-defining performances from actors Nicco Annan (Uncle Clifford), Brandee Evans (Mercedes), Elarica Johnson (Autumn Knight/Hailey Colton), Shannon Thornton (Keyshawn Harris/Miss Mississippi), and J. Alphonse Nicholson (Lamarques/ Lil' Murda), the show questionably wasn't nominated for any of television's highest honors – It was completely snubbed by The Emmys and the Golden Globes. I wonder why? (insert sarcastic eye roll)
And, speaking of performances, the writers definitely upped the ante with its depictions of Queer love, sex, relationships, sexual orientation, and gender identity for the second season.
SPOILERS AHEAD, especially if you haven't yet watched Season one, or just starting season two.
Last season, we left knowing that closeted rapper, Lil' Murda, and Uncle Clifford were sleeping together. I'm not sure if I should say that they were in a relationship, but Lil' Murda definitely wasn't able to resist whatever Uncle Clifford was putting out.
After getting the "Uncle Clifford and Lil' Murda are Twirling on the DL" storyline in season one, they then gagged us again in season two, with the "Lil' Murda and Big Teak" storyline. If you haven't been following the story, Big Teak (John Clarence Stewart, in another riveting performance) is Lil' Murda's friend who went to prison for killing someone in defense of Lil' Murda. At first, we just think that Big Teak and Lil' Murda are friends, especially since Big Teak refers to Lil' Murda as his "brother." But we soon realize that the relationship is much deeper than that, when Lil' Murda goes to comfort Big Teak in a very… intimate… way. And can we talk about how Big Teak put the condom in his mouth before he went down on Lil' Murda…?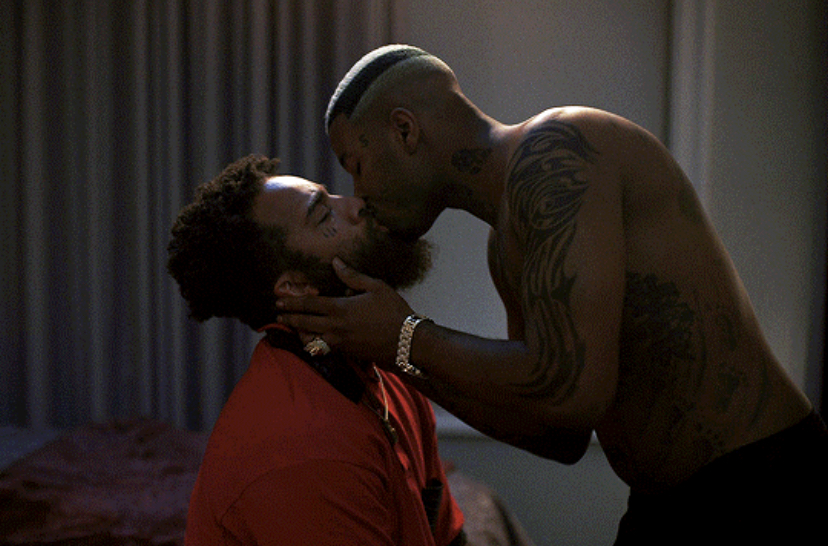 The two end up having sex, in a love scene that has been hailed as one of the most sensual and emotionally accurate male-to-male sexual encounters that has ever been depicted on mainstream television. But, of course, the relationship between Lil' Murda and Big Teak was not without backlash, as some fans took to social media to express their disdain for the love scene and the relationship.
The love scene was even slammed more than the love scene featuring two women, which occurred in the same episode. Mercedes, one of the veteran strippers at The Pynk, has an encounter with the wife of one of the men she's sleeping with, in a scene that was equally as shocking because we had no idea that Mercedes was remotely Queer up until this point. But, of course, the love scene between the two men was the one most bashed.
People took to social media to complain about the show being "too gay," which I find confusing because… What show were you watching in season one? Uncle Clifford, the owner and manager of The Pynk, entered the very first episode bearded AND painted, with long painted acrylic nails, colorful extensions and heels just as high as the strippers they manage. Seems to me like maybe, just maybe, it was more appalling because the male-to-male love scene featured two very masculine-presenting, rough characters, and some of the viewers just weren't ready.
To avoid any more spoilers, I won't go into the rest of the Big Teak storyline. But I will say this: This is probably one of the most honest depictions of male sexuality and Black men's mental health that I have ever seen on mainstream television. Whether people are ready to admit it or not, cishet male sexuality is and can be more fluid than they think. As gay men, we already know the truth; A lot of the "bros" we encounter are usually fucking one another. And it's about time that mainstream television has caught on to it.
Season Two of P-Valley is now streaming on Starz.