Not Too Late or Just in Time – Pineapple Grilled Pork

Living in Washington, DC the start of fall means I can finally get back out to my grill without returning to the dinner table dripping in sweat from the hot fire and this city's legendary humidity. And while the temperate days can linger for another month or two, I can remember bundling up last Thanksgiving for a sunrise visit to the steps of the Lincoln Memorial. And that means it's time to think about some sunny winter travel. Combine those thoughts together and it's got me thinking about a visit to the Big Coconut.
My husband Jason and I have been a fan of staying with owner David Medici since his days of operating Coconut Cove. We've now stayed at his new guest house five or six times and it has become our new quick getaway.
While it may not have the beach-adjacent location of the Cove, David works magic with landscaping and appointing a space and once you walk through the front gate the world outside disappears. We even have a favorite room with a full kitchen so I can add some eggs and sausage to the breakfast he sets out each morning.
We've also headed down twice now with a big group of friends and I've spent a day each trip doing some tropically-flavored grilling for the guys – any anyone else staying there. We always end up making new friends with some of the other guests.
So, if you're hitting the grill as you enjoy those last warm evenings before winter here's a tropical reminder of warmer climes, and there's no better time to book some winter travel. We may see you there!
Pineapple Grilled Pork
This dish takes a little planning ahead to marinate the meat and reduce the pineapple juice for the glaze, but you can toss together a quick slaw and a batch of cocktails while you wait. Don't leave the pork in the marinade longer than 3 hours. Enzymes and acidity in the pineapple juice will make it mushy.
Pineapple Grilled Pork

Cookout Spread with Pineapple Grilled Pork
Marinade:
2 cups pineapple juice
1 cup soy sauce
2 tbs toasted sesame oil
3-4 whole scallions thinly sliced
2 star anise pods or 5-6 whole cloves
1/4 cup brown sugar
2 tbs salt
2 tbs white pepper
Glaze:
4 cups pineapple juice
2 tbs soy sauce
1/4 cup brown sugar
Sriracha or other hot sauce to taste
Pork:
2 whole pork tenderloins
Make marinade: Mix ingredients. Add pork to a gallon freezer bag and pour in marinade. Marinate for 3 hours, turning once halfway through. Note: If you don't have three hours, shorten the marinating time. You will still get lots of great flavor.
Make glaze: Reduce pineapple juice to 1 cup. Add soy sauce and sugar and reduce to the consistency of maple syrup. If you reduce it further it will get too thick when it cools. Season to taste with Sriracha.
Grill pork: Season pork with salt and pepper. Set your coals on one half of the grill or turn one of your gas burners to high. Brown pork on all sides over the hot side of the grill. Move to the cooler side to finish cooking to 140F.

Brush top with glaze and place, glazed-side down, back over the hot side of the grill. Cook for 1-2 minutes to caramelize the sugars. While it cooks, brush glaze on the top side of the meat. Turn to finish and remove from the heat.

Let pork rest for 10 min tented with foil. Thinly slice and drizzle with any remaining glaze to serve.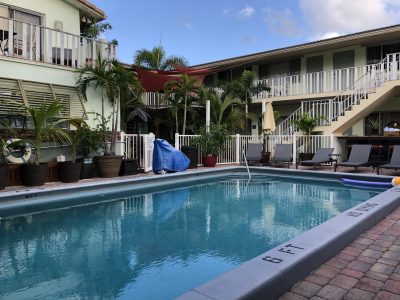 Find out more about the Big Coconut at: thebigcoconutguesthouse.com
Jonathan's cookbooks offer simple recipes prepared with farm and garden-fresh ingredients to share with the people – friends, family and farmers – who make our lives matter.
Bring one home today or share one with someone special, click here.