Mr. Pittsburgh Leather Bear, Dan DeLuca, is now ALSO Mr. MAL 2023!
Back in September, the Pittsburgh leather and bear community chose a new title holder – the gorgeous and adorable Daniel DeLuca! Winning the Mr. Pittsburgh Leather Bear title qualified Dan to run in the 2023 Mr. Mid-Atlantic Leather Contest this month — which he also won!
The Mr. Mid-Atlantic Leather Contest happens every January during Mid-Atlantic Leather Weekend (MAL) in Washington, DC. This year Mid-Atlantic Leather Weekend happened from January 13th – 16th, 2023. After winning Mr. Mid-Atlantic Leather 2023, Dan will move on to represent this esteemed title as a contestant in the International Mr. Leather (IML) Contest in Chicago, IL, Memorial Day Weekend 2023.
In December, we grabbed a chat with this handsome, married business owner to talk about his Mr. Pittsburgh Leather Bear title, and his passion for the bear and leather communities of which he is a proud ambassador. Check out the interview below!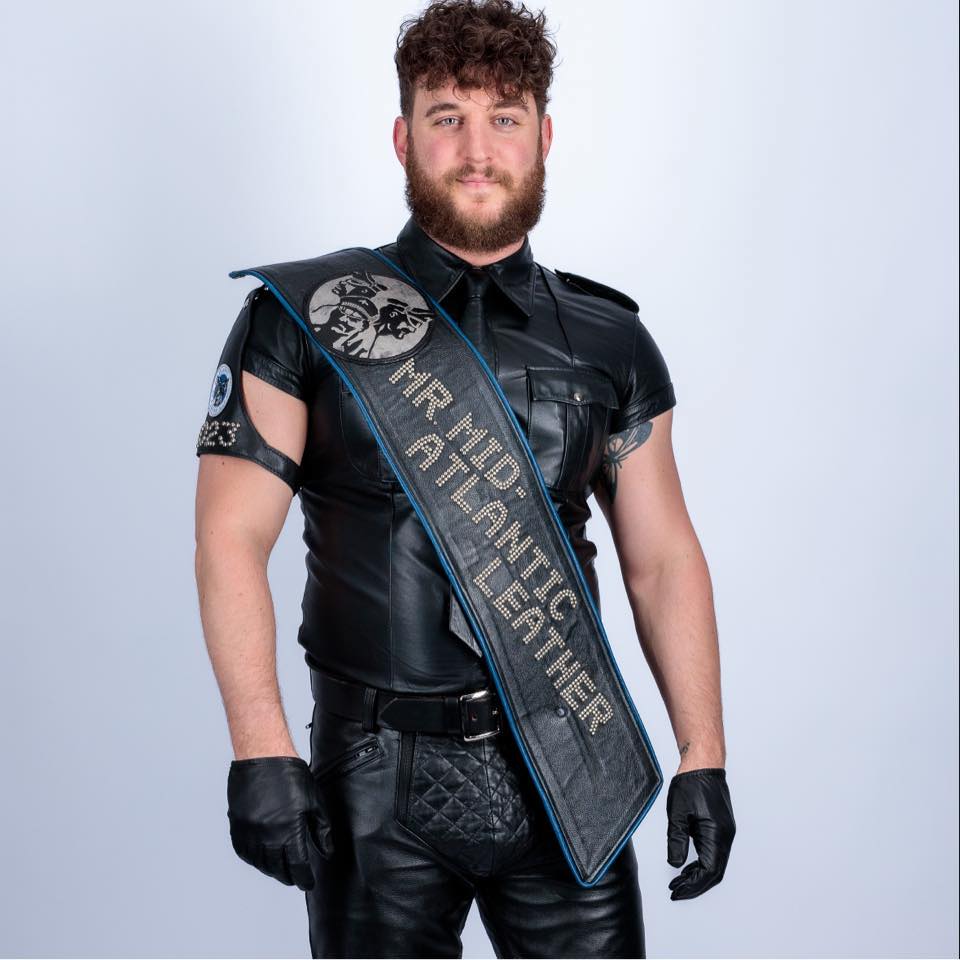 ---
Richard Jones: Hi, Dan, can you tell us a bit about yourself?
Daniel DeLuca: I am known in the Pittsburgh bear community as "Danbear." I live with my husband and our two dogs and I own and manage a local hair salon. I grew up in Pittsburgh and love our local gay community, being a part of it means a lot to me. I really love to travel wherever and whenever I can and visit other communities. My fave thing to do is try local cuisines. I also love to bake, attend theater, lift weights and play video games.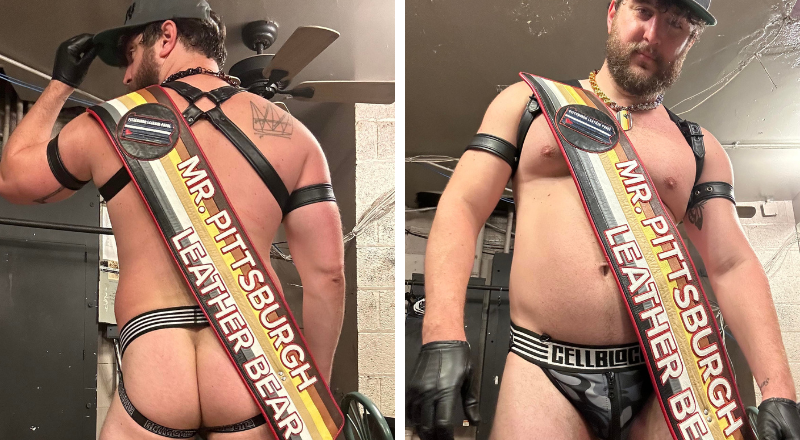 RJ: When did you begin identifying as a Bear? Can you tell us a little bit about your journey?
DD: I started to identify as a bear as I got a little older. I have always been attracted to bears, I mean…who can resist a good beard and a nice belly to rub? A bear means many different things to me now. As the community continues to grow, the meaning of the colors in the bear flag represents all the expressions the community supports. As a child I was a very thin kid who was always interested in gaining weight, lifting and growing into my version of a traditional bear esthetic. I find bears sexy, big powerful and beautiful. I've always found them to be inclusive and welcoming. While the body doesn't build a bear, I've never been more confident in my body than I am now. I believe being a bear is a state of mind, its a sense of pride and camaraderie.
RJ: What made you enter the Mr Pittsburgh Leather Bear Competition?
DD: As I said earlier, I love the bear community and felt it would be an honor to serve the title of Mr Pittsburgh Leather Bear and bring it more exposure and show the community and other communities nearby what a bear titleholder can do for community. I feel honored to have won and just want to spread as much positive energy with it as I can, where I can.
RJ: How has winning the title changed your life and social life? Or how do you expect it to?
DD: Since winning the title I've had the opportunity to attend leather/bear events where I love to proudly wear the title sash. My contest running mate Corey (1st runner up) and I have recently taken over Bear Nights at PTown Bar. I can report Corey and I had a very successful first night which we were excited to see. We wanted to provide an entertaining show showcasing many different aspects of the bear culture to a larger crowd. I plan to keep that energy going and help in any way I can to grow Pittsburgh's growing bear community.
RJ: Do you have a platform?
DD: I've never been asked this question before and honestly, I'm very focused about acceptance, love, community, friendship, drive and working together, sprinkled with a big dash of body positivity. I want to empower everyone to believe that beauty can be found in every shape, color, and size.
RJ: In what ways do you think you can help to promote growth or change in the leather and bear communities?
DD: I would love to support outreach and charity however I can. I want to provide more positive fetish representation at events all over my home city. I see a future where we can come together and enjoy one another and our community without fear or shame. I commit myself to supporting acceptance and movement forward while still respecting the past and those that came before us and created this community.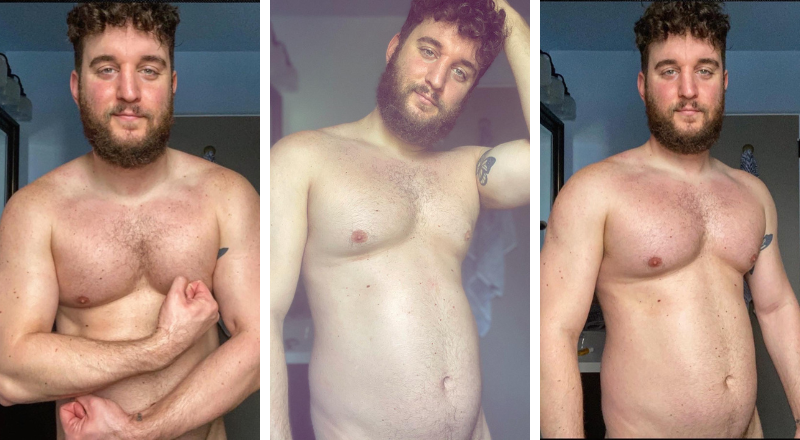 RJ: What is the most important thing about the bear community for you?
DD: When the bear community started in the 80s a group of larger, hairier men in San Francisco felt like outcasts…they created their own community that accepted and promoted them for who they were. I find that incredibly beautiful and inspiring. I love everything about what the bear flag stands for, and I want to see that continue. Every community has its struggles and if we can tap into the core values of what the community is about, we can work thru those challenges. It's important to me that the bear community continues to grow in how it was founded, everyone's welcome under its colors.
RJ: What are your plans for your title year?
DD: I plan to wear my title sash every chance I get. Like I said, I want to show bear pride wherever I go, perform at charity events, hopefully inspire future contest competitors, and to create spaces and events where the bear community can be awesome.
RJ: Finally, where will the bear community be able to see, meet and connect with you?
DD: Besides social media you can always find me out-and-about Pittsburgh either performing or just out having a good time with friends. Bear Nights at Ptown will be every fourth Saturday every month and you can bet your bear ass I'll be there!
---
We at Bear World Magazine would like to congratulate Dan DeLuca on his Mr. Mid-Atlantic Leather 2023 win, and we wish him the best of luck in winning the International Mr. Leather title in May!
Follow Dan on all his socials and say hi when you see him out and about:
Instagram: Danbear412 TikTok: Danbear412 Twitter: Danbear412
---
Check out some pics from Dan's new bear night at PTown Pittsburgh, photos by Daniel Meyer: