Meet The Crochet Bear Danny Weckx
The response to our artist features on BWM has been incredible! We love to see it and are proud to shine a light on these talented individuals. We are also aware that there are so many talented bear artists out there in other mediums besides drawing, painting and illustration like Danny Weckx, also known as 'The Crochet Bear,' who makes a line of handmade 'BooBoo Bears' that are all the rage at European bear markets.
We sat down with Danny to learn more about what he does and how you can get your hands on one of his creations.
BWM: Tell us a bit about your background. When did you start crocheting and why?
Danny: So, my name is Danny Weckx, from Tienen, Belgium and the last few years I've lived in Hasselt, Belgium.
I had my first experience with crochet from my Grandmother, just because I was curious and wanted to try it. About 10 years ago, I suddenly had the urge to pick up crochet again. I started with hats, scarves, and amigurumi. I also did a few Christmas markets here and there.
BWM: What is it about bears that makes you want to incorporate them into your art?
Danny: One day I bought a pattern for a crochet bear, changed it to my taste, and made a few as gifts for friends. Then one day I got a request to make one with a Rainbow sweater. After that I was like hey, why not make more bears for the LGBTQ+ community! Who doesn't like a cuddly bear?
BWM: What initially drew you into the bear community? And what keeps you there?
Danny: I am a bear myself, and went to my first Bear Pride in Amsterdam, 5 years ago, with my first crochet bear collection at their Bear Market.
I came out when I was 28yo, and was never in the gay scene, so it took me a while to open up and do Bear events to be honest. Later I started doing more events, like our own Belgium Bear Pride Brussels, and Bear Pride Germany in Cologne last year.
The thing that keeps me here is just being around and meeting friendly people and having fun. And it's always nice to meet fellow artists at Bear Markets, some have become good friends.
BWM: Are you professionally trained or self-taught? Tell us about that how you learned.
Danny: I'm self-taught. In school, we had many creative activities, which I always loved best. In high school one of my main classes was sewing, which included embroidery and knitting. I've always been a creative person. I used to draw portraits as well, my Mom taught me that as a child. Later I changed over to photography, again self-taught. My favorite subject is concert photography.
BWM: Who are some of your artistic inspirations? How do you come up with designs?
Danny: Most of my inspiration comes from looking at the colorful LGBTQ+ community! Artists I like are Keith Haring, Karl Lagerfeld, Yayoi Kusama and Takashi Murakami, to name a few.
My designs form in my head whenever I need to prepare for a Bear Market. New color combinations, add some chains or a harness, add some kink and so on. When that happens, the ideas start flowing and I have to take notes.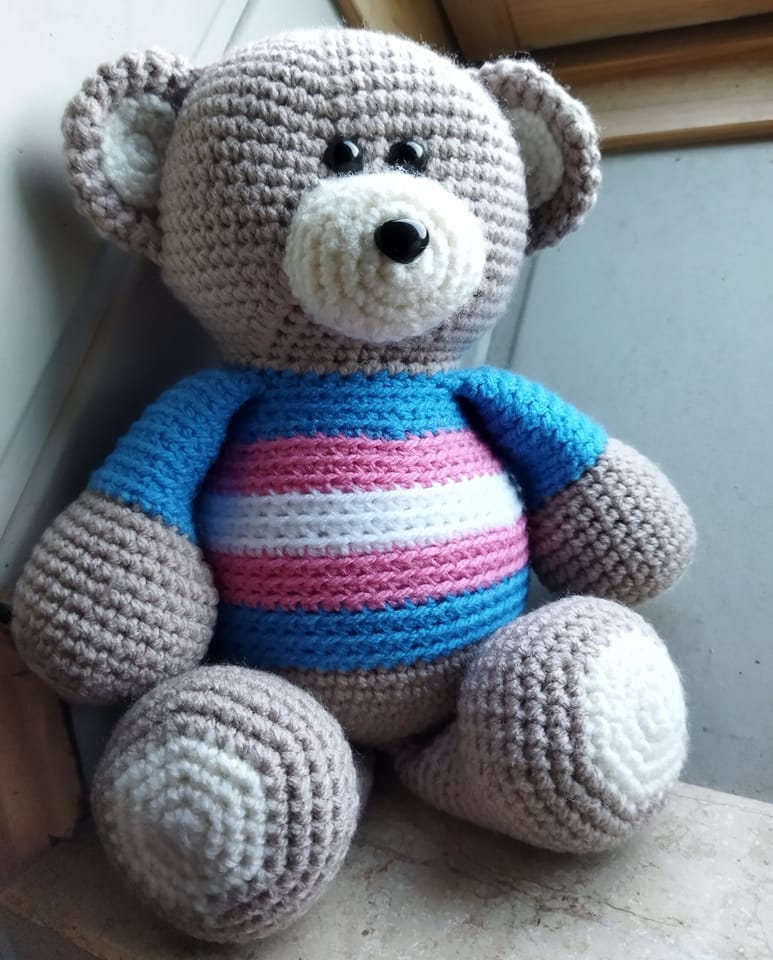 BWM: Where can we see/ purchase your work?
Danny: I don't have a website, I work via my Facebook page The Crochet Bear, my personal page Danny Weckx, or via my Instagram.
People can see my work there and can contact me to purchase or to ask for custom made bears. It helps me keep my workflow things under control, after all it can take up to over 12 hours to make one bear.
BWM: What big projects are you working on? What is coming next?
Danny: This year I had my biggest project yet, Darklands! I made a collection of fetish and kink inspired bears, plus my usual classics. Next year I'll have my own booth there again. Later this month, I will be at the Bear Market in Brussels for our Belgium Bear Pride Brussels Week.
I hope to find some time soon to work on my other ideas, like patchwork bears, sewn from reclaimed leather, and kinky/sexy fabrics designed by RobskiArt.
And so much more… You ain't seen nothing yet!
---