Meet Keron, Mr. Mayhem Leather 2023
Bear World Magazine Award nominee for Best Bear Event, Bears, Bikers & Mayhem, has done so much in terms of creating a welcoming space for members of the bear, leather, motorcycling, fetish and pup communities to come together and celebrate their common interests. It was the first and continues to be the largest event of its kind, having to change venues twice in recent years to accommodate growing demand. And with their commitment to continually raising money for HIV/AIDS and local charities in the region, it is definitively partying for a good cause. How can you not get behind an event like that?!
Last month we introduced you to TK, Mr. Mayhem Leather Bear 2023 and now we introduce you to his sash brother Keron, Mr. Mayhem Leather 2023. Check out our conversation with him below.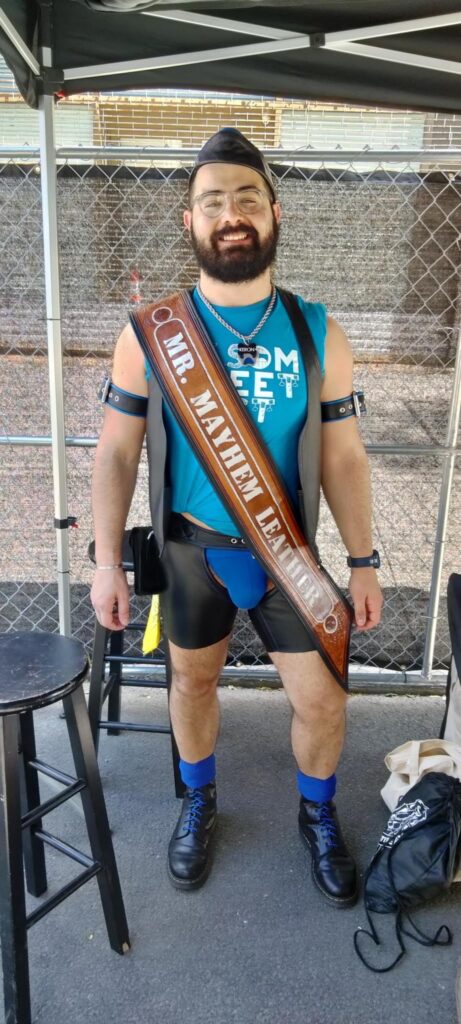 BWM: Can you tell us a bit about your background? Including name, where you are from and current city of residency?
Keron: My name is Keron, and I come from Italy. I was born in 1991 in Sicily and spent most of my life there until 2018, when I moved to Philadelphia, PA. After one year spent here working on my Ph.D., I returned in February of 2020 for work and decided to start a new life here, living my American dream. I live my Leather Life as Leather Boy Pup, sharing time among my puppies and the community and serving my Sir.
BWM: What drew you to the leather community?
Keron: After the breakup with my ex-fiancé in 2021, I went through many issues with drinking, loneliness, and depression. My journey began when I met someone who brought me into the Leather Community. I started walking the Leather Life between Philadelphia and Baltimore and found my true spot, where I have always been accepted and loved. I was lucky enough to meet great people who nowadays are part of my chosen family, people who took me under their wings to be sure I'm always safe. I realized I found my place while attending several Leather events and learned daily about my community role. Learning, teaching, volunteering, and advocating are my main interests in the Community, under Honesty, Integrity, and Respect.
BWM: Can you describe your unique experience with the leather and bear world as someone from another country?
Keron: I had very little knowledge of the Leather Community while living in Sicily since no one was talking about it. The little knowledge I did have was from porn or erotica comics, but nothing more about the values and the service we provide as a Community. It has been and still is a great journey learning about Leather Life every day.
I was more aware of the Bear community as I identified as a cub for a long time, and the knowledge about it it's more spread in Italy. When I moved to the US, I started hanging out mainly with people who were part of the Bear Community.
Discovering my Leather Life has been life-changing for me. For 30 years, I tried to find where I belong, and I'm happy I found my place here, in the United States. More importantly, I started walking the Leather Life as a lifestyle, not as a trend or something for aesthetics. We look good in our cow, but there are true values that bring us together.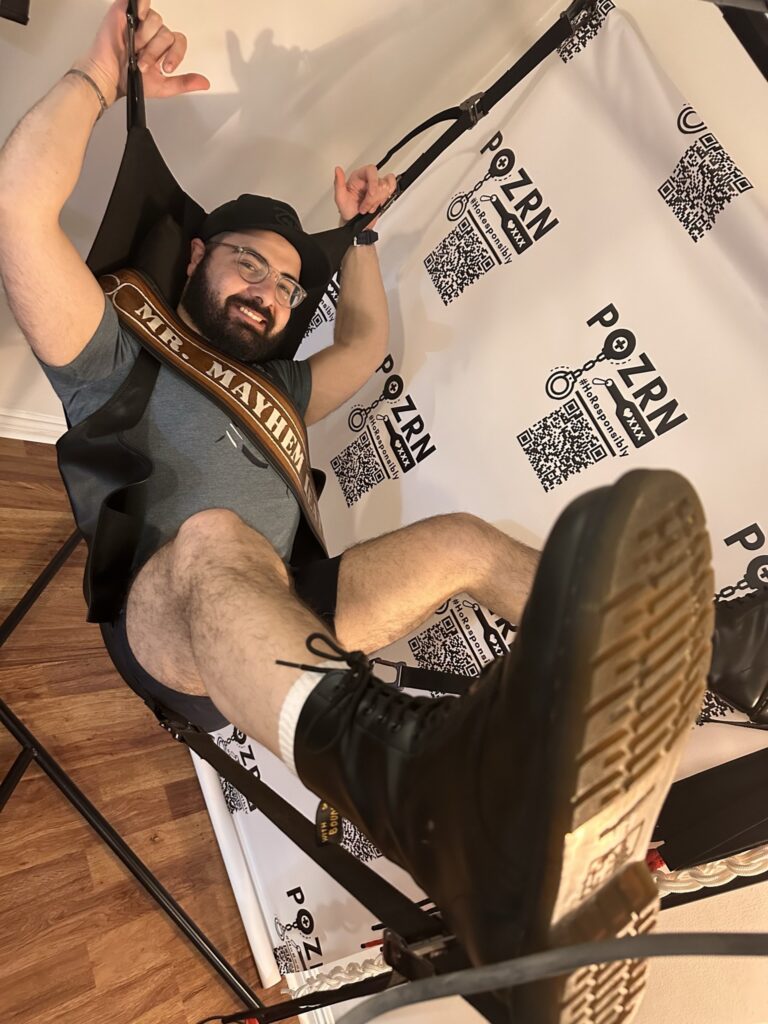 BWM: What made you want to compete for the title?
Keron: I went to Mid-Atlantic Leather 2023 with a good friend, a pillar in the Leather Community in Philadelphia. He guided me through the event and gave me some knowledge and wise words as a former title holder. The night of the Leather Formal cocktail, I looked around and realized I found my place and my people. I am an emotional soul, so tears are always in order. What I saw around me inspired the journey of deciding to run for a title, not to get a nice sash, but to be a servant of this Community and to give back what the people gifted me. Three weeks later, I submitted my application for Mr. Mayhem Leather 2023 because I believe it represents who I am: I am a proud Italian immigrant, loud and sassy, and always eager to cause chaos and mayhem around me to prove that we can be whoever we want, and nobody can deny it.
BWM: How was your experience competing? What was the process like?
Keron: Before the competition, I studied and got prepared, helped by dear friends and people in my Community because I wanted to be ready and give the judges 100% of me. I chose looks that represent me, my colors, and my true self. The competition itself has been a great experience and a nerve-racking moment: it's important to have people helping to stay focused, hydrated, and to avoid overthinking. I'm glad I had those people around me all the time.
We went through different sections to prove to the judges our social skills, public speaking abilities, confidence, and way of wearing the Leather and representing the Community. I enjoyed all the different sections of the competition, but I loved the wet-jock section, where I could show myself almost completely naked and show people that all bodies are beautiful and are to be accepted. I also loved the formal on stage because I could deliver my speech and make myself heard in the Community – it also allowed me to show my way to wear formal leather and my preciseness in the details.
BWM: What does winning this title mean to you, specifically?
Keron: Winning this title was a surprise. I doubted myself during the competition and thought someone else would get the sash. As many videos on social media would show, I completely broke down the moment I heard my name because there has been much work behind this competition and many people who supported and helped me. I never won anything and always worked hard to achieve my goals. I competed and won this title for my Philly Community and my chosen family, which means the world to me. It also makes me aware of the importance of representing, being public, and being loud for our people. I'm also proud to say that I'm the first non-American to win this title and, I believe, the first European to win a national leather title in the United States. This is very important as a personal achievement and a representation of our international community. Some people even started to call me "the bridge among the pond", adding a fantastic flavor to this already amazing experience.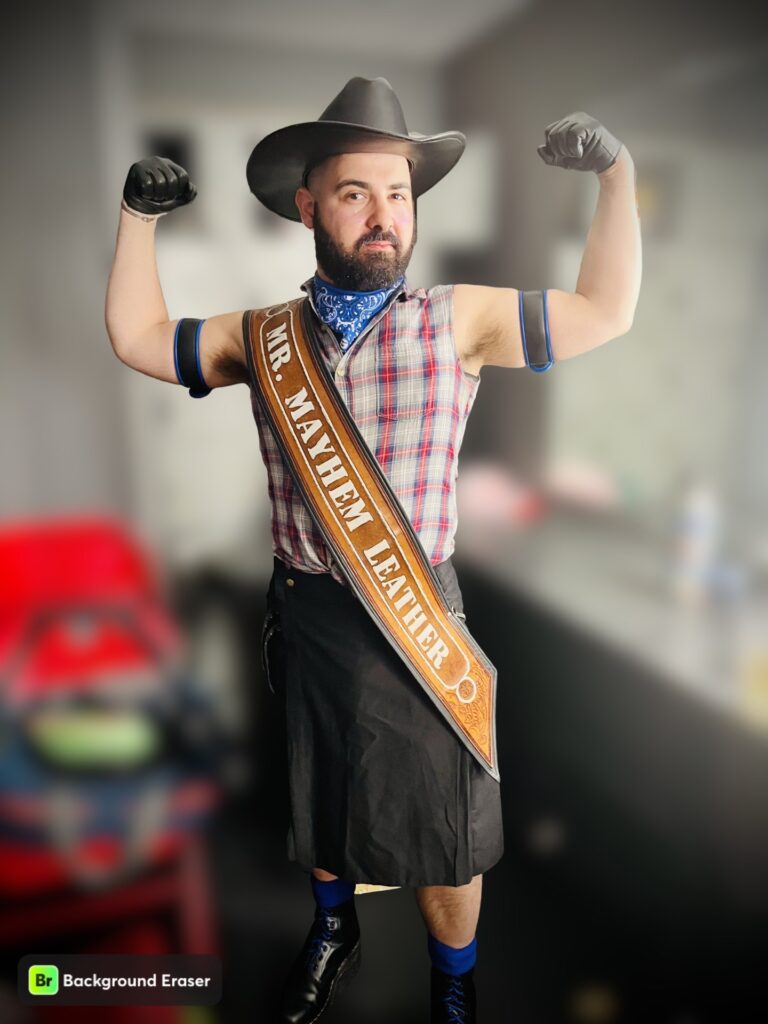 BWM: What are the responsibilities associated with your title?
Keron: As a titleholder, I am mainly responsible for representing my title and the organization behind it. With ThunderKnight, my sash brother, we travel around the US (and possibly abroad) to meet people, organize charity events, and learn more about the Community. This allows us to respond to the needs of the people, from organizing a fundraiser to teaching and guiding our folks or new people in the Community. We are under a good spotlight that allows us to walk with pride and inspire people.
During this past Pride Month, I had the opportunity to walk 3 Pride Parades in Philadelphia, Washington D.C., and New York City and to volunteer during the Folsom East Street Fest: all these opportunities are moments to inspire people inside and outside the Community and to teach others about who we are and what our Leather Life is. Inside the Community, it's important to keep people safe and together. The COVID-19 pandemic taught us that we can survive only by staying together and working together for others. When we get backlash from politicians or we are subjected to medieval laws, those are the moments we must get even closer and fight back. We are also kinky people, and we demonstrate daily that being kinky and loving leather doesn't mean we can't be professionals, parents, coworkers, or just normal citizens.
BWM: What are your goals for your title year? Where will you be appearing?
Keron: My goal for this title year is to be a loud voice for all our queer, trans, and non-binary siblings inside and outside the Leather Community, with special attention to our POC siblings. We are a Community of outcasts, and my goal is to push for more inclusivity and diversity, providing safer spaces and working to remove unconscious bias. It's weird to hear, but even inside our spaces, there is still work to show that everybody is accepted and welcome. People in my chosen family are trans, non-binary and gender non-conforming. Seeing what is happening in this country, where fundamental human rights are denied for gender identity or sexual orientation, makes me feel the spark of our LGBTQ+ ancestors and moves me to act and work even more at the service of this Community.
Throughout the summer of 2023, I'll be around the East Coast of the United States between Philadelphia, Baltimore, and New York. People can also find me at LGBTQ+ campgrounds in the Poconos Mountains in Pennsylvania – I love enjoying the freedom of a place where I can be myself 100%, as a nudist, as a kinky person, and as Leather Boy.
In the Fall of 2023 and Winter of 2024, I'll attend major Leather events to support my siblings in organizing them and other Leather contests like Connecticut Leather, Maryland Leather, and Mid-Atlantic Leather. People can find out where I will be every month on my social media. Of course, in May 2024, I'll be in Chicago to run for the International Mister Leather (IML) title as part of Class 46.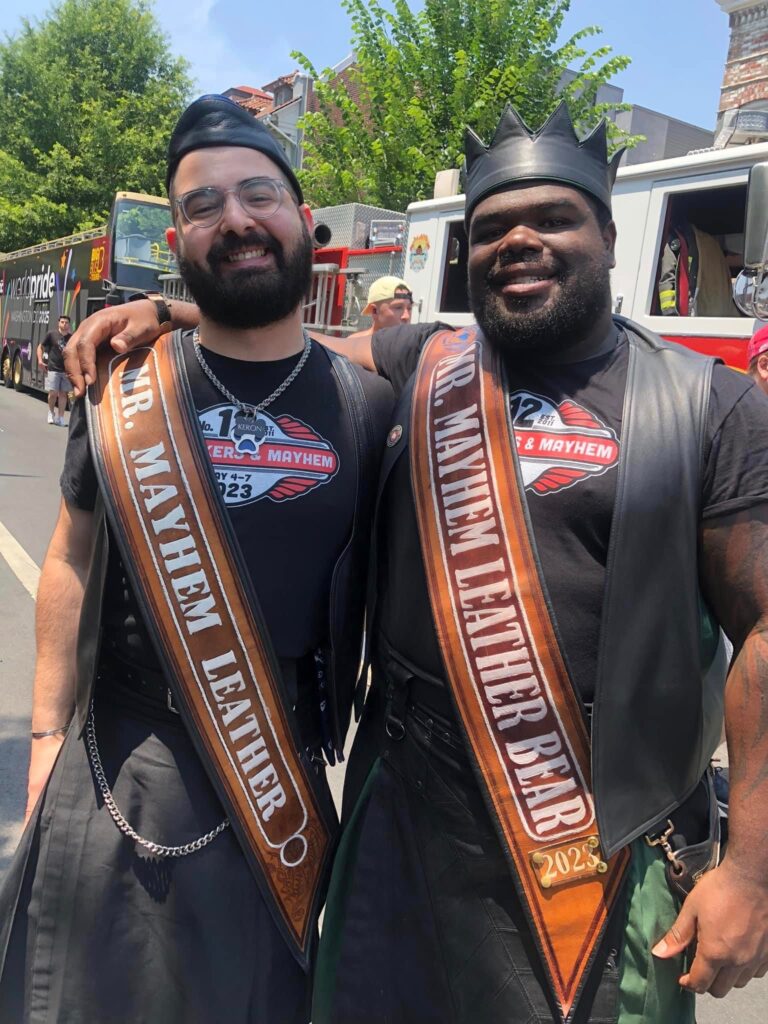 BWM: Tell us about the bond you share with TK, Mr. Mayhem Leather Bear?
Keron: ThunderKnight, but I call him TK, is a wonderful person. We immediately found each other as sash brothers, and we clicked like we had known each other for years and years. It's great having him on my side. Sometimes we have long calls at night, sharing our week and thoughts. But most importantly, we share our feelings and emotions in a way I've never done before. People think being a titleholder is always fun and parties, but we are humans and need our time off to recharge the body and soul. Having TK as my sash brother really helps me to navigate our role in the Community. I also love teaching him more about the Leather Community and when he teaches me more about the Bear Community. He is in Baltimore, my second home in the USA, so it's easy for us to come together for a weekend and cause some shenanigans and mayhem together. We are currently working to plan our first charity event, and we are very thrilled about our short-term and long-term projects. Aside from the title definition, I found a brother. We also care for our contest brothers, the eleven amazing men who competed with us: we have a very special bond and will always support each other.
BWM: What are some important issues you feel that need to be addressed in the bear/ leather communities?
Keron: The Leather Community has a very old story and tradition. We stay true to our pillar values, but the world spins around, and we spin with it. It's important to recognize and acknowledge that nowadays, the Community is more diverse. We must work to provide safe spaces where everybody is safe. The best moment I had happen was when I was together with a diverse multitude of people, without thinking of the gender, ethnicity, or kinks we might like or dislike.
In a world that labels us as abnormal or outcasts, we must come together to show the people that we want only to be who we are and who we are is no harm to anybody. We collect money to support people in need and provide safe spaces to let people express themselves and not be ashamed. I'm proud of my origins and past, but I have been outcasted many times by people around me, even in the LGBTQ+ community. As an outcast, I would never allow anyone to be outcasted because of gender, age, body, kink, skin color, identification, or anything not defined as "the normality".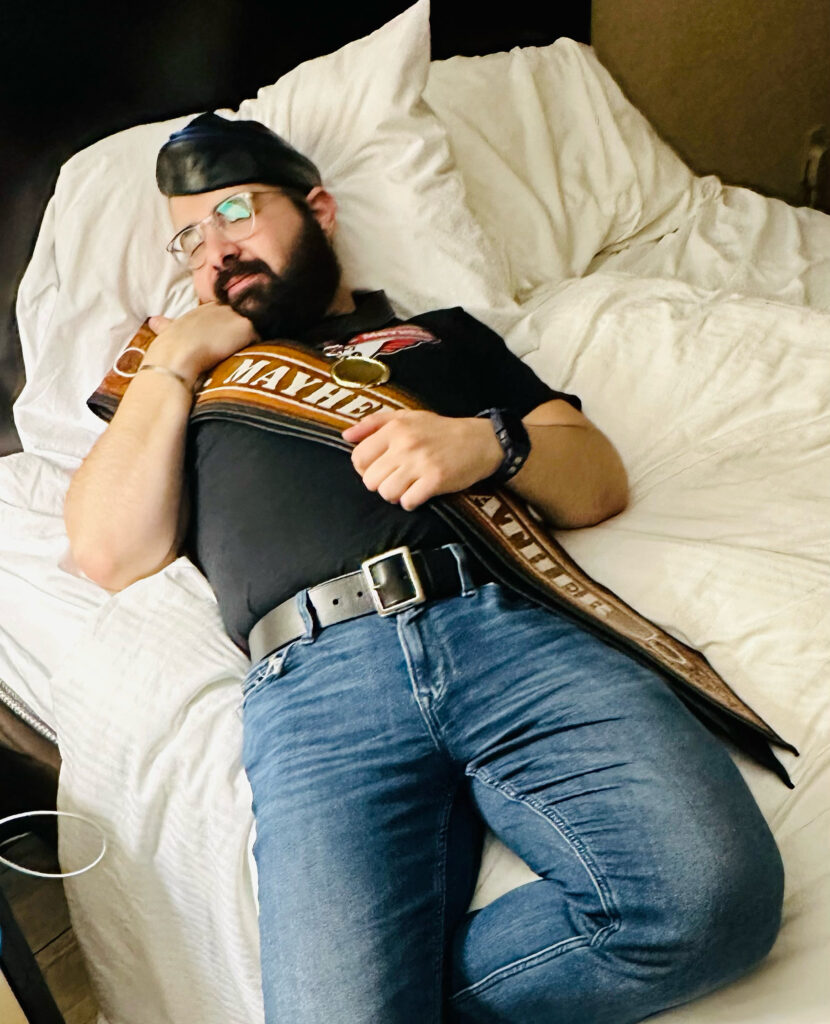 ---
Keep up with Keron, Mr. Mayhem Leather 2023, on the Facebook and Instagram.