Meet Diniz Sanchez, Mr. Lisbon Bear Pride 2023
Lisbon Bear Pride has been bringing the Portuguese bear community together since 2012. It's an annual celebration to celebrate our culture and diversity in one of the most gay-welcoming countries in the world. Part of the annual festivities includes the election of Mr. Lisbon Bear Pride. We sat down with the current title holder, Diniz Sanchez, to get to know about him and his plans for his title year.
BWM: Can you tell us a bit about your background?
Diniz Sanchez (DS): My name is Diniz Sanchez, I was born in Lisbon, Portugal in 1974 (year of the Portuguese Revolution that ended 25 years of dictatorship). I am a performing artist: started as a contemporary dancer, and have also been working as choreographer, actor, performer and stage director specializing in opera.
I've been gay since I can remember and came out when I was about 18 years old. My mother was (and still is) quite accepting… my father had a little bit more difficulty accepting it (he wanted to be a grand-father – I have a 5-year-old daughter, but unfortunately my dad passed away before she was born), but he did come around and supported me till the end of his life.
An important thing about me is that I am also SPICY TUTUBOY, a performative persona that develops activist work about gender, sexuality, identity, feminism, nationalism, etc.
I have also worked as an ayurvedic masseur, and lately, through my collaboration with Camp Bear Hug, started developing coaching work in intimacy and sexuality.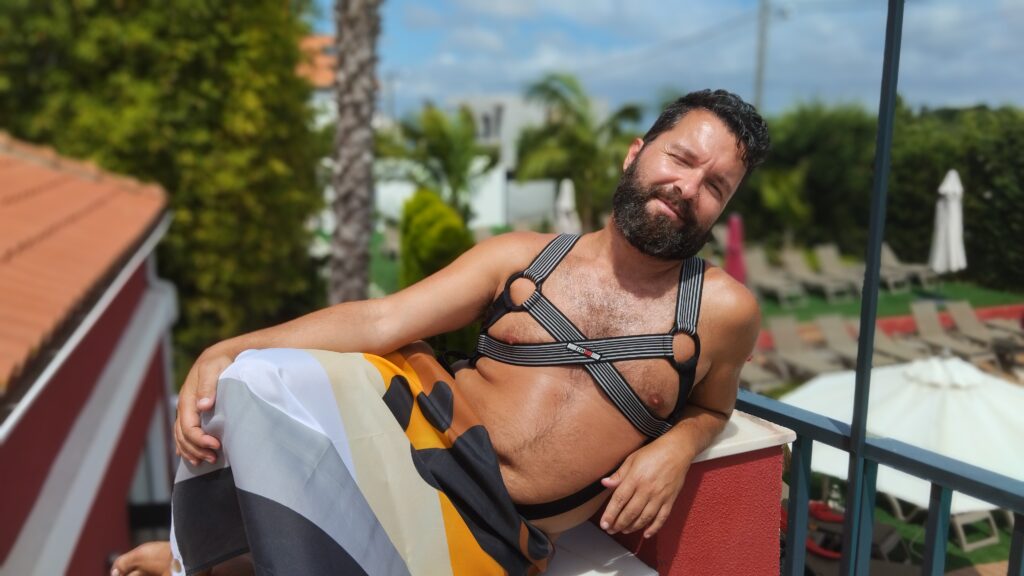 BWM: What drew you to the bear community?
DS: I was a chubby child. I only cried for food – that is what my mother tells me! so,en when I was a baby, I was never satisfied with a full bottle of milk, so my mother started adding a spoon of condensed milk… so I had a sweet tooth even back then (laughs)!
In my teenage years I got slim, but always had a large build, heavy bones and I was hairy!
I am not big enough (sadly the Portuguese are usually not tall) to be considered a Bear… but definitely a cub! So, I embraced it as soon as I was aware of it.
I feel that the Bear Community is one of the most open and welcoming communities, so I am really very happy and honored to be a part of it – I guess, that even if I was not the cub that I am, I would still want to be a part of this community!
I would also say: the honey and especially OTHER BEARS draw me to the community!
BWM: What made you want to compete for the title?
DS: A good friend of mine, Marcelo (he is a Brazilian Bear living in Portugal, and also a part – actually the initiator – of Camp Bear Hug), is responsible for me entering the competition…. He is also friends with last year's Mister Lisbon Bear Pride, Nilton Garcez. Marcelo thought that we resembled each other physically, so he told me "You have to compete this year!", and I said "OK!".
I also thought it would be a good way to bring more light and visibility in Portugal to our project Camp Bear Hug, as of now it is still barely known by the local Bear Community…
But I have to confess that I was not totally aware of the international importance of this title, as the Bear Community in Portugal is not big and to my knowledge there are currently only 3 or 4 establishments that are openly welcoming our community, all in the big Lisbon area! Two of these are the organizers of Lisbon Bear Pride: the team of 4 wonderful bears that own Bar Tr3s Lisboa & Villa 3 Caparica.
BWM: How was your experience competing? What was the best part?
DS: It was great! It was my first Bear Pride!
I got the "Full Pack" for Lisbon Bear Pride, so I got to go to most of the events and parties.
I guess the thing that I enjoyed the most was the feeling of being part of this community! And meeting so many people, some of which are growing to be good friends.
Since the beginning (when the online poll to vote for the 5 candidates came out) I tried to get in contact with all the other candidates: for me it was not about competing against each other, but to grow closer and become friends…. and I am happy to say that I can call at least one of them a friend now! They were all nice bearish men, and it was an honor competing for this title, by their side!
The Armani Dvyne show (she was the performer who presented our election) was amazing – she is a great artist – so I could say that that was the highlight!
It was a lot of fun, but also tiring…. I am still recovering (laughs)
BWM: What does winning this title mean to you, specifically?
DS: I see it as a platform to publicize Camp Bear Hug which I feel is doing very important work… and of course to be considered a handsome cub/bear, feels nice too…. but now that I am aware of the exposure and the field activist work that can be done for the Bear Community specifically and the LGBTQIA+ community in general, that has really become my priority.
During our election, Armani Dvyne asked all the candidates what we would do if we won… My answer was "more hugs to all Bear's and friends". I really feel that one of the things that is missing in our community (Bear and LGBTQIA+) and in the world at large nowadays is human contact and caring; a sense of union and acceptance beyond differences; and without wanting to seem corny – LOVE!
We are not here to fight and quarrel, but to love each other. That is why the work that we are doing with Camp Bear Hug seems so important to me! I wish we could apply the CBH principles of love of self and others, respect for self and others, and having empathy in everyday life towards The World to make it a better place for all…. maybe we can.. As Mahatma Gandhi said: "Be the change you wish to see in the world!" That is my life's moto!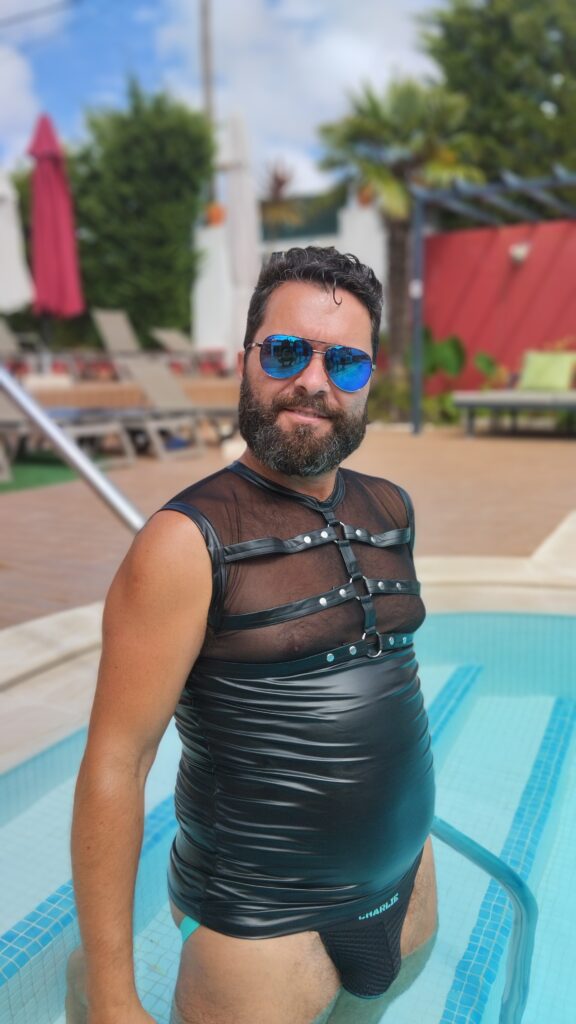 BWM: What are your goals for your title year? Where will you be appearing?
DS: My goals are to promote a bigger unification of our communities! More kindness towards each other, less ego and more empathy, being more accepting of ourselves and of others, especially with all our rich diversity!
Let us unite and feel our brotherhood, independently of our diverse ideas, ways of seeing ourselves and the world. Another of my life's motos is "I prefer to be happy than to be right!" from Louise Hay. Accepting our diversity of races, religions, sexualities, cultures, skin colors and body shapes! There is always something beautiful in everyone and everywhere! Something that we can love…and respect!
Practically I would like to travel all around my country (go to Pride Events happening in other cities – even if there is no specific ones for the Bear Community), Europe and the world!
But of course, for that I need some financial support or at least some economic stability. I currently don't have that. As a performing artist it is very difficult to have stability in Portugal (nowadays the total of the Portuguese government's budget for culture is less than 1%!!!), so my situation is far from being good.
I do have many projects that I not only perform, but write, produce, market etc., but this is nothing new – ask any independent artist! And sometimes these projects or ephemeral jobs, don't even pay!
So, if you don't mind me putting it out there: I AM LOOKING FOR SPONSORS, MAECENAS, PATRONS, BENEFACTORS, etc. to be able to appear at Bear Events all over Europe and the World!
Places where I would like to appear, as of now:
Amsterdam Canal Parade – August 5th (Netherlands)
Prague Pride Week – 7-13 August (Czechia)
Copenhagen Pride – 19th August (Denmark)
Valetta Europride – 7-17 September (Malta)
Bearytales – September 27th to October 1st (Belgium) – Election of Mr Bear Belgium on September 30th at Theatre Vaudeville
Prague Fetish Weekend – 5-8 October (Czechia)
Mister Bear Poland Election – 19-22 October (Poland)
And these are just some of the events happening in Europe… I would love to appear at events in the US… or Asia – I lived in India for almost 5 years, and would love to go back there. They need all the support they can get!
BWM: Tell us about your upcoming work with Camp Bear Hug?
DS: In September 2022 we did our first Camp Bear Hug in Portugal, and it was such a beautiful experience!
This year I am more involved. I have joined Jon (Coach Cub) and Marcelo, as part of the core staff of Camp Bear Hug.
Like last year, I am facilitating the yoga based warm up and stretching class, and the dance workshop – although this year Spicy Tutuboy's glamorous presence will stimulate the dance workshop to evolve into a full-on dance party! Yuhoooooo!!!
This year I am also proposing a coaching workshop on contact and intimacy, both as a group activity, and as private, individual/couple sessions.
Camp Bear Hug is such an amazing and necessary concept, that I feel we need to make it something very recurrent and accessible to as many people in our community as possible!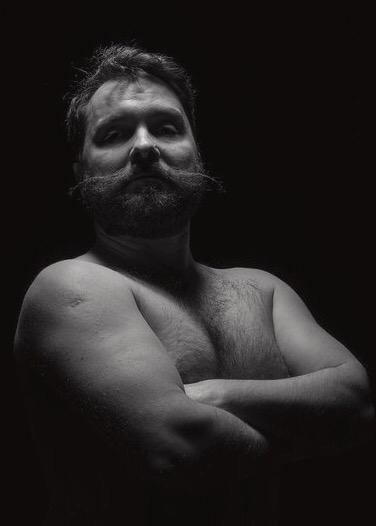 ---
Keep up with Diniz Sanchez, Mr. Lisbon Bear Pride 2023 on Facebook, Instagram and YouTube.