Meet David Sugar, World Cub 2023
We continue our coverage of World Bear Weekend and the newly elected World Bear World Family with an exclusive interview with David Sugar, the new World Cub. As a champion for bears with disabilities, his platform is so very important. We are proud to present our conversation with this passionate and dedicated titleholder below.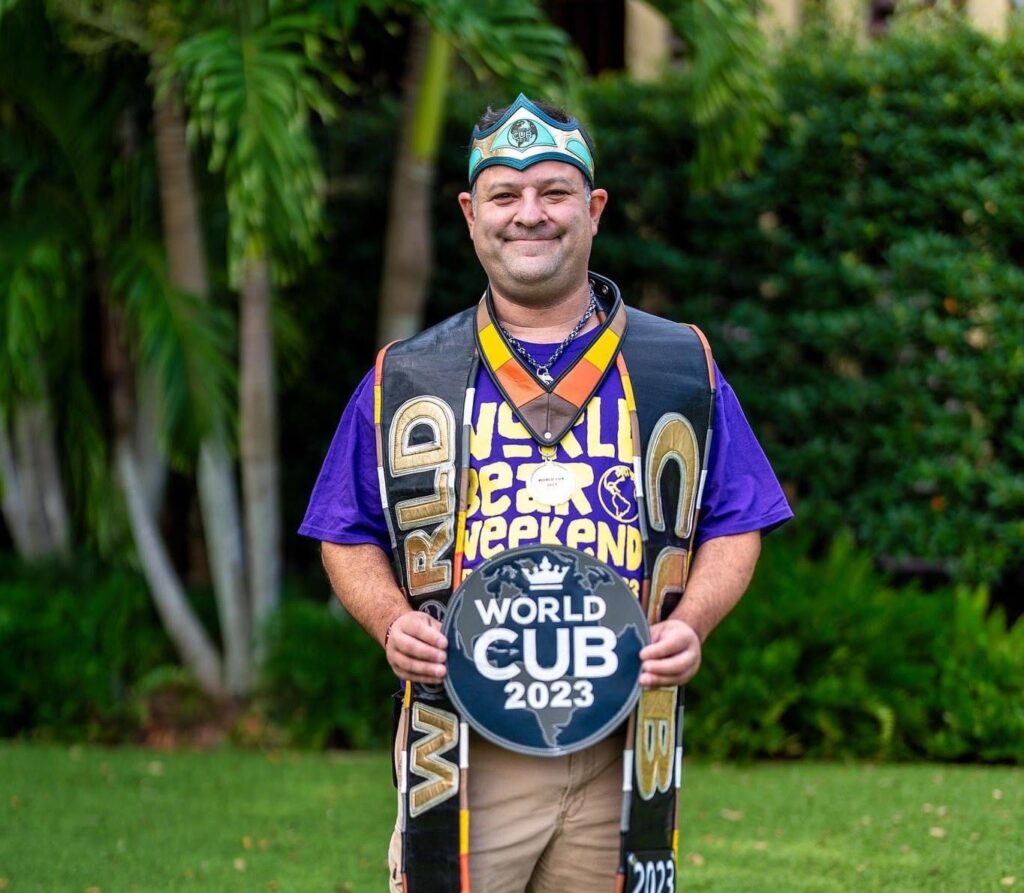 BWM: Can you tell us a bit about your background?
David Sugar (DS): I was born and raised in Baltimore, Maryland where I currently live. By day I am working as an IT systems administrator. My evenings and weekends find me doing a number of different things – whether its spending time at Clifton Pleasure Club where I'm currently the treasurer, joining the ShipMates Club of Baltimore, the leather/levi club I've been a member of since 2018, or spending time with one of the other clubs I'm an associate of – Vixxens or COMMAND MC. I'm also happy spending time on my own enjoying what the area has to offer from kayaking to heading down to Bethany Beach, Delaware (20 minutes from Rehoboth Beach).
Many people that meet me might not realize that back in 1997/98, around the time I was about to graduate from high school, I was diagnosed with Aspergers (now referred to as high functioning autism). I've never let this hold me back in any way – from graduating college with a degree in computer science, to earning a master's in information technology, to things like purchasing my house when I was 26 and being an active member in the community.
Prior to getting involved in the leather/bear/kink/fetish communities I dj'ed drag shows (and still do), spent three years on the board of the local LGBT community center and headed up the vendor coordination for Baltimore Pride for four years. As such when I competed for my first competition, Mr. Maryland Leather in 2019, connecting with who I am and making my focus on disabilities was a perfect platform. I've never liked using the word disability, instead I prefer to use the term challenge, it doesn't hold you back. I see all people as having their own challenges whether diagnosed or undiagnosed. My platform along my journey has been bringing visibility, accessibility and inclusivity to those with disabilities, more on how I'm accomplishing that later.
BWM: What drew you to the bear community?
DS: I had always seen myself as "bearish" but never really connected with the bear community until I competed and won the title Mr. Mayhem Leather Bear 2022.  In fact I originally was going to compete for Mr. Mayhem Leather but a close friend suggested I consider competing for Mr. Mayhem Leather Bear.  I had to think about it for a little while as one of my goals was to compete at IML, but I decided since I'm in the leather community and could identify as bear/cub to take the chance, which was a great decision.  Connecting with the bear community really has been great. It's allowed me to meet many more people and better yet find another part of myself within the communities.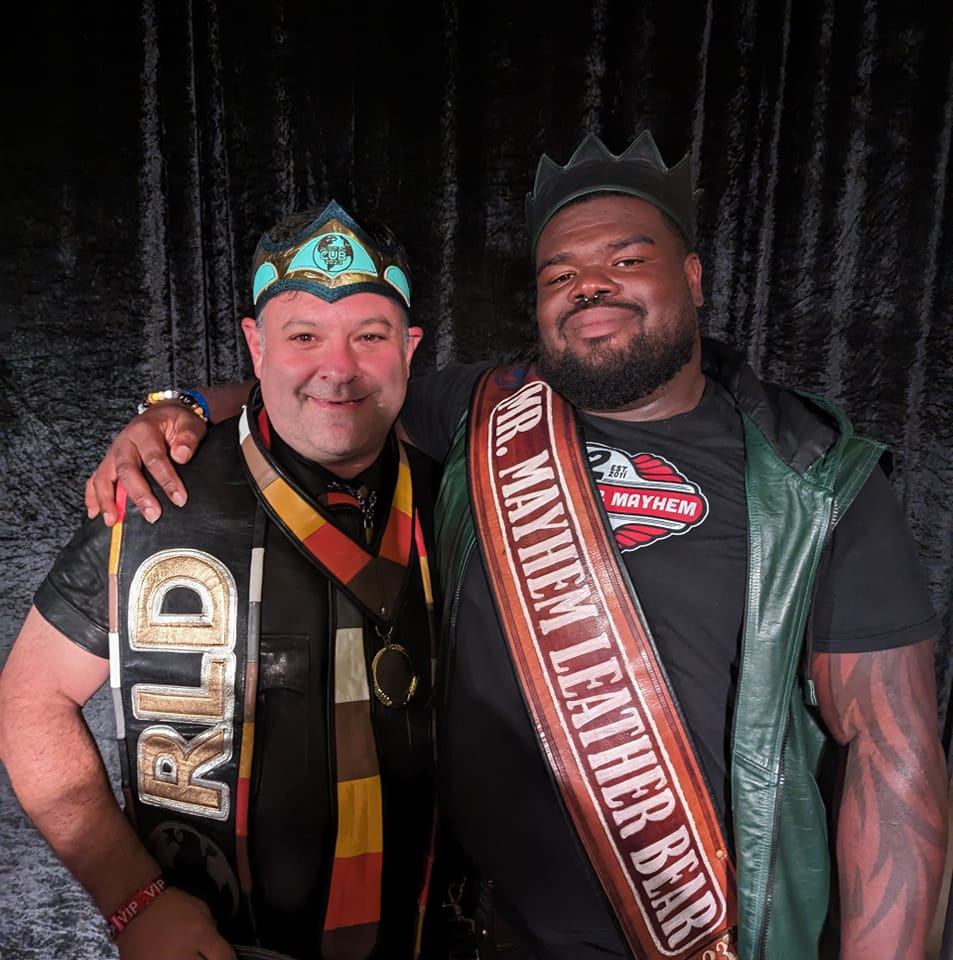 BWM: What made you want to compete for the World Cub title? Tell us about your history of competing.

DS: Well to start I identify as a cub so that is why I competed for the World Cub title.  As for competing at World Bear, my prior title was Mr. Mayhem Leather Bear 2022 from Bears, Bikers and Mayhem so competing at an international bear competition was a logical step.  People are multidimensional, meaning that many times people identify in many different communities, for myself leather, bear/cub and pup/pet play communities. 
This past May I took the opportunity to compete at IML and represent the leather side of my prior title, a great experience allowing me to connect with people from all over and not just the US. Also, as a side note my IML brother, Chris Gonzalez who was first runner up to IML is also World Cub 2019-2020. Competing at World Bear allowed me to represent the bear side of my prior title and connect even more with the bear community. It also allowed me to challenge myself and push some of my boundaries. The last competitions with more of a leather focus didn't include a fantasy scene or theme scene for that matter. I had to think more outside the box and be creative.
BWM: How was your experience competing? Tell us about your theme wear and fantasy presentations and your platform for supporting bears with disabilities.
DS: The experience competing was great, along with the opportunity to connect and meet so many different people. My fantasy scene was based on how I enjoy rope bondage. I've always thought about having a more dominant guy take control of me and do as they wish, so when I was discussing ideas for a scene with Geoffrey Millard (who helped me with both my fantasy and theme scenes), we decided on a rope bondage scene. The scene starts with me looking at a vintage 15 Association poster and fantasizing about the guy in the poster taking control and tying me up. That poster comes to life with Geoffrey, who is a member of the 15 Association and has a jacket just like the one in the poster. I ask Geoffrey to play with me, he agrees, the rest we will leave to the imagination, but it involves him cutting off my shirt and pants and using some rope.
As for the theme scene it directly connects with my platform of disabilities. I've always had some level of social anxiety as someone on the autism spectrum. I played the villain Autism Anxiety Cub and Geoffrey was the Prince of Popularity. In short, the idea is that rather than settling for social anxiety and spending time on my own, I find a way to overcome that anxiety using the disability pocket flag to defeat the Prince of Popularity, gaining strength and finding my voice.
As I mentioned earlier, my platform has been bringing visibility, inclusivity and accessibility to those with disabilities. There are a number of ways I've been doing this. First and foremost, the disability pocket flag. This pocket flag has the wheelchair on the foreground and behind it there is the color that one would flag which is interchangeable. The idea behind this pocket flag is to ask about the disability first and then discuss the kink/play. These pocket flags can be ordered from Wolfstryker Leather.
I also worked to develop an anonymous survey that event organizers can use to poll their attendees and find out disability needs, you can find an example HERE. By using the feedback from, event organizers can help make their events more accessible to those with disabilities.  Beyond this I have also worked to help educate people by holding round table discussions on disabilities both in person and on zoom and having a community document on disabilities that all can add to HERE.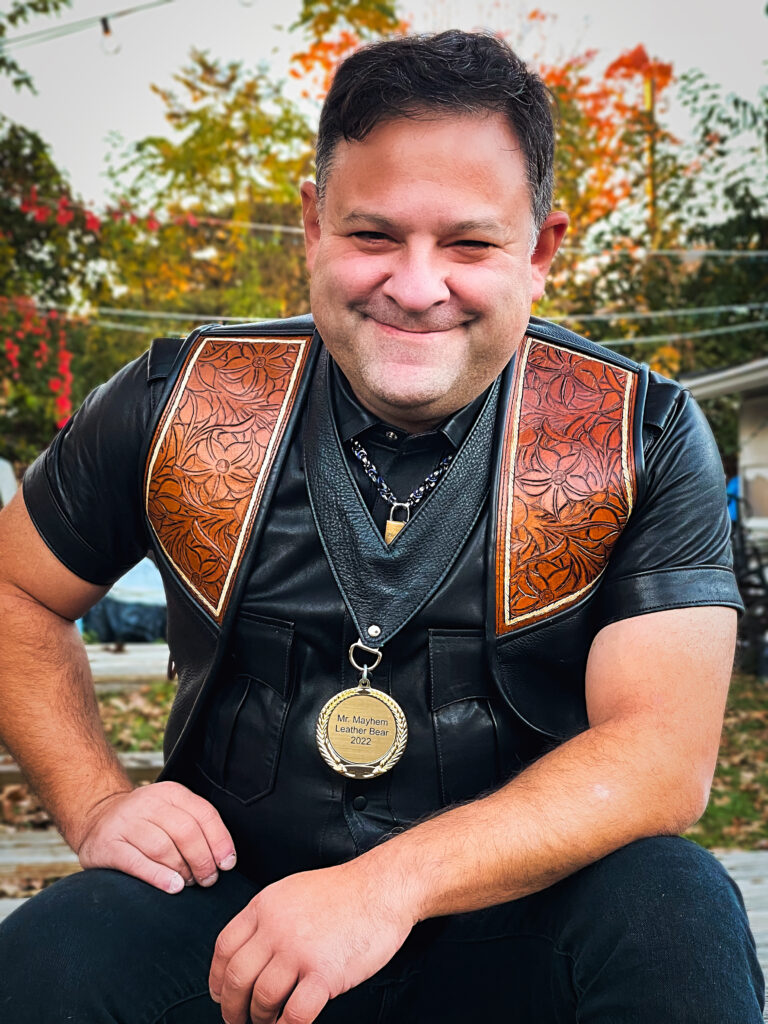 BWM: What does winning this title mean to you, specifically?
DS: Winning this title means the opportunity for me to connect both the leather and bear communities even more.  I've already been active in the leather community as a member of ShipMates and having competed for leather competitions, but now it's time to connect even more with the bear communities.  I hope to bring more visibility of World Bear Weekend and this title not only to the bear communities locally and abroad but to the leather community that I'm already a part of.  Also, I can't forget the opportunity to bring more visibility to my platform in the process.
BWM: What are the responsibilities associated with your title?
DS: In a nutshell bringing visibility to the title (ie. going to events), fundraising and helping promote World Bear Weekend. But there is more, it's being a leader in the community, continuing to work to develop my platform and support others in the community. During this year I plan to fundraise for MADIF, Mid-Atlantic Deaf Interpreters Fund, a local organization that helps provide interpreters for events. You can learn more about them HERE.
BWM: What are your goals for your title year? Where will you be appearing?
DS: My goals for the title year, in no order of importance are: continuing to build my platform on disabilities, bringing visibility, inclusivity and accessibility to those with disabilities.   Also traveling and experiencing new events that I might not have gone to. One piece of advice I got from someone after I won my prior title was to make the year special and I plan to do that. So, in the short term here are some events I plan to attend this year:
– November 24th Bucks MC Santa Saturday (Asbury Park, NJ)
– December 2nd – ShipMates Club of Baltimore – Daddy Xmas (Baltimore, MD)
– December 9th 24th Annual 12 Days (Baltimore, Maryland)
– January 12th – 15th Mid-Atlantic Leather (Washington, DC) 
– February 15th – 18th North American Bear Weekend (Lexington, KY)
– May 23rd – 27th International Mr. Leather (Chicago, IL)
– August 1st – 4th World Bear Weekend (Lexington, KY)
BWM: What are some important issues you feel that need to be addressed in the bear community?
DS: Not just the bear community but the leather, kink, fetish, and bear communities, we need to embrace, adapt and educate the next generation. As a part of the pet play community, I find a lot of younger members in our community coming in without much guidance. When it comes to knowing the rules of the community, including consent, we need to make sure there is education. At the same time as part of the leather community I see many holding onto traditions and not being willing to adapt. For our communities to grow and flourish we need to adapt for the next generation. I'm learning firsthand as part of a 50-year-old leather club that if we want to bring in younger members our club needs to appeal to those younger members and not just the older, long-term members in the club. While this may be hard to accept, adaptation is something that needs to happen, but this can happen without forgetting about our traditions.
BWM: Lofty and important goals for sure! Good luck David and thanks for taking the time to chat with us!
Be sure to follow David Sugar, World Cub 2023 on Facebook and Twitter. Be sure to also check out his Disability Accessibility Page on Facebook as well.