Marsha P. Johnson Institute
During pride month we wanted to highlight people in the community we are thankful for.
We, of course, have to be thankful for Marsha P. Johnson, because without her courage and activism, we would not have Pride at all. In our mind, she is our permanent Grand Marshall of Pride, and always will be.
Find out more below about the Institute that honors her name and memory.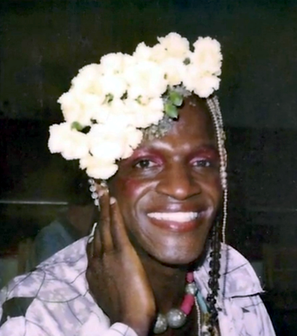 Marsha P. Johnson was an activist, self-identified drag queen, performer, and survivor. She was a prominent figure in the Stonewall uprising of 1969. Marsha went by "Black Marsha" before settling on Marsha P. Johnson. The "P" stood for "Pay It No Mind," which is what Marsha would say in response to questions about her gender. It is the consideration of who "Black Marsha" was that inspired The Marsha P. Johnson Institute.
So much of our understanding of Marsha came from the accounts of people who did not look like or come from the same place as her. As transness is now more accessible to the world, introducing the Institute to BLACK trans people who are resisting, grappling with survival, and looking for community has become a clear need.
MISSION STATEMENT
The Marsha P. Johnson Institute (MPJI) protects and defends the human rights of BLACK transgender people. We do this by organizing, advocating, creating an intentional community to heal, developing transformative leadership, and promoting our collective power.

We intend to reclaim Marsha P. Johnson and our relationship as BLACK trans people to her life and legacy. It is in our reclaiming of Marsha that we give ourselves permission to reclaim autonomy to our minds, to our bodies, and to our futures. We were founded both as a response to the murders of BLACK trans women and women of color and how that is connected to our exclusion from social justice issues, namely racial, gender, and reproductive justice, as well as gun violence.