Marquis the Honey Bear presents Black Bear Joy!
Recently named Mr Bear LA 2023, Marquis the Honey Bear is presenting his first event, along with Bears LA, this Friday at Eagle LA. Called Black Bear Joy, the night features entertainment from Blaque Tea, sexy go-go dancers, a raffle with prizes from scintillating clothing brand Bear Skn, and yummy treats from Get the Fork Out. It promises to be "an unapologetic celebration of black bears, just in time for Black History Month."
Beyond good fun, the night will be for a good cause, as it's also a charity fundraiser for the Center for Black Equity. All of this is the brainchild of Marquis the Honey Bear, an Emmy-nominated producer, playwright, fashion fan/model, and "all around fat black gay who cares about representing people who look like me in all our beauty." We chatted with him recently about Black Bear Joy and his thoughts for his hear as title holder.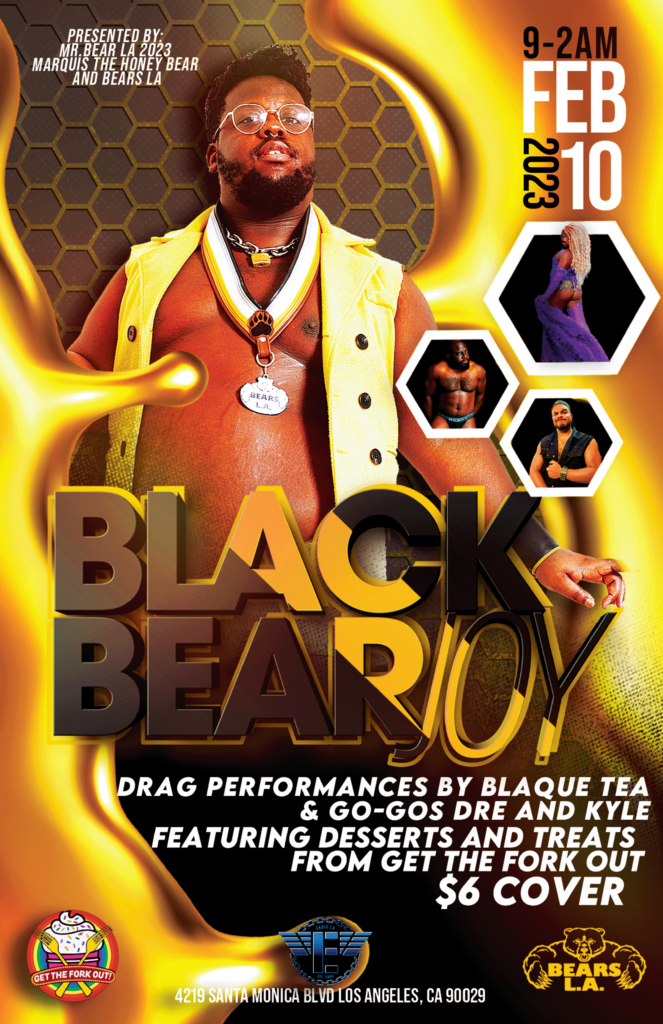 ---
Bear World Magazine: Congrats on being named Mr Bear LA 2023. Is this your first title? What inspired you to enter the contest?
Marquis the Honey Bear: This is my first title, as well as my first attempt at running for a title! More than anything, my goal has always been to help black bears not feel like they need to justify their bearhood, or their right to belong at bear events. Entering the Mr. Bear LA 2023 contest felt like the chance to give that goal an official platform with the credibility to make things happen.
Plus, I love performing and queer nightlife, both have shaped me greatly, and this contest felt like a marriage of those two things. I'm from the Seattle area, and I never would've done something like this back there, I didn't have it in me back then. Ever since I moved to Los Angeles in June 2021, I've engaged with the gay and bear communities out here, and thankfully they engage back mostly positively, so the contest also felt like commemorating Los Angeles as my home officially. Ultimately, I figured win or lose, I'll at least get to turn some looks, and I can't be too mad about that.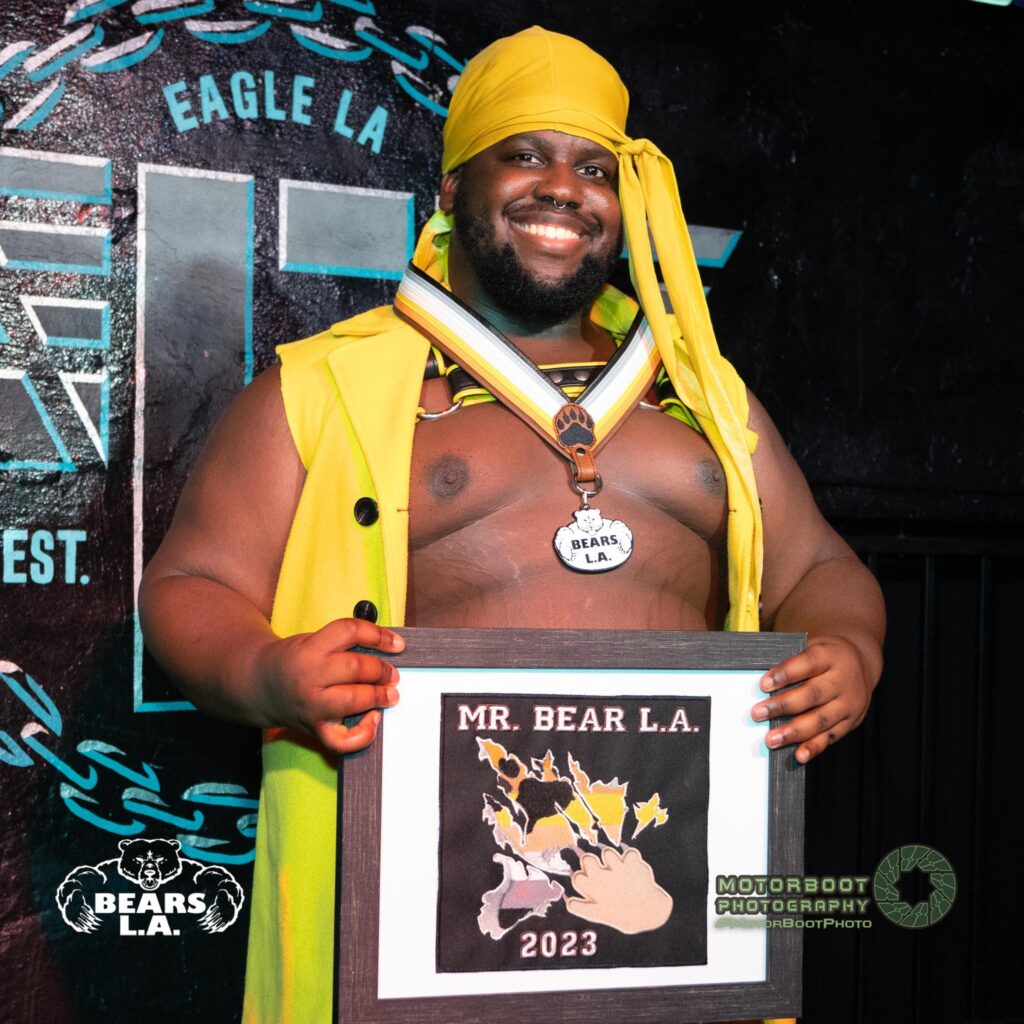 ---
BWM: What are you most looking forward to with your year as a titleholder?
MTHB: My title year is dedicated to fostering spaces for unapologetic blackness and gender nonconformity, so I'm really looking forward to creating more events, like the upcoming Black Bear Joy, that aim to do exactly that.
I also really love wearing gaudy looks that cover 0.5% of my body, so having an excuse to go out and connect more with the bear community has been a blast as you could imagine. Getting to travel more to connect with bears nationally (and internationally if I'm lucky) is probably my biggest hope for the year.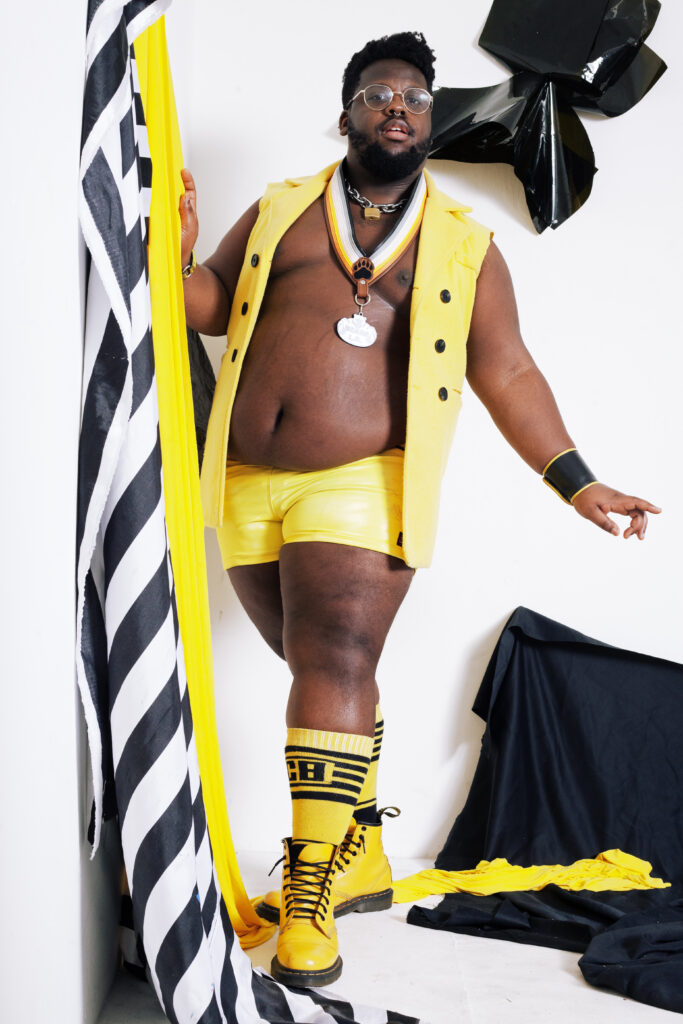 ---
BWM: Are there any specific issues, values or ideals you would like to foster or generate more awareness of within the bear community?
MTHB: "Just a preference," disguised racism is so fervent in the gay community, and feeds into the bear community heavily. It runs deeper than just picking a sexual partner within the bear community, black people who identify as bears still often are disregarded as being bears at all. There can be a lot of power in claiming a label for yourself, I know claiming bearhood continues to make me feel incredibly strong and sexy. So to constantly see black people, especially those of darker skin, more feminine expression, and/or with little to no body hair, constantly being left out of the image associated with bearhood is something that will never sit right with me.
It hurts to be invalidated within a community that's about empowerment on the surface. So I will forever implore bears, specifically non-black bears, to dismantle the arbitrary barriers to entry for this community. These conscious or unconscious barriers help no one and rob everyone. Bear events shouldn't be a sea of whiteness, it'll take work to undo this, but that extra work starts by being self-critical to our contribution to these barriers.
---
BWM: How have your own experiences led you to create Black Bear Joy?
MTHB: Being marginalized through the intersections of blackness, queerness, and fatness is like winning tribulation bingo. On top of that, I unfortunately grew up as a Jehovah's Witness; there's so much to unpack there that I can't do sufficiently in this interview, but that institution on top of my marginalizations made for a rough childhood. Despite it all, I could think of no greater honor than being a fat, black, gay man. To see the world through these intersections, to be in touch with such a nuanced lens, to feel beautiful in this specific way, it all adds color to my life, it fuels my happiness.
Besides the color looking great on my dark skin, objectively, that's why I'm known for wearing an excessive amount of yellow! Yellow evokes joy, and ultimately, I want to be remembered as a boon of joy. People like me go through enough bullshit on the regular, internally and externally from our respective communities. So I wanted to make an event where we can take up space, feel sexy, and not feel the need to justify our existence to anyone. It all comes back to joy, especially during black history month!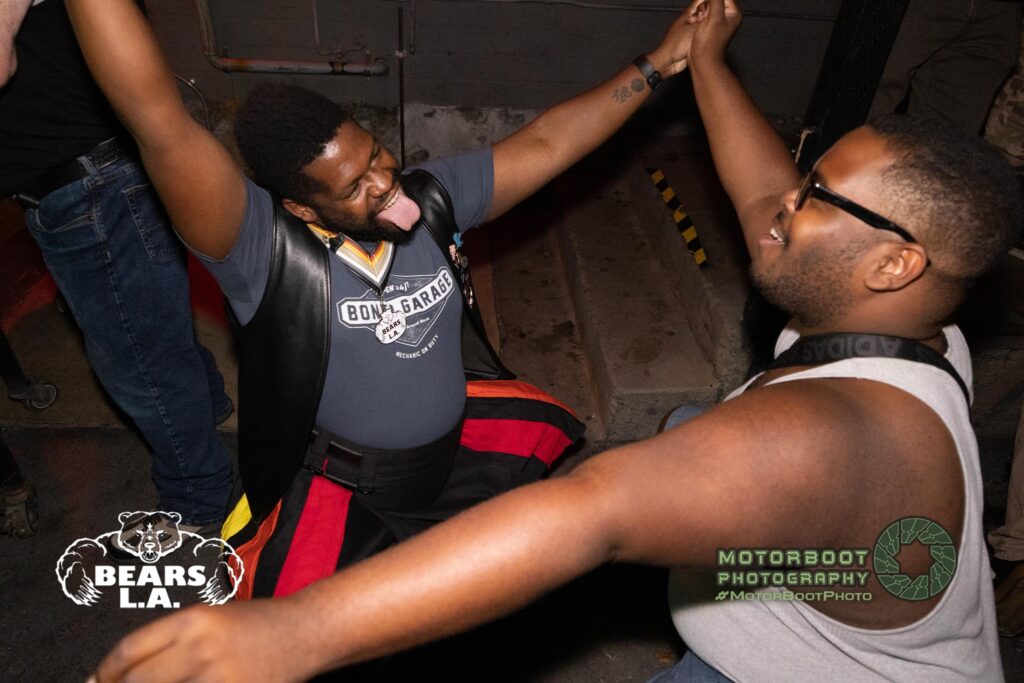 ---
BWM: Black Bear Joy is a charity event as much as it is a celebration. How did you end up deciding which charity to support?
MTHB: A portion of the proceeds is going toward the Center for Black Equity! I've had my eye on them for a while now, as their mission is to improve the lives of black LGBTQ+ folks globally. That intentionality to focus on queer black lives means a lot to me. So for black history month and my inaugural title holder event, making the event have a charity aspect felt like the best way to show my values, while also positively impacting queer black lives equitably.
---
BWM: With you having such a large hand in curating the event–from the dancers to the vendors to the entertainment–it sounds like Black Bear Joy is a good representation of your taste and style. What are you hoping those who join you at the Eagle that night experience and walk away with?
MTHB: The diplomatic answer is that I hope people walk away with trust that I care about making these bear spaces better for everyone involved. But at a base level, it's a bear event at the Eagle! I want this event to be black as hell, loud as hell, I want a sea of friends and strangers laughing and kissing each other. I wanna see people cheering on our amazing talent, from the drag performances from Blaque Tea, to go-gos Kyle and Dre. I want people to have a good-ass time, and I want people to feel that nights like Black Bear Joy are always necessary.
---
BWM: What is next on your Mr Bear LA 2023 calendar?
MTHB: After Black Bear Joy, my eyes are set on IBC. Nothing planned event-wise on my end for IBC; lately I've been the 'gay on the go' if you will. So like a slut caught in honey (bear, branding sorry), I'll be taking it slow for that event thankfully. But after that! I'm hoping to focus my next few events on making a space for fem and gender-non-conforming bears. Keep an eye out for that, I'll be screaming about it on my socials as soon as I can!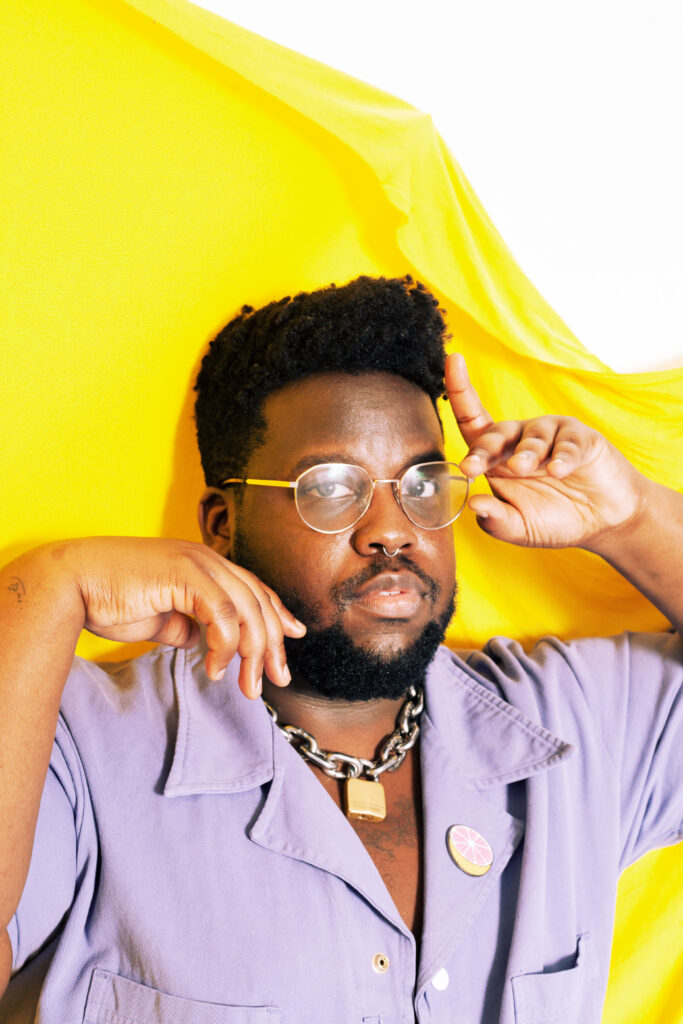 ---