London Queer Geek community celebrates Japanese film
Queer anime is headed to London!
As part of their 2021 Japan Season, which celebrates Japanese filmmaking over the past 100 years, the British Film Institute (BFI) and Fringe! Queer Film and Arts Festival will be presenting a screening of Summer Wars.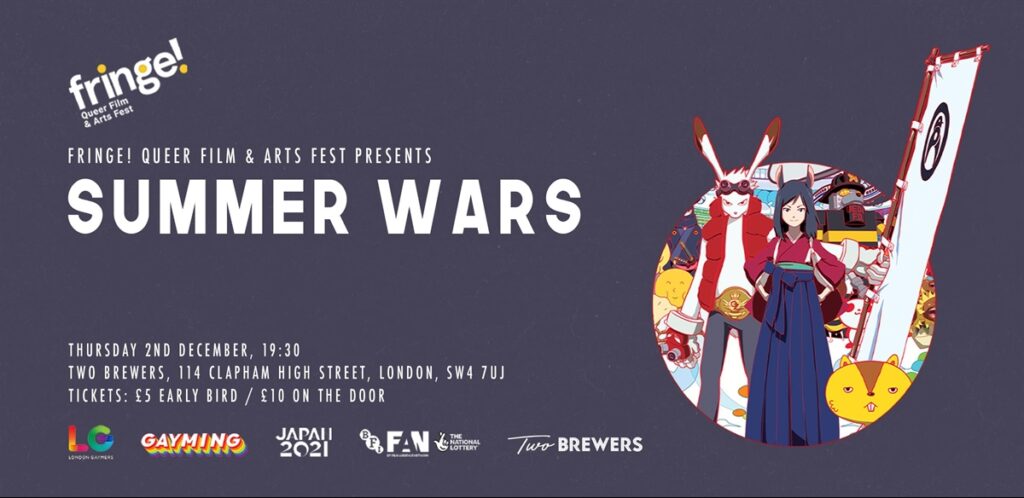 BFI is including Summer Wars in their Japan Season in order to support the underserved queer anime, manga, cosplay and nerd community, and communities within. Presented in partnership with London Gaymers and Gayming Magazine, the event will be paired with a pre-screening Q&A and post-screening video game tournament on Thursday, December 2nd, at the popular London gay drag pub Two Brewers in Clapham.
A stunning and hypnotic allegory for "person versus machine," Summer Wars is an eye-popping symphony of colour and imagination that leaps from the screen to blow the viewer's mind. Think 1983 cult classic Wargames meets Digimon: The Movie, which were also co-created by Director Mamoru Hosoda.
Director Mamoru Hosoda (The Girl Who Leapt Through Time, 2007) traces over tried and true ground and makes it fresh by virtue of the film's stunningly beautiful artwork and the charming subplot of the Jinnouchi family reunion. (TheDivaReviews.com)
Summer Wars Anime & Gayming schedule is as follows:
6:30pm – Doors Open
7:00pm – Q&A / Gayming Panel
7:30pm – Film Screening Starts
9:30pm – Game Tournament
11:00pm – Soft End / DJ's Until 2am
2am – Venue Close
---
For tickets and other information, go here and visit and visit www.fringefilmfest.com.
For more information about BFI's Japan 2021, visit www.bfijapan.co.uk.
Follow Gayming Magazine on Twitter, Instagram and Facebook.
Follow London Gaymers on Twitter, Instagram and Facebook.