LA Community Leader Gabriel Green on Pride and Service
If community service were a martial art, Gabriel Green would be a blackbelt. Whether it's finding housing for under-served individuals or organizing the next Bears LA brunch, Gabriel is constantly helping Angelenos both within and around the queer community. And he's been doing it for over 20 years.
The chair of LA Leather Pride and LALC CAReS, the president of Bears LA, and the titleholder of Mr. LA Leather Bear 2014, Gabriel took some time to chat with us about service, reflection, and what Pride means to him.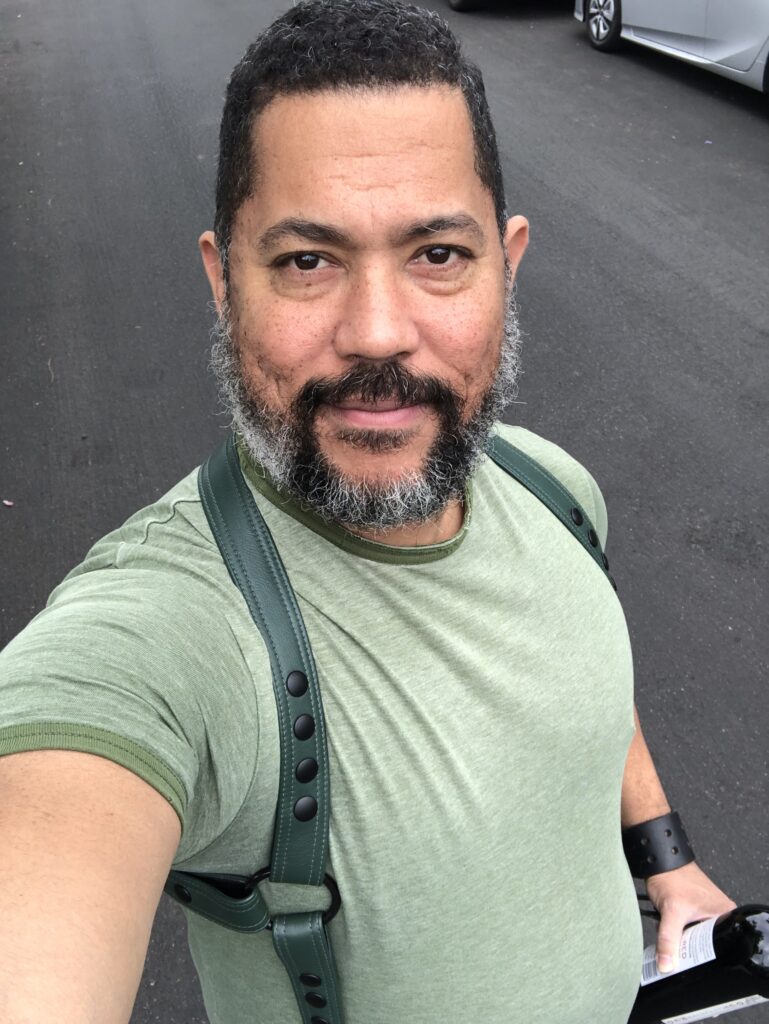 ---
Bear World Magazine: Pride season is here. What do you look forward to most about it?
Gabriel Green: I look forward to everyone celebrating and expressing who they truly are. Pride is a celebration of being LGBTQ+ but it's also a statement about being able to overcome adversity. Even though we have come a long way, we are still having to deal with individuals and institutions attempting to take away our rights and erase us, ban us from co-existing with the rest of humanity and treat us as though we are responsible for many of the world's problems. Pride is a symbol of our resilience and resistance. It's showing the world that, while there are still people who choose not to understand us or accept us, we still exist, we are still here, and we proudly are not going anywhere.
BWM: Of all the groups you're involved with, does any do a specific event during Pride?
GG: The Leather Community always marches as contingent in the LA Pride Parade. The Leather Contingent is comprised of a wide range of individuals and groups. For example you will see many our title holders who competed in the Mr. Los Angeles Leather 2023 competition this year. They represent different bars and organizations within our community.
BWM: LALC CAReS sounds like a unique organization. Can you talk about what it does and how it began?
GG: Sure! During the pandemic the Los Angeles Leather Coalition formed a program called CAReS. CAReS is an acronym that stands for Community Access Resource Services. Since we were unable to have LA Leather Pride for two years, we wanted to do something that was able to help the Los Angeles community, not only during the pandemic, but something that would be able to help it long after the pandemic was over.
LALC CAReS has three branches to assist those in need:
LALC Lifeline: Assists those who feel alone and need someone to talk to.
LALC Bullet Bar Pantry: Assists those in need of food supplies, clothes, toiletries, medicines, etc. It was created by Michael Lara and is sponsored by the Bullet Bar in North Hollywood. It was the inspiration for why CAReS was created in the first place.
LALC Helping Hand: focuses on those struggling financially. We provide microgrants of $250 for individuals and $500 for small businesses.
For those reading this, if any of you would like more information about our program, would like to donate or live the Greater Los Angeles Area and would like assistance, please go to: https://lalc.info/lalc-cares/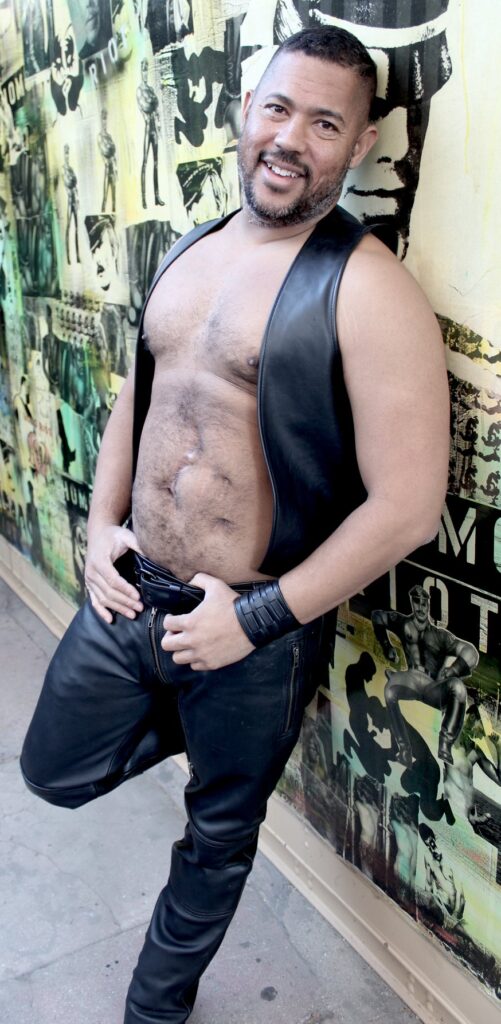 BWM: With your full-time job being in public housing, it seems community service is thoroughly in your blood. Would you say this is a lifelong calling or something you fell into recently?
GG: I feel my calling began in 2000. My mentor Ken Kunert, who passed recently, ran an LGBTQ+ youth group that I joined in Santa Maria, CA, when I lived there. He was a very kind man who volunteered his time to educate us, host weekly meetings to talk about issues we were facing and take us to events like Santa Barbara Pride and Models of Pride so we could develop confidence and pride within ourselves. He is someone I truly admired and who inspired me to pursue my path in community service.
In 2002, I began working for the LA LGBT Center at the Jeff Griffith Youth Center when it existed on Santa Monica La Brea, working with homeless youth and educating them about HIV Prevention. As someone who had been kicked out of my home for being gay, particularly as a person of color, I really identified with their struggles of finding acceptance and wondering where to turn. I felt the only major difference between myself and them is that I was lucky enough to have a support from people like my best friend, Brandon, his cousin Millicent and her husband, Aurelio, who were also mentors of mine when I was in college.
Now I work as a property manager for West Hollywood Community Housing Corporation. It's an organization I love and have worked for the past 14 years.
They create housing, increase opportunities for stability, and meet essential needs of under-served individuals and communities.
Through the work that I have done, I feel it is my purpose to help those who have been ostracized and made to feel unloved by helping them to realize that they have a place and deserve love too.
BWM: Service aside, you are also a busy party planner. Can you talk about your endeavor Lost Puppy? Can we expect more of it?
GG: Lost Puppy began when I first won my title as Mr. LA Leather Bear in 2014. I was looking to run an event and was inspired when someone brought their human pup to the Eagle one day. At the time, I heard pup play was very popular and accepted in San Francisco and San Diego, but for some reason looked down upon in LA. When I heard that, my instant response was "F*** that! Let's have a puppy party!"
I did some research with some pups and took a Pup Play class taught by a legendary member of the pup community named Pug Pug. She beautifully explained how we, as human beings, get so caught up in our day to day thinking about the past or the future, and how going in to pup mode can be a great way to find release and focus on the present.
So I came up with Lost Puppy as a way for "Puppies, Handlers, Boys and Daddies" to celebrate who they are and find each other. It was the first puppy party at the Eagle. It's my pride and joy, especially watching all of the puppies revel in who they are. Since then, there have been more puppy and pet events flourishing and it's a beautiful thing.
Yes! You can definitely expect more Lost Puppy!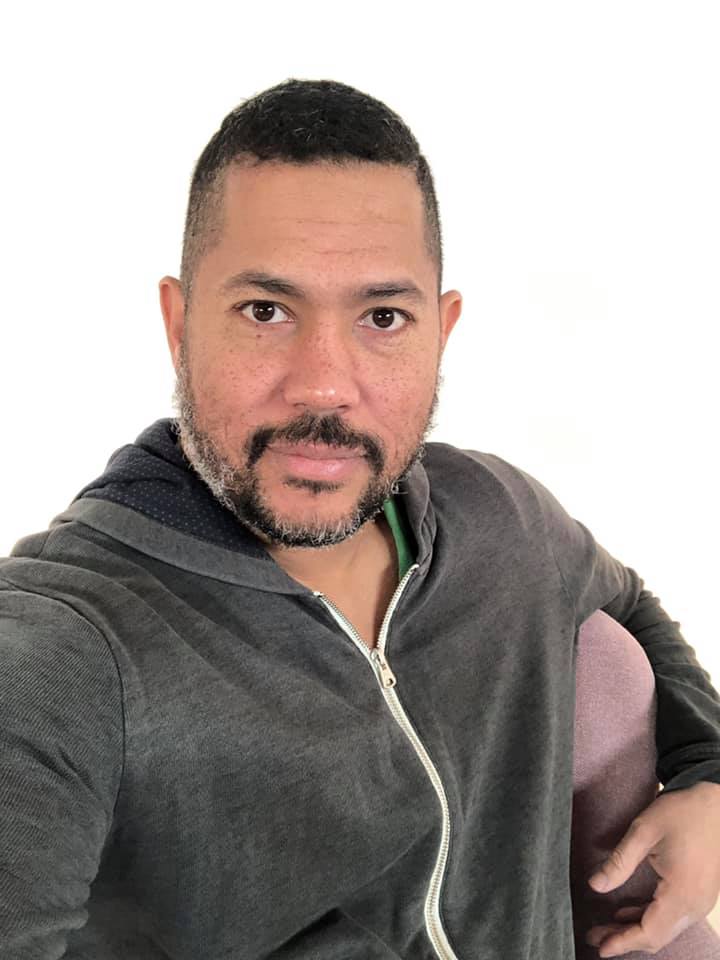 BWM: Random fun question: What is your favorite song for the Pride season, and why?
GG: Oooooo that's hard but right now my favorite track for Pride would be "The Future Starts Now" by Kim Petras. The lyrics that really speak to me are:
One day, everyone will notice
The world is yours and you should know it
So don't let love get out of focus
(Don't give up, the future starts now)
---
I know you can take the pressure
Turn it into something better
So take the pain and make it pleasure
Don't give up, the future starts now
Not only is the song an amazing dance track, it also says to me that even though the world can feel like it's against you sometimes, not to give up. Remember that you're special, you're strong enough to get through anything and, by letting love guide you, you can make the future yours and make it even better.
BWM: What year was the first Pride you attended? If you could go back in time and say anything to yourself right then, what would you say?
GG: 2001. I would say, "This is the moment you start living your life truthfully, openly, honestly and proudly! So have no regrets and don't ever look back."