Kyle Meets… World Cub 2019, Christopher Gonzalez, talks empowerment, body positivity & family
I was told by someone recently that bear spaces are easy spaces to "feel at home" in. This is because bear spaces, and the people who occupy them, understand the courage and work it takes to love yourself unconditionally, and they continually encourage and empower each other to do so.
I recently had the chance to speak to World Cub 2019, Christopher Gonzalez, to discuss goal to continue to promote empowerment, body positivity and awareness in bear spaces, and also recognizing the importance of family in the community.
KJ: Hi, Chris! Can you tell us a bit about yourself?
CG: HI! I'm Chris Gonzalez and I recently won World Cub 2019! I am 27-years-old, working as a bartender and server at Woofs Sports Bar and Heretic in Atlanta.
I grew up a competitive dancer, and have taught yoga, dance and theatre for upwards of 15 years. I travel to events to teach bear yoga and promote my message of body positivity and empowerment to bears, cubs, and their admirers. Each of us should feel comfortable stepping out of our comfort zone to try something new!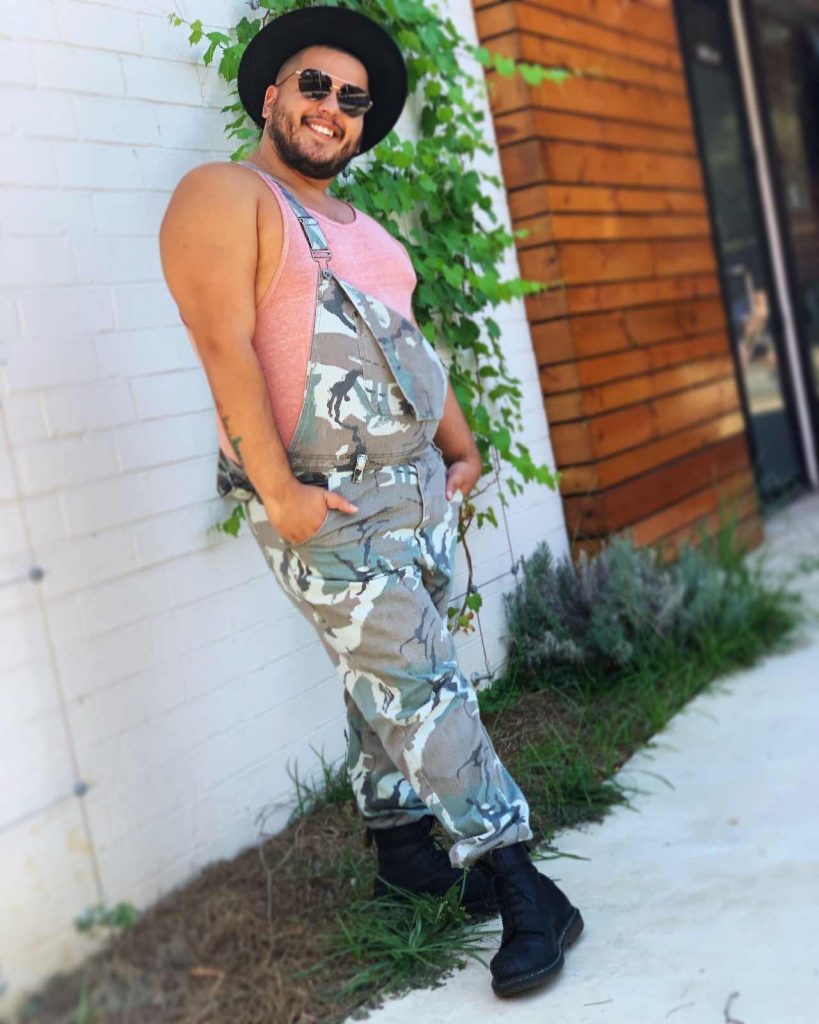 KJ: When did you begin identifying as a Cub? Can you tell us a little bit about your journey as a Cub?
CG: I had not identified with a particular group until I found the Orlando City Bears who really took me in as one of their own and showed me what the bear community was all about. I really started to find my family in the bear club, and when I started to bartend for the host bar – Stonewall Orlando – I found my tribe.
My first contest, International Bear Bash 2015, was unplanned; I entered with encouragement from a friend and won unexpectedly. It was a whirlwind of emotions; happiness, surprise, but also worry. At the time, I had no idea what a titleholder could do with a voice. I feel that I wasted that first title because of my lack of experience.
KJ: What made you enter the World Cub competition?
After meeting Adam Rodriguez-Routt at Bear Bash in Orlando in 2016, he urged me to enter the North American Bear contest. I did not win the competition that year, but was encouraged to try again.
After winning Mr. Bare Bear 2018 at Gay Naturists International's "The Gathering" in the Poconos, I realized I could be the first winner of the contest to go on and win an even bigger title to help promote the event, its diverse participants, and my personal message of self love and inclusivity.
Mr. IML 2017, Ralph Bruneau, challenged me when I won my GNI title to "do something with it". Being challenged by someone of his stature in the community really pushed me to find myself and enter the contest. So I decided I would go on to enter the World Cub competition.
KJ: How has winning the World Cub title changed your life/social life?
CG: It's interesting… After winning, I got messages from all my co-workers and patrons from Woofs congratulating me! They were incredibly happy when I returned with the sash and my medallion.
There seems to be a negative connotation sometimes associated with these contests because people think that we only want the "fame", but that's not what I wanted. I wanted solely to bring light to a very common issue of body shaming and lack of empowerment in the bear community to be their authentic selves.
I cried, I laughed, I hugged my cub brother, Alex Salisbury, who I competed against, because without him I wouldn't have stayed empowered the whole weekend; BUT we clicked, and we will forever be brother cubs. He's the best.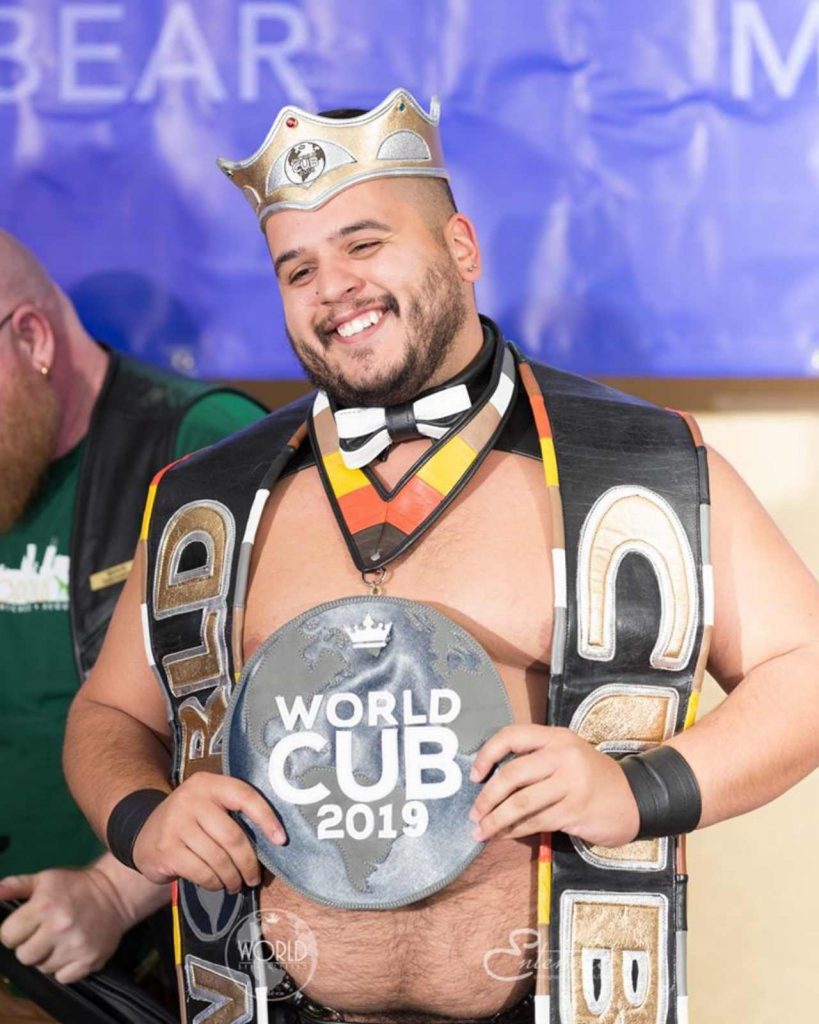 KJ: What is your platform?
CG: My platform is simple: You are worth the best life that you can provide for yourself. No less. You may knock yourself because you think you're too fat, you're too femme, or you're too "whatever". But your life is in your hands and only YOU can make yourself happy. Go out there and challenge yourself to try something new! 
Want to take that dance class? Go. Want to go to the group exercise class at the gym, but feel self conscious about your size? Go anyway! How about if you want to wear that crop top and those short shorts because you LOOK GOOD and feel empowered? Do it. There's no reason not to!
You are in control of your life and you need to make yourself happy, because no one else will do it for you. Love yourself. You are worth it.
KJ: In what ways do you think you can help to promote growth or change in the leather and/or bear/cub communities?
CG: I identify as both a cub and a boy. My vest was made by the very special Michael Schevenieus of Barking Leather in Atlanta, GA. I specifically asked for the bear flag and the leather pride flag to intersect on the back panel because BOTH of these communities welcomed me with open arms and welcomed me as part of various families around the country. I want to show people that these communities can, indeed, intersect and there can be inclusivity for everyone. 
The days of the "Tom of Finland" look-alike model in the leather community are outdated, and it's becoming more and more diverse across the board. The days of body shaming bears to fit some mold set by society, are over. My goal is to help promote that idea. I BELONG, and it is my intention to make sure that everyone has a seat at the table.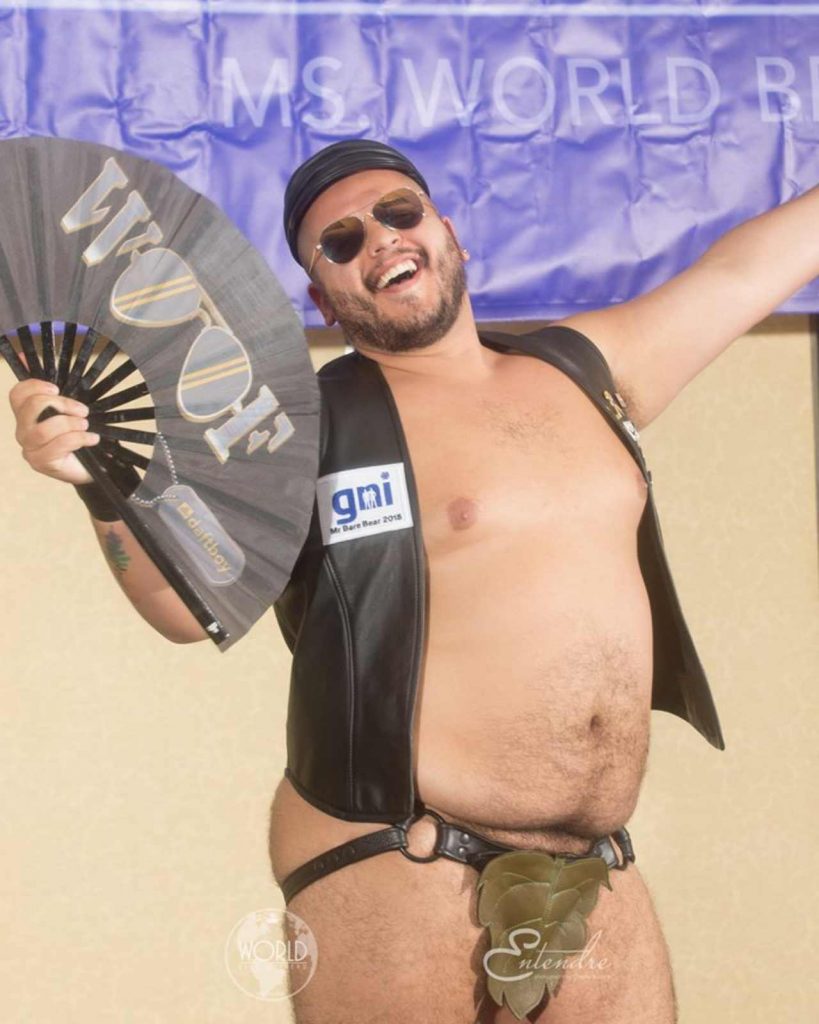 KJ: What is the most important thing about the bear/cub community for you?
CG: The bear/cub community is a family to me. It hit me when I recently went to Norfolk to perform for the Mr. VA Bear Contest that my chosen family extends past the boundaries of Orlando or Atlanta.
Family sounds like my brother, Johnny Benjamin, yelling for people to be quiet during Ms. World Bear and I's speeches in a bar in Norfolk. It feels like Mr. Atlanta Eagle 2019, David Hardy, giving me a huge hug, fresh off the plane from my win, at our monthly Atlanta Leather Social. The important part is the family aspect that I've been fortunate enough to experience.
KJ: What are your plans for your title year?
CG: I am going to continue to try and spread the love that I have felt during my very brief title year so far. I'm hoping to travel more to promote body positivity and self love to other bears, cubs, otters, pups, cis and trans men and women, those who identify as non-binary and gender fluid, people of color, etc.
I don't care who you are, you should be proud of who you have become. You made it day after day, and you deserve to be celebrated. Because life is hard, but you're doing the damn thing!
KJ: What are your plans with your title family?
CG: We haven't decided for certain but I just returned from Norfolk, VA with my Mama Bear, Nikki Wireman, celebrating the Virginia Bear Family! And I will definitely be joining Mr. Marcel Van Doorn in Amsterdam in March!
KJ: Finally, where will the bear community be able to see, meet and connect with you?
Catch me at Woofs Atlanta on the floor slinging food and drinks, and catch me at the Heretic Atlanta on Thursdays for Thick Boy Thursdays before our Country Night! I will also be traveling to North American Bear Weekend, Bears, Bikers & Mayhem, Amsterdam Bear Weekend, Atlanta Bear Fest and World Bear Weekend next year so far! Come see me!
Follow Christopher Gonzalez on Facebook @Christopher Gonzalez and Instagram @dancingcub.