Kyle Meets… Television personality Ray Jorden, discusses paranormal, event hosting & other ventures
Nearly all of us have heard something go bump in the night and wondered what it could be. Many of us has definitely had one of those strange experiences that has left us with many questions and no immediate or logical answer. And a handful of us may have even come face-to-face with spirits, or consulted a medium to help us explain or identify some otherworldly presence we've sensed around us.
Whether you're a believer or a skeptic, one thing is for sure – paranormal investigation makes for very entertaining television. Recently, I had the chance to talk with television personality, paranormal investigator and event host Ray Jorden, to discuss some of his spooky sightings and other upcoming work.
KJ: How did you become interested in the paranormal? Did you have any paranormal experiences at a young age?

RJ: I was about 5 years old when I had my first ghost experience, I was at my granddad's house playing in the garden with my sisters and cousins – I think we were playing hide and seek – and it was my turn to close my eyes and count.

When I opened my eyes, for some reason, I looked up at the kitchen window and I saw my grandmother looking down at me with a lovely serene look on her face. I looked away to see if I could see where anyone was hiding, looked back and she was gone.

Well, she had died six months previously, and although I knew what death and heaven were in kids terms, I didn't really understand one hundred percent.

That's what started my journey into the paranormal. I am now 48 years old.
KJ: How did you decide to bring your interest and experience with the paranormal to television?

RJ: Well, TV came calling for us, if I am honest with you, way back in the day. I had a ghost hunting group and we use to go out on weekends to supposed haunted locations and investigate – sometimes through the night or just into the early hours. This was way back in the day before investigating the paranormal was as popular or as commercial as it is today.

So one day, a production company in Bristol made contact wanting to discuss a project with us. In our group there were five of us, so we all arranged to meet and discuss. 

A week or so later, we shot a screen test. Another week or so later, I got the call to say that we had been offered the TV show, which was an ITV production, and The Paranormal 5 was born.

I'm very proud of the show, as it was the first of its kind being that we investigated the supposed hauntings in the daytime. Even today, not many shows have really followed suit to this.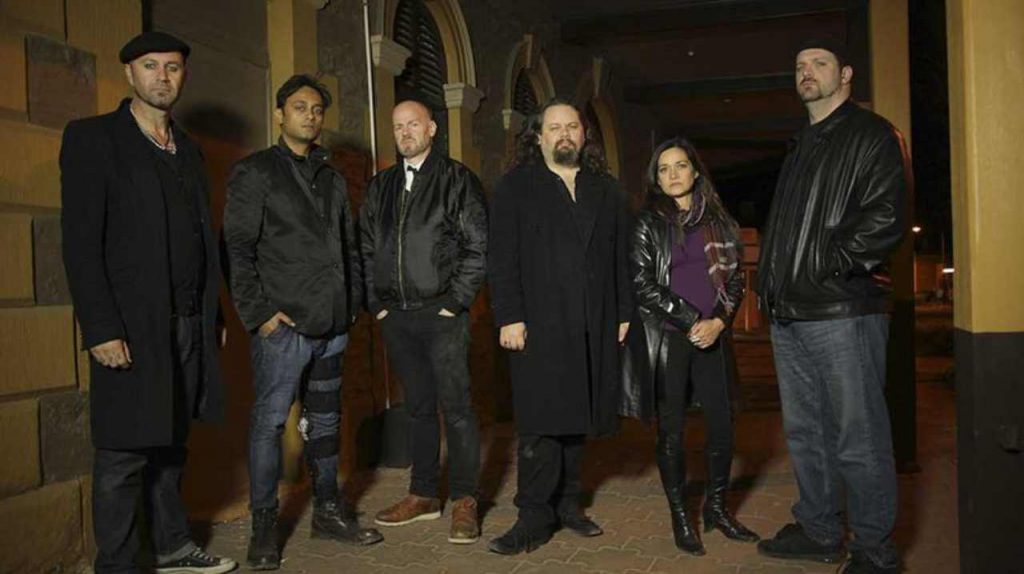 KJ: Speaking of supposedly haunted places, I'm originally from New Orleans – a place with a long history of supernatural activity. What would you say are some of the spookiest places you've visited around the world?

RJ: Wow, New Orleans is on my hit list of places to visit! Can we go?

I have been fortunate to travel to some very spooky places, but I have to say that Mexico was a true eye opener, and I would love to go back one day. I had some amazing unexplained experiences there while working with a local mexican paranormal team.

Also, I have to say, Australia was very interesting. Although it's a relatively new and young country, they have some amazing locations to visit, with great haunted backstories. You you guys need to catch Haunting Australia on UKTV catch up to see what happened.
KJ: We absolutely can go to New Orleans! So, Haunting Australia is now airing in New Zealand, is that correct?

You are correct! We are airing in New Zealand on the Choice TV channel. It's doing very well and bringing our show to another new audience. To date, we have been shown in over 100+ countries worldwide, which is something the cast and I are all very proud of.

I recently read that you would be focusing a little bit more on TV presenting work outside of the paranormal genre. What type of work do you plan to focus on? What other genres interest you?

I think when you have been doing Paranormal shows as long as I have, you crave diversity. Don't get me wrong, I absolutely love doing paranormal shows. I just really want to also explore other TV avenues – LGBT TV subjects.

I guess my dream jobs would be hosting entertainment and music shows. I would love to be a judge on a reality show. Cooking shows are also a big love of mine but, to be honest, I am always grateful when opportunity knocks on my door.
KJ: You said you wanted to explore LGBTQ opportunities, so have you ever considered actually developing television geared toward LGBTQ audiences?

RJ: Wow are you psychic? I'm just joking with you. I am currently in talks about developing TV project content with an LGBT production company, so watch this space!

KJ: Well, I told you where I'm from, and I've been told I was quite… Gifted. So maybe I am?… (long stare, then laughs)
You are very charismatic and have a great stage presence. Have you ever worked in, or considered working in, live theatre as an actor?

RJ: Aww, thanks for saying so! That's very kind of you.

I would absolutely love to do stage work. Yes I have considered it, but never really acted on the thought. I would love to do Pantomime, as I really love comedy. Who knows? But its on my tick list of things I would like to achieve.

KJ: Have you ever considered or done any feature film acting?

RJ: I have previously acted in a British comedy film called 9 Dead Gay Guy, where I played a russian solider in a night club scene. I played along some great British names, and it was a fantastic experience.

Sadly, my role and scenes did not make the final cut – even though I was good. But, that's the movie business for you.

I have also appeared in a few corporate in-house training films in the past, too. If I were offered further acting opportunities, I would definitely consider them, that's for sure.
KJ: Aside from your work as a TV presenter and paranormal expert, you are also a live event host. Any events coming up?

I have recently taken some time out from the paranormal and events, but now back in the saddle, so to speak. I am now looking at 2020 for some events and further media projects, which is something to look forward to.

KJ: I know you are also an official Pride Host for Pride events. Tell us what this means to you.

RJ: I have to say that I am so privileged to be able to host on stage in front of large crowds at Pride events here in the UK. I cannot tell you how much fun it is, and the incredible feeling I have on stage.

However, also not forgetting, I am there spreading messages of positivity, support and diversity to the whole LGBTQ+ community. I hope I can host further in 2020. I would love to host at Pride events overseas, so anyone reading this, you know where I am…

Does that sound cheeky?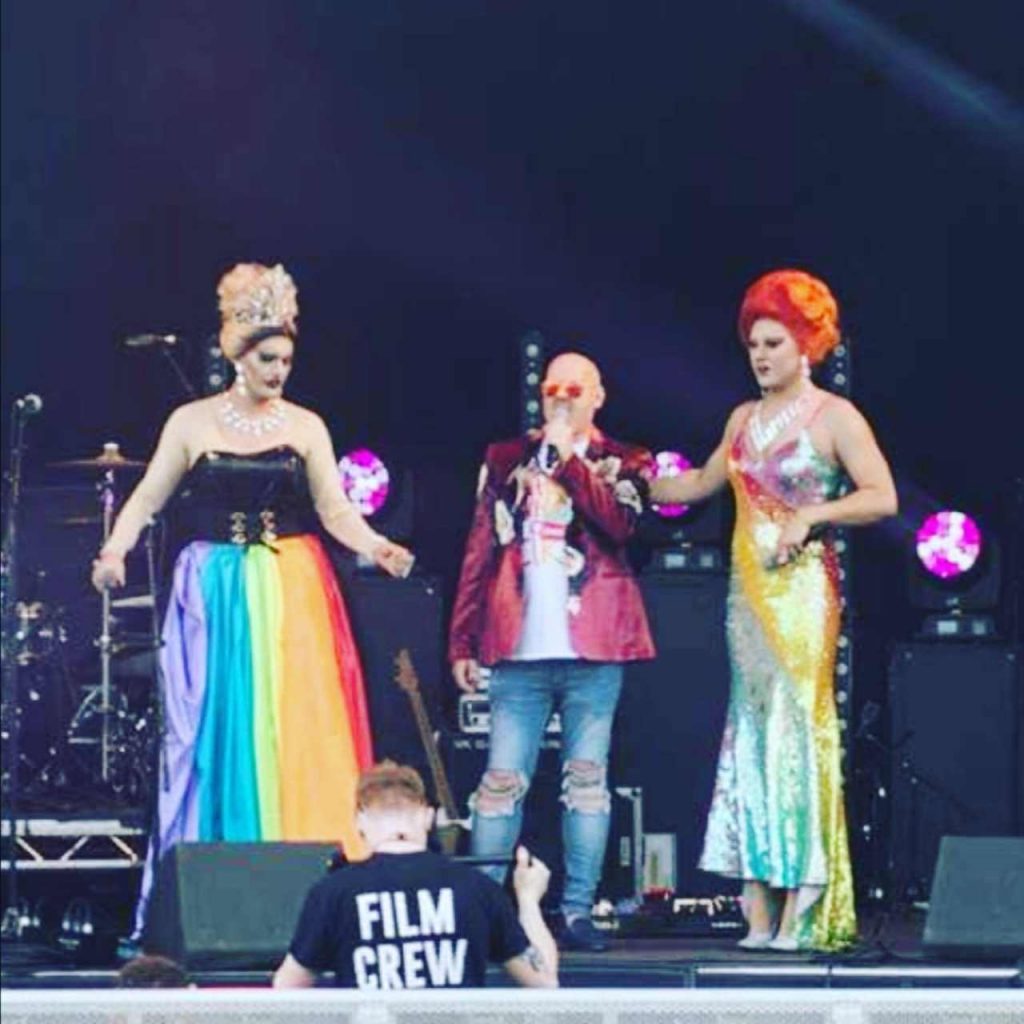 KJ: A little bit, but it's fine. Bears love cheeky… Tell us about the charity work you are involved in.

RJ: I am honored to be a charity patron of an amazing charity called Bullies Out, who are based in Cardiff, Wales. Having been badly bullied when I was younger for just being myself and knowing I was gay, this has made me determined to make s difference.

If I can help just one person by telling my story – which has a message of hope that there are people who care, people who can help and people that will listen- then I have done a good job.

Bullies Out is a charity which performs vital work and education across the board through schools, events and more. They get the message out that it is not okay to bully and, through their wonderful work, they hope that, over time, their education on the subject of bullying will stamp out this vile action towards others.

Linda and the team at Bullies Out do a huge amount of work behind the scenes to ensure their message is out there! They are on Twitter @BulliesOut, so please give them a follow. #StandUpSpeakOut!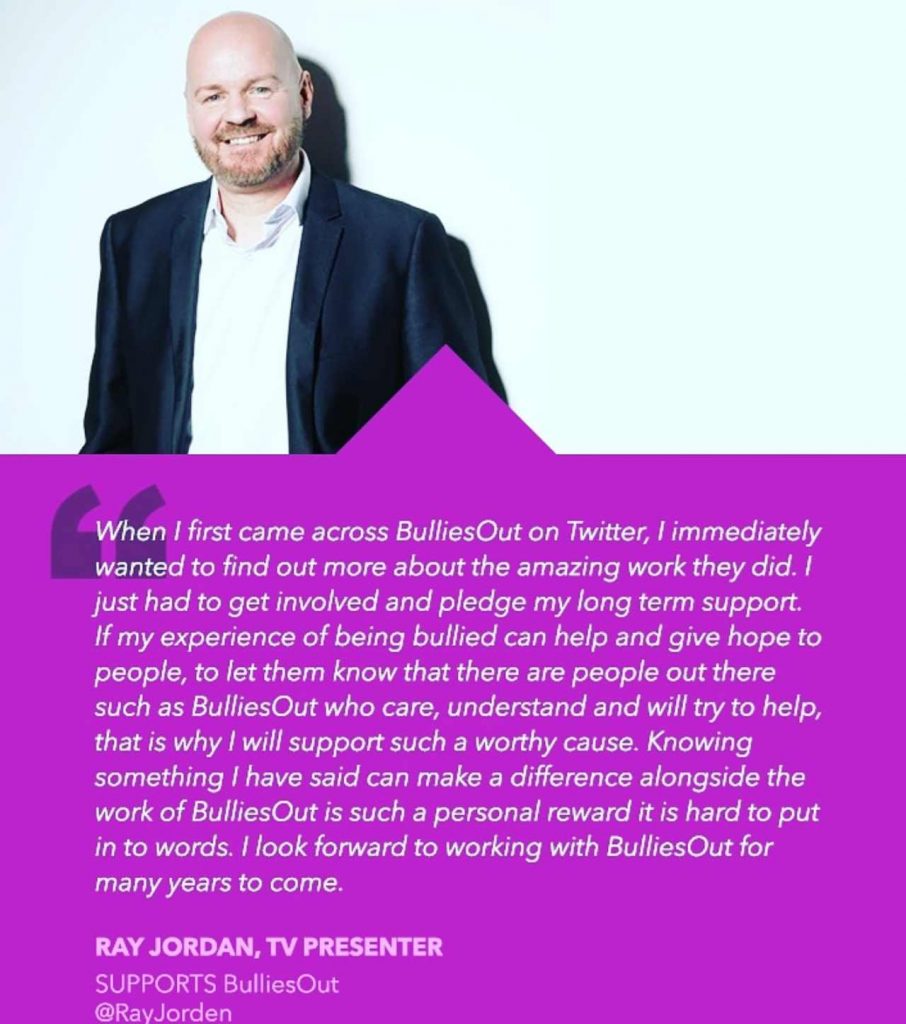 KJ: Ray you seem like an all round entertainer what would you like to do next?

RJ: Good question! I would love to be presenting more, and appearing on fun game shows, hosting LGBTQ+ Prides and other events, of course. I would love further TV in the future, as well. To be honest, I am grateful whenever opportunity knocks!

KJ: Do you have a partner or Husband?

RJ: Yes, I have a very lovely partner who is just an all round amazing guy. I am blessed to have such a person in my life and I do have to thank him for bringing me back to life.

That might be a weird thing to say, but since we have been together, he has made me feel more like myself and more alive than I ever have done in my life. We laugh, we travel, and we have so many wonderful life experiences together. I am very thankful to have a partner like him.
KJ: Can you describe what it's like to be a famous ghost hunting bear celebrity?

RJ: I am very lucky to appear on paranormal TV shows, and travel the world when the opportunities arise. I am lucky to have made some great friends in the TV industry, and I have been privileged to go to some high profile events that I might never have been too if I was not on TV.

One thing I have always stood by, from day one, is something an industry professional said to me once: "Always remain and be yourself, never change from who you truly are." This is something I have always stuck by ever since.

KJ: Are you active on social media? Where can people follow you?

RJ: I certainly am! You can find me on Twitter @RayJorden, where I am most active. I can also be found on Instagram @realrayjorden, and also my Facebook fan page – The Real Ray Jorden. I always follow back those kind enough to follow me.

I also have my website which has more content about myself and previous work on TV and in the media www.rayjorden.com.