Kyle Meets… Mr. World Bear 2019, Marcel Van Doorn, talks individuality and inclusion
For many, the Bear community is safe haven – a place where you are allowed to be yourself and express yourself unapologetically. Its one of the many reasons why some who may not even be big, hairy, or even male, identify with the community.
The importance of individuality and having your own sense of identity are also topics that often comes up when discussing the bear community. Recently, I had a chance to speak with the new Mr. World Bear 2019, Marcel Van Doorn, about his belief in being able to express yourself however you want to, and his journey with individuality in the Bear community.
KJ: Hello, Marcel! Can you tell us a little bit about yourself?

MVD: Hello! My name is Marcel Van Doorn. I was born in Soest, Netherlands between Forest and Dunes in a beautiful village. But, I felt I didn't belong there. I always knew I would not stay there and would move abroad. I grew up in a divorced family, and lost my brother at the age of 10 to leukaemia. My mother and her family have always supported me in my choices, even though they were not that obvious for them.
I studied fashion design at the School of the Arts in Utrecht, and after that I did a Masters in Paris. I lived in Sydney for a few years(my second home), and also worked in Amsterdam for a few years while living in Paris, before working full time in Paris and other international cities.
I have my own company, and am a freelancer. I like to call myself a visual storyteller, working mostly in the luxury market I visualize/ design concepts and create experiences for products/ brands for shop windows, installations, and events. I am also in the process of designing my own carpet collection. My goals are to make others dream – to take you out of this grey world, and give you a smile!
I have a fiancé, whom I will marry coming February in Venice. I just recently moved back to Amsterdam in order to spend more time with him when we are not both travelling for work. I have no children, since I am still one myself. I am very interested in art, fashion, design, architecture and new media, such as VR.
KJ: Congratulations on the engagement! When did you begin identifying as a Bear? Can you tell us a little bit about your journey as a Bear?
MVD: Thank you! Well, I only discovered the Bear scene a few years ago, even though I have always been different from the group. I liked to hang out in the fetish scene – leather/ latex/ lycra/ uniform, etc. – but I also like to dress up as creatures, as well as do drag and go to sportswear events or alternative festivals. At these events, I am usually looking for people that were also different from what is presented in mainstream, and are genuinely themselves.
I am not good with being given rules and adhering to group behavior. I'd rather create my own rules in which I believe and I will live by them without imposing them on others. I believe in individuality, and when I went to a bear party in Paris, it was the first time I realized that these people might not adhere to mainstream beauty standards but hell they do know how to have fun!
Most of my life I have been chubby. When I was a teenager, I was actually pretty skinny but identified as a fat person. I grew up being fat, red haired and fem, and people were never afraid to tell me any of this. But, my mom always taught me that being different was not a curse, and that being yourself and believing in your qualities was much more important than listening to what other people thought of you.
Then, in 2015, I decided to take part in the "Monsieur Ours" competition in Paris. It was an interesting learning curve, as I was very enthusiastic and created my own little project out of this. I designed T-shirts, made flyers, and let all my friends from all the different scenes also come to the bear event, which was not very appreciated by the organization. So I became premier dauphin, and first runner up.
I learned that goals are sometimes not the end point. It's about the journey. So I decided to not give up on my idea of an ideal world where we include all people that want to be part of our community, and that we are a broad community about inclusion and sharing our differences.
KJ: What made you enter the Mr. World Bear competition?

MVD: We invited Johnny Benjamin – Mr. World Bear 2018 – to be a judge at the Mr. Netherlands Bear 2019 contest in Amsterdam. As we got to know each other better, I thought it would be great to honor him by coming to his step down.
Having decided that, I thought that since I would already be there, I may as well enter the contest. I had to think twice, since I believe that if you decide to enter a title contest, you have to live up to the expectations. I denied the European contest, since I knew that I had a big working year ahead and would not have the time to be fully committed.
So, I gave World Bear a thought, and decided that, even if I did not win, I would still like to share my story, meet interesting people, and learn more about the way this event was organised – since I have been working with a team that organizes the bear contest in the Netherlands for a few years now. So, my goal was to enjoy the moment, to be myself and to share my story.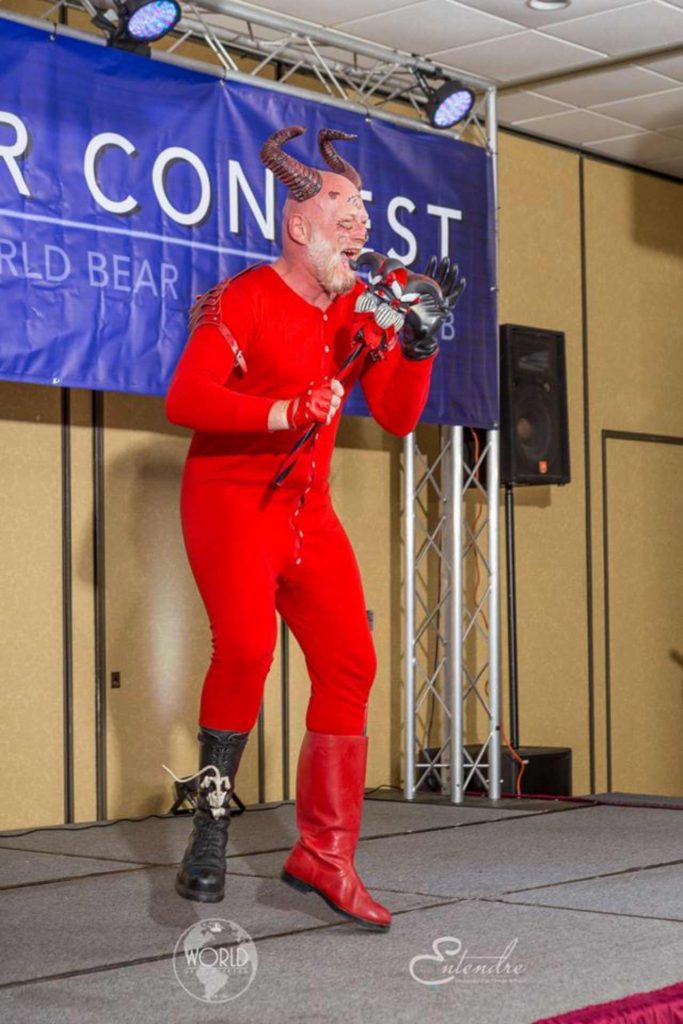 KJ: How has winning the Mr. World Bear title changed your life/social life?

(laughs) It has been a bit surreal, as the title is international and has a lot of respect. People reach out easier to you, and my opinion has more weight now connected to this title.
I was just recently invited to Tel Aviv to be a judge in the new Mr. Bear Israel 2020 contest – which was won by Orr Friedman – and to share my experience and ideas. This is what I love most – to connect and to be able to share and give back to different communities, and to learn from them at the same time.
Being a titleholder, you do get a lot of friend requests on social media from people that you do not know who are only horny for your title. This sometimes comes, unfortunately, with lots of unsolicited dick pics and porn, and many people are insulted if you do not reply to these messages.
That's the darker side: people think you have become public property. But I have this title not just because I have a big body, but a brain and a big voice as well. (smile)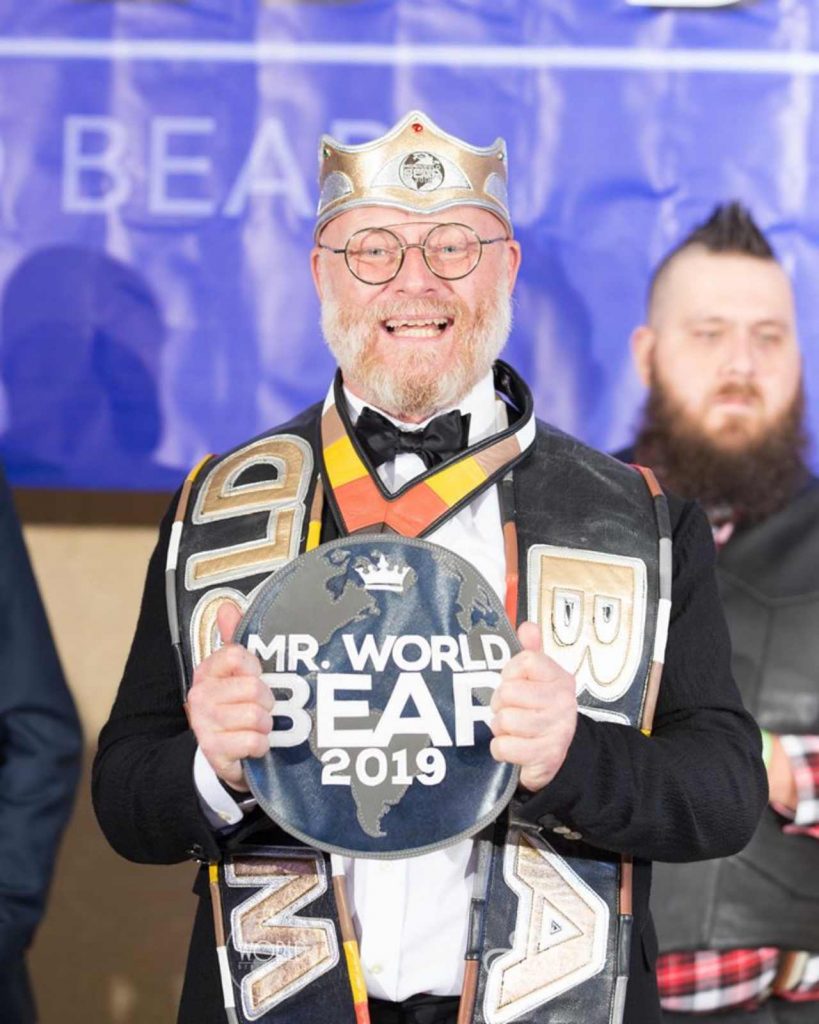 KJ: What is your platform?
My boyfriend, who is French, grew up most of his life in Africa. I had the chance to meet the founders of None On Record, when we were invited to a love celebration earlier this year in Nairobi, Kenya. Arriving at the gate, we only got the coordinations 24 hours before, for security reasons. There was security and big metal wall surrounding this entire property.
You were not allowed to take pictures of the wedding, as the legalization of homosexuality had just been denied during a huge court case recently. Kenya is still one of many countries in Africa where you can be pa=enalized harshly for being gay, and even receive the death penalty.
I suddenly felt very privileged as a white, cis gay man that grew up in one of the most liberal countries of the world. I never have to feel unsafe, and I can take pictures of a life changing event, such as my wedding or having a child, and I never have to be concerned about being arrested just for being myself in my home country. This was a huge realization for me.
So, I am now connected to None On Record – a digital media organization committed to telling stories of LGBTQ Africans that challenge perception and strengthen community globally. They change the narrative about queer, trans and gender non-conforming Africans through high-quality digital media and storytelling.
Their podcast celebrates queer love, and explores the laws affecting our lives, migration, media, race, class, censorship, family and sex -obviously. Along the way, they also share some bitter truths of what it means to be queer and African, but also spotlights individuals shifting the landscape of African queerness.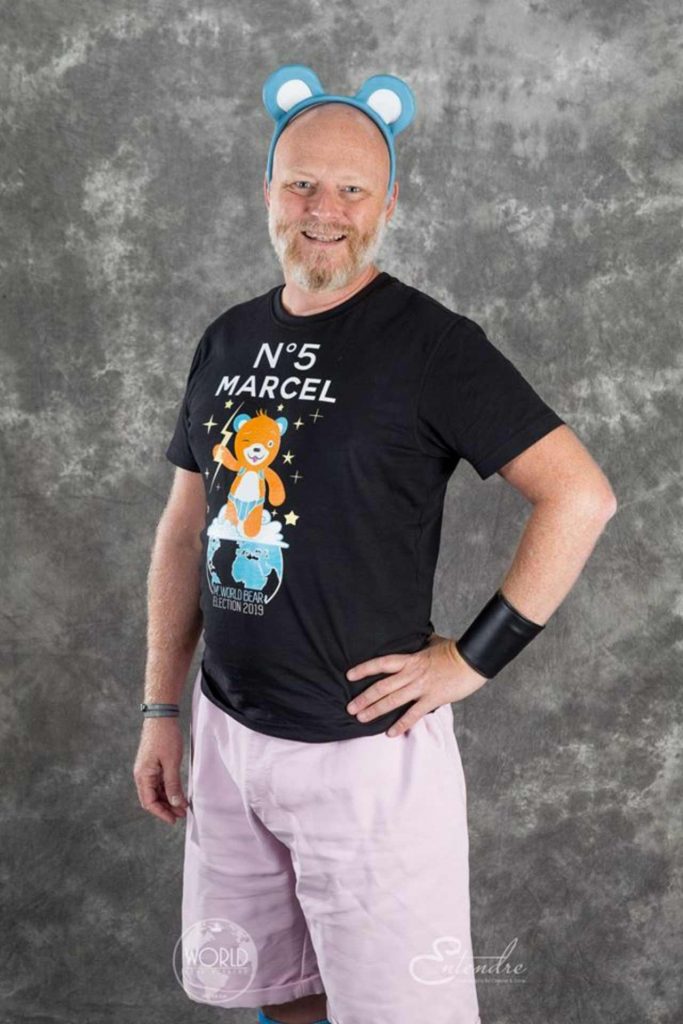 KJ: In what ways do you think you can help to promote growth or change in the leather and/or bear/cub communities?

MVD: As I am visible in a variety of communities and media platforms, I will touch a lot of different people from the outside, as well as from the inside, of the Leather/Bear community. I will be judging contests, and I will be having conversations with people who will probably ask why we suddenly include people with another gender or a different body type.
I will travel a lot for work and leisure, and my sash always comes with me everywhere I go. I try to create awareness that we are all different and can learn from one another, and that being yourself will always be respected.
I can also help promote growth and change by continuing to share my story. A story is the shortest distance between two people, and I hope that sharing mine will encourage others to speak up. Each story makes a difference!

KJ: What is the most important thing about the bear/cub community for you?
MVD: Inclusion and diversity. Everybody is different, and we should celebrate these differences and embrace one another.
KJ: What are your plans for your title year?
MVD: Organizing an even better Mr. Bear Netherlands 2020 contest, judging contests in other countries, and hopefully getting a role in the Mr. Bear Europe contest.
I plan to go to different continents to celebrate pride and to talk to people about acceptance, and if my good friend Suzanne Van de Laar, the first Ms. Leather Netherlands 2019, wins IMSL, then we will do a road trip with a camper through the USA and visit all different kinds of festivals and events during the summer months.

KJ: What are your plans with your title family?

As we are pretty far, it's hard to organize things together, but I know already that World Cub, Christopher Gonzalez, will be a judge at our contest in March, and my sash wife Nikki Wireman will also come this way for a visit. I will try to be at IML and IMSL this coming year, and I hope to put on another Bear event in the US as well.

KJ: Finally, where will the bear community be able to see, meet and connect with you?
Here is my 2019-2020 Itinerary:

Mad Bear Madrid – December 6 – 9
Mardi Gras Sydney – February 21 – March 6
Shanghai – March 9 – 15
Amsterdam Bear Weekend – March 19 – 22
Bear Pride Maspalomas – March 24 – 29
IMSL – April 16 – 20
International Bear Week Sitges April 30 – May 3
Mister Bear Europe Contest – May 8 – 10
Eurovision Song Contest – May 12 – 14
International Mr. Leather – May 21 – 24
Tel Aviv Pride – June 7 – 12
New York Pride – June 26 -29
The La Demence Cruise – July 5 -12
Canal Pride Amsterdam – July 31 – August 3
And many more not confirmed! (smile)