Kyle Meets… Mr. Bear New Zealand Corie Boley, talks inclusivity and community
Wherever you go in the world, many will tell you that the Bear community is regarded as one of the most open and accepting spaces. Many people of all ages, sizes, races, ethnicities and gender identities have grown to love the Bear community and call it home.
For this reason, it is easy to see why many leaders in the community are adamant about ensuring that the Bear community remains a safe space — one where people feel welcome and validated.
I had a chance to speak with Mr. Bear New Zealand 2020, Corie Boley, about his journey from growing up in the Colorado Rockies to winning Mr. Bear New Zealand, as well as his commitment to inclusivity and diversity in the Bear community.
KJ: Hi Corie! Can you tell us a little bit about you?
CB: Kia Ora! Corie Boley here. I identify as a 31 year-old, cisgender, queer male, and I associate with the pronouns he/him/his. I was born high up in the Colorado Rockies to a loving and adventurous family. My husbear, Cadno and I recently emigrated to Auckland, New Zealand.
Professionally, I am a general manager for one of the top 100 breweries in the world — from the New Zealand capital of Wellington — called Garage Project.
The craft beer industry in New Zealand is not the only community I am involved in. As active members in the Bear community, both Cadno and I are also members of the New Zealand Bear Committee. As a committee, we plan a week's worth of engaging and diverse activities, facilitate them and raise thousands of dollars for local charities.
Additionally, I am a co-leader, organizer and facilitator for an outdoor activities group called Outdoorsy Gay Bears (OGB). The group was created as a safe space for people who enjoy being outside in nature, and a way to meet new people. The OBG are accepting of and open to people who live/lived in Aotearoa/New Zealand or are visiting, and supporters of the Bear community of New Zealand. I care a lot about my communities and the people that help make them a better place.
When my husbear and I are not trying to change the world we enjoy relaxing a lot — as much as possible, in fact. To recharge we spend our time tramping (hiking) through the bush, spending our days at the beach, traveling to new exciting places abroad, taking roadies, and visiting friends and family abroad. We also enjoy cooking up a mean barbie with friends and family, spinning yarns over some tasty bevvies, and being avid foodies and lovers of science fiction, art, culture and films.
KJ: When did you begin identifying as a Bear? Can you tell us a little bit about your journey as a Bear?
CB: I started to identify as a Bear when I was at university in my early 20s. Dudes with beards and hairy, beefy/husky bodies really turned me on, as did ones with large muscles. I was starting to grow more body hair as well, and so I started to explore Bear culture online through sites like bear411, musclebears.com, and bigmusclebears.com, just to name a few.
I had a few sexual experiences while at uni with hairy, beefy guys, and this turned me on more than any other sexual experiences with both men and women. I was not out to my family and peers at uni, and I kept myself in the closet for fear of not being accepted or misunderstood.
After much self reflection and coming out to close friends over a few years, I came out to my family and publicly when I was 27. It's a bit of a funny story, my coming out one.
I was living in the high Rockies of Frisco, Colorado with my now husbear. We were recently together (about a year of a long distance relationship between Dallas, Texas and Frisco, Colorado) when Cadno moved to Colorado to live together. This was a massive step in my life, and his, as I had never had a full blown relationship, and he had just separated from his ex.
So, after meeting Cadno and really hitting it off, we decided to go for it full blown and never looked back! It has been the best thing that has ever happened to us. When you know it and feel it, then it's meant to be. So, go for it!
About two months after Cadno moved to Colorado we decided to go meet my family. I was still not out to my family, so I sent them a postcard with Cadno and I shirtless on top of mountain with our arms around each other. On that postcard I wrote, "This is my boyfriend Cadno! I am bringing him home with me this summer with me to meet you all…" And left it at that.
I imagine my parents and family had their suspicions, but took the news really well. Marrying Cadno not only gave me someone that I can relate to and spend my time with, but we have been able to explore the Bear community as a whole. We have been to Pride festivals in the states together, supported gay Rubgy in Colorado, Chicago, Dallas, and Charlotte NC.
Our greatest involvement has been since we moved to New Zealand. From the first day we arrived in the country, we have been going to Bear events, and each year we have been more and more involved with the Bear community. Since I was given the title of Mr. Bear New Zealand 2020, I am meant to attend Southern Hibernation in Melbourne this June and compete for the Mr. Australasian Bear 2020 title.
This will be our first visit to Australia, and what better way to meet the community and participate then a Bear event? I am so honoured to represent the Bear community in New Zealand and can't wait to represent the Bear community from Australasia in June. RAWR!!!!
KJ: What made you enter the competition?
CB: This is an interesting question. My reasoning comes down to giving back to the community. I wanted to reciprocate the welcome and and acceptance Cadno and I received when we arrived in New Zealand.
Cadno and I literally knew no one in the country, and had only met a few people through a friend of a friend. Those same friends introduced us to a large number of people in the Bear community in New Zealand the day we arrived. Then two weeks after arriving, there was the yearly Bear Week happening alongside the Pride festival in Auckland where we met even more community members.
Fast forward a couple of years, and we were in a position where I can step up and represent the community. The title means different things to different people, and each title winner treats it differently. There are not set parameters or agenda set out by the community, aside from representing the Bear New Zealand community at the Mr. Australasia competition in Melbourne in June. I wanted to enter the competition as an effort to give back to the Bear community in New Zealand.
KJ: What was your favorite part about taking part in the competition?
CB: My favourite part of taking part in the competition was raising money for the charity organization that I chose. The New Zealand Prostitutes Collective (NZPC) is an NGO that receives little to no funding, other than the small amount allocated by the NZ government.
The NZPC has branches across both North and South islands, and provides a safe space for people who work as sex workers. They provide sexual screening, education about safer sex, provide contraceptives, and hold a few fundraising events throughout the year including the Red Umbrella, community art events, and working with organizations such as ENDING HIV, Amisty International, and a few others.
Since sex work is legal in New Zealand, people who work in the profession need help and support just like any other profession. I also want to raise awareness and educate myself and others about sex work in order to break down the social stigmas and negative attitudes projected onto sex workers.
KJ: What is your platform?
CB: The entire population of New Zealand is approximately the same as Seattle, and about ⅓ of that population lives in the greater Auckland area. As a massive social and cultural hub in New Zealand, there are many diverse groups that make up Kiwi culture. In addition to the Maori people — the indigenous people of New Zealand — there is a large number of Pasifika, Indian, Chinese, South African, and European populations, just to name a few.
The foundation of my platform is inclusivity, and right above the foundation is diversity. I plan to spend my time during my title year, and beyond, fighting for equality and acceptance for all people, no matter who they are and where they come from. We are all living on this planet together, so it's time we all start acting that way.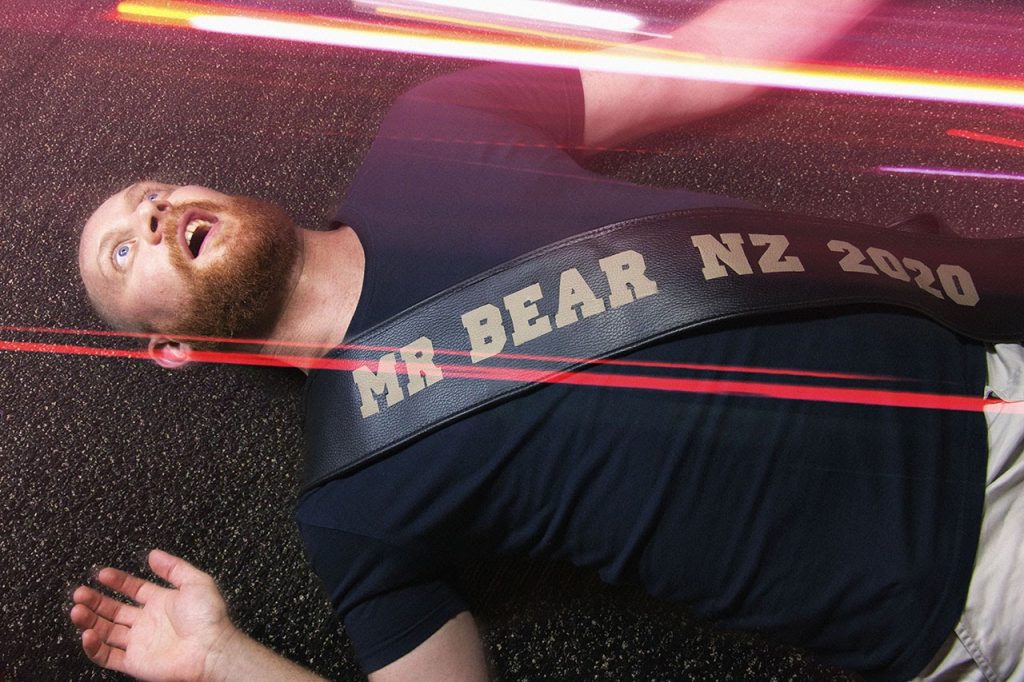 KJ: In what ways do you think you can help to promote growth or change in the leather and/or bear/cub communities?
CB: I would love to see the communities become more cohesive, and integrated — Not to say that this is not the case in many places. I would love to shine the light on the community that exists here in Aotearoa — the Te Reo Maori word for New Zealand — and encourage people to visit and experience the genuine side of Kiwi culture and our Bear community.
I want people to visit during Bear Week every year for the whole experience, but I would also like people to visit year round in order to experience life outside of Bear Week. Not only are the nicest Bears in Aotearoa, we also have some breathtaking landscapes and natural history as well.
KJ: What is the most important thing about the bear/cub community for you?
CB: The most important thing about the Bear/Cub community is diversity, validation. These two attributes are what have drawn me to be a community leader. I have never felt unwelcome in the Bear/Cub community, and want to extend that to anyone and everyone who is curious and would like to support it.
KJ: What are your plans for your title year?
CB: My plans for my title year are still getting confirmed, but thus far my husbear and I are attending Southern Hibernation in Melbourne, Australia in June, where I will be competing for Mr. Bear Australasia 2020 on Saturday, June 13th at the Laird club.
Alongside that, we plan to march in the Wellington Pride parade on Saturday, March 7th. We will be attending the Winter Pride event in Queenstown, NZ at the end of August and into September. Mixed into all that, we plan to travel Aotearoa to visit the Bear communities along the way and meet new people.
KJ: Will you go on to enter other competitions once your title year is done?
CB: I think I would be interested in entering other competitions once my title year is completed. It would be fun to explore that side of the Bear community even more. When I take home the Mr. Australasia Bear title in June, the next step is Mr. World Bear, right?!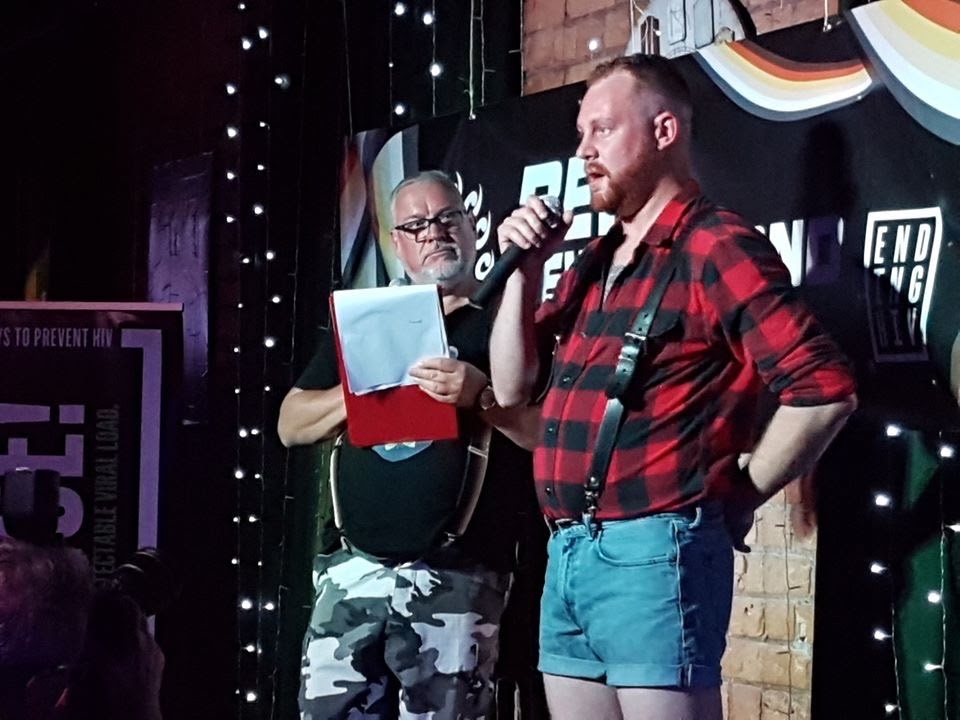 KJ: Finally, what's your advice for anyone entering the competition next year?
CB: My advice for anyone entering the competition next year is to just have a great time. Do not worry about what people think of you. Bears come in all shapes, sizes and colours, so don't let anyone tell you otherwise. The community is so much more than labels and it is our duty to break them down.
Get out there, make your mark, and push those boundaries. You have to be the change you want to see in this world, because no one is going to do it for you. Do not be afraid to get up on stage and shine bright. I live my life by this: Look good, have fun and be safe (in that order).
Always go for Gold. Corro-Gold ! ! !
Follow Corie on Instagram and Facebook.