Jonathan Bardzik's Bright Light Ginger Sausage Soup
Warming foods don't always have to be hearty. This bright soup delivers the fresh flavors of ginger, cilantro and snow peas, the richness of sausage and sesame oil, and the depth of soy sauce. A steaming bowl is just the thing to bring color back to your cheeks and warm your belly on a cold day.
This bowl of soup is everything you are dreaming of. Flavorful ginger, cilantro and citrusy Szechuan peppercorn-infused chicken stock, brought to a boil, blanches crisp vegetables to take the raw edge off – sweet snap peas, tender Shitake mushrooms and crisp baby bok choy. A little mild chicken or pork sausage for protein. Sit quietly over the bowl of steaming stock that warms your cheeks and your belly getting ready for an afternoon in a comfy chair, reading, or maybe for a nap.
Bright Light Ginger Sausage Soup
Serves 4
This is a great soup to start the cooler weather! The light, bright flavors are exactly what I'm craving after weeks of hearty holiday meals. It looks like a lot of ingredients, but read the directions – it's not much work.
Ingredients: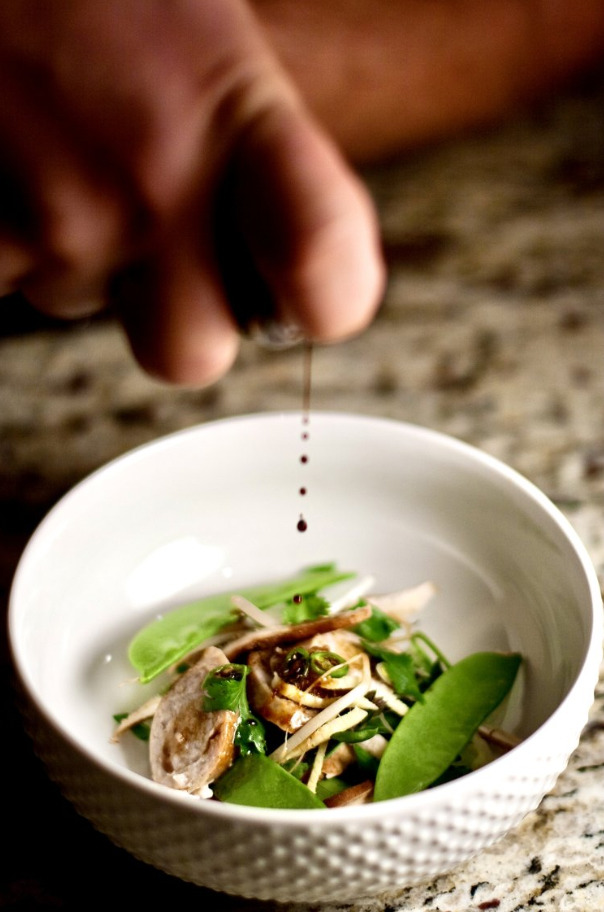 7 cups vegetable or chicken stock
1 bunch cilantro (apx. 12 stems)
1 tbs Szechuan or black peppercorns
1" ginger root, peeled and sliced
4 chicken sausages
1 tbs peanut or vegetable oil
1/4 pound snow peas
2 cups mung bean sprouts
4-6 shitake mushrooms, stems removed and thinly sliced
2 baby bok choi, quartered
2 tsp toasted sesame oil
2 tbs soy sauce
Directions:
Place stock in a 3-4 quart saucepan along with 2 stems cilantro, peppercorns and ginger. Bring to a boil over high heat, reduce to a simmer and cook partially covered for 20 minutes.
Meanwhile, warm peanut or vegetable oil in a 10" skillet over medium heat. Add sausages and cook until lightly browned, about 6-8 minutes. Remove and slice.
Divide snow peas, mung bean sprouts and mushrooms, bok choi and sausage between 4 bowls. Top each bowl with 1/2 tsp toasted sesame oil and 1/2 tbs tamari soy.
Season simmering stock to taste with salt and pepper. Return stock to a boil.
Pour 1 1/2 cups boiling stock over each bowl. Let soup rest for 3-5 minutes before serving so vegetables are tender.
Jonathan's cookbooks offer simple recipes prepared with farm and garden-fresh ingredients to share with the people – friends, family and farmers – who make our lives matter.
Bring one home today or share one with someone special, click here.