Jonathan Bardzik's Bacon Fat-Roasted Sweet Potatoes with Brown Butter Chimichurri
Nobody likes a skinny Santa! That's why Jonathan Bardzik is serving up this big, hearty meal to leave our big bellied friend under the Christmas tree this year — Bacon Fat-Roasted Sweet Potatoes with Brown Butter Chimichurri!
---
You're sitting down right now looking at a blank sheet of paper. The daunting question before you? What to serve for your holiday dinner. You may be asking "What would work for the smaller group I am serving this year?" or "will Aunt Susan give me the prized family recipe for gratin potatoes?" You know what no one is asking? "How do I make Christmas dinner lighter?"
Trust me, I'm as health conscious as the next bear, and I have started chipping away at the COVID weight gain from earlier this year, but I have a philosophy when it comes to lighter eating: if you are going to indulge, then indulge well.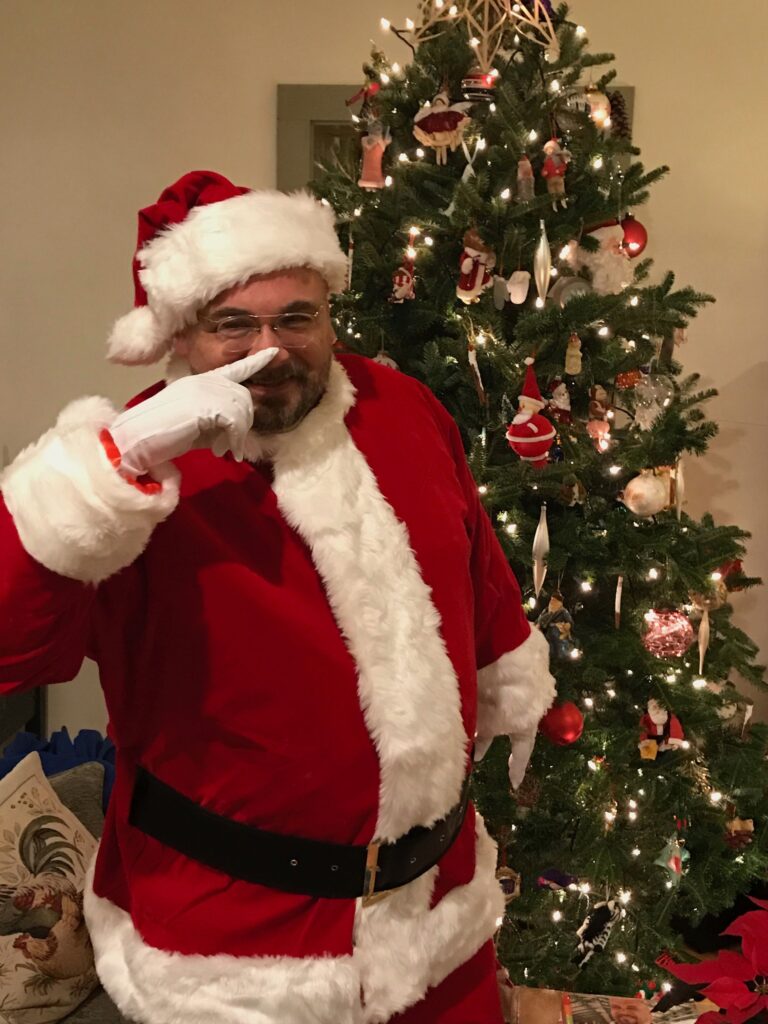 See, I love food – the green stuff included – so I have no problem serving up delicious salads, vegetable-rich soups and plant-heavy plates in January, but when it comes to fattier cuts of meat and rich desserts I would rather eat them less often than settle for something disappointing like a low sugar pie (what?) or cauliflower mashed potatoes (what fresh hell?). Don't get me wrong, I'll happily binge on mashed cauliflower to keep my diet healthily balanced but when it comes to the good stuff I want it to be great.
So this holiday season, I encourage you to pick you indulgences. If you want a lighter plate of prime rib and Yorkshire pudding, then skip it and have a salad. But as Mrs. Claus says in the classic cartoon, when it comes to Christmas dinner, "nobody like a skinny Santa."
Bacon fat-roasted sweet potatoes with brown butter chimichurri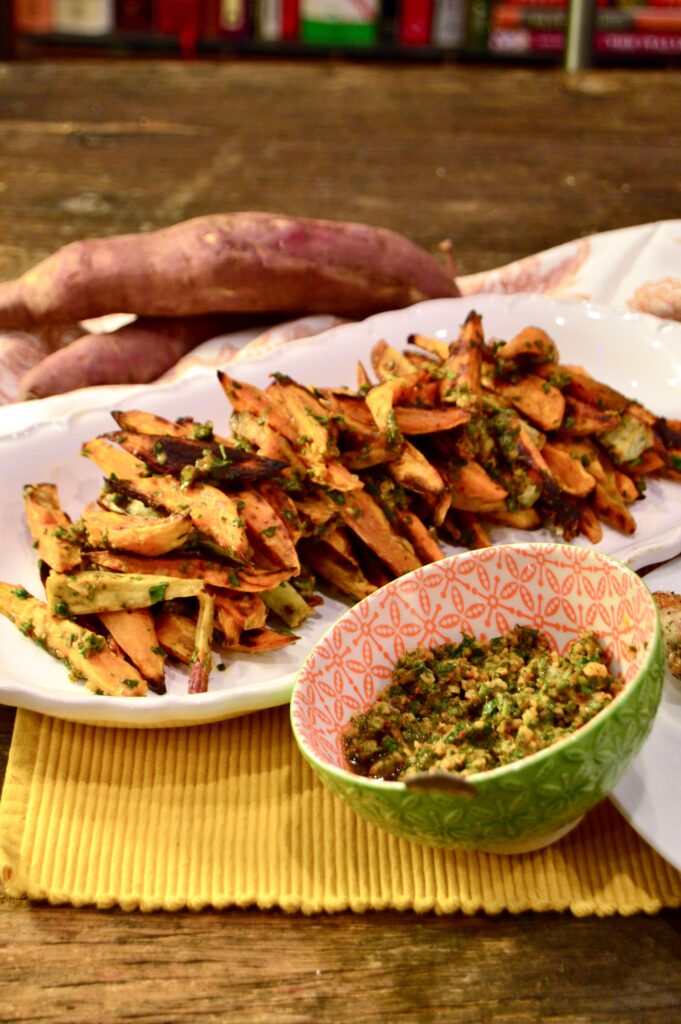 Serves 4
Brown butter replaces olive oil in this classic Argentinean herb sauce. Brown butter's nutty flavors pair perfectly with rich, sweet potatoes roasted with garlic and the fresh herbs offer bright balance.
For potatoes:
3 slices thick cut bacon
6 medium sweet potatoes, about 2 lbs
2 cloves garlic, minced
For chimichurri:
2 cloves garlic, minced
1/2 parsley
1/4 cup chopped chives
1/2 tsp Aleppo pepper or sweet Hungarian paprika
2-3 tbs cider vinegar
6 tbs butter, cut in 1 tbs pieces
Hot sauce like Frank's or Tabasco
Directions:
Cook bacon in a 12" skillet over medium heat until fat is rendered and bacon is crispy. Remove bacon to paper towels until cool and chop. Reserve rendered bacon fat.
Preheat oven to 400°F.
Make potato fries: Meanwhile, peel potatoes and cut lengthwise in to steak fry-like wedges, about ½" thick on the outside. Toss potatoes with bacon fat and garlic. Season with salt and pepper and arrange in a single layer on a baking sheet. Place fries in oven and roast until tender inside and crispy and lightly browned outside, about 20 minutes.
Make chimichurri: While fries cook, combine garlic, parsley, chives, Aleppo pepper or Paprika and vinegar in a food process. Finely chop.
Melt butter in a 10" skillet over medium-low heat. Continue cooking until milk solids in the bottom turn a rich, nutty brown color. Add herbs from food processor and cook for 30 seconds to warm through. Season to taste with salt, freshly cracked pepper and hot sauce
Serve warm chimichurri immediately over roasted sweet potato fries.
TIP: the browned butter will thicken at room temperature so serve warm sauce over the hot fries to keep it liquid.
To take some of Jonathan's cooking home with you why not buy any of his Cook Books – Head to his site here