Jonathan Bardzik serves up some tasty Thanksgiving recipes!
Thanksgiving is always full of flavor in Jonathan's Kitchen!
The Thanksgiving episode of Jonathan's Kitchen: Seasons to Taste is able to be streamed on Revry! In episode 6, Jonathan's friend Marianne Tshihamba joins him for Thanksgiving to create a vegan take on one of his favorite dishes. Tune in to Jonathan's Kitchen to see what they're cooking up!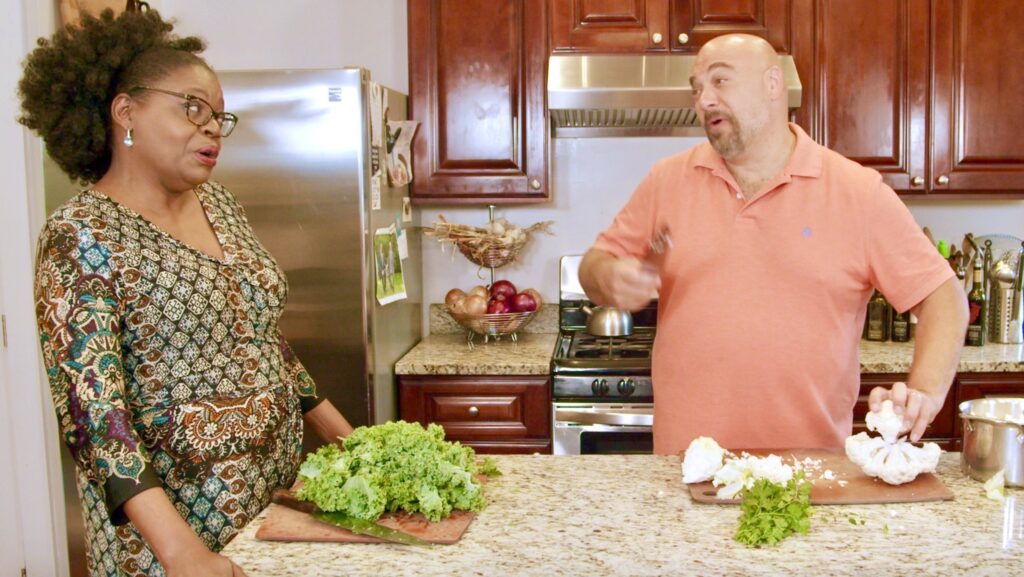 And once you're done getting the scoop on the new vegan recipe, Jonathan has another recipe for you to add to your Thanksgiving table. Check out Jonathan's recipe for Sweet potatoes with brown butter Chimichurri below!
---
"What are the must-haves on your Thanksgiving table?" I asked my friend Joe.
He and his husband John are joining us for Thanksgiving this year and I wanted to make sure their favorites made it on the table. I'm glad I asked. Joe and John grew up in the south and their traditional meal looks a little different than the New England meal I grew up eating.
For Joe stuffing has cornbread and eggs and is baked in a dish, mine is just stale bread, turkey stock and aromatics baked inside the turkey. His husband John loves traditional green bean casserole –- a dish as unlikely to have appeared in my Thanksgiving lineup as the can of cranberry sauce my husband loves ("if there aren't lines it's not real cranberry jelly").
Thanksgiving dinner, in my mind, breaks down into two categories. There are sentimental favorites, the dishes we enjoy year-after-year that evoke memory and honor our history. They may not resemble the food we eat any other day of the year but on this day their presence is paramount.
Then there are the dishes that represent how we eat today. They may be more creative, lighter, featuring fresh, seasonal ingredients. These are the kind of foods we prepare at home and enjoy out at restaurants. I mean, if your favorite salad place puts cranberries and toasted pumpkin seeds on your kale salad, why can't you?
Sometimes these dishes come together. Joe said that John also needs some sweet potatoes on his Thanksgiving table. I want to honor that, although I am unlikely to purée mine and bake them topped with mini marshmallows. The solution? Something unexpected but not unfamiliar.
Chimichurri –- the Argentinean herb and vinegar sauce that so perfectly tops grilled steak -– tempers the sweetness of roasted wedges of sweet potatoes while brown butter keeps them nutty and rich. The reaction you're looking for is "that's different" as opposed to "what is this?" Think a little bit of adventure enjoyed around the edge of your comfort zone.
At the end of the day, I measure a Thanksgiving dinner menu not in praise but in the smiles and joy of the people around the table. Catching my guests loosening their belts before dessert means I've hit a homerun.
Sweet potatoes with brown butter Chimichurri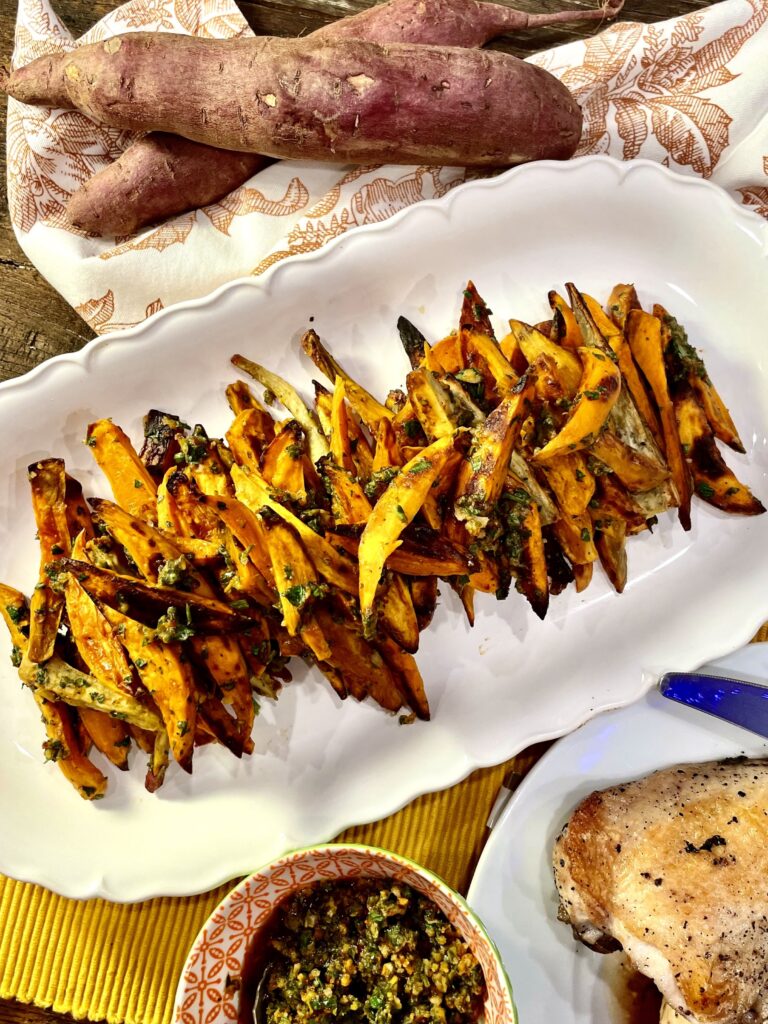 Serves 6
Savory, sharp chive and parsley Chimichurri with nutty brown butter perfectly balances rich sweet potatoes. You can keep the sweet potatoes warm after roasting and stir together the warm brown butter and herb blend when you are ready to serve.
Ingredients:
2 lbs sweet potatoes
2 tbs olive oil
Salt
Pepper
8 tbs butter
2 cloves garlic, minced
1/2 cup parsley
1/4 cup chopped chives
1/2 tsp Aleppo pepper or sweet Hungarian paprika
2-3 tbs cider vinegar
Hot sauce to taste
Directions:
Roast sweet potatoes: Preheat oven to 400° F. Peel sweet potatoes and cut into ½" wedges. Place on a rimmed sheet pan and drizzle with olive oil. Season with salt and pepper, spread in a single layer and place in oven. Roast until tender, turning halfway through, about 30 minutes total.
Make brown butter: Melt butter in a 10" skillet over medium-low heat. Continue cooking until butter stops foaming and milk solids just begin to brown. Swirl pan and remove from heat. Reserve in pan.
Make Chimichurri: Place garlic, parsley, chives, Aleppo pepper or Paprika and vinegar in a food processor. Pulse until coarsely chopped.
When sweet potatoes are finished roasting remove from oven. Warm butter and stir through herb and garlic blend. Season to taste with salt, pepper and hot sauce. Drizzle sauce over sweet potatoes to serve.
TIP: Unlike an olive oil based Chimichurri, the brown butter will thicken when cooled. Make sure to serve it warm so the butter is liquid.
---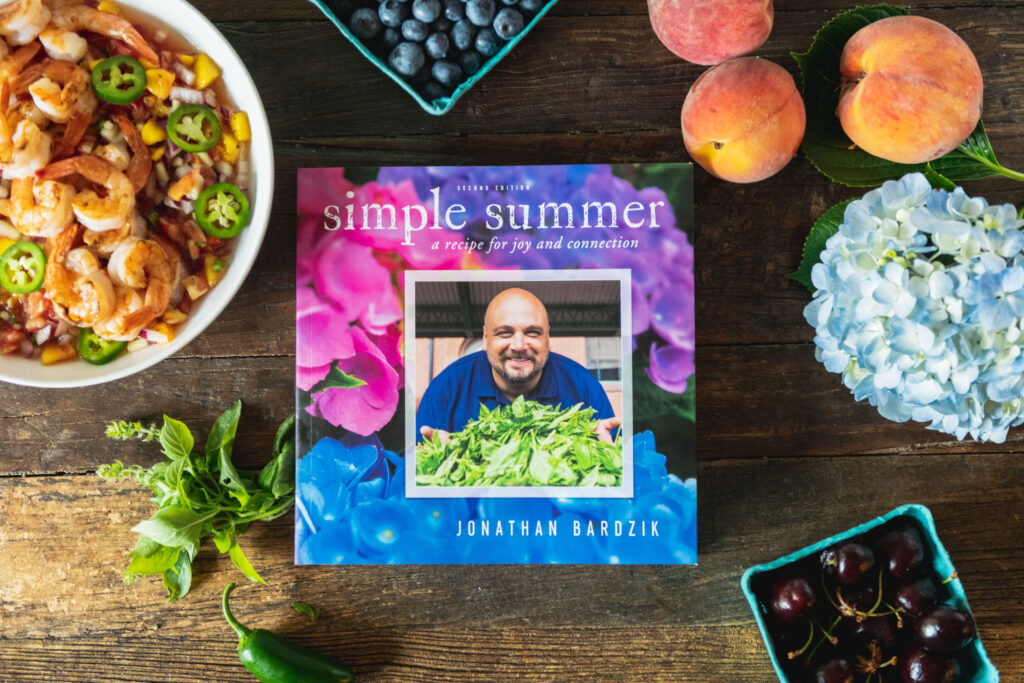 Get Jonathan Bardzik's newest cookbook Simple Summer: a recipe for joy and connection at jonathanbardzik.com/cookbooks. It's the perfect Holiday gift!
Jonathan's Kitchen: Seasons to Taste is available to stream on demand at Revry.tv. The show is produced by Parrlime Productions & Tarnów Entertainment and directed by Jonathan Bardzik.