International Bear Convergence brings bear hugs to Palm Springs, expects over 3,000 attendees
Bears are coming out of hibernation and are heading to the International Bear Convergence (IBC), the premier winter event for Bears & admirers in Palm Springs, California! The event will take place on February 20-24, 2020. This desert oasis opens its arms and welcomes thousands of frisky, furry bears, their friends and their fans to Palm Springs.
The four-day event will come to life with DJs, live entertainment and thousands of bears from around the globe. The last six years have been hugely successful and expect more of the same in 2020 with record-breaking attendance.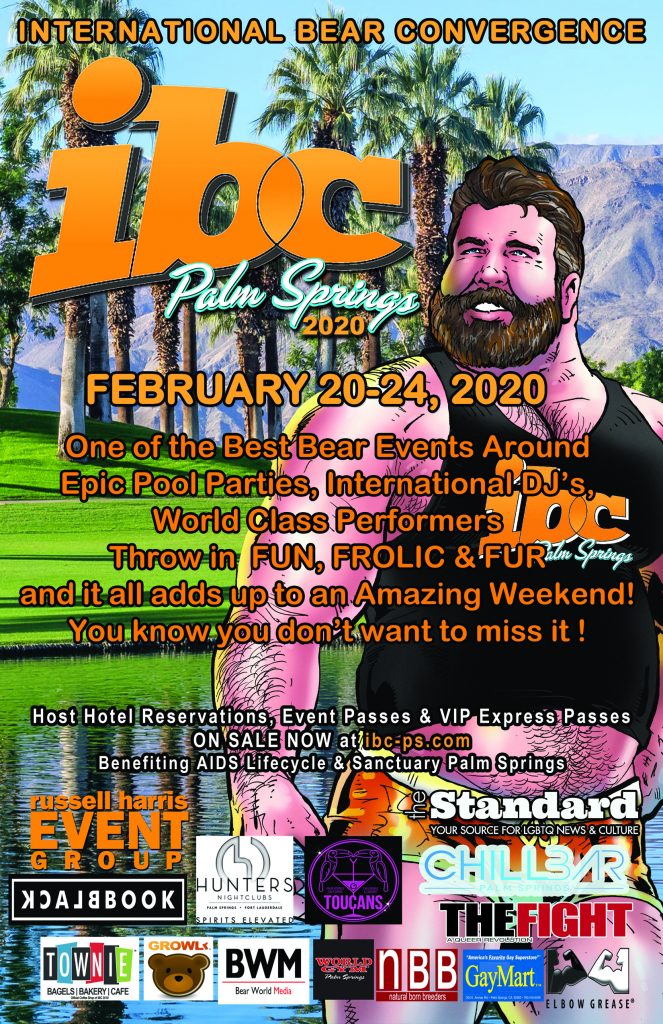 "This year, being our 7th, we will be pulling all the stops so expect us to mix it up quite a bit. In addition, we will again receive a Proclamation from the City of Palm Springs presented to us by the city councilman on Thursday February 20 at 1:30pm in front of Hotel ZOSO", adds co-producers Nino Eilets & George Frank. "We appreciate the recognition from the city for what IBC contributes to Palm Springs."
During the day, kick back and enjoy themed pool parties sponsored by Hunters, Chill Bar and Townie Bagels, with music provided by world-renowned DJ's at the fabulous Hotel ZOSO pool. With multiple bars, cabanas, outdoor-lounge areas and our amazing sun deck area overlooking the action at the pool, you're destined to have a fantastic day!
After the sun goes down, evenings will heat up with three high-energy dance parties sponsored by Russell Harris Event Group, Moxie Palm Springs, The Standard Magazine and WRUFF.
Friday night, IBC will present the LSD (Laugh, Sing, Dance) Cabaret, which will feature entertainment by the Queens of RuPaul's Drag Race. Plus, direct from Provincetown Bear Week, the all-male burlesque show, Bearlesque, will hit the stage!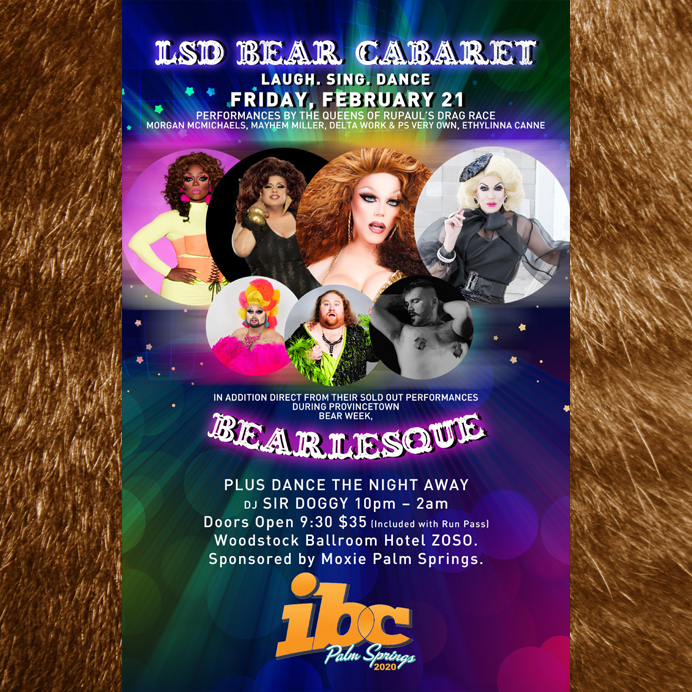 This year, IBC will once again feature Populart – a pop-up art show presented by Modern Bear highlighting well known artists. The event will also feature a great reception Saturday afternoon featuring Bear Story Hour.
Saturday's Main Dance Event, Furrocious, which is presented by Russell Harris Event Group, will feature a live performance by the amazing "Original Party Girl" and superstar Ultra Naté. Party after hours until 3am with a late night happy hour, and if you are feeling adventurous, take a stroll through THE MAZE.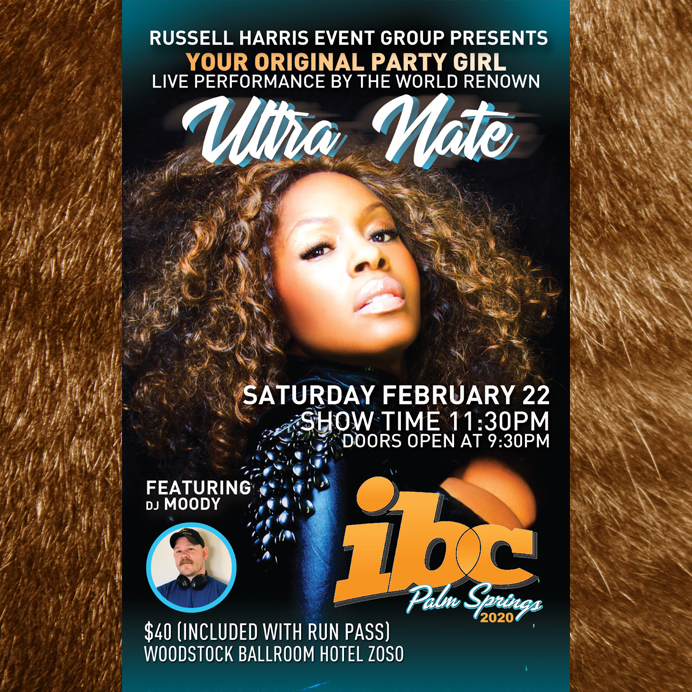 Sunday get ready for a different kind of brunch – the Big Queen Bingo Bear Brunch, which will feature great food and great fun, and all for a great cause. 100% of the proceeds from Bingo will go to Sanctuary Palm Springs.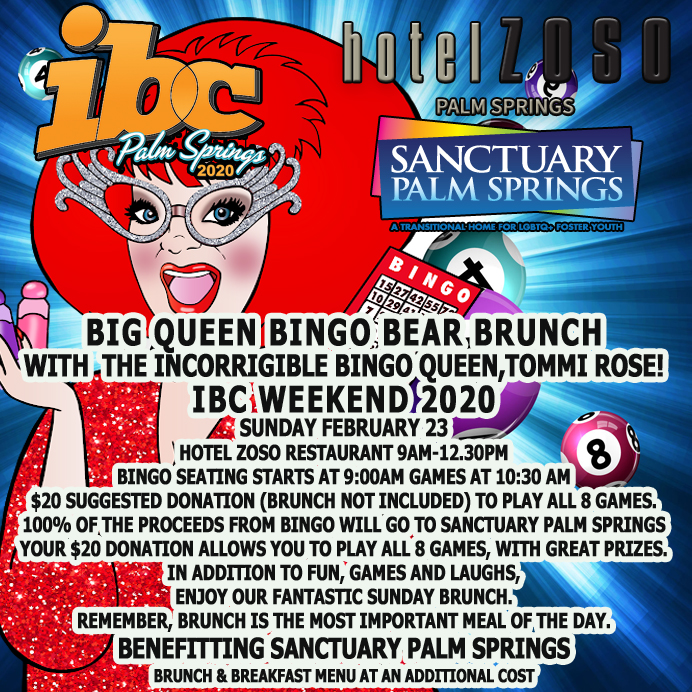 Sunday night's Closing Party, presented by WRUFF, will be a party to remember! This event is guaranteed to be something a bit different from your usual leather or gear closing night parties, and if you had fun on Saturday night, you'll have to revisit THE MAZE!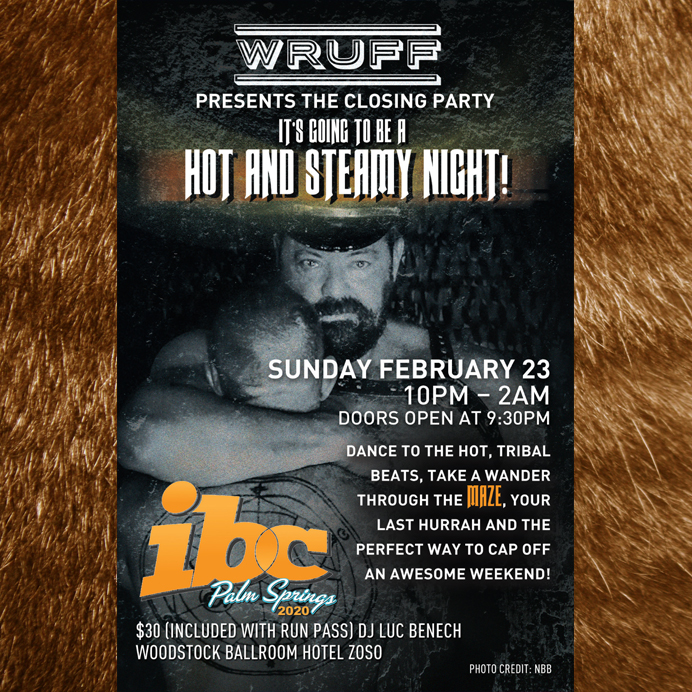 Official IBC afternoon events will be held at BlackBook, Chill Bar (Friday Meat & Greet), Hunters (Thursday Early Bear Party), and Toucans (Sunday Toucans Tiki Tea with IBC Retro Disco). There will also be several other surprises throughout the weekend to look forward to!
Attendance was over 3,000 last year and is expected to grow exponentially in 2020, when IBC will again take over Palm Springs! Passes are still available online, and if you miss the deadline, you may still purchase passes at the hotel. You may also buy tickets for individual events the day or evening of the event at the door.
So, don't wait to book your rooms! The host hotel, Hotel ZOSO, is currently sold out with a waiting list. Visit the IBC website for details on our second host hotel, Quality Inn Palm Springs.
Portions of the proceeds from this event will go to Sanctuary Palm Springs & AIDS LifeCycle.
For more information about IBC, please visit www.ibc-ps.com.