In Memoriam: John R. Burrows
As bears the world over prepare to assemble in Provincetown for Bear Week (July 8 to 15), there will be one very important and influential bear missing – John R. Burrows.
The bear world was thrown into something of a loop when word came that John had passed away suddenly back on May 20th. After all, this is a man who had a profound impact on our culture. As the founder of the Provincetown Bears and Bear Week itself, he revolutionized what a bear run could be. His commitment to inclusion and dedication to creating a safe and welcoming space for our community was evident in everything he did and apparent to all who knew him personally.
Bear World Magazine of course had a long-standing relationship with John. Both myself and the editors before me knew him, but not well enough to properly eulogize this great man. And so, we struggled with the proper way to acknowledge his passing and offer our love and condolences to his family, friends and all those whose life he touched. In the end it was clear that there was no one more qualified to speak on John's behalf than his former husband and dear friend Christopher Ricciotti who offered the following thoughts: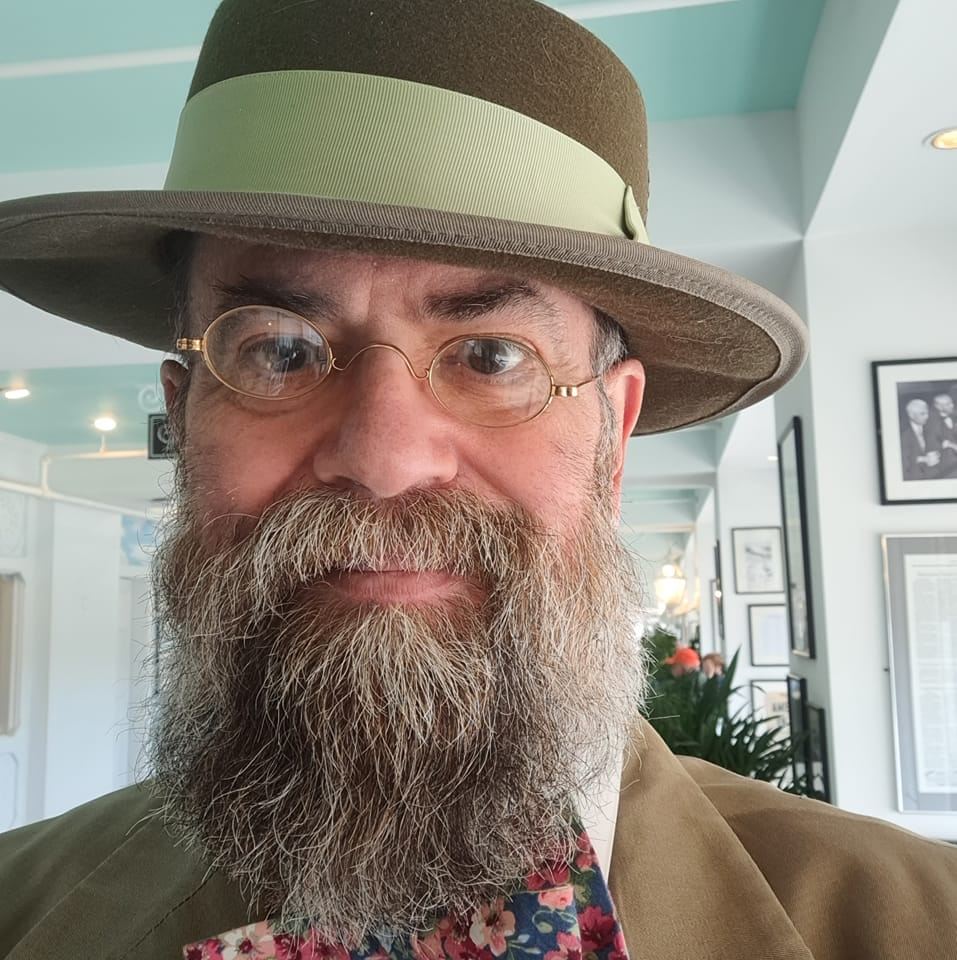 "I met John Burrows back in 1997 when he held a "gender-free" Victorian dance program. Since I had been teaching gender-free contra, square and folk dancing to the LGBTQIA community, when I heard about this, I was intrigued and wanted to know more about the work he was doing. We connected during this dance and kept in touch with each other. Eventually he started coming to my once-a-year Victorian Gender-Free balls that I hosted on the 2nd Saturday of November each year. In November of 2004 he attended this event at a time when both he and I were both single. During the dance we connected and soon thereafter, started dating. Two years later in 2006, I moved in with him to his house in Rockland, MA, and two years later, John and I were married.
John was a warm, intelligent and uniquely passionate individual. For both of us our compatibility came from our passions of Victorian life & design, dancing, building friendships together and the community that develops around this. Also, it was important to both of us that any group we organized had an inclusive and welcoming philosophy. It mirrored our life and home and also the friendships we shared over many years.
John and I both loved the magic of Christmas, old traditions, travel, good food, cooking and being creative in what we shared with our friends at gatherings we would have at our home in Rockland, MA.
John was very supportive to me when I started the Rockland Telephone History Center, a museum dedicated to Vintage telephones and the technology around them.
John's involvement with Bear Week was an excellent example of where his heart and soul were when it came to creating community. He strove to ensure that everyone who came to Bear Week felt welcome, regardless of their body type, size, age, race, ethnicity or gender identity. He set the warm and inclusive tone for a week that welcomed anyone who identified with the Bear community, including organizing "Team Bear", the group that organized and promoted all the events at Bear Week.
John had an extensive knowledge and love of Victorian design and architecture. He founded Burrows and Company in 1985, a company dedicated to providing authentic reproductions of lace curtains, carpeting and wallpaper for buildings, homes and mansions from 1790 to 1930. His products went into such places as the Lincoln Bedroom in the Whitehouse, The Palace in Honolulu, The Nauvoo Mormon Temple in Utah, and appeared in a number of period movie sets. John had an extensive and intimate knowledge of Victorian design and color schemes.
John and I were divorced in 2019, however, it did not end our friendship, the connection we had and the love we had for each other over those many years. Till he died, we often wrote to each other, sharing articles and stories of interests that we knew the other person would enjoy. We last saw each other in February of 2023 when he traveled to my farmhouse in Montville, ME to pay me a visit while he was in this area.
He and his family will continue to be a part of my life moving forward, and I will miss him, and the good times we had shared over the years."
Christopher also encouraged us to publish the obituary put out by the funeral home in Wisconsin that handled John's services since he felt it accurately conveyed who John was and what his passions were. After checking with the funeral home and obtaining permission from his family who wrote it, we present to you the official obituary of John R. Burrows as well:
"John R. Burrows was born in Bryn Mawr, PA, on October 16, 1956, the son of Robert Nelson Burrows and Marion Jauch Burrows. As a child, John was reluctant to speak, first entering the world of speech when he was three and a half years old; he never stopped after that point, always ready with stories, anecdotes, and commentary on things around him. He was a happy boy, artistic from the start with a fertile imagination, boundless creativity, and artistic talent. When he was in the third grade his family moved to Whitewater, Wisconsin, and he became fascinated with the history of the region, eventually working during the summers at Old World Wisconsin in nearby Eagle, Wisconsin, after it opened in 1976. He also became interested in puppetry during his grade school years, and as a sixteen-year-old obtained on his own initiative a summer internship at Pelham Puppets in Marlborough, England. That experience spurred his interest in marionette theater and British culture. He soon convinced his father to build a stage for puppet performances and he developed shows that he performed at schools and shopping malls, to the delight of children and adults alike. As a boy, he played piano, learned to play the organ, and purchased a pump-organ which he took to Grinnell College to the astonishment of his dormmates. There, he fell in love with the study of art and architectural history, which began a lifelong interest in and passion for Victorian culture.
John went on to complete graduate studies at the University of Virginia in architectural preservation and was hired as South Dakota's preservation historian, a short-lived career given the draconian policies against support for the arts implemented by then President Reagan. He then found employment in the business world, working for the historical design merchant Bradbury and Bradbury in Benicia, CA (near San Francisco), where he began to design period wallpaper patterns. After several years he moved to the Northeast, settling in Boston and becoming a "historical design merchant" in Victorian furnishings—carpets, lace curtains, and wallpapers. He founded his own company, "J. R. Burrows and Co." and opened his first store on Newbury Street in Boston, later moving the store to a Federalist Period home he bought and restored in Rockland, Massachusetts, where the company thrived from the late-1980s until 2021. During that time John developed a relationship with Grosvenor and Wilton Company in Kidderminster, England, promoting their authentic reproductions of high-end wool carpets using original looms and patterns from the mid-19th century. He advised and oversaw the installation of period carpets, wallpaper, and other furnishings in historic buildings like Villa Louis, a stately mansion in Prairie du Chien, Wisconsin, and in churches as diverse as Trinity Church on Copley Square in Boston and the reconstructed Mormon Temple in Nauvoo, Illinois. He also oversaw carpet installations for two rooms in the White House (the Blue Room and the Lincoln Bedroom, during the presidencies of Bill Clinton and George W. Bush, respectively), and provided carpets and lace curtains for the interiors of Steven Spielberg's 2012 "Lincoln" movie. Hundreds of historical homes and buildings in cities and towns across the United States bear the imprint of his creative work as a restoration designer. He received numerous awards and accolades for his work in historical restorations, including a Lifetime Achievement Award from the Victorian Society in America.
John interested himself in everything Victorian and had an encyclopedic knowledge of the history and culture of that period—in England and in the United States. Over his career, he spoke frequently at civic groups and academic conferences, always drawing others into his passions and curiosities. During the 1980s John became involved in "vintage dance groups", and participated in dance events throughout his life, enjoying a weeklong dance gathering at the Grand Hotel on Mackinac Island a week before his untimely death.
John was a lifelong advocate for LGBTQ rights and causes. In 2001 he was instrumental in founding "Bear Week" in Provincetown, Massachusetts, an annual event occurring each July that attracts more than 10,000 gay men for a week of celebration and conviviality.
In June of 2021 John moved back to the Midwest, settling in an 1880 Victorian home (which he named "Brackets Cottage") in Milton, Wisconsin, fourteen miles from Whitewater, where he grew up and where his mother still lives. Over the last several years, they enjoyed many days together as he rekindled his love of America's "heartland." John died peacefully in his sleep in his Milton home on Saturday, May 20, 2023. He is survived by his mother, Marion Burrows of Whitewater, Wisconsin; his siblings David N. Burrows of Oriental, North Carolina, Mark S. Burrows of Camden, Maine, and Linda Jauch Jennings of Falcon, Colorado; and his former husband Christopher Ricciotti of Montville, Maine. Memorial services will be planned for Whitewater, Wisconsin, and Rockland, Massachusetts, at a later date."
And as a final thought and celebration of his legacy, and what Ptown Bear Week means to its patrons and townies alike, we present a quote from John himself, pulled from an article we wrote back in 2013:
"Over the years, the town of Provincetown has fallen more and more in love with the bears. There's a lot of good reasons for that. We tend to be a little more mature; we are definitely people who want to buy art; we want to buy food; we want to go out to the clubs….The bears are a real happy group of people who come down to enjoy a week of vacation, see a bunch of other guys and be in a place where they are able to enjoy and express themselves as they celebrate the town for what it is."
Rest well John Burrows, and thank you for everything.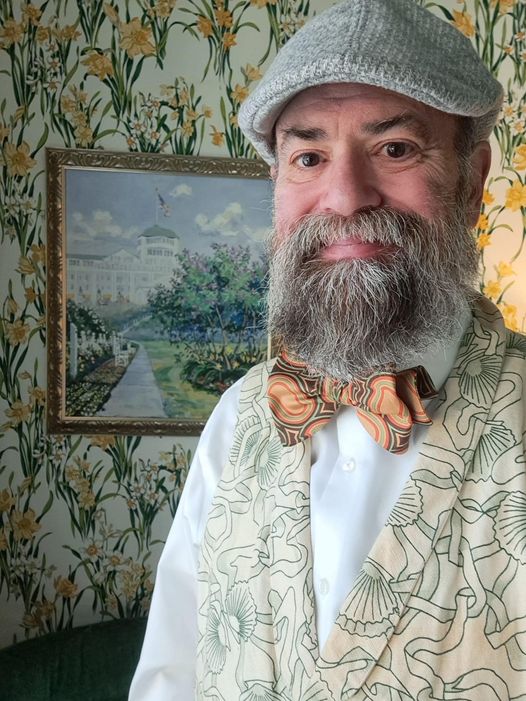 **Bear Week attendees can attend a memorial BBQ hosted by the Provincetown Inn and the Monkey Bar to be held at 11 AM on Sunday July 9th. More information and tickets are available here.**