Hunt Safely! UrSafe Partners with Grindr to Bring Safety to LGBTQ+ Dating
Here's some great news for all you Bears, Cubs, Chubs and Chasers that like to hunt on Grindr!
The UrSafe App, a global security app offering next-generation personal safety technology, today announced a new partnership with Grindr, the location-based social networking and dating application for gay, bi, trans, and queer individuals, to bring an elevated level of personal safety to the LGBTQ+ dating community.
Through the partnership, Grindr's millions of global app users will be offered a premium 14-day pass to utilize UrSafe's personal safety features for added security whether meeting up with those whom they've connected with online, or in their day-to-day lives. The two technologies will work in tandem to enable individuals to easily stay connected with friends and family as well as contact the nearest law enforcement services should they need help by utilizing UrSafe's features such as Follow Me, Check In, Hands-Free SOS, and Fake Call.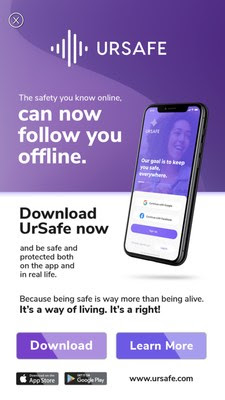 "While many people face uncomfortable situations in the dating process, like awkward conversations or getting stood up, there are serious safety risks that plague the dating community and affect LGBTQ+ individuals at a statistically disproportionate rate," said Anthony Oyogoa, M.D., CEO and Co-Founder of UrSafe.
"UrSafe has always been a global advocate for those of diverse backgrounds and orientations, and the app's top priority is, and always will be, bridging the technology gap to ensure that everyone has access to basic safety and protection in all aspects of their lives."
As a long-time advocate for LGBTQ+ individuals, UrSafe made the investment of partnering with Grindr to further be an ally for the community at large.The two technology platforms joined forces to protect the global LGBTQ+ community during times where equality was not always guaranteed.
Safety has always been paramount for Grindr, and the app recently initiated new precautionary developments and programming under the leadership of Jeff Bonforte, CEO of Grindr, in a continued effort to adjust to the growing need for safety in our newly found digital era. UrSafe's partnership with Grindr further carries out the dating app's efforts in protecting its users, and marks the start of a long-term relationship that showcases a safe, fun and loving future for the online dating industry.
"UrSafe was founded on the notion that living safely and freely is not a privilege, but a right, because until that is established in marginalized communities across the board, we are not all truly considered equal," said Oyogoa.
"Whether Grindr users are located in Robertsdale, Alabama, across the globe in Pakistan or anywhere in between, we are deeply committed to empowering them with next-generation personal safety tools, so that they can feel more comfortable dating and creating meaningful connections with others. We're extremely invested and very humbled to join forces with Grindr, and our partnership means that four of the top ten grossing global dating apps now provide 'The UrSafe App,' making it an industry standard. We hope that by providing an extra layer of safety for their users, we might be able to take a bit of the anxiety and fear of danger out of the equation, so that Grindr users can focus more of their energy on creating genuine connections and cultivating their relationships."

To learn more about UrSafe, visit ursafe.com and follow @UrSafe_App on Instagram, @UrSafeApp on Facebook and @UrSafe_App on Twitter and view UrSafe's LGBTQ+ video on YouTube.