Houston-based photographer Steven Tilotta presents the male body 'As Is'
The male body is presented in all its natural glory in Houston-based photographer Steven Tilotta's project As Is!
Published on December 11, 2020, this 212 page collection of photos spanning the years 2014 to 2020 promotes body positivity, and showcases men of all sizes through photography and motivational messages. Recently, The Advocate shared 25 photos that encapsulate the message of As Is.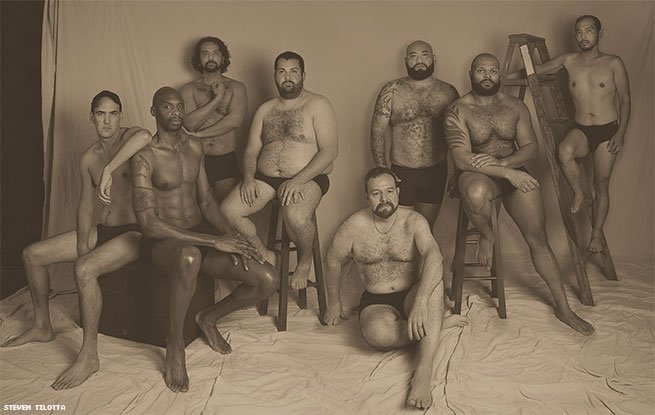 In 2013, Steven Tilotta decided to trade in his paintbrush for a camera. This decision took nearly twenty years, after he was told by a professor in college that he would never be good at photography because he questioned the rules.
"When it comes to the arts I don't believe in rules," says Tilotta. "Imagine if Picasso had played by the rules."
His work is heavily influenced by the work of his idols, Annie Leibovitz and Herb Ritts, as well as cinematic color grading.
"I love shadows; I like to show a darker side because I believe everyone has one. It is what we choose to do with it — keep it surpassed or show it to the world," he states. 
I want to start a revolution — a revolution where we can begin to heal and learn to accept ourselves 'As Is.' It is a long journey, but I hope that we can begin to love ourselves. I chose guys for As Is that are not the images that have been force-fed to us of what male attractiveness, beauty, and masculinity is.

Steven Tilotta
Body image and body dysmorphia are not just a problem that plagues women; it also cripples men in many ways.  I have learned this firsthand over the last six years I have worked on As Is. 

Steven Tilotta
I have had the privilege of photographing some incredible men of all shapes and sizes. I have learned along the way that they all have hearts, feelings, and want to be loved for themselves, not by how the world may see them. 

Steven Tilotta
Throughout the book the reader will find positive quotes from the photographer and others, alongside other notes from Steven Tilotta.
Be sure to check out Amazon for the full book. See more about As Is at Steven Tilotta's website and by following him on Instagram.