Home invasion horror 'Knock at the Cabin' features gay dads and a hot villain
Universal Pictures has released the first trailer to the upcoming film Knock at the Cabin from master of the macabre, M. Night Shyamalan.
As part of what seems to be a growing wave of queer horror representation in Hollywood, this film will center around a gay family unit. The premise of the movie is simple and terrifying as all good horror films are: While vacationing at a remote cabin, a young girl and her two dads are taken hostage by four armed strangers who demand that the family make an impossible choice in order to prevent the apocalypse. Stranded in the middle of nowhere with no access to the outside world, the family must decide what they believe before it's too late.
It's definitely a great premise. But, is it bad to say that the lead villain, played by actor and former wrestler Dave Bautista (Dune, Guardians of the Galaxy) is kinda hot? And the all-grown-up, bearded ginger Rupert Grint, from the Harry Potter series, is kinda cute, too. You don't ever really go to a horror movie hoping that the villain will take his shirt off, right? I mean, granted, the villains appear to be terrorizing a family with a young child (or so it appears, since this is an M. Night Shyamalan film), so hopefully the family wins in the end. But like, can we get a peek at the pecs before you kill them?
Based on the 2018 novel The Cabin at the End of the World by Paul G. Tremblay, the film stars out actors Jonathan Groff (Hamilton, Glee) and Ben Aldridge (Fleabag) as Andrew and Eric, the two dads. It also stars Nikki Amuka-Bird (Persuasion), Abby Quinn (Little Women), and child actor Kristen Cui playing Andrew and Eric's daughter, Wen.
Knock at the Cabin is the latest in a series of horror films to come out that have placed LGBTQ characters front and center in their stories, to varying effect. This summer Peacock released the highly anticipated slasher film They/Them which has been widely panned by queer audiences due its poorly received final act.
Besides that, however, we have characters like Mindy Meeks (played by Jasmin Savoy Brown) introduced to the Scream universe who has quickly become a beloved queer horror heroine. There was also the recent psychological horror film Hypochondriac, which was completely centered on a gay man of color. And let's not forget the forthcoming Hellraiser film on Hulu starring trans actress Jamie Clayton as Pinhead and the return of the Chucky tv series which has a gay protagonist and a gay creator/ writer in Don Mancini.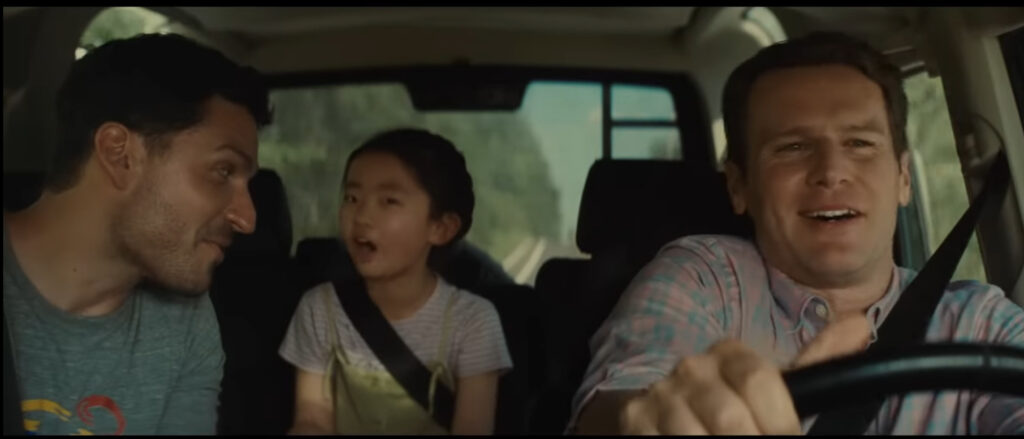 With all this queer representation, diversity and (dare we say) "villain eye candy", it's a good time to be a gay horror fan!
Knock at the Cabin is scheduled to be released in theaters on February 3, 2023. Keep up with the latest news on the film's official website here.
An earlier version of this article was published on our sister site, Queer Forty, by John Hernandez.