Hibernation: Jonathan Bardzik's lemon poppyseed ricotta waffles
It's winter and time for bears (and bear magazines) everywhere to make puns about hibernating!
All dad jokes aside, most bears I know are big fans of settling down for the winter after the craziness of the holidays. Last year at this time my husband Jason and I were getting ready for winter weekend houseguests, long days spent cooking and curled up on the couch, catching up with out-of-town friends. Weekends without houseguests were filled by inviting local friends over for sleepovers to binge watch Lord of the Rings or all of the Harry Potter movies (again) while eating homemade pizza or giant pans of Porcini mushroom mac and cheese alongside slow braised pot roast or pork shoulder.
This year will be a bit different. Our friends from out of town are staying safe at home, as are we. Outside of our small Covid pod – our Quaranteam – we are also playing it safe as we watch numbers rise around the country. So, while we won't have the added inspiration of hirsute friends suited up in onesies this winter we do have an ace in the hole.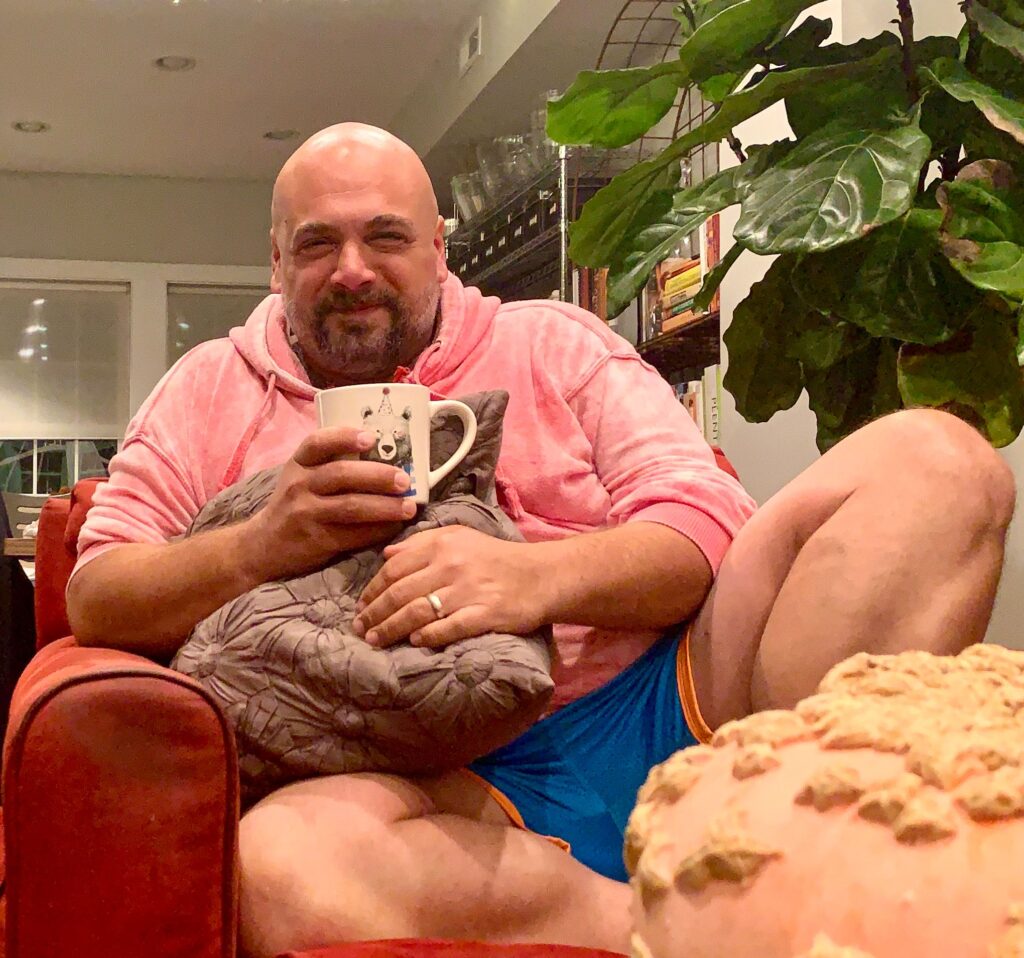 For the past 10 months now we've stayed close to home and kept our circle small. We have so many wonderful friends that we look forward to sharing years and years of pool parties, Sunday brunches, Friday happy hours, weekends away and snuggle movie weekends at home with; and we've been staying safe, as have they, to make sure all of those wonderful times together happen.
As we head into winter 2021 we have become expert level hibernators and Jason and I are ready to go. And, as we snuggle up together under a blanket or three on the couch as we get ready to binge Harry Potter (again) we will be practicing our brunch game, because it won't be long now until Sundays will fill our table with the friends we've missed. We can't wait to greet them at the door – with a big hug. Happy New Year!
---
Lemon poppyseed ricotta waffles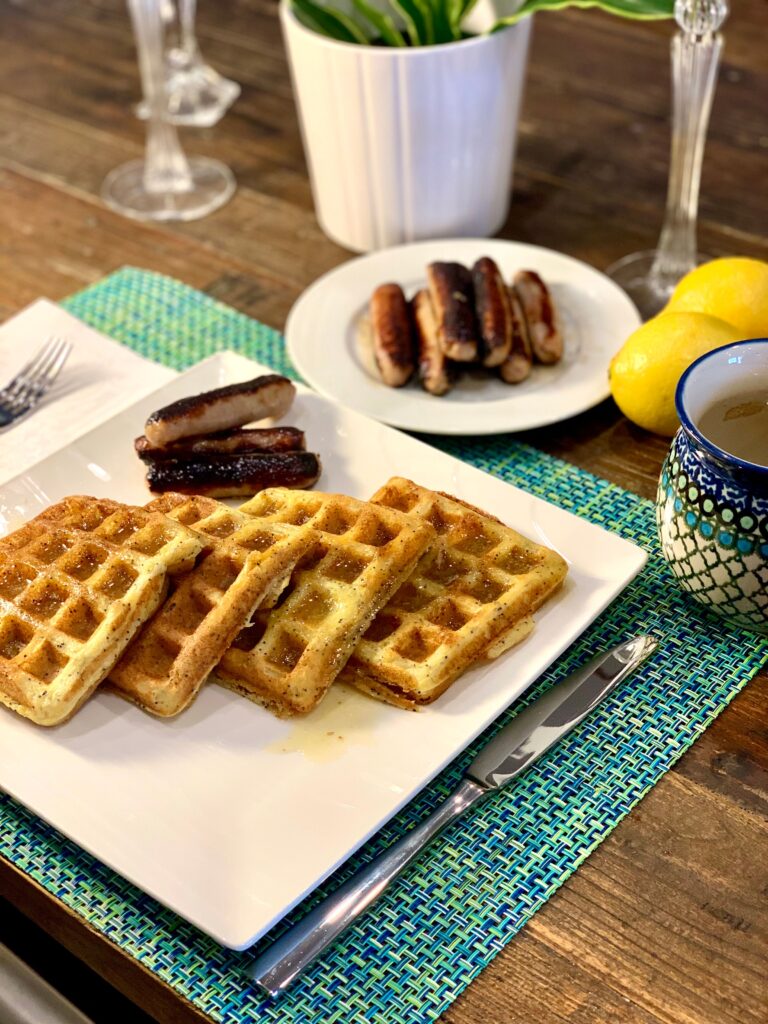 Serves 4-6
Moist, lemony, rich, with a little crunch from the poppyseeds and cornstarch. It's just the right amount of everything and not too much of anything. A warm fennel seed, honey butter, running down onto the plate tops them perfectly.
PS I know this looks like a lot of ingredients, but most of them are pantry staples and there's almost no work involved!
Dry ingredients:
1 1/2 cups all-purpose flour
1/2 cup cornstarch
1 tsp baking powder
1/2 tsp baking soda
1/2 tsp salt
2 tbs poppyseeds
Wet ingredients:
2 eggs, lightly beaten
1 cup ricotta cheese
1 cup buttermilk
1/2 cup whole milk
2/3 cups melted butter
1 tbs sugar
1 1/2 tsp vanilla
2 lemons, zested
For honey butter:
3/4 cups butter
1/3 cup honey
1/4 tsp ground fennel seed
Directions:
Make batter: Mix dry ingredients together in a medium bowl. In a separate, larger bowl, mix wet ingredients together. Add dry ingredients to wet ingredients and whisk until combined. Do not over mix. It's okay if there are a few streaks of flour. Let rest for 30 minutes.
Make honey butter: While batter rests, melt butter in a small saucepan. Add honey and fennel seed and keep warm on low heat.
Cook waffles: After resting batter, cook it in your waffle maker according to directions. This is a wet batter, so cook them a little extra time until well browned. Serve immediately or keep warm directly on the racks of an oven set at warm or 200° F.
TIP: Waffles are all about a crunchy exterior and tender interior. Stacking them up in the oven steams the crunch out of the exterior. Placing them directly on the racks keeps them crisp.
Jonathan Bardzik is a storyteller, cook, and author who has added virtual cook-alongs to his  live cooking shows and storytelling workshops for business teams, groups of friends and families. Jonathan's second cookbook, Seasons to Taste: Farm-fresh Joy for Kitchen and Table is the inspiration for his new cooking show arriving on Prime Video this February.
Follow Jonathan's cooking adventures on Instagram and Facebook @JonathanBardzik and find his books and more recipes at JonathanBardzik.com.