Here are all the fun events and entertainers you'll experience at Bear Jamboree!
You will have One Magical Weekend at Bear Jamboree 2023!
Orlando Bear Pride is excited to welcome all their furry friends to BEAR JAMBOREE, presented by Orlando Bear Pride and One Magical Weekend!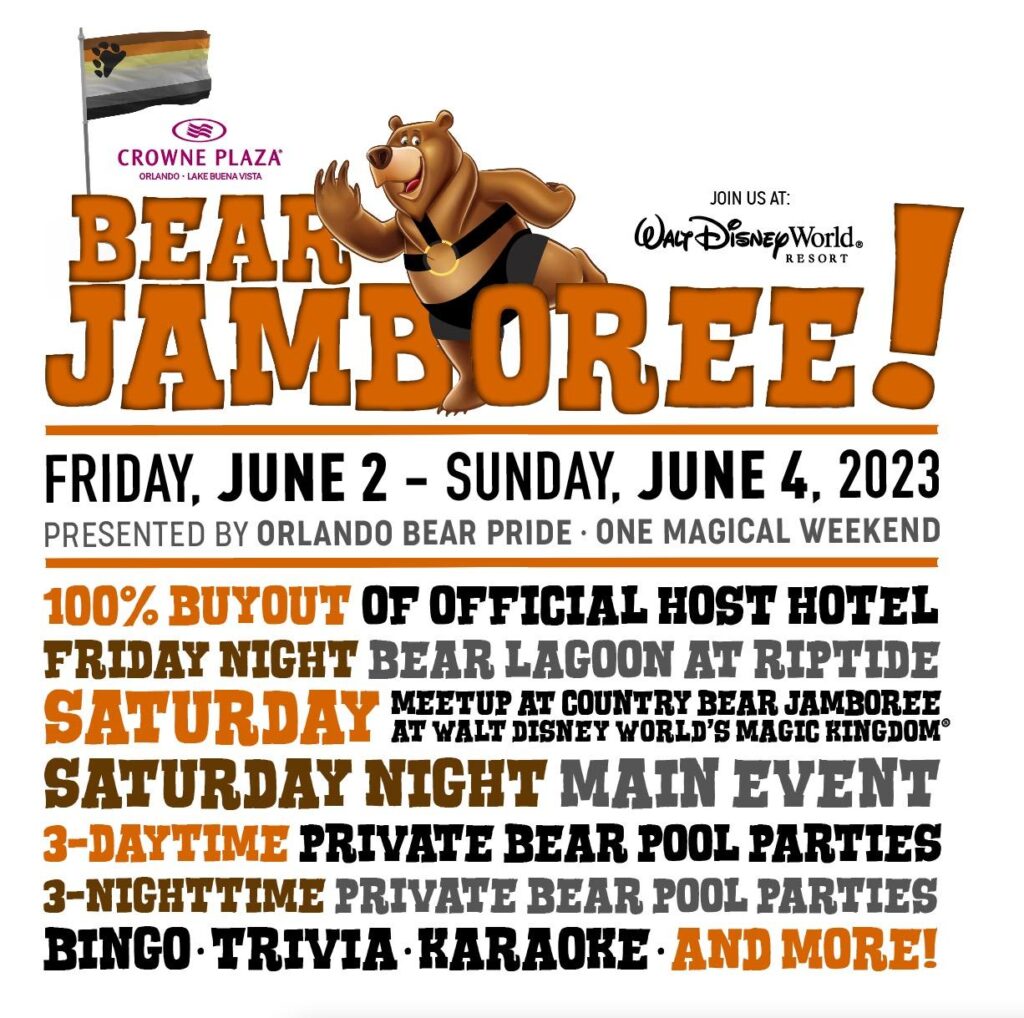 Bear Jamboree takes place from the June 1st – 5th, 2023. Bear Jamboree is part of the 33-year tradition of LGBTQ community members trekking to Walt Disney World Resorts to celebrate our pride. The event features a host hotel, the Crowne Plaza – Orlando, Lake Buena Vista, daily pool parties with the hottest DJ's and nighttime events.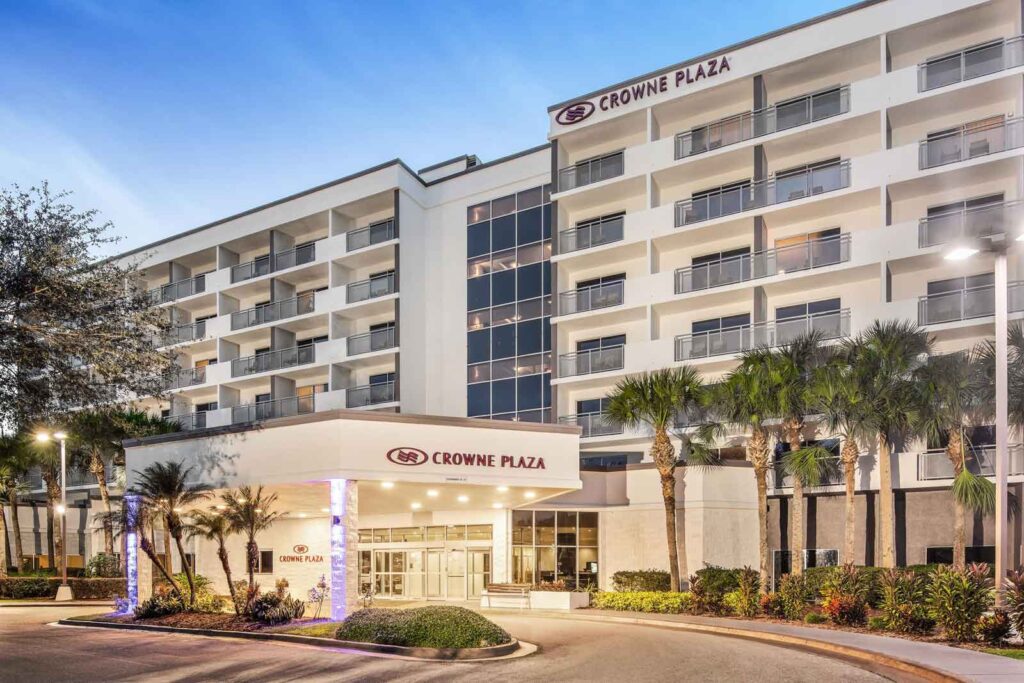 Take a look at some of the beary fun events and entertainers you have to look forward to at Bear Jamboree!
---
Friday Main Event – Riptide at Disney's Typhoon Lagoon Waterpark
Disney's Typhoon Lagoon Waterpark is a 52-acre world-class venue where thousands of revelers will ride the slides, float in the lazy river, cocktail it at 48 bars and dance on the beach to the beats of DJ GSP.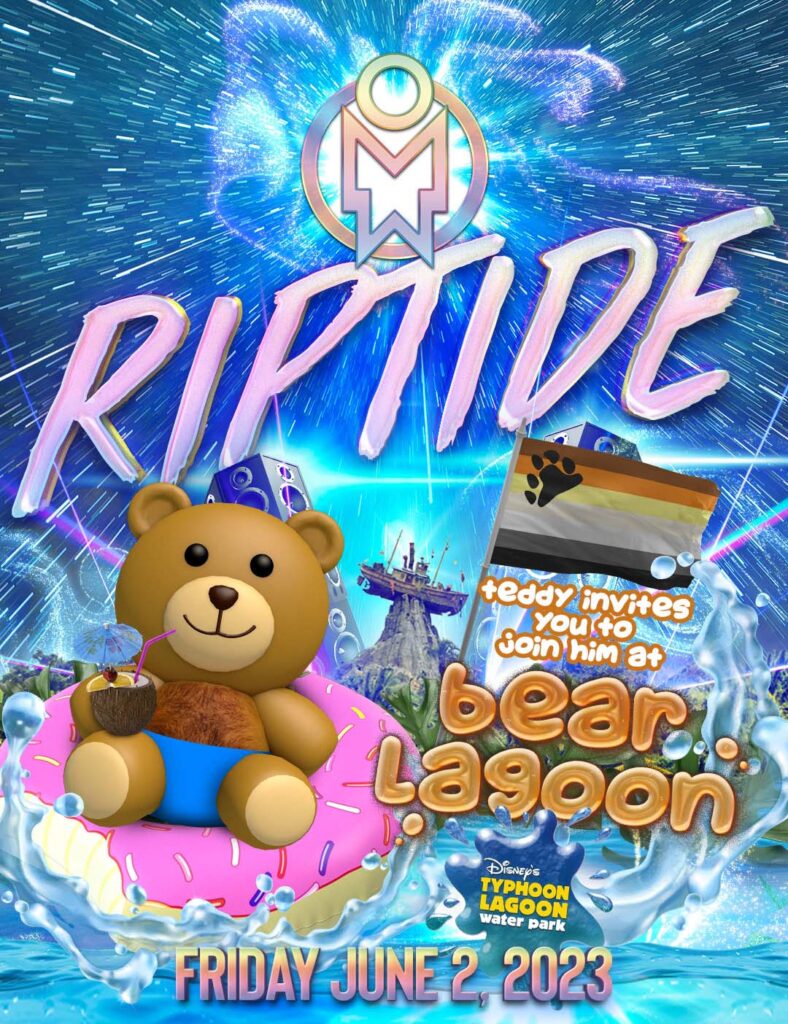 Bear Lagoon features a second dance area with its own beach, dance-area, and Bear DJs spinning from 8pm to 2am. Bear Jamboree is excited to host bears from around the world at Friday night's Main Event!
---
Saturday Main Event – Ben Zook's One-Man Comedy Show "The Dirty Show"
In The Dirty Show, Ben Zook, one of the creators and stars of the HOT web-series, "Where the Bears Are," plays Skyler Gentry – America's favorite actor-singer-dancer-psychic.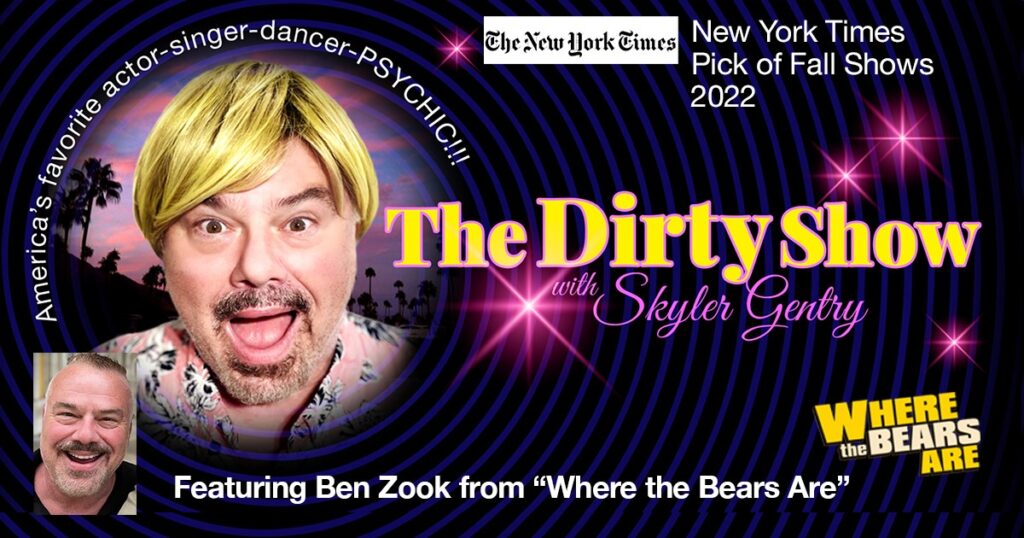 Filled with raunchy original songs, comedy monologues, and psychic readings with the audience, this hilarious show, which was a "pick of the fall 2022" by the New York Times, is definitely one that you won't want to miss!
---
Daily/Nightly Pool and Dance Parties at the Crowne Plaza – Orlando, Lake Buena Vista

Hosted by your amazing Den Mother, BEARONCE!
Hang on to your husbands! This sassy southern diva will set the stage on fire during our daily and nightly pool parties, keeping everyone laughing and entertained all day/night long. at the Bear Jamboree Host Hotel, Crowne Plaza – Orlando, Lake Buena Vista!
---
And, in addition to all of these fun events, take a look at some of these beary hot Bear Jamboree Ambassadors! WOOF!
Other events will include:
Teddy's Bingo
Trivia
Karaoke
3 Private Daytime Bear Pool Parties
3 Private Nighttime Bear Pool Parties
AND other events and DJs to be announced soon!
To purchase tickets for this year's event, CLICK HERE!
Bear World Magazine is super excited to be working with Bear Jamboree, the only Bear event that is part of One Magical Weekend!