Happy Birthday, Jonathan Bardzik! Check out 3 favorite recipes from the great chef
Today is the birthday of one of our favorite chefs, Jonathan Bardzik!
To celebrate his birthday, we revisit three of our favorite Jonathan Bardizik recipes. Try one or all of them out, and let us know which one is your favorite in the comments!
---
Pineapple Grilled Pork
This dish takes a little planning ahead to marinate the meat and reduce the pineapple juice for the glaze, but you can toss together a quick slaw and a batch of cocktails while you wait. Don't leave the pork in the marinade longer than 3 hours. Enzymes and acidity in the pineapple juice will make it mushy.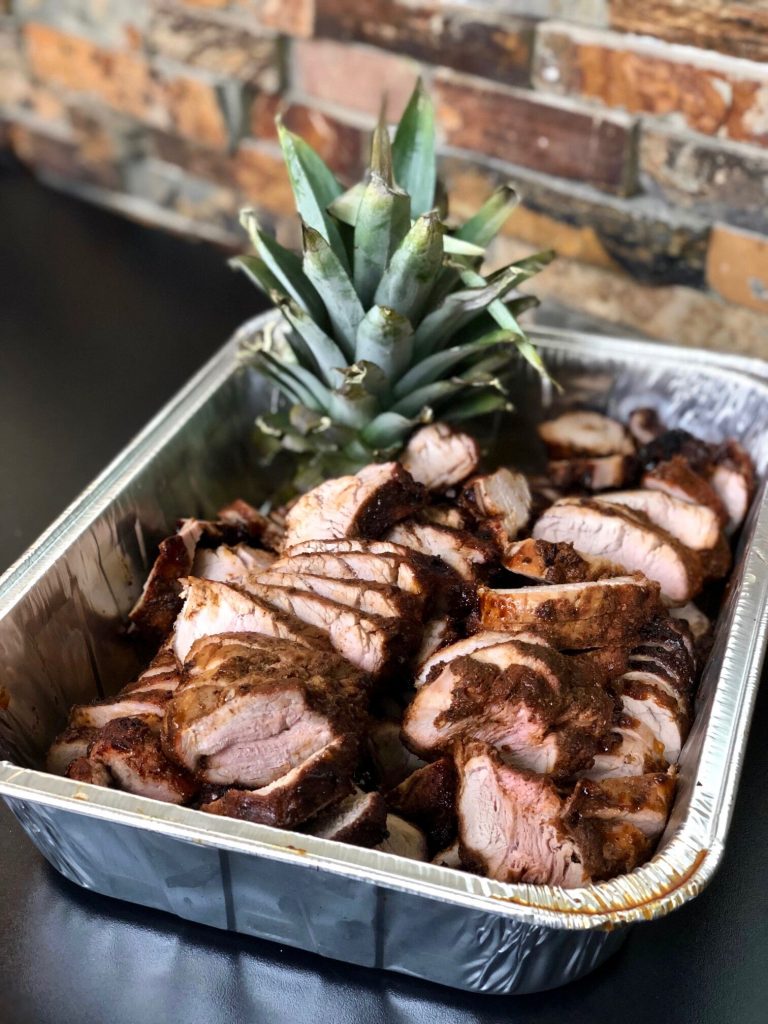 Marinade:
2 cups pineapple juice
1 cup soy sauce
2 tbs toasted sesame oil
3-4 whole scallions thinly sliced
2 star anise pods or 5-6 whole cloves
1/4 cup brown sugar
2 tbs salt
2 tbs white pepper
Glaze:
4 cups pineapple juice
2 tbs soy sauce
1/4 cup brown sugar
Sriracha or other hot sauce to taste
Pork:
2 whole pork tenderloins
Make marinade: Mix ingredients. Add pork to a gallon freezer bag and pour in marinade. Marinate for 3 hours, turning once halfway through. Note: If you don't have three hours, shorten the marinating time. You will still get lots of great flavor.
Make glaze: Reduce pineapple juice to 1 cup. Add soy sauce and sugar and reduce to the consistency of maple syrup. If you reduce it further it will get too thick when it cools. Season to taste with Sriracha.
Grill pork: Season pork with salt and pepper. Set your coals on one half of the grill or turn one of your gas burners to high. Brown pork on all sides over the hot side of the grill. Move to the cooler side to finish cooking to 140F.

Brush top with glaze and place, glazed-side down, back over the hot side of the grill. Cook for 1-2 minutes to caramelize the sugars. While it cooks, brush glaze on the top side of the meat. Turn to finish and remove from the heat.

Let pork rest for 10 min tented with foil. Thinly slice and drizzle with any remaining glaze to serve.
---
Chinese Shrimp Scampi
Serves 4
Read the directions through first. Stir-fries always seem like a lot of ingredients and a lot of work, but once you've got all the ingredients prepped the hard work is done and this will go together in just a few minutes.
Ingredients:
1/2 pound spaghetti
1 tbs toasted sesame oil
2 tbs vegetable oil
2 cloves garlic, minced
1 lb shrimp, peeled and deveined (I like 31-35 count)
3 scallions, slivered, whites and greens separate
Pinch red pepper flakes (optional)
1/4 pound spinach
White pepper
For sauce:
1/3 cup rice wine
Lemon juice
1 tbs brown sugar
1 tbs tapioca or corn starch
Directions:
Bring a 4 quart pot of water to a boil. Salt heavily and cook pasta until al dente. Drain pasta and rinse under cold water. Toss with toasted sesame oil.
Mix together sauce ingredients.
Warm 1 tbs vegetable oil in a 12" skillet over medium-high heat. Add garlic and cook until fragrant, about 30 seconds. Add shrimp and cook until opaque, about 1-2 minutes per side. Reserve.
Return skillet to medium-high heat with remaining 1 tbs vegetable oil. Add scallion white parts and sauté 30 seconds. If using add red pepper flakes and cook 30 seconds longer. Add spinach and cook 30 seconds until lightly wilted. Add shrimp and pasta and toss through 1 minute until warm.
Stir sauce, add to pan and cook, tossing with ingredients, until it thickens to coat the pasta and shrimp. Remove from heat. Season to taste with salt and white pepper as needed. Serve garnished with scallion greens.
---
Soufflé with Manchego and Jamón Serrano
Serves 4-6
This is the first soufflé I ever made. Dozens later, it has never failed me. The ingredients are nothing more than pantry staples, making this an easy go-to for entertaining or a quick weeknight supper, served alongside greens dressed in a hand-whisked vinaigrette.
Ingredients:
3 tbs unsalted butter, plus additional to butter soufflé dish
3 tbs finely grated Parmesan cheese
3 tbs all-purpose flour, unbleached
1 cup whole milk
White pepper
Cayenne pepper
Nutmeg
4 large egg yolks
5 large egg whites
1/2 cup grated Manchego cheese
1/2 cup diced jamón Serrano
Directions:
Heat oven to 400 F. Adjust the rack so the top of the soufflé dish will be about 8" from the heating element.
Butter the inside of a 2 quart soufflé dish. Add grated parmesan and turn dish to coat, reserving extra cheese.
Make the Béchamel sauce: Melt 3 tbs butter in a small saucepan over medium-low heat. Add flour and stir together for 2-3 minutes, being careful not to brown the roux. You are cooking the raw flavor out of the flour. When ready, it will smell pleasantly sharp.
Remove from heat and add the milk all at once, whisking vigorously to avoid lumps.
Return the sauce to medium-low heat and cook for 3-5 minutes until it thickens. The sauce will be very thick. Season to taste with salt, white pepper and a pinch each of cayenne pepper and nutmeg.
Stir the egg yolks into the sauce one at a time. Transfer the sauce to a large bowl and stir through the Manchego cheese and jamón Serrano.
Whisk the egg whites in a freshly cleaned bowl, or a copper bowl if you have one, until they support their own weight on the whisk.
Stir 1/4 of the stiff egg whites into the béchamel sauce. This lightens the mixture so you lose less volume folding in the remaining egg white.
Gently fold in the remaining three quarters of the egg white until only a few white streaks remain. Transfer the mixture to the prepared soufflé dish, smooth out the top with an offset spatula (or the rubber one that's already dirty from folding) and sprinkle the top with the remaining Parmesan cheese.
Place in the oven, reduce heat to 375 degrees, and bake for 25 minutes. The soufflé is done when the top is golden brown and moves slightly in the middle when shaken. I prefer mine still wet in the center. Serve immediately.
---
Jonathan's cookbooks offer simple recipes prepared with farm and garden-fresh ingredients to share with the people – friends, family and farmers – who make our lives matter. Bring one of Jonathan's amazing cookbooks home today!
For more information about Jonathan Bardzik, visit www.jonathanbardzik.com!