Handsome Daddies Everywhere Love Leather Daddy Skin Company!
Handsome Daddy Bears know the importance of taking care of their skin. And if you're a Daddy looking for a great product, or a boy looking for a great product for his Daddy, then look no further than Leather Daddy Skin Company.
A True Small Lgbtq-owned Business, LeatherDaddy Skin Co. is more than just a skincare brand – it's a passion project founded by Chris Wright-Garcia, a Non-Binary Ginger Switch, in Albuquerque, NM.
After being let go from their job as a waiter of 14 years due to the pandemic, Chris decided to pursue their dream of starting their own business and sharing their tantalizing fragrance blend of Leather, Scotch, Vanilla, and 18 other erotic spices with the world. Determined to make a name for themselves and carve their own path, Chris created a line of plant-based skin care products that focus on hydration and having fun while celebrating the BDSM community. Using only the best high-quality botanical ingredients and natural fragrances, Chris has developed a range of products that are enjoyed by customers all over the country and around the world.
We had a chat with Chis last year, to discuss how Leather Daddy Skin Co got started, and some of the amazing, organic products available, including the company's signature organic oil blend – a sexy Leather scent sensually developed to increase blood flow and induce euphoria. Utilizing powerful scents found in nature including; tantalizing hints of Leather, warm notes of Vanilla, and the seductive scent of Scotch.
So, if you want to join Chris on their journey as a true small business and experience the joy of happy, hydrated skin while feeling sexy, try LeatherDaddy Skin Co. products today. You won't be disappointed! 10% of all profits go to deserving charities all over the world.
Check out the interview with Chris below, and take a look at just a few of Leather Daddy Skin Co's best products!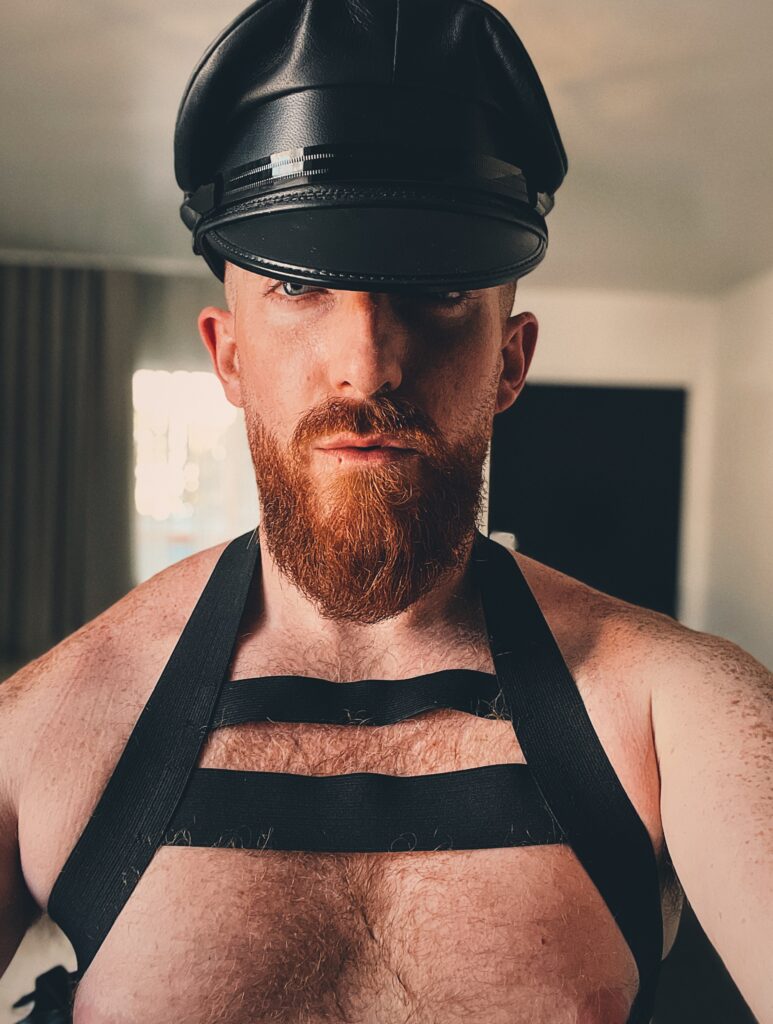 ---
Kyle Jackson: I read that LeatherDaddy™️ Skin Company started during the pandemic! Can you discuss how you got started and how you came up with the idea for Leather Daddy Skin and your TastyHole™️scrub?
Chris Wright-Garcia: When the pandemic hit, I was waiting tables at a soul food restaurant in Albuquerque. Naturally, I lost my job when things shut down in the very beginning. I freaked out quite a bit and ate my feelings. (I had a LOT of feelings).
TastyHole™️ sort of half-ass existed, I had vended at 2 LGBTQ prides and made a few hundred bucks here and there, but it wasn't as scRUMPtiously popular as it is today. People didn't even know about it. My original plan was to hit as many prides across the country as possible in 2020. Well, no large gatherings = no pride, so that plan was shot. At that point, I decided to pull the trigger on a crazy idea I had one night, and go all out with it.
A few years back, I had a stint making organic skin care for a couple hundred wholesale clients across the globe and making everything from Vitamin A serum to Zinc sunscreen and everything in between. Plant-based products were always my go-to. My philosophy is if you can't eat it, don't put it on your skin.
I took that experience and blended it with my love and admiration for the Leather community, a community that accepted me with open arms and made me feel like I finally belonged somewhere and that's how LeatherDaddy™️ Skin Company was born. I taught myself; how to build a website, marketing, accounting, sales, and every other aspect of owning a small business. Now, I'm in 15 different stores across the country and just hired my first employee!!
KJ: Where do most of your fragrance ideas come from, and what influences you to create these types of fragrances?
CWG: Smell has such an intimate place in our society. People have been using fragrances in various forms for thousands of years and each one evokes a different memory. As a chef, I've always had a really adventurous palate for flavor. Flavors are one of my absolute favorite things to combine. Not to toot my own horn, but I actually have a few awards for my skills as a chef, that's a story for another day.
Turns out, combining fragrances is a lot like combining flavors. They're both like painting a canvas with a bunch of your favorite colors until your vision comes out in the final product. For me, my vision was a seductively complex blend of 21 different scents all meant to get the blood flowing and make you feel as sexy as you smell. There are dozens of scents in nature that naturally turn you on, so I took a bunch of them and added my proprietary Leather blend.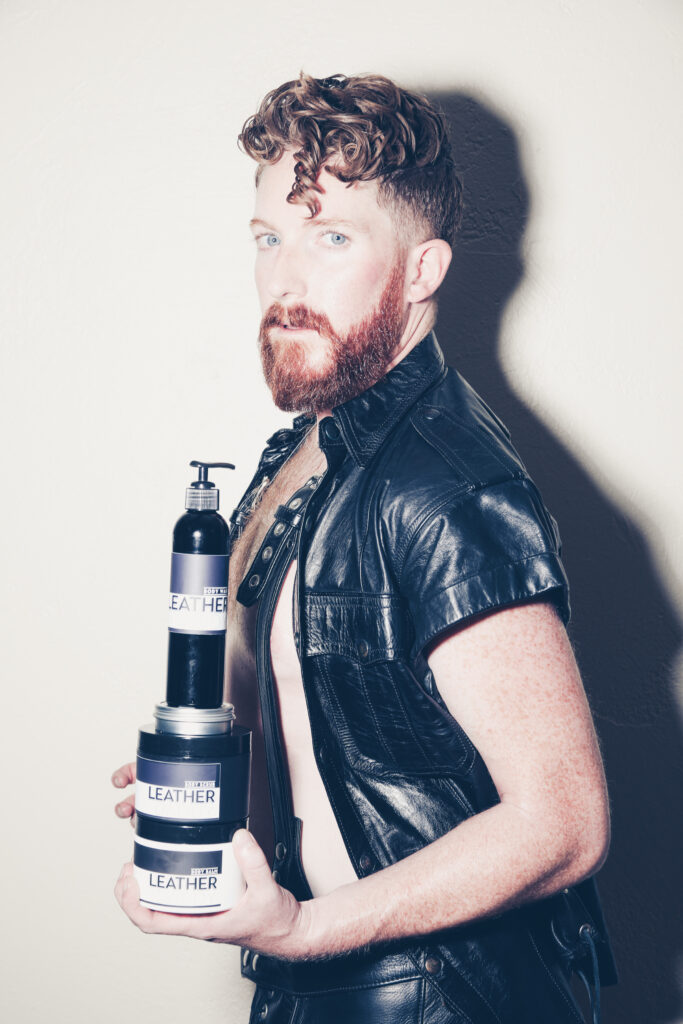 KJ: What is the most important thing you like to keep in mind when creating your products?
CWG: The most important thing I keep in mind is:
-Would I eat this?
-Would I give this to someone with sensitive skin like mine?
-Does it turn me on?
-Am I gonna get plowed by a group of Daddies if I wear this?
I want people to feel sexy and feel like no matter what they're wearing or what setting they're in, they can always feel like they're wearing a little bit of leather. It's like a kinky little secret.
KJ: What is your personal favorite LeatherDaddy™️ fragrance and why?
CWG: The one and only LeatherDaddy™️ signature fragrance! I wear it every single day. The seductive scent of scotch, vanilla, Leather and the 18 secret spices that I call "Boner Oil" turns heads and makes me feel like I'm the sexiest person in the room, no matter how many feelings I ate during the pandemic. I've learned to embrace my body and celebrate the sexy person I am today thanks to my LeatherDaddy™️ signature fragrance!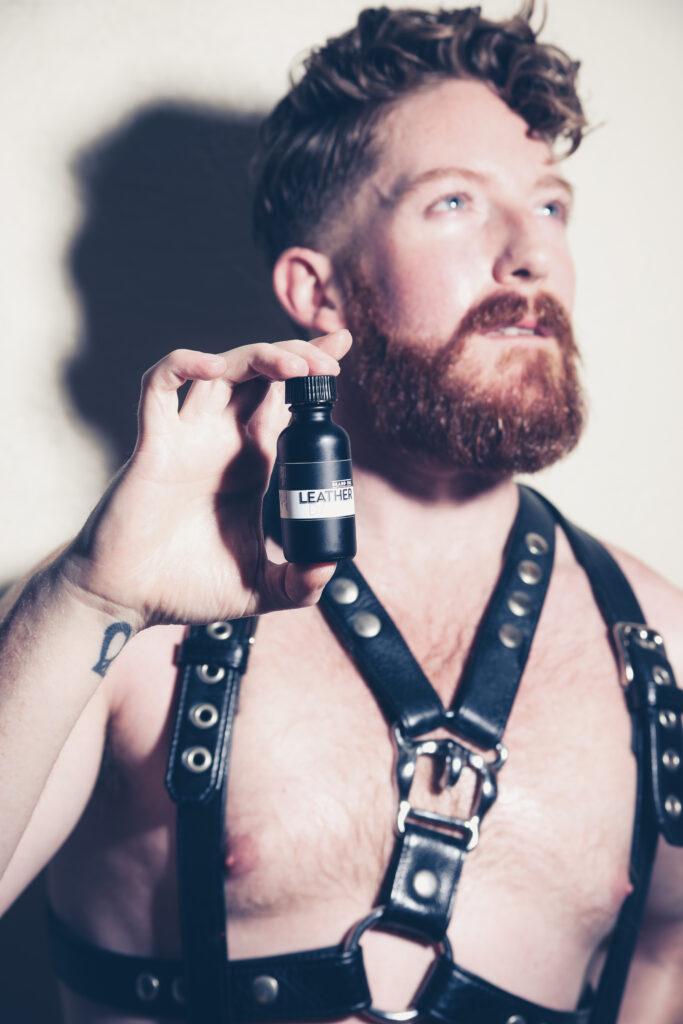 KJ: Can you talk a little bit about TastyHole™️and what scent/flavor of TastyHole™️ would you like to create next that hasn't already been created?
CWG: TastyHole™️ is The World's First FLAVORED Body scrub! It's hydrating, exfoliating, and tantalizingly delicious!
I came up with the idea while I was bartending at a Chili's in 2010. I was refilling the margarita salt and sugar. I grabbed a giant box of sugar and stamped in big bold lettering was the word "RIMMINGSUGAR". As someone who loves to eat ass and have mine eaten, this box instantly got my horndog brain working.
It took 10 years for it to actually happen, but I've now sold over 2,000 jars that I've made by hand and it's constantly going viral on social media platforms. I have tons of new flavors in mind and as much as I'd love to shout them all from the rooftops, I've got to keep them my dirty little secret for now. All I can say is they're all going to be a HOLE lotta fun!
---
To shop all of LeatherDaddy™️ Skin Company's products, visit www.leatherdaddyskin.com.