Hamish Steele on Dead End: Paranormal Park, working with Netflix, and trans representation
Dead End: Paranormal Park released on Netflix this year to a positive reception among fans of all ages. It particularly resonated with the LGBTQ+ community thanks to its trans male protagonist Barney, his queer, neurodivergent friend Norma, and the wacky characters they meet along the way.
A comedy-horror show (with an emphasis on the comedy) for kids, protagonists Barney and Norma's lives are turned upside down when they arrive at Phoenix Parks looking for a job, but find something more sinister waiting for them.
However, Dead End: Paranormal Park wasn't the start of this adventure. In 2014, Dead End was part of an original Cartoon Hangover short – where things were a lot more adult-oriented, and featured grown-up versions of Barney and Norma as they worked together to fight the ghost living in their Wi-Fi. These two characters were also conveyed as adults in the graphic novels – meaning that the graphic novels and the cartoon short are drastically different from the Barney and Norma we meet in the show.
Netflix's vision of Dead End: Paranormal Park was meant for kids, so a few things needed to be changed. Nonetheless, as creator Hamish Steele explains to Gayming Magazine, the adult nature of both the graphic novels and short did reach some unsavoury audiences.
"Some people are surprised to learn that the characters in the books are in their twenties," Steele tells Gayming. "It's caused some discourse and confusion in fact. In the graphic novels, I'd been writing Logs as HIV+, which a bunch of homophobes have taken to mean I want to give kids AIDs. It hasn't been great from that perspective."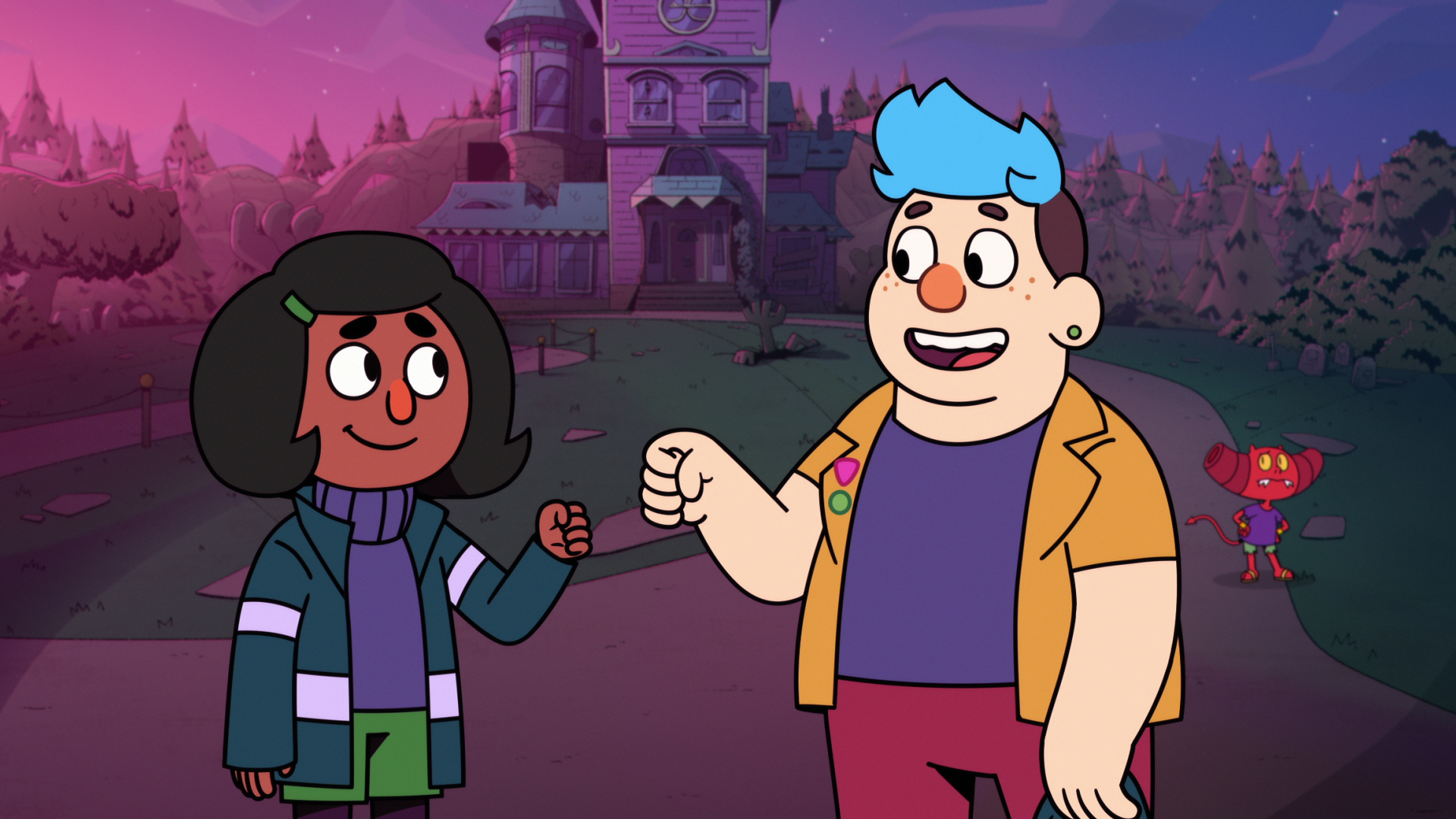 Outside of incendiary reactions, Steele tells us that changing Barney and Norma's ages has made it really fun to "explore new avenues" for them. One example Steele gives is Barney running away from home as a teenager – a terrifying ordeal for a teenager – whereas in the books he is in his 20s and his parents aren't in the picture. With these two different circumstances, Steele had to really consider where Barney was his transition, as well as how to bring his parents into the story more.
Working with Netflix led to Steele learning a lot more about his writing in the past. "One thing I realised with my old writing was that I would often problem solve by adding characters, rather than using the ones I had," he tells us. One example he uses is a character from the graphic novels, Gord, who has a back and forth villainous arc, whereas some characters simply disappear. In order to avoid this, the writer's room focused on making the four leads shine.
Trans male representation in cartoons is practically non-existant, making Dead End: Paranormal Park stand out from the crowd. While Barney's identity is important and plays a significant role in the narrative of the show, Steele says that he doesn't want the Netflix series to be just seen "as the trans show". Yet, nor does he want people to see the trans representation in it and think 'job done' and not make anymore shows with trans leads and characters because Barney's story is specific, but is still just one story. As shown by other mediums with queer and/or marginalized characters, there are plenty of other stories to be told that can include the LGBTQ+ community.
Another character of note is Pauline Pheonix, played by drag queen, comedian and actor Coco Peru – someone who Steele says was one of the loudest advocates for both the show and him. "I know I wanted Pauline Phoenix to be played by someone legendary, but having Coco Peru, someone whose been fighting for better representation and treatment for decades? It helps make sure that Dead End isn't just queer because of its on-screen representation. It's queer in its bones. In its DNA."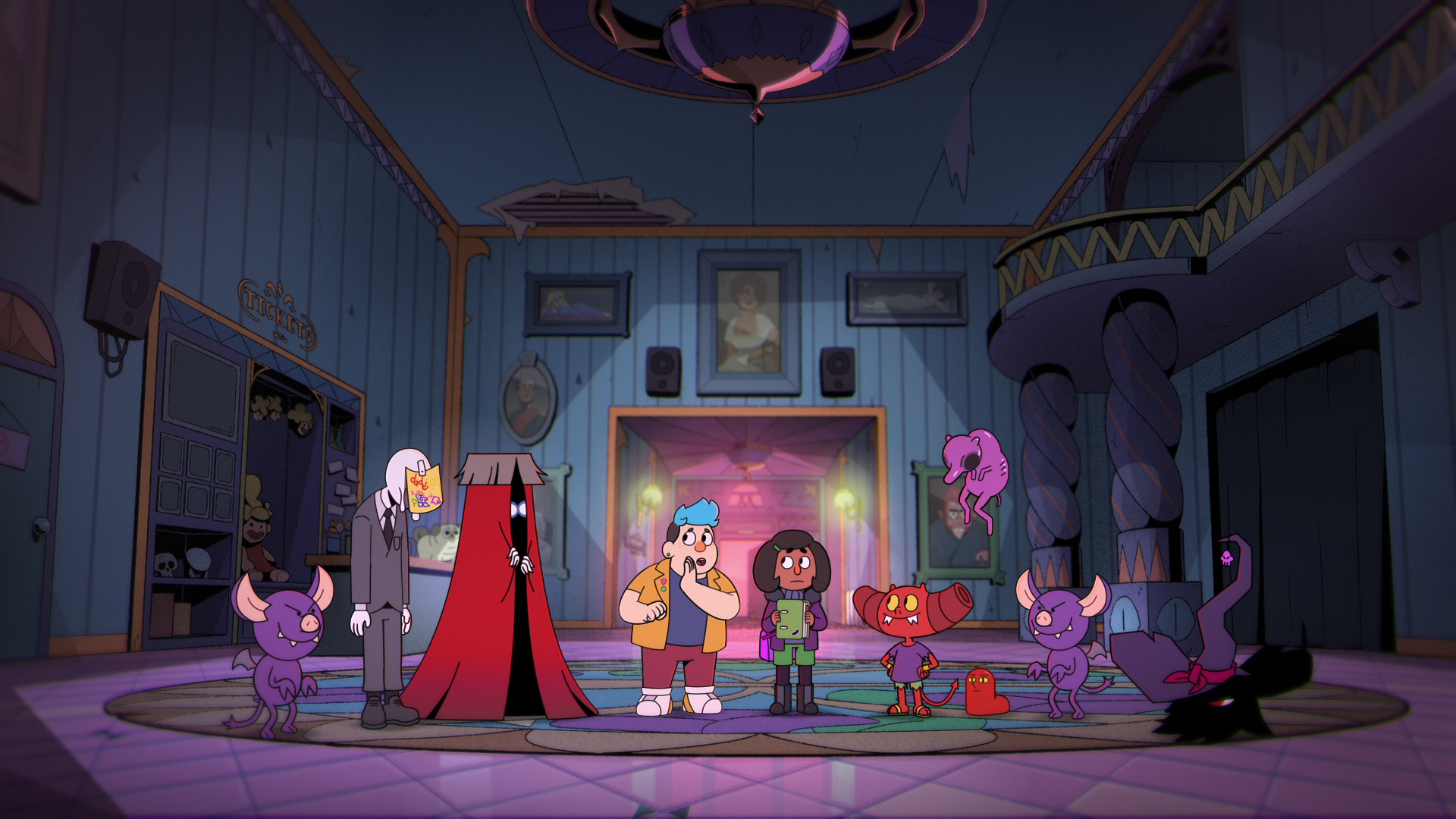 Steele's strides to make sure the show was for the LGBTQ+ community, by the community, extended to the majority of the other cast members. Zach Barack (the voice of Barney) is a trans man, and is joined by other actors like Alan Cumming (Harmony), Michaela Jae Rodriguez (Zagan), Tom Lenk (Hox), and Angelica Ross (Margie).
And if the show wasn't already queer enough, one of Steele's demands was that there just needed to be a musical episode, with Patrick Stump from Fall Out Boy writing the episode alongside him right from the very beginning of Season's One production. Good thing too, because if there's one thing the LGBTQ+ community loves, it's a musical.
Of course, despite Dead End's queer characters and narrative, the elephant in the room of being available only on Netflix is one that's hard to ignore. Thankfully, Steele seems happy to not only acknowledge Netflix's blatant push of transphobic shows from Dave Chapelle and Ricky Gervais but to condemn them as well.
"When we pitched the show in 2018, it was the ONLY channel that Dead End would work on. None of the other channels were looking to make a show with a trans lead." Steele explains. "And it was extremely annoying to have a show we've been working on so long be affected by some terrible choices from the comedy department. I hope people understand how big Netflix is and that us making a show with them and the kids animation team isn't me excusing those comedy specials. I think they suck."
As for whether Dead End: Paranormal Park will get a season 2? Never say never. The cliffhanger ending does feel like it's setting up something, but as Steele puts it: "it's all up to the Netflix Gods and all you guys continuing to support us!"
Dead End: Paranormal Park is available to watch now on Netflix.
This article was originally published on our sister site, Gayming Magazine. It was written by Aimee Hart.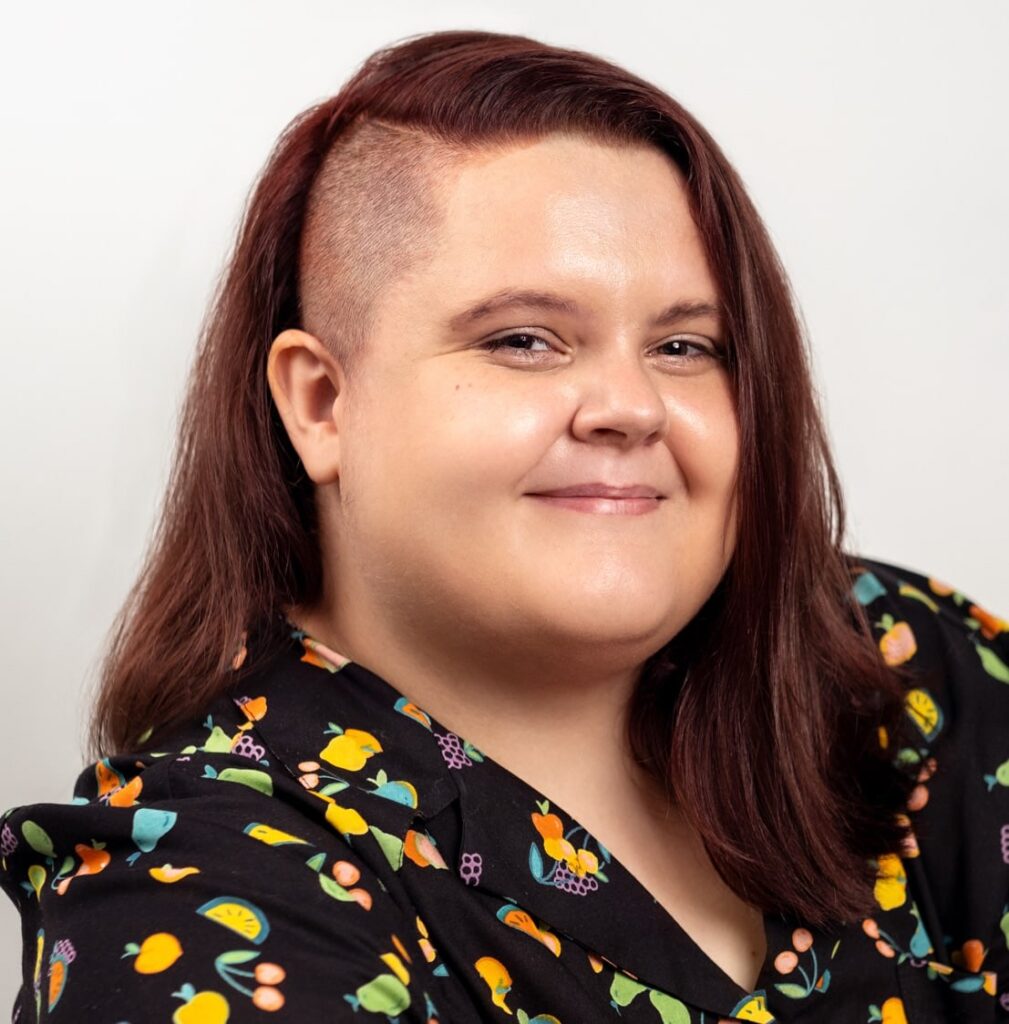 Aimee Hart
[She/They] Aimee Hart is Editor-in-Chief of Gayming Magazine. She specializes in queer fandom, video games and tabletop, having started her career writing for numerous websites like The Verge, Polygon, Input Magazine and more. Her goal now is to boost LGBTQ+ voices in the video games industry.