Guide to PTown Bear Week 2019
If you are heading to Provincetown Bear Week 2019, you probably have a plan in your head for the pool parties you will go to, the bears you will hang out with and the dances you will attend. But the beauty of Bear Week is that you also have a town full of activities to do including exhibitions, unique events, restaurants and Cape Cod tourist attractions you can't miss. 
We rounded up some cool things you should check out when you're here, in no specific order:
Art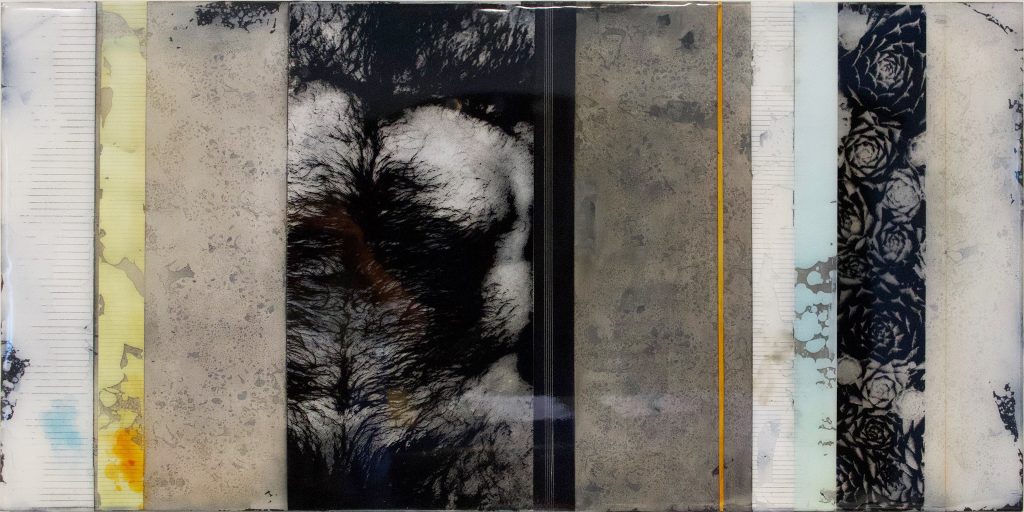 FINE ART by KEN SLOAN
Kenneth Sloan is a west coast artist and event designer, originally from Seattle, who made San Francisco his home for 23 years. He is a self-taught artist whose focus has been exploring different ways of working with epoxy resin. His patterns are sandwiched between layers of clear resin giving his work unusual depth. There is a careful balance in the juxtaposition of the organic layers of distressed pigment and the slick glassy layers of resin. His work comes from that intersection of synthetic and organic elements, the inspiration for which stems from vivid colors and textural memories, and just like a memory, the fresh layers in Ken's work merge with older eroding layers to create new and unexpected perspectives.
Cusp Gallery June 24th – July 21st
Dining
The Maple Sugar Breakfast at the King Hiram Masonic Lodge, July 15th, 8:30 am – 10:30 am with a tour at 10am – Bear Week Registration needed for the Breakfast.
For more info see the guide schedule.ptownbears.org
Exploring
Art's Dune Tour is one of Provincetown's events not to be missed. They "provide a fulfilling off-road tour experience to visitors through the heart of the National Historic District of the Cape Cod National Seashore Park. We strive to provide a great value, exceptional service and an informative, fun experience that our customers will cherish. Our most satisfying reward is when our customers come back with their friends and family."  We couldn't agree more and tell Bob the son of the founder of Arts Dune Tours we sent you!
Tours depart daily from 4 Standish Street. Phone: (508) 487-1950, check out artsdunetours.org for more information.
Clubbing
Furball – NYC's biggest bear party returns to Provincetown for its 7th year. Get out your fetish & gear wear for a hot evening of dancing, men & mayhem. Clothing check is available – so dance in your jock, speedo, jeans or briefs! Join 100s of furry guys for a great night of music, dancing & frolic!  Thursday, July 18th, 9.30pm, Crown & Anchor, 247 Commercial Street.
For more information, check out the Facebook event page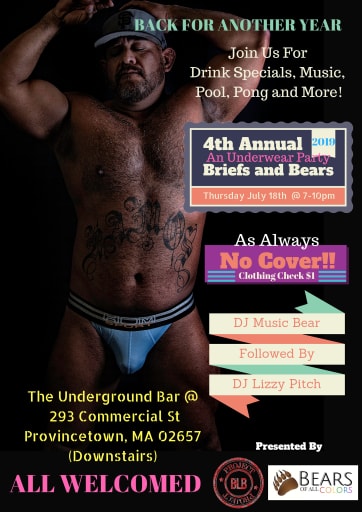 Briefs and Bears Underwear Party – July 18th, 7pm-10pm – Back for it's fourth! year, this fun NO COVER event is not to be missed! Hosted by Tony Banks, and presented in association with Bears of All Colors, it promises to be a fun night of hot bears in their underwear. DJ's are Music Bear & Lizzie Pitch . Hosted at the Underground Bar – 293 Commercial Street. One of the best Community Parties of the week!
Shopping
Bear Market, July 14th and 18th – For some good bear themed retail therapy, get along to the Bear Market and art/craft fair celebrating all of the talent and diverse creativity within the Bear Community. You'll find it down at the Crown & Anchor, 247 Commercial Street, both days 10am – 4pm. The Bear Market is produced by Ruff Studio, in association with Provincetown Bears and hosted by the Crown & Anchor.
Drinking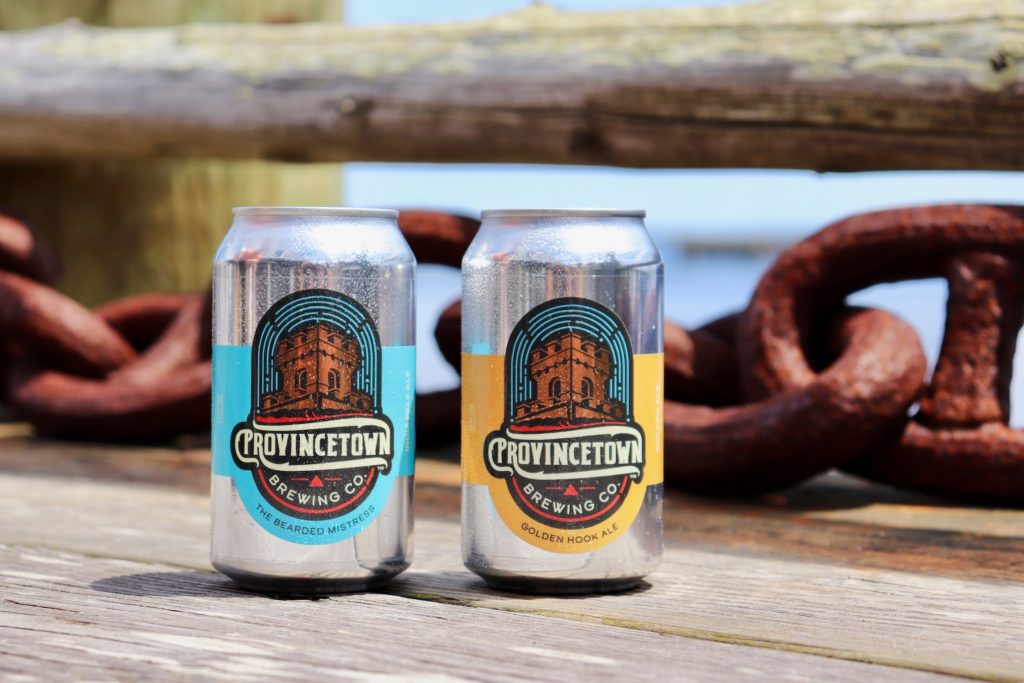 The new Provincetown Brewery Co. is already brewing beet with various locations selling it. Founded on the progressive ideals that make Provincetown great, PBC is passionate about brewing quality craft beer and evoking a sense of community by reclaiming shared, revolutionary, American values, anchored on the iconic geography of Provincetown. Their own tap bar itself is scheduled to be open in time for Bear Week, so make your way there for a thirst quenching brew!!
Supporting
The Annual Firemen's Ball with DJ Chris Racine in Paramount and VJ Tom Yaz in Wave Bar at the Crown and Anchor, July 19th 10pm-1am. The annual fundraiser evening supporting the Community of Provincetown and the Provincetown Firemen's Association. Bracelets are for sale in advance at the Bear Week Information Booth and are included in registration packages B & C. Single bracelet allows you to come and go between both balls. This is one of the best parties of the week, so make sure you're there!
For more information on Bear Week, check out the official schedule: