Gogo Bear Spotlight: Richard Rider
New York area bears should be especially familiar with our the next gogo bear we want to spotlight: Richard Rider who is the stage persona of Vernon Jefferson. From Chunk to Furball, to Megawoof, Richard has danced at some of the biggest and best bear club events and now's your chance to get to know him a little bit better.
BWM: When did you start gogo dancing and why?
Richard Rider (RR): I started gogo dancing back in 2019 at a party called Chunk in NYC. My friend who was the organizer of Chunk asked me to do it and at first I was quite hesitant because I just never saw my body type as being appropriate for gogo dancing. He assured me I would do great. At the time I was on my way to Provincetown and I sorta polled my friends during the trip and most agreed I'd do great and agreed I should do it. So I did.
My first gig was a lot of fun and I barely took breaks haha. I'm not used to being the center of attention. I'm pretty modest I like to think, but I enjoy the spotlight when Richard Rider takes the stage. I also just love to dance as it is. It took some time to get over the awkward feeling of being in a jock with not much else. Now I continue to do it because I like to bring a good energy to the party and vibe. I want people to have a good time and also empower big men like me. As they say, representation matters.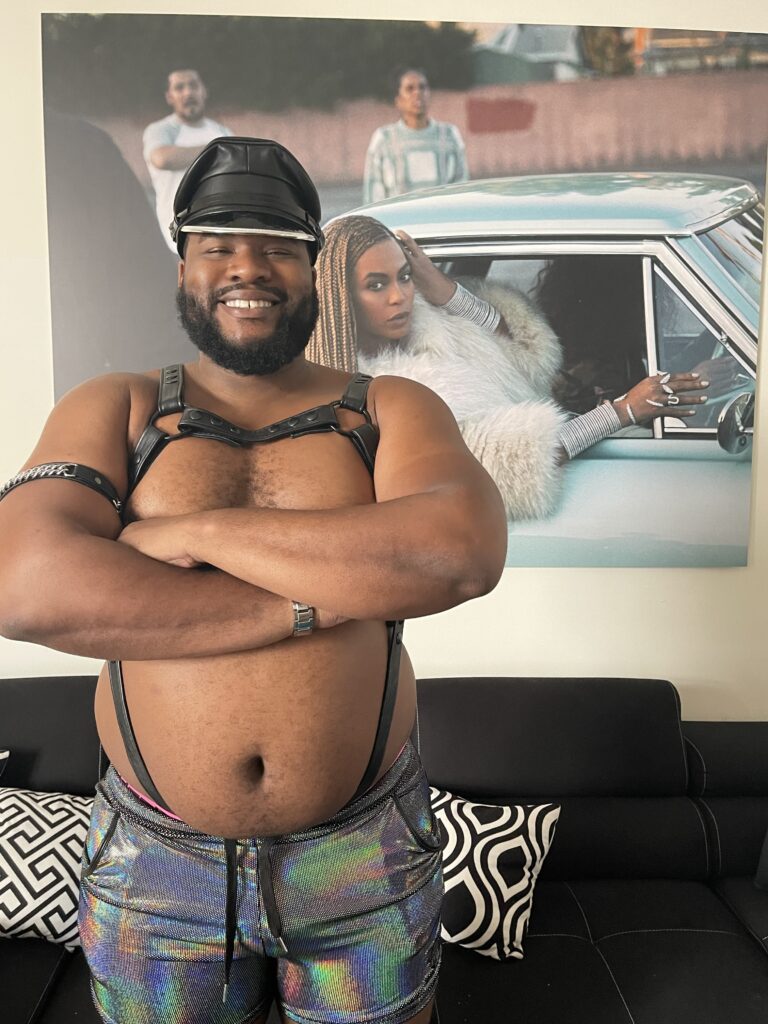 BWM: What is your dancing style?
RR: Hmmmm. I don't know that I have a particular dance style. I'd say I try to follow the music, it sorta dictates how I move.
BWM: Do you have a signature move?
RR: Signature move! Haha. I suppose a signature for me is twerking or ass shaking. I often do this at the gym and at home while cooking or just cause. I got some cake so I like to pop it and dip it low for the boys as much as these knees will allow.
BWM: Favorite music to dance to?
RR: I love hip hop and top 40 the most, and old school house music. Throw on some Beyoncé, Megan thee Stallion or Ice Spice and I'm ready!
BWM: Do you have a gogo persona? If so what is it? And what look do you go for?
RR: Hmmm. A persona? I suppose I do. I took the name of my favorite Marvel hero "Richard Rider" aka Nova. As far as my look, I love a singlet or football Jersey and of course a jock/underwear and some leather. Tight fitting stuff since the body be bodying as the kids say. Sometimes being a bigger guy I like to have a leather daddy moment with a leather cap and a full body harness. I'm told I have a very commanding presence.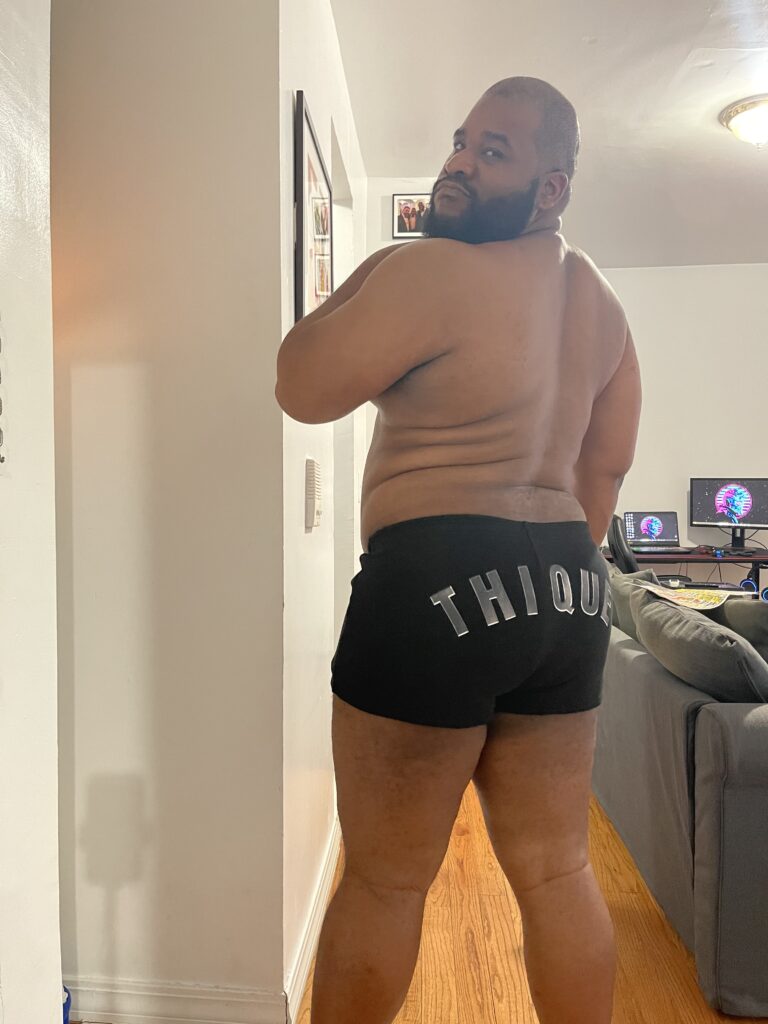 BWM: Can you tell us a memorable event from one of your gigs?
RR: There are a few. At the Eagle I was dancing and having a great time and in between my sets I got pulled to the side by an admirer and they were really enthusiastic about how I was dancing up there. They said it was very clear that I loved being up there and my energy was infectious and that's exactly what I strive for. I wanna be sexy of course but also want to get the crowd hype.
Another fun moment from one of my gigs is a patron wanted to give me a tip back in 2019 and they didn't have any cash to tip me so instead they asked me to pull up my Venmo and they will sent it that way. This always makes laugh. At the time this was less common and also like right in the middle of me dancing giving out my Venmo was not exactly what I expected. Lol
BWM: Do you identify as a member of the bear community?
RR: Absolutely! I've been a cub since my 20's. I guess I'm a bear now in my mid 30's. I found the bear scene in 2005. I went to the Dugout (now Rockbar) as an 18-year-old, still in high school out of curiosity and I got in! I was terrified around all these big hairy men that I only had seen on the internet or in magazines (I used to buy the bear magazines back then). After that I wouldn't return to the bears till I turned 21 because most places were 21 and up at the time. After that, I was a club kid at places like Spirit, Escuelita's, Krash, No Parking and Avalon. I've always had an interest in big hairy men (I blame this one on wrestling), so I embraced the scene and still consider myself a part of it to this day.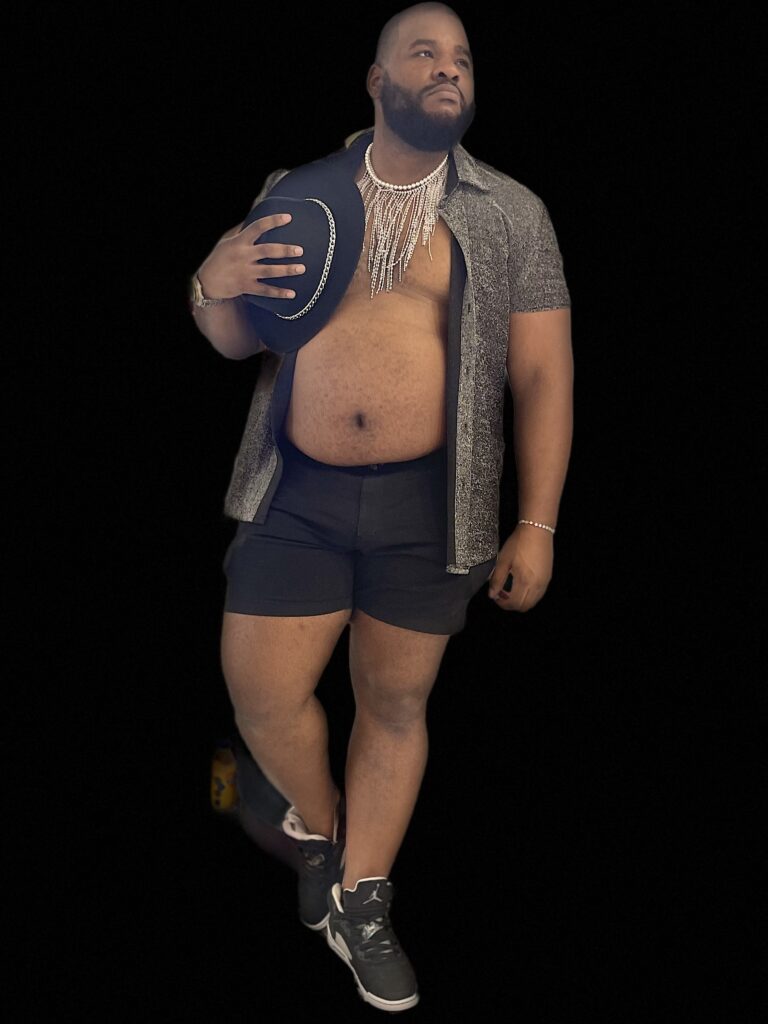 BWM: Why do you dance specifically at bear events and parties?
RR: Honestly, I'm not sure I'd be welcome in other scenes or parties. I don't have abs or anything like that, so I stick to the audience I know. However, if I were ever offered other kinds of parties, I'd definitely consider the opportunity.
BWM: Any upcoming gigs you want to plug or anything you want to mention that we haven't covered?
RR: No upcoming gigs at the moment but that can change rather quickly. I want to give a special shout-out to Furball NYC, Chunk Party, Megawoof, and Eagle NYC for the opportunities to dance and everyone who's supported me over the years.
BWM: Where can we find you on social media?
RR: I'm mostly on Instagram @Verngusto and Vernon Jefferson on Facebook.