Gogo Bear Spotlight: Beltrán
We continue our gogo bear spotlight series with the furry, handsome and fabulous Beltrán. Based in Barcelona, this bear is booked and blessed internationally. His unique blending of masculine and feminine aspects in his fashion and performance make him a highly sought after talent. His thoughts on bear culture, his activism and his work as a podcaster made for a fascinating interview which we are proud to present below.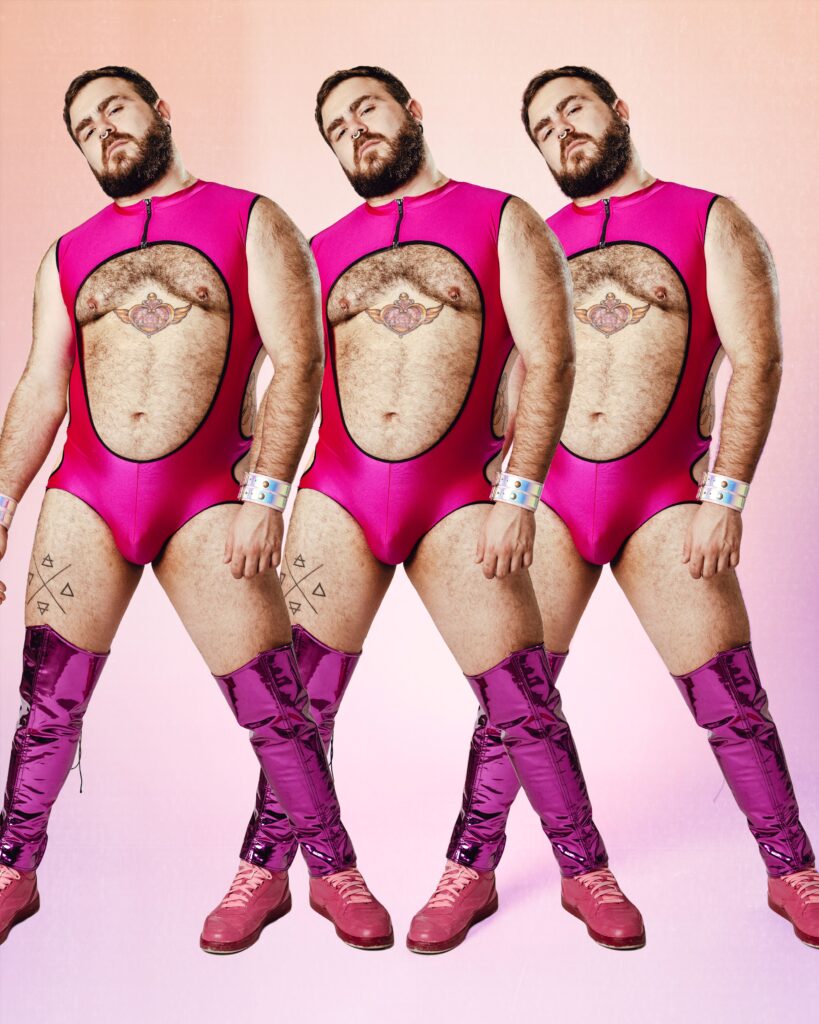 BWM: When did you start gogo dancing? Why?
Beltrán: I began gogo dancing in 2018 at Fiesta Ma.Cho in Buenos Aires when I was living there. The opportunity arose when the party's promoter, Guido, noticed my posts about voguing competitions, a style I'd been following in the early years of the ballroom community in Buenos Aires. Guido thought it would be a great idea to add me to their crew of gogo dancers. My passion for dancing dates back to my childhood, where I'd dance with all the campiness to the rhythm of Shakira's "Ojos asi" from her fourth album. However, expressing this artistry through dance wasn't widely accepted in a small city in Argentina during the early 2000s. Gogo dancing became the perfect outlet for me to connect with the audience and heal the wounds of years of feeling that dancing wasn't meant for someone with my body type.
BWM: What is your dancing style? Do you have a signature move? Favorite music?
Beltrán: My dancing style is a unique fusion of various influences, which includes elements of voguing, pop, reggaeton, and even a hint of burlesque. I can't quite pinpoint a single signature move, but I have a knack for twerking, which often brings the energy up on the dance floor. My dance style is all about embracing the rhythm and letting it flow through me, creating a captivating and vibrant performance.
As for music, my heart beats to the Latin rhythms that are deeply rooted in my background and upbringing. The infectious beats and melodies of Latin music resonate with me on a personal level, and they often find their way into my sets. However, I'm not limited to any specific genre – if the music gets the crowd moving and grooving, you'll find me vibing to it, whether it's a catchy pop tune or a sizzling reggaeton track. My goal is to create an experience that connects with the audience and keeps the energy high throughout the performance.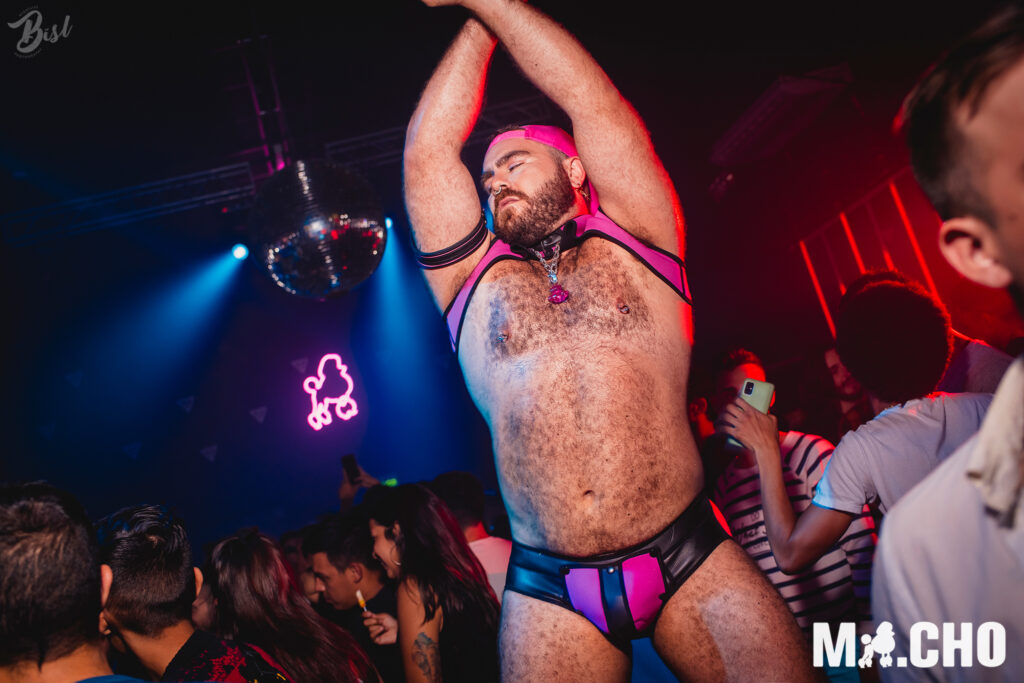 BWM: Do you have a gogo persona? If so, what is it?
Beltrán: My gogo persona embraces my bear essence but with a small nod of disobedience to what old school gay culture taught us of how a bear should look like. I'm all about breaking free from the traditional 'masc' narrative, and my goal is to inspire others to embrace their unique identities (even if their true identity is being hypermasc).
You can often find me in a vibrant array of shades of pink, which have become somewhat of a signature for me. In fact, many affectionately refer to me as "the pink bear." The use of pink is a central element of my aesthetic. It's a tool I employ to make a visual impact and a direct nod to my connection with femininity.
My gogo persona weaves together a diverse range of aesthetic elements. The result includes nods to space punk, cowboy aesthetics, and the pop culture of bear mascots like Care Bears. Additionally, you will see figures from my queer millennial upbringing, such as Sailor Moon and the Pink Power Ranger.
BWM: Can you tell us a memorable event from one of your gigs?
Beltrán: Certainly! While I've had numerous memorable experiences, many of the highlights revolve around the incredible individuals I've had the privilege of sharing the stage with, like RuPaul's Drag Race royalty (who are not only incredibly talented but also icons in the world of drag) and exceptionally gifted dancers and performers.
One particular memory that stands out is from my time working at Sugar Tank, a fabulous party hosted by the House of Avalon, just as COVID restrictions were easing up in the United States. This event was especially significant because it marked one of Symone's (a member of the House of Avalon) first public appearances after winning RuPaul's Drag Race.
The atmosphere was electric, with the crowd buzzing with excitement. I distinctly recall a moment during the event when another fantastic gogo dancer, Dylan, and I were twerking and having an absolute blast on the dance floor. The audience was in high spirits, and I'll never forget the adrenaline rush, the ecstatic cheers, and the sheer joy that enveloped the room.
As we danced, the crowd showed their appreciation by showering us with a "money rain" in a way I hadn't seen before. The energy was infectious, and the audience's exuberance was palpable. Following our warm-up performance, the audience was treated to the dazzling talents of some remarkable drag queens. It was a night filled with unforgettable moments and pure celebration, and it's a memory that I hold dear in my heart.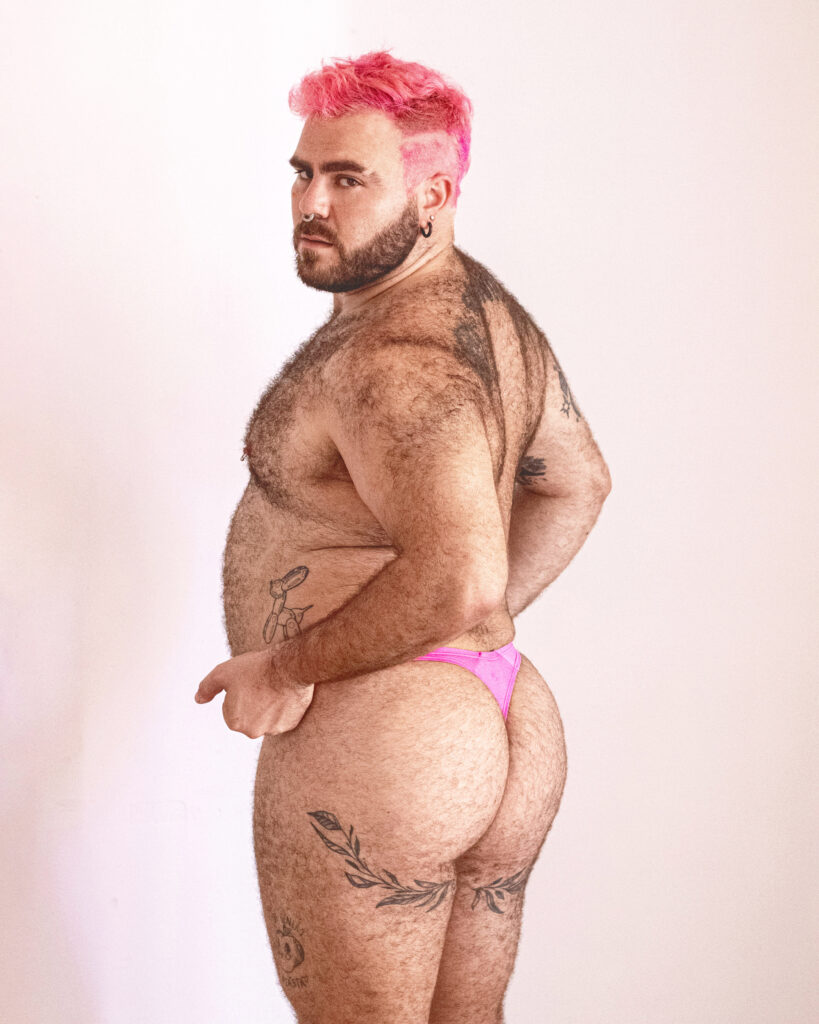 BWM: Do you identify with the bear community? When/how did you find it?
Beltrán: I found my connection to the bear community when people recognized it as my gay tribe after I came out. There's a bear-identified community in Buenos Aires, but it revealed an incoherence – welcoming broader and bigger bodies while imposing tacit expectations on gender expression. I encountered toxic masculinity and internalized homophobia within the bear community, which initially threw me off.
As bears, there's often pressure to conform to masculine traits, particularly the lumbersexual mold, to be considered attractive within the community. Non-conformity may label you as a "queer chub," implying a lack of appeal.
However, I've learned not to fight against "bears" and aim to promote inclusivity. I recognize that we're all a product of the same societal processes influenced by male-dominance and beauty standards among gay cis males.
I identify with the bear community critically and non-conformingly. My strategy is to promote acceptance and diversity within the community rather than holding grudges. It's not something that I do. It's the way I exist…
Expressing my gender fluidity of looking butch, acting femme or the other way around I'm the most comfortable I've ever been actually; not being afraid of being campy, femme and flamboyant is what I always felt was right but I couldn't do in my younger years.
Defying expectations with this irony of me dancing and performing, but without stopping to be a rugby player/gay bear.
Some of the most incredible moments of femininity vanquishing machismo were result of incredibly sexy people's work. These moments are incredibly empowering and a testament to the changing landscape of masculinity within the bear community. I envision a future where a broader range of gender expressions is embraced, challenging the fetishization of masculinity, and fostering a more welcoming and diverse environment.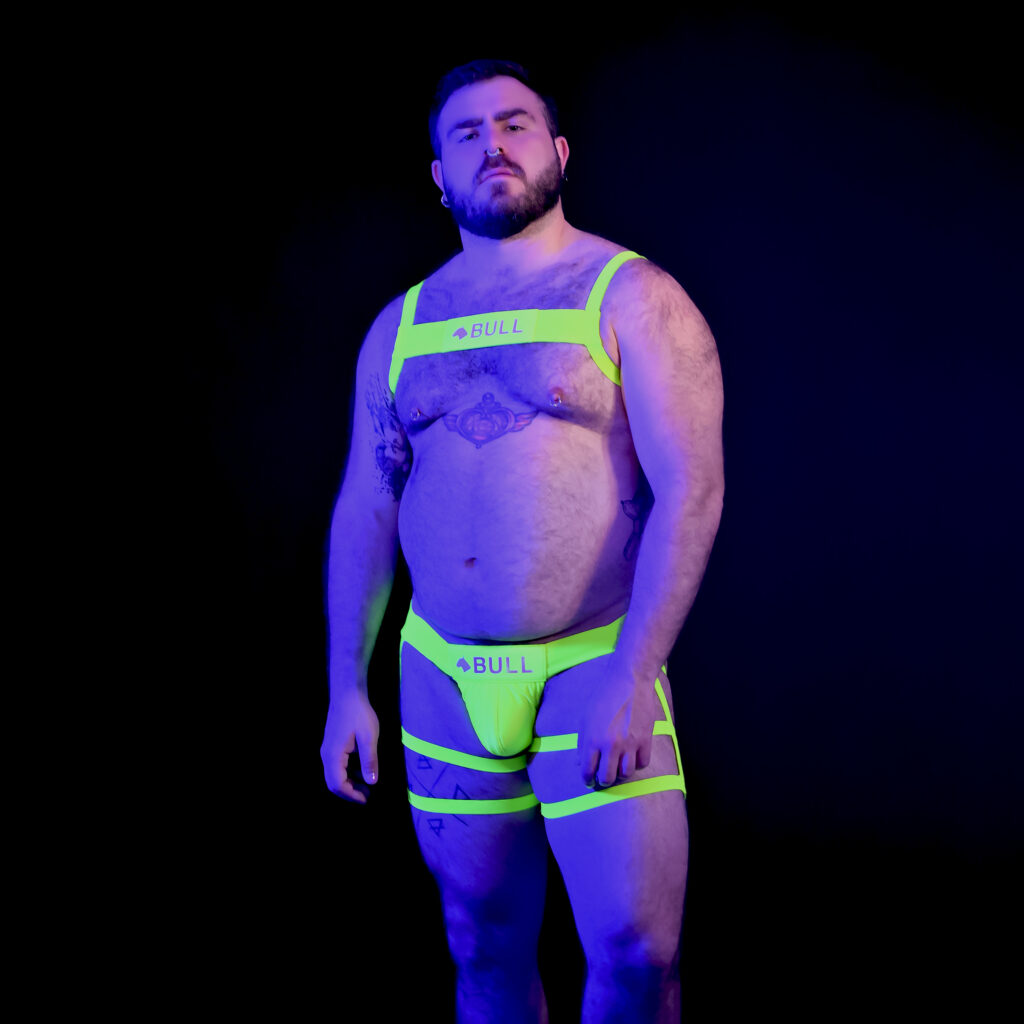 BWM: Why do you dance specifically at bear events and parties?
Beltrán: Luckily, there are spaces that have opened their doors to performers like me, even if they aren't specifically bear-themed events. However, the majority of the events I participate in are bear-related.
Have you ever tried Googling "male gogo dancer" in Google Images? Do you see a guy who doesn't have a six-pack and is completely hairless?
I choose to dance at bear events and parties because these are the spaces where I feel most welcomed. These events celebrate bodies like mine and bigger. While I also enjoy performing at more "queer scene" parties, unfortunately, they usually don't show any interest in booking a guy like me. Even when I work at regular gay parties, if the audience isn't educated or hasn't had the opportunity to challenge traditional beauty standards, I sometimes find myself in unpleasant situations. I've experienced situations where people openly laugh at me or completely ignore me while showering thin, muscular dancers with tips and praise.
My mission is to challenge stereotypes and conventional norms. I want to demonstrate that there's a place for individuals like me in these spaces and to serve as a symbol of confidence and body positivity.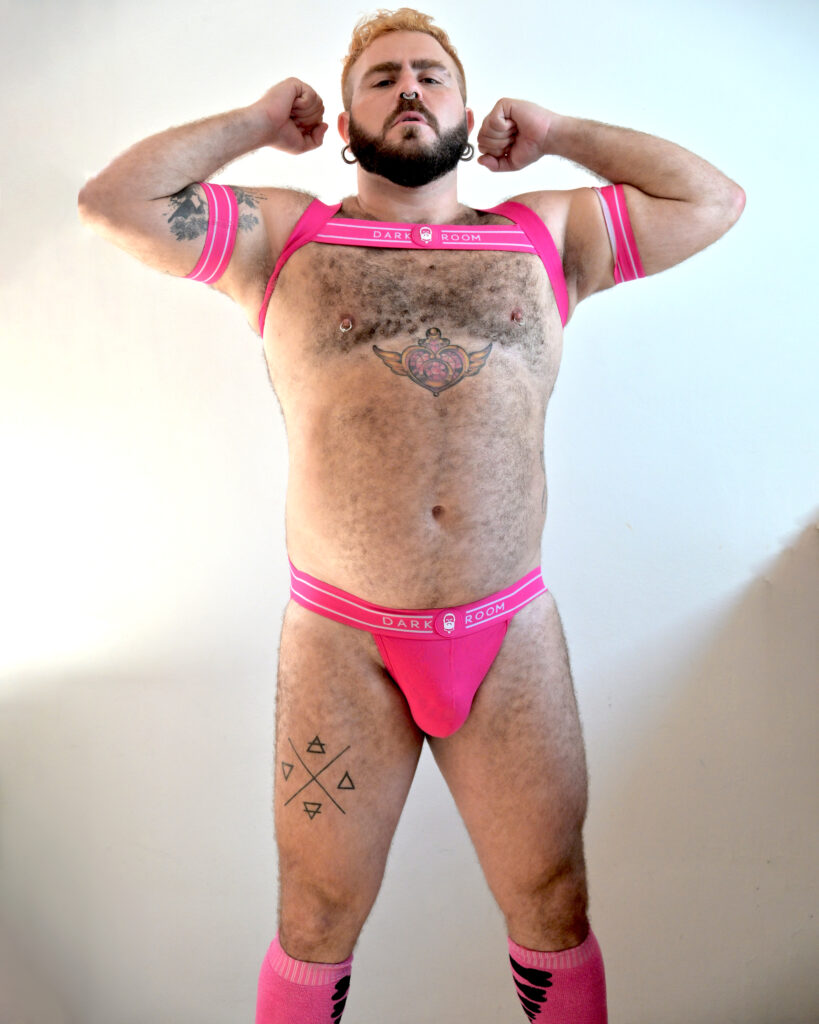 BWM: Any upcoming gigs you want to plug?
Beltrán: Absolutely, I've got some exciting gigs lined up! Right now, I'm in the midst of my U.S. tour, which kicked off at Wet Oso Weekend in South Padre Island. I'm currently in Palm Springs for Leather Pride, where you can catch me gogo dancing at Chill Bar. Then, I'll be at Uncut at Precinct in Downtown LA before heading back to Palm Springs, again at Chill Bar, for Pride festivities.
Following that, I'll be making my way to Seattle for an event (venue to be confirmed), and then to Portland for Bearracuda, where we'll also be celebrating Matt's birthday. That will mark the end of my mini U.S. tour, and I'll be heading back to my home base in Barcelona. There, I'll be gearing up to celebrate my own birthday and prepare for Mad Bear Madrid Bear Week in early December. It's going to be an action-packed few months!
BWM: Anything you want to mention that we haven't covered?
Beltrán: Absolutely, there's more to me than just dancing and performing. I'm deeply passionate about activism, and I co-host the Scruff Latinamerica Podcast, "Scruff Entre Amigos." I'm committed to maintaining my career in LGBT journalism because in today's world, being a Jack of all trades is essential, especially when you're actively advocating for LGBT rights, challenging fatphobia, and embracing gender non-conforming identities.
In addition to all of this, I'm also a content creator on OnlyFans. To keep these two facets of my life separate, I go by my stage nickname, ScruffyStocky. You can find me on Twitter, BlueSky, and OnlyFans under this pseudonym. Feel free to connect with me there, and let's keep the (hot) conversation going.