GHMC and FBC Health form Blood Vessels to support the Blood Equality campaign
Back in early April, we published an article that called out some of the discriminatory practices of the FDA, the American Red Cross and other blood donation agencies that restrict gay men who had been previously infected with COVID-19 from donating blood. This was after scientists revealed that antibodies found in the blood of people who have been recovering from COVID-19 can possibly help save lives by being injected into patients who are experiencing life-threatening illness as a result of the virus. 
The problem was that men who have sex with men were not allowed to donate blood, unless they had been abstinent for over a year. Because of this obstacle, the FDA announced that it was loosening its recommendations for blood donations from gay and bisexual men, reducing the amount of time that these men should wait before they donate blood to three months, in hopes of mitigating a drastic drop in supply during the coronavirus pandemic.
However, there have been claims that many gay and bisexual men are still being given a difficult time when they attempt to donate blood. Lukus Estok and Ryan Koerber, two COVID-19 survivors who were eager to donate their antibody-rich blood to help others fight the disease, were ultimately turned away from the blood donation center because they are gay. This has sparked the formation of Blood Vessels, the latest work in the Blood Equality campaign from Gay Men's Health Crisis (GMHC) and FCB Health New York.
"Blood Vessels" is the latest effort of a long-standing relationship between GMHC (Gay Men's Health Crisis) and FCB Health New York. They have been fighting side by side for "Blood Equality" for the past four years, with the goal to reverse the ban on gay and bisexual men's blood donations.
"When I volunteered the information that I am a gay man, the facial expression of the person I was talking to completely changed. And without any hesitation, the response back to me was, 'well, you will not be donating today,'" declared Lukus Estok about his experience at New York Blood Center.
Ryan Koerber was also denied from donating blood. He lamented on Instagram, "A kind employee's eyes filled up and confessed that this is happening to many people that walk through their doors. I left the building feeling confused, defeated, unworthy. I am just a human being who wants to help other human beings."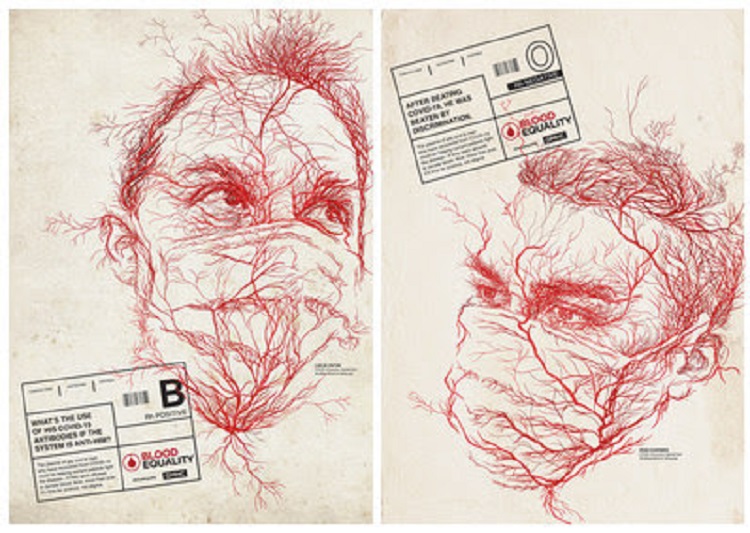 The "Blood Vessels" illustrations were created by Malaysian artist Vince Low, who is known for his hyper-realistic portraits comprised of scribbles. For this campaign, the FCB Health New York team challenged him to illustrate Lukus and Ryan not only with simple scribbles, but in a unique blood vessel scribble style.
For more information, follow @Blood_Equality on Instagram and visit Blood-Equality.com.
About FCB Health Network
FCB Health Network is one of the world's most awarded communications networks, focused on creating game-changing marketing solutions for consumers, patients, and healthcare professionals. With specialized units covering a wide range of wellness practices, FCB Health Network employs more than 2,500 people across an extensive global network, delivering multichannel capabilities that include DTC and HCP communications, professional education, branding, scientific services, strategic planning, and media services.
Its integrated agency offering includes AREA 23, AREA 23 ON HUDSON, BX – Brand Experience Design Group, FCB Health Amsterdam, FCB Health Brasil, FCB Health Canada, FCB Health Energy Milan, FCB Health Frankfurt, FCB Health Hampshire, FCB Health LL Conseil Paris, FCB Health London, FCB Health Madrid, FCB Health New York, FCB Health Reaktör, FCB Health Zurich, FCBCURE, Mosaic Group, Neon, ProHealth, Solve(d), Studio Rx, Trio, and YuzuYello. The FCB Health Network was named "Agency of the Year" by Med Ad News in 2006, 2009, 2015, and 2017, and by Medical Marketing & Media in 2007, 2010, 2015, and 2017.
In eight of the past nine years, an FCB Health Network company has received "Most Creative Agency" honors. Cannes Lions, the world's preeminent annual creative awards festival, named its AREA 23 unit "Healthcare Agency of the Year" in 2017, and named FCB Health Network "Healthcare Network of the Year" in 2018. In 2019, Med Ad News named FCB Health Network "Network of the Year." The FCB Health Network also received "Network of the Year" honors at the 2019 Clio Health Awards.
(SOURCE FCB Health Network)