Get to Know Nate Bradley of SWADE
Nate Bradley is the man behind the brand SWADE, which offers apparel and now cologne. Swade is focused on making men feel good about themselves, as well as being a brand that gives back. We got the chance to chat to Nate recently. Take a look at what he has to say:
Richard Jones: Tell me how you created SWADE and Why?
Nate Bradley: Way back in 2012, my husband, Jason, his best friend and wife, Marc & Becca and I were enjoying a night of food and drink talking about that "million-dollar idea" that would allow us to work for ourselves yet make a positive difference at the same time. We tossed many ideas around, sharing our own personal feelings, values & visions and realized there was a common thread we wanted to pull on.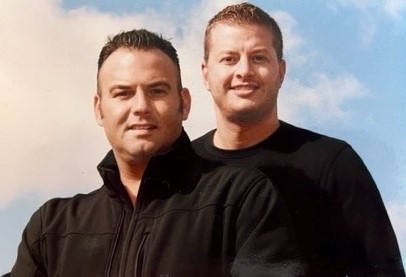 Women use many channels to talk to each other, are mostly open and transparent about how they feel, how they look and check on their health and well-being with each other. At the same time, they also have more options to choose from when shopping in general. When we thought about this for men, it's completely on the opposite side of the spectrum. Men do not explore those same areas of health & well-being due to stigma, or shame, or lack of confidence. And when it came to shopping, most men had limited selection and picked something off the rack at the store with a minimal choice in style, comfort, and quality. We pulled that thread, and we could see an opportunity to combine the two together. We had not seen any retailer, brand, or marketing campaign yet to merge men's health, apparel and personal care items. We were determined to spread a message of male positivity. Men's self-care was not spoken about freely or even a thought among most men or women in 2012. We wanted to bring it to life beyond charity campaigns and give it a face. A voice. A brand that you could wear showing the support of each other in a public way. We envisioned a movement, not just a brand… but a message.
A message of male-positivity and the importance of men's self-care; to not only help men be caring & kind but to help them remain cool and confident in all they do. For men to feel comfortable in being clever in their jokes, witty with their banter and not be chastised for it. And to remain true to themselves, be courageous and brave in the face of adversity and remain steadfast as true gentlemen. A message that would identify with the social responsibility in which the world would want for all the men in their lives to be SWADE.
We envisioned a brand that covered all the forward thinking, positive attributes any man would want to be and be proud to be. We started to randomly verbalize these positive characteristics, and my fingers began quickly going over the keyboard doing Google searches and seeing what kind of phrases or word combinations would result.
A few links into the search returned a pretty amazing result:
"…..Super cool males. They tend to be good looking and witty. Typically, genius and always gentleman. Most are caring, kind and brave"
The source of this phrase? UrbanDictionary.com : TOP DEFINITION for swade,
I read it aloud to the group. Immediately, Jason said; SWADE. The Definition of a Man, and Boom. SWADE was born.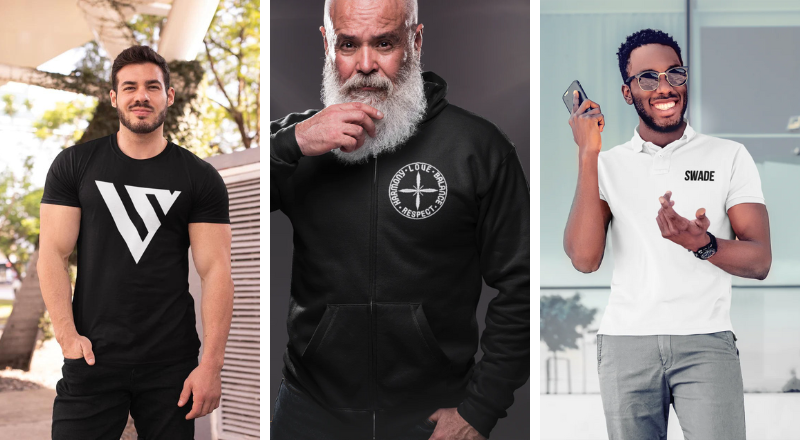 RJ: What is your background?
NB: I grew up in small town in Western NY about 35 minutes south of Buffalo, East Otto, NY. It is a great little farm town where hard work is filled with daily chores that start at a young age and builds character in each person from the minute you can carry a bucket, raise 4H animals, pick up a shovel to clear the snow or drive a lawnmower or farm tractor. This is the place who made me who I am today. I am truly a positive product of my environment.
My parents, grandparents, uncles, and aunts are all very hardworking farmers who worked for local businesses or were self-employed. They were great mentors and instilled the values in which I attribute my success to today. I wish I lived closer to all my family and friends who are still there. It's a great way of life as I consider it a place away from the everyday rat race.
Fast-forward to today, I'm an IT Executive with 23 years of leadership and operational experience working for a Fortune 50 company. It's amazing how time flies by! I have been able to learn and grow across such a wide and contagiously evolving business and operating culture. Most importantly, it's the people that have made it enjoyable and worth it. We have remained one, if not the top fundraising consumer packaged goods companies in support of Men's Health partnering with Movember across the globe. We've raised over $2M using our grass roots campaigning efforts over the last 10+ years in the name of changing the face of men's health, one moustache at a time. This is where my passion to create a brand started, using my technical and leadership background combined with the years of positive impact that the East Otto values instilled in me to try and make a difference one t-shirt at a time.
RJ: You have some cool tees and clothing – which we love!!! Who does the designs? What new concepts are in the works?
NB: Our foundation design starts off with a custom measured & cut t-shirt 'Made for SWADE.' The most important design element is the fit itself. We identified the average measurements of men's shoulder and arm lengths, chest & waist width, and overall height to equate to our Small to 3XL top apparel sizing. We found that providing a better fit with half-sizing our measurements gave men the opportunity to feel more confidence and positivity every time they put on a piece of apparel. This means that a man who normally has to buy a standard 2XL can fit nicely & look great in a SWADE XL and not feel like he is squeezing into a top that leaves him feeling self-conscious.
I have been the creative one getting inspiration from the team, friends and other men sharing on socials, scratching down ideas, doodling and putting them on paper and then finally testing them on a t-shirt over time. There have definitely been more misses than hits, but I've learned a lot along the way about graphic design and understanding who your audience is and what not only attracts them to your brand but how a design speaks on behalf of your brand. What better billboard than across your chest, right? Once we anchored ourselves with the right iconography that matched our vision, we had a roadmap and direction to go. We are working on more male positive, self-identification branding and how the attributes of SWADE, like Caring, Brave and Genius can be transformed into icons. We are also looking to expand our products into bottoms, such as shorts, underwear, and socks. We want to have men be SWADE from head to toe.
RJ: You now have a fragrance, which I love as i can wear SWADE even if I'm in a suit!!! Why a fragrance? What was that journey like?
NB: We are so happy with the results of our fragrance and scent collection. We are in the beginning stages of offering limited editions of our colognes to ensure we are capturing the essence of 'The Definition of a Man'. It's taken a handful of years to breakdown the essence of the notes, scents and final fragrances that defines SWADE. The options are limitless and one little touch of one oil versus another changes the entire chemistry of not only the formula, but how the smell can deviate away from the original intention. Our goal is a spectrum of fragrances that span from fresh & clean to spicy, woodsy musk. Sometimes there are happy mistakes, and we save those in our collection for future releases. Our signature scent is an evocative, distinctive, sophisticated yet engaging fragrance to unite the senses. A unique blend of clean, fresh, woodsy, and earthy scents with undertones of leather, spices, and classic dry vermouth blend together to create your unique signature. SWADE fragrances are meant to provide every man their own unique approach to defining the notes that speak, or in this sense (no pun intended) capturing their scent memory power to arouse confidence, charisma, and charm with the courage to be authentic to yourself every time you wear it. The same theme blends with our apparel. Be Caring. Be Brave. Be You. Be SWADE.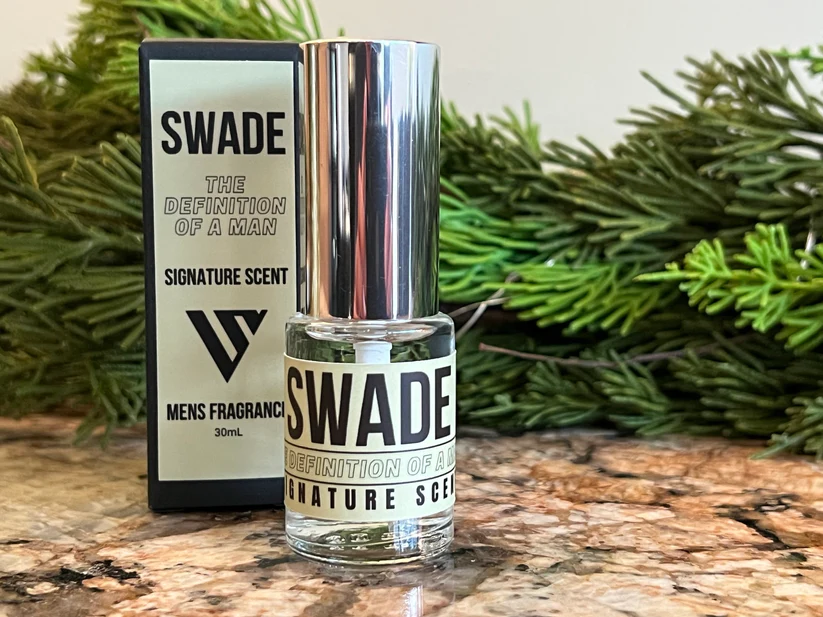 RJ: What's in the future?
NB: Today, the definition of a man is complicated. Now is the time to normalize the conversations around male positivity so all men can be strong for themselves and for the people in their lives, no matter who we are, where we are from or how we define ourselves. We are looking to expand our current message and mission of male-positivity and men's well-being. SWADE is meant to be a verb or adjective. It should not just blend into our society but be a highlighted description of any man who is willing to take action for good, for himself or for others. SWADE is on a t-shirt or baseball cap or cologne, yet we envision SWADE being an ethos of who we are inside and out.
If you are at Bear Week in Ptown next week (July 8th – July 15th) come along to the Bear World Magazine booth at the Wednesday pool party of the Crown & Anchor for a free fragrance card so you can experience SWADE's new scent and also enter our competition to win 50% off apparel purchases until September.