Get ready for Big Gay Key West to make a splash next year!
Don't miss Big Gay Key West, the chub/chaser event of 2023 in the LGBT island paradise of Key West, Florida! Big Gay Key West will make a splash from September 13 – 18, 2023!
Big Gay Key West features exclusive access to 4 beautiful luxurious all-male clothing optional resorts: Island House, New Orleans House, Alexander's Guesthouse, Equator Resort. Enjoy reciprocal access to all of the guesthouses (short walking distance from each other).
Nightly happy hours, Rotating pool parties at multiple resorts/bars, featuring complimentary cocktails, hors d'oeuvers, 24/7 access to Healthclub amenities at Island House, and many surprises!
Events, Activities and Excursions
Enjoy all the events and excursions for the week and choose your package: Beachcomber, Cabana Boy and Key West Conch!
Reciprocal Access to 4 Beautiful Gay Resorts Island House HealthClub Amenities 6 Days 24/7 Pass ($240 Value) Cocktails and/or Snacks Included during:
Welcome Party @ Bourbon St. Pub • Pool Party @ Island House • Bingo/Pool Party @ Alexander's • Pool Party @ Equator • Dance Party @ Sidebar Club • Daily Happy Hour @ Resorts
Opening Day Sandwich Break
Private Shopping Event (Clothing-Optional)
Nantaimori Party
Event Badge & Welcome Bag
Souvenir Passport Booklet & Coin
Sunset Dinner Cruise Event T-Shirt Farewell Breakfast
A & B Marina VIP Reception
Crystal Head Collectible Pride Bottle
Chub & Chaser Coffee Table Book
Cabana Boy Sexy Shorts
VIP Registration Check-in
Listed as Supporter in Event Program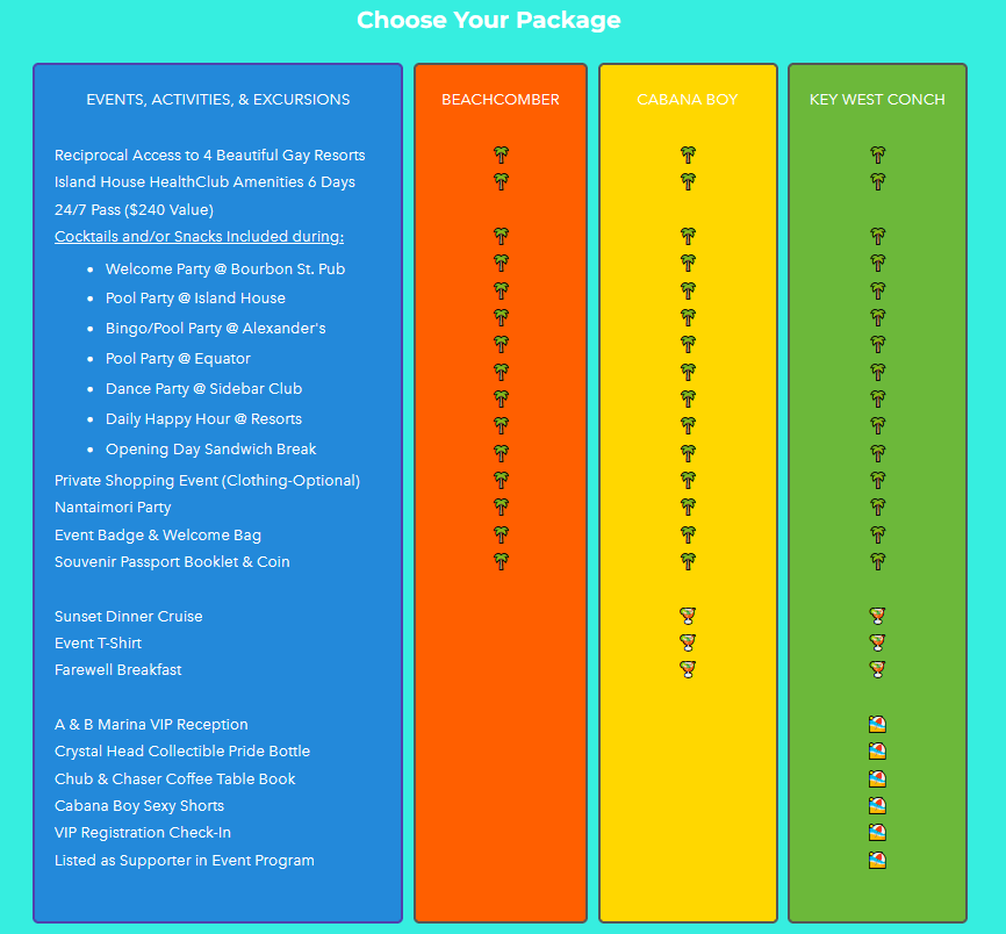 Register today, and find out everything you need to know about packages and events!
For more info and scheduled events, visit biggaykeywest.org.