Fun Travel Guides: New Orleans
New Orleans has always been a city that championed the arts and celebrated culture, which has fostered a lively gay social scene and drew many LGBTQ artists and performers to the French Quarter. Famous playwright Tennessee Williams and photographer Frances Benjamin Johnston are among the many LGBTQ pioneers who have called the vibrant and lively city home.
Dispersed along with the rest of the city's population by Hurricane Katrina in 2005, the LGBTQ community has worked its way back, and like all of New Orleans, experienced growth from an ongoing wave of newcomers to the city who have moved from other places. Supported by a tightly knit community of non-profit and cultural organizations, the LGBTQ population continues to be a vital part of the city's fabric and culture.
For newcomers and lifelong residents alike, there is still so much to experience in the great city of New Orleans! For over 300 years, New Orleans has been the mecca for everything that is decadent, flavorful and alive, and whether you're going to the French Quarters for beignets, having lunch or dinner at one of the many fabulous seafood restaurants throughout the city, or enjoying a day filled with music and art at one of the city's many cultural destinations and museums, the city has something great for you to experience!
Explore, eat and experience in the great city of New Orleans with some of these excellent recommendations from Fun Travel Guides!
Explore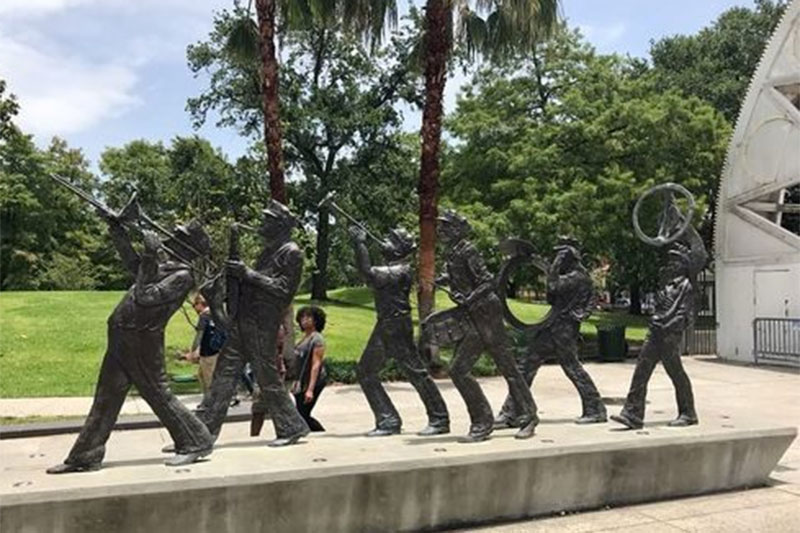 In the southern corner of Louis Armstrong Park is Congo Square. Formerly known as Place de Negres, it took its name from the tradition of slaves who gathered there on Sundays, their day off, to sing, beat drums, sell home-made goods, and celebrate.
The African dance and drumming celebrations played a substantial role in the development of jazz. Local voodoo practitioners still consider Congo Square a spiritual base and gather at the Square for rituals.
Congo Square and Louis Armstrong Park are now open 7 days a week from 8:00 a.m. to 7:00 p.m. Visitors are asked to wear masks and following proper social distancing rules. For more information, visit nola.gov/parks-and-parkways/parks-squares/congo-square-louis-armstrong-park.
Looming large against the Mississippi River is the extraordinary Audubon Aquarium of the Americas, one of the top museums of its kind in America. Here visitors will find 15,000 sea life creatures, representing nearly 600 species, living happily in a state-of-the-art facility! The world-renown Audubon Aquarium is home to fish and sea life of all kinds, and visitors can get up close — eye-to-eye if they please — with some of the most fascinating creatures of the ocean.
The Audubon Zoo is a New Orleans landmark and a living museum filled with some of the rarest and most beautiful creatures of nature. There have been animals at the Audubon Zoo since the 1884 World Exposition in Audubon Park!
Today, Audubon Zoo is 58 acres of animals in their natural habitats. The Zoo consistently ranks among this country's best. Visitors are enchanted to find a unique wildlife haven full of New Orleans flavor, impressive 100-year old oak trees and a cast of animal characters.
Audubon Zoo and Audubon Aquarium of the Americas are both now open. Due to State and City reopening guidelines, all Audubon facility admission, including for Members, must be reserved online in advance for a specific date and entry time. Guests will not have access to high-touch attractions/areas. All animal interaction areas, attractions, playgrounds, water fountains, and misters will be closed.
Attendance is capped each day and staggered by 30-minute increments to limit the total number of guests in the facility at one time and provide ample room for physical distancing. All Audubon staff are required to wear masks and will have their temperatures checked before coming on grounds before their shift. Free hand sanitizer stations are positioned throughout the facilities.
For the safety of fellow guests and Audubon's staff and animals, all guests are strongly encouraged to wear masks while outdoors on Audubon property and required while indoors on Audubon property. Masks are available for purchase in open facilities' gift shops. Exceptions include children under the age of 8, though it is strongly recommended that children ages 2 and older wear face coverings.
For more information about the Audubon Zoo and Audubon Aquarium of the Americas COVID-19 procedures, visit the reopening website at reopen.audubonnatureinstitute.org.
---
Eat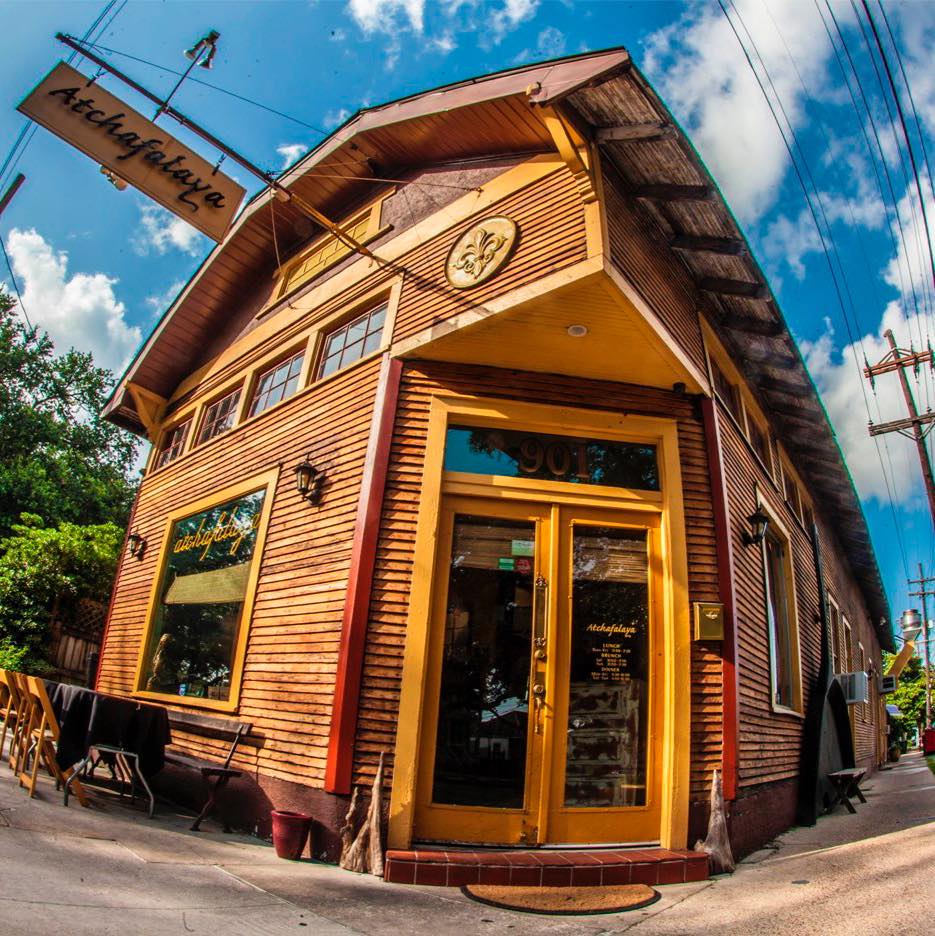 Rustic and elegant, folksy yet refined Atchafalaya Restaurant is set in a little creole cottage in the Irish Channel, a mostly residential neighborhood of New Orleans. All the components of a memory making meal are there in abundance. Whether it's their famous brunch or a stylish evening dinner, you'll find finely crafted cocktails, a smart wine list and most certainly stellar service.
Come early, stay late or just drop in for quick cocktail in the bar. If it's dog's night out, then bring them along and grab a table outside. Part of the charm at "Atch" is how easy comfort can still feel like a special occasion.
Starting May 29, Atchafalaya has started its new summer hours for dine-in and take-out service. In addition to their new hours, they also have a new seasonal summer menu which will be available all day.
For more information, visit atchafalayarestaurant.com.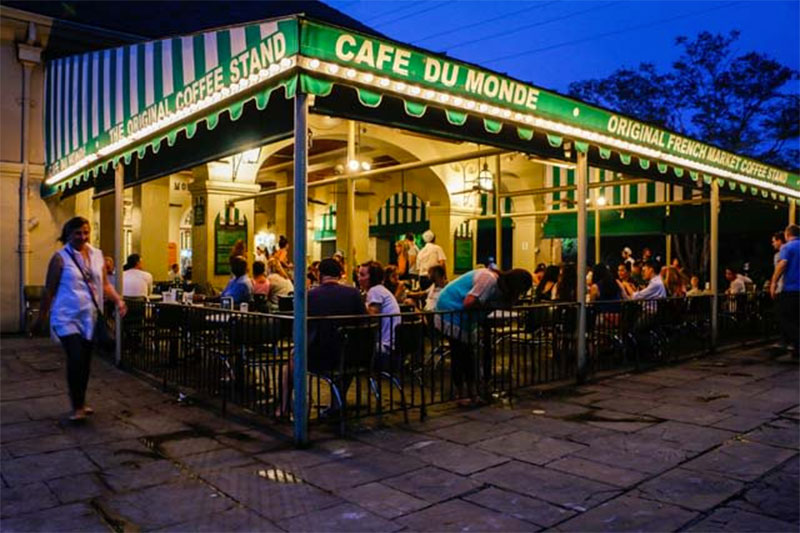 The Original Cafe Du Monde Coffee Stand was established in 1862 in the New Orleans French Market. The Cafe is open 24 hours a day, seven days a week. It closes only on Christmas Day and on the day an occasional Hurricane passes too close to New Orleans.
The Original Cafe Du Monde is a traditional coffee shop. Its menu consists of dark roasted Coffee and Chicory, White and Chocolate Milk, fresh squeezed Orange Juice, and Beignets — square French -style doughnuts, lavishly covered with powdered sugar. The coffee is served Black or Au Lait — mixed half and half with hot milk.
The Original Cafe Du Monde has reduced their hours, and is now open 7 days a week from 8:00 a.m. to 5:00 p.m. For more information, including other locations and hours, please visit shop.cafedumonde.com and their Facebook.
---
Experience
New Orleans Museum of Art (NOMA), New Orleans' oldest fine arts institution, opened on December 16, 1911 with only nine works of art. Today, the museum hosts an impressive permanent collection of more than 40,000 objects. The collection, noted for its extraordinary strengths in French and American art, photography, glass, and African and Japanese works, continues to expand and grow, making NOMA one of the top art museums in the South.
The twelve-acre Sydney and Walda Besthoff Sculpture Garden at NOMA is one of the most renowned sculpture installations in the United States, with over 90 sculptures situated on a beautifully landscaped site amongst meandering footpaths, reflecting lagoons, Spanish-moss-laden 200-year-old live oaks, mature pines, magnolias, camellias, and pedestrian bridges.
NOMA is now open Wednesday through Sunday from 10:00 a.m. to 5:00 p.m. The Besthoff Sculpture Garden is open from 9:30 a.m. to 5:00 p.m. NOMA is now selling online tickets, using a timed-entry system to limit capacity in the museum. Visitors must follow social distancing guidelines, and wear a mask at all times when inside the museum. For a full list of museum guidelines, click here.
Visits to the garden will remain at 50% capacity, and the Pavilion in the garden will remain closed for the time being. All visitors will be asked to enter and exit through the main entrance of the garden (by the Dueling Oaks). Markings on the ground at the entrance will ensure visitors stand 6 feet apart, should a line need to form.
All visitirs are asked to wear face masks as per CDC, state, and city guidelines, and face masks will be available for purchase upon entry. For more information, visit noma.org/sculpture-garden/background.
Since 1947, artists and craftsmen have designed and built the oldest and biggest parade floats and attractions for each Mardi Gras season, with over 500 floats built and decorated each year. At Mardi Gras World, you'll get an overview of the history of Mardi Gras in New Orleans before being taken through the float den, where artists work year-round to build spectacular floats and props.
You never get this close to the floats while they're rolling in Mardi Gras parades, and this is certainly the only place to see how these amazing pieces come to life each year. When you're sightseeing in New Orleans or looking for fascinating tours in New Orleans, this is something you just can't miss. Come see where the Mardi Gras magic is made!
Mardi Gras World is now open 7 days a week from 10:30 a.m. to 4:30 p.m. for self-guided tours. For more information, visit mardigrasworld.com.
See more about what the great city of New Orleans has to offer at funtravelguides.info/public/city/new-orleans.
When travelling, we encourage you to adhere to all health guidelines both local and national. Be sure to check out New Orleans' current COVID-19 Guidelines at ready.nola.gov/home.