Fr. Shannon TL Kearns Levels with us on Christianity
Father Shannon TL Kearns is a transgender man who believes in the transformative power of story. As an ordained priest, a playwright, a theologian, and a writer, all of his work revolves around making meaning through story. As such he is a highly decorated author and a highly sought-after speaker on transgender issues, Christianity, and religion, as well as a skilled facilitator of a variety of workshops.
In addition to that, Fr. Shannon is also the co-founder of QueerTheology.com along with Brian G. Murphy. Since its start in 2013, the site has reached more than a million people all over the world through videos, articles, and online courses and community. Their Queer Theology podcast is the longest running LGBTQ+ Christian podcast in existence.
And if all that isn't enough, Fr. Shannon also founded and led Uprising Theatre Company in Minneapolis for 6 years. That work focused specifically on social justice theatre that empowered people to take action, in addition to uplifting the voices and stories of trans and nonbinary artists.
We continue our Spring series on spirituality and possible paths back to religious experience with this most esteemed adviser.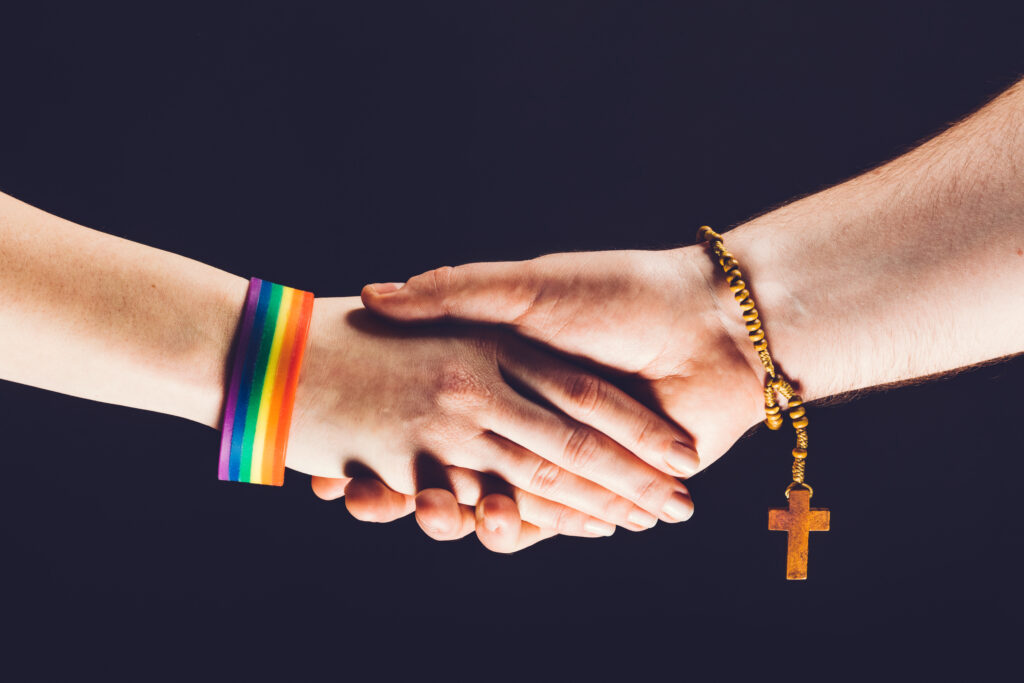 John Hernandez (JH): Is there a path of return for queer people to a religion that may have alienated them as children/ young adults?
Father Shannon TL Kearns (Fr. Shannon): Absolutely. I have walked with a LOT of people who have come back to Christianity as adults or after a time away. Often it means learning to engage with the tradition in a new way, attending a church in a different denomination, or finding new practices that speak to you. It takes some time, healing from the harm that was done to you in the name of religion.
My caveat is this: If you can't engage with Christianity in a way that feels healthy and life-giving for you it's okay to leave or to not come back. For some people the damage done to them is too much and they either need to take a lot of time away or leave for good in order to find a tradition and a space where they can find the nurture and care they need. So don't feel like you HAVE to stay in a tradition that causes you pain.
JH: Is there a queer community of worshippers or a Christian congregation that you can recommend for queer people?
Fr. Shannon: There are a lot of communities that are fully affirming of LGBTQ+ folks throughout the Christian tradition from a variety of denominations and in a variety of styles of worship. You might have to do some research to find one in your community, but with the rise of people putting worship services online it's easier than ever to connect with communities that aren't local to you or to get a sense of their worship before you attend. Don't be afraid to reach out to a church if their stance on inclusion isn't clear and if you get a response that is anything other than a resounding yes, run the other way.
JH: Is there a need to reconcile your queerness with your religious beliefs?
Fr. Shannon: Yes and No. I say no because you can absolutely be queer/trans and Christian. In fact, queer and trans people have beautiful and powerful insights into the Christian tradition that can provide inspiration and insight to cis/straight Christians as well.
But if you've been a part of a church that told you you can't be queer/trans and Christian, then often you do need to do some reconciliation work to find out how to make sense of that for yourself. Often that means learning to read Scripture in new ways or being a part of a Christian group that offers inclusion for LGBTQ+ folks.
But know that God doesn't love you in spite of your identity, but your identity is God's gift to you and you are a gift to the church and the world.
JH: Is it possible to be a solo practitioner of Christianity?
Fr. Shannon: This is a complicated question. On the one hand there are many Christian traditions that are well suited to personal practice: prayer, saying the rosary, studying Scripture, silence, etc. And yet, I do believe that Christianity is, at its best, a practice of community. It's about praying in community, studying in community, serving in community. But this doesn't necessarily have to be Christian community specifically! This could look like finding a group of people who sit in silence together from a variety of traditions, it could look like serving your community with people of other faiths (and none), it could look like gathering in prayer with people from a variety of traditions. But Christianity isn't just about personal practice, piety, or comfort it's about equipping us to be a force for justice in our community and the world.
JH: What does Easter mean to you?
Fr. Shannon: Easter to me the message that injustice and oppression, while loud and present, are not the final word. The final word is justice and love, especially for the most marginalized. Easter tells me of an itinerant preacher from a marginalized and oppressed community, living under the thumb of Empire, who starts a movement that shakes the foundations of power. And we are invited into that movement; to call out oppression, to work for justice, to center the most marginalized, and to proclaim that we belong.
Learn more about Father Shannon and his work here.