Finnish Petcare Brand Releases Tom of Finland Inspired Adverts
The Finnish pet care brand Musti Group has published three pieces of art in the style of Tom of Finland. Instead of the usual masculine characters, the stars of this collection are none other than our beloved pets, cats and dogs. The three new drawings will be placed in outdoor media space all around the Helsinki capital region to celebrate Helsinki Pride Week.
The Finnish artist Touko Laaksonen, better known by his pseudonym, heavily influenced the late 20th-century gay culture. Musti Group's campaign pays tribute to the cultural icon who paved the way for other LGBTQ+ artists, and whose drawings inspired performers like Freddie Mercury and Village People. The new drawings are made by the Finnish artist Kajo Rauni, and have the official license of the Tom of Finland Foundation.
"Instead of just drawing inspiration from the art of Tom, we felt it was important to get an official seal of approval from the Tom of Finland Foundation. This way our pet versions become a small part of the Tom family, and we get to show our support to the legacy of this great artist and the foundation that looks after it", says Eveliina Rantahalvari, Marketing Manager of Musti Group.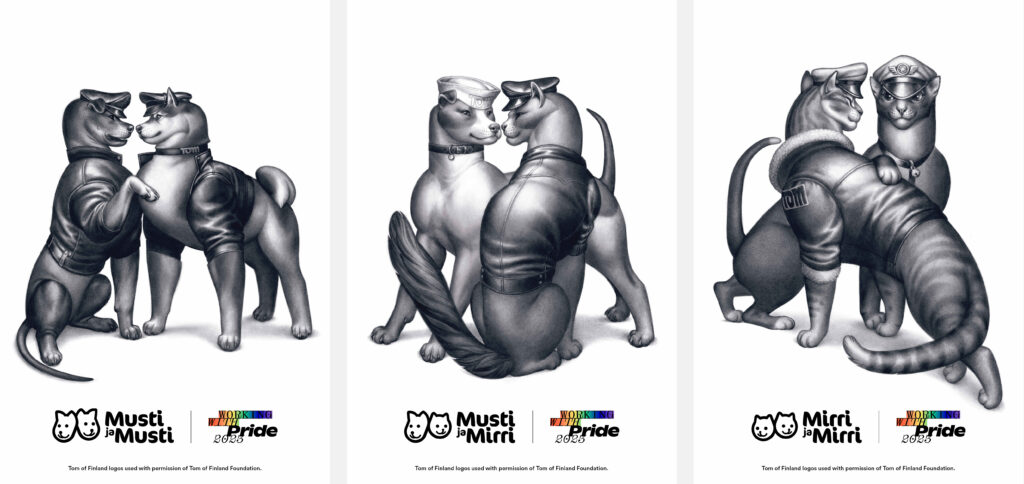 Finland is often viewed as a frontrunner in equality, yet there's still much to do when it comes to LGBTQ+ rights. Earlier this year, the government of Sanna Marin and the Finnish parliament passed amendments to the Finnish transgender laws. Now, transgender individuals can legally change their gender by self-declaration without having to undergo lengthy medical processes or a psychiatric assessment.
The influence of various LGBTQ+ rights organizations is vital in making progress on a legislative level. Musti Group has been a proud partner of Helsinki Pride for several years.
"While bringing pets into the world of Tom of Finland is a playful choice, we're very serious about the message behind these drawings. We're committed to our partnership with the Pride organization and the values we both cherish", Rantahalvari states.