Fetish Events for the Kinky Queer Traveler
Many of us Bears and Queers may not like athletics, but we sure do love athletic supporters…and leather and rubber and bondage…you get the drift! One of the most enjoyable parts of traveling for the kinky queers among us is checking out the local fetish scene. The following is a list of some of our favorite fetish events around the world.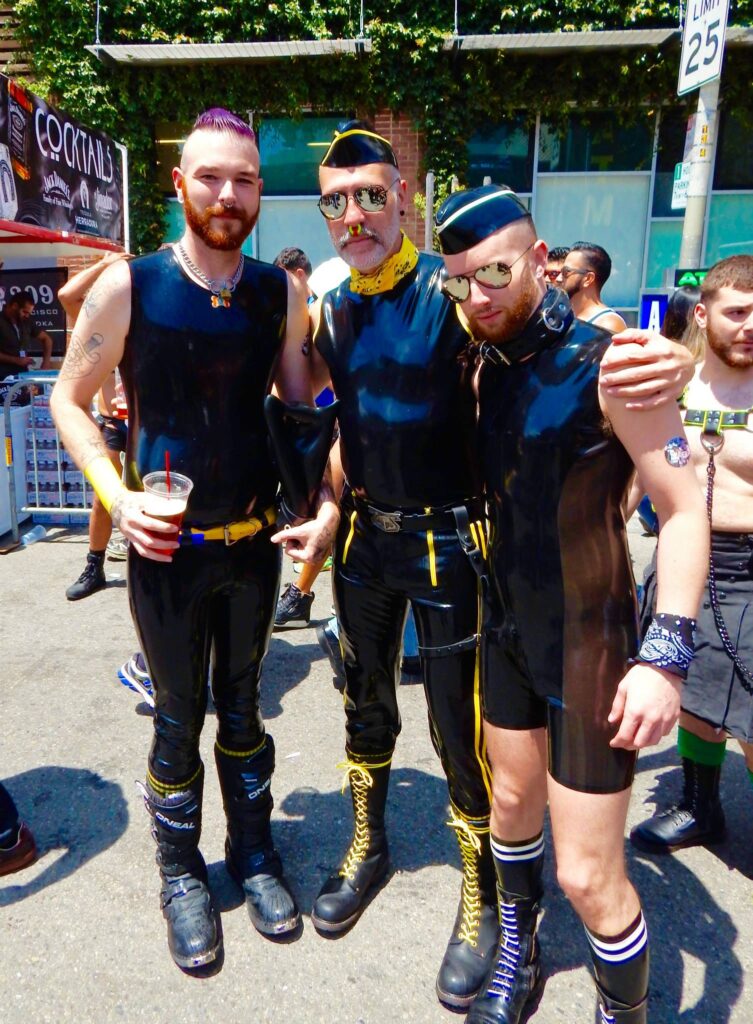 Up Your Alley Street Fair (San Francisco, California)
Dore Alley Weekend is built around the Up Your Alley Street Fair at the intersection of Folsom Street and – you guessed it – Dore Alley.
The event is often considered a smaller version of the infamous Folsom Street Fair (since it is organized by the same people), but with a few key differences: this event is a gayer male-centric crowd, it is a bit kinkier or more explicit than Folsom, and San Franciscans are usually represented well.

GearBlast UK (Walsall, England)
It is GearBlast's mission to provide a safe environment for all people who share an interest in gear to meet, socialize, and learn from each other. Everyone – regardless of race, ethnicity, age, religion, sexual orientation, gender identity, gender expression, disability, body type, or economic status – is welcome to participate. It is a relaxed social event with communal eating times, markets to buy and sell gear, setups to play games, and several workshops – all with an emphasis on inclusivity. Playrooms are provided for deeper exploration.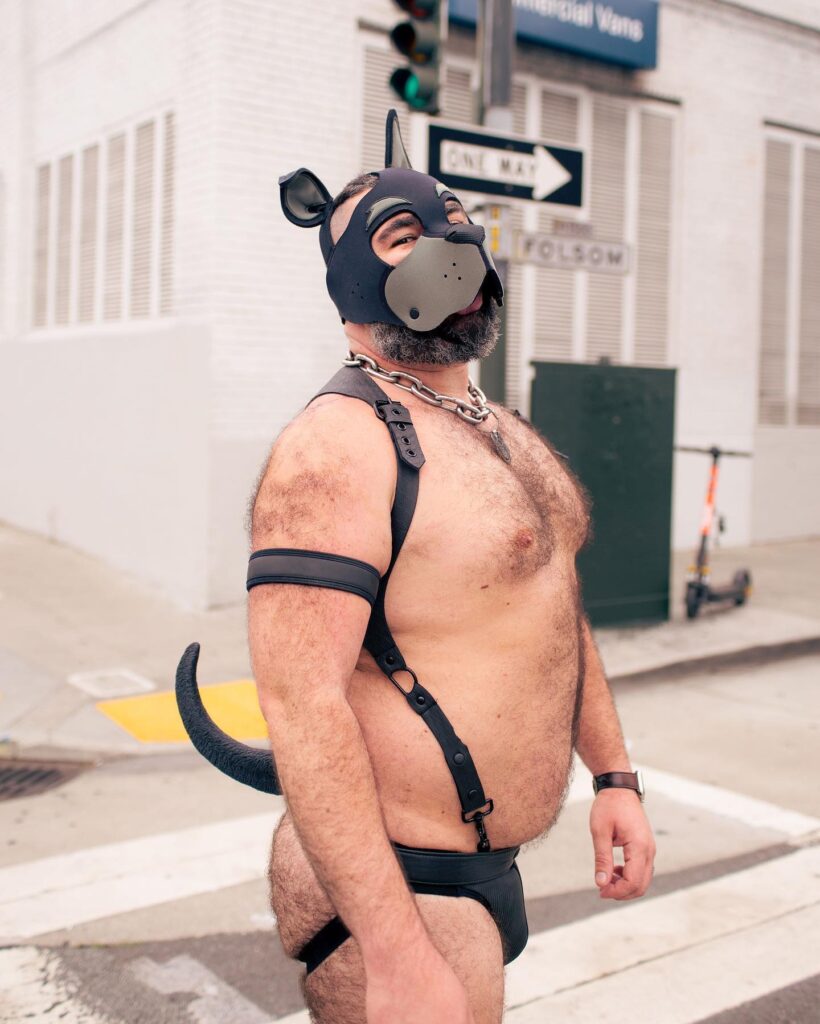 Folsom Street Fair (San Francisco, California)
The mainstream big brother to Up Your Alley, the Folsom Street Fair is the world's largest leather event and showcase for BDSM culture. It is very well attended with 250,000 kink enthusiasts expected to attend in 2022.
It spans over 13 city blocks and includes loads of live demonstrations of S&M play, flogging, bondage, and gear play. Organizers create space for puppy play, porn vendors, leather craftsmen, and booths for all sorts of fetish paraphernalia. Gay and straight people co-mingle in this space. It is the most welcoming, open-minded, and inclusive event you could hope for, especially in the US. There is a $10 entrance fee but all proceeds go to charity.
San Francisco isn't the only Folsom festival anymore though. No, honey! The Folsom brand has gone worldwide! New York is home to Folsom East usually held in June. Folsom Europe is usually scheduled on the second Saturday in September in Berlin's fetish district Schöneberg. And dates for Folsom Down Under are still pending. All Folsom events share San Francisco's commitment to diversity, inclusion, and fundraising.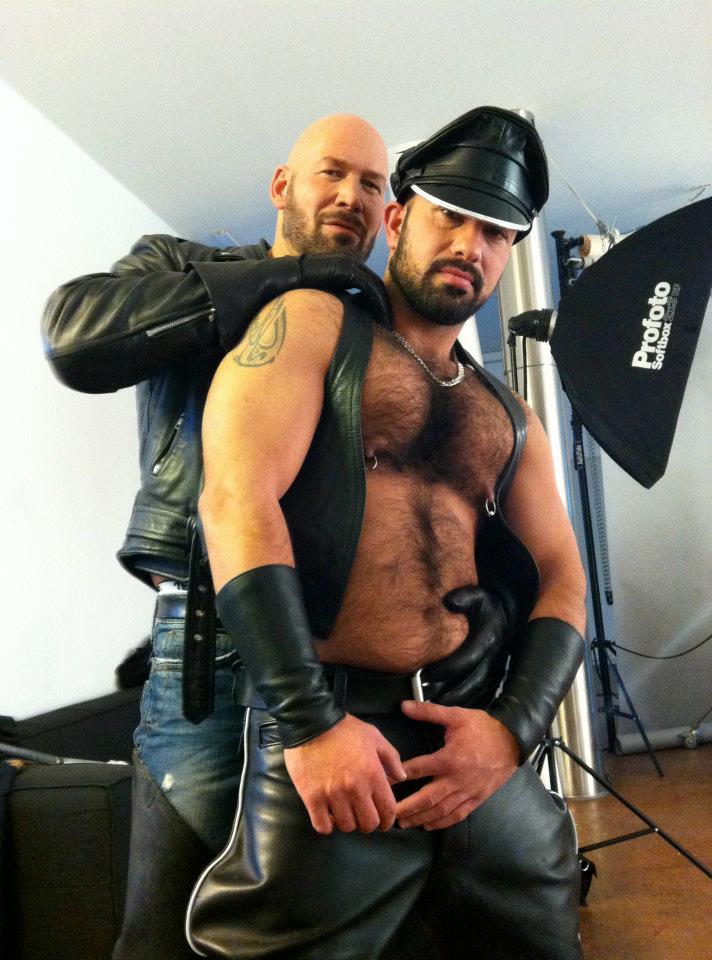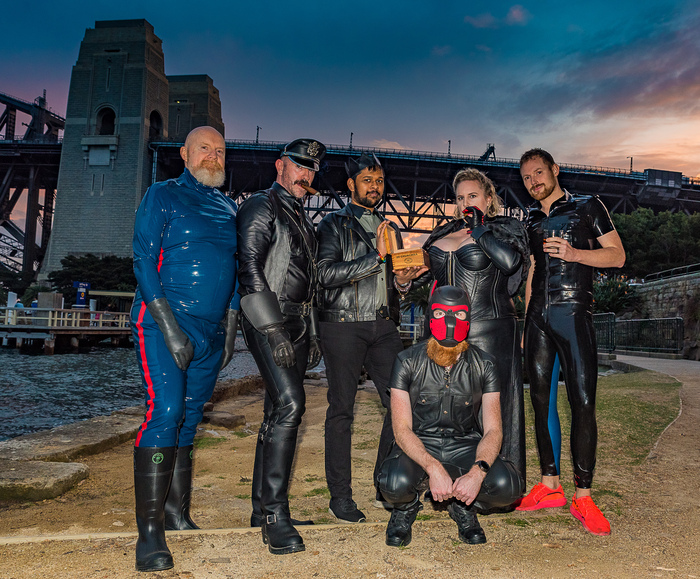 Sydney Fetish Week
Sydney Fetish Week brings together all the groups that comprise Sydney's fetish and kink scene. As an umbrella event, it serves to highlight both social and educational groups, ensuring that everyone can explore their kinks in a safe and inclusive environment. See below for a rundown of scheduled events: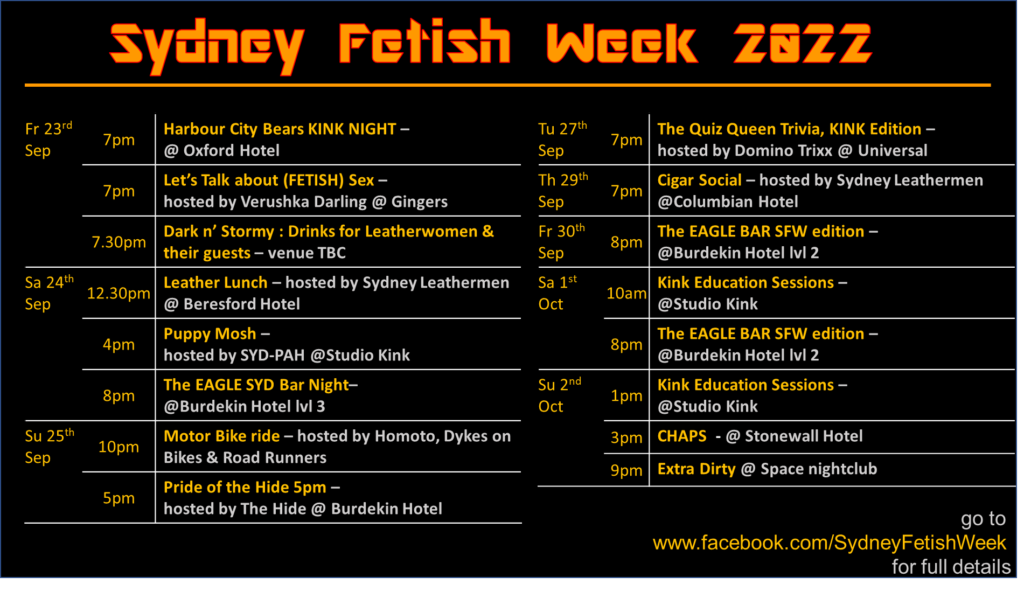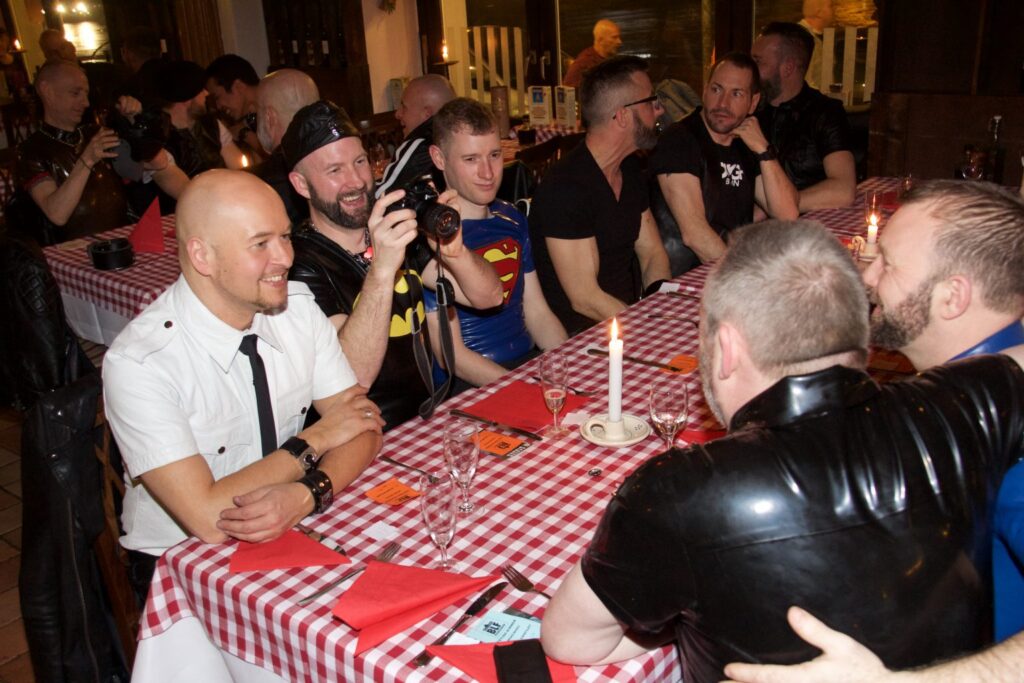 Easter Berlin
Members of the club BLF, Berlin Lederun Fetisch (Berlin Leather and Fetish) organizes Easter Berlin, the biggest leather and fetish event in Europe. On Easter Sunday, the new Mr. Leather Berlin is chosen. Thousands of leather, rubber, sportswear, and uniform enthusiasts descend on the city for this annual tradition. It is held in the same neighborhood where Folsom Europe is held in September.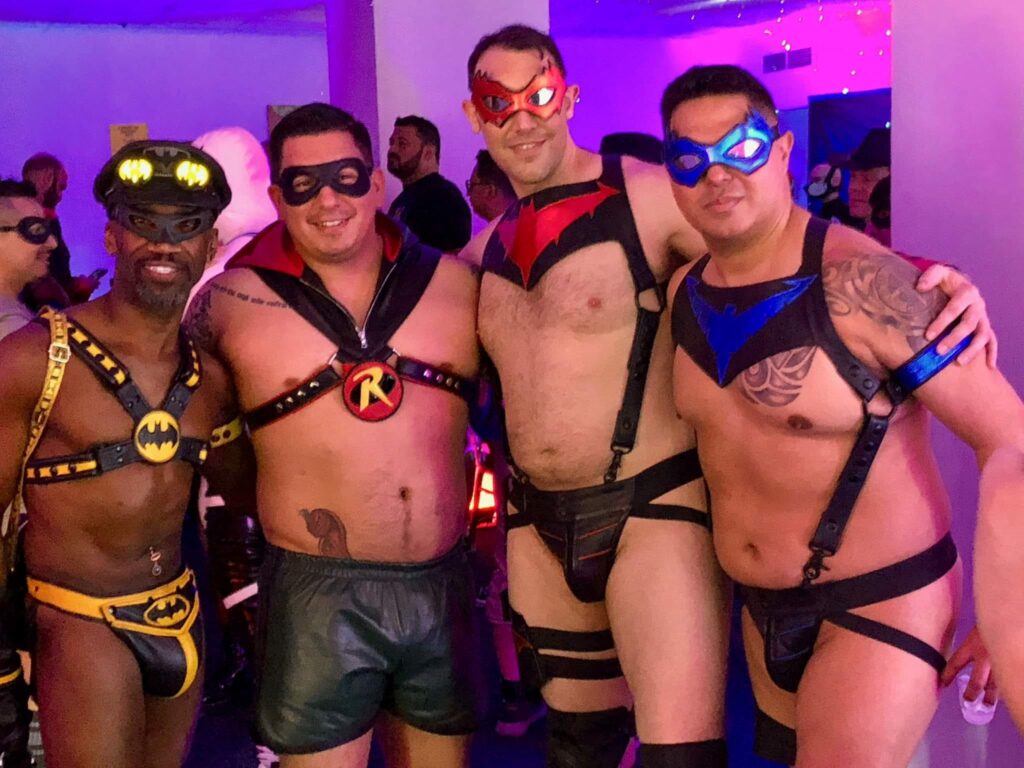 International Mr. Leather (Chicago, Illinois)
International Mr. Leather (IML) is an international conference of leathermen held each Memorial Day Weekend in Chicago. It is a contest to be named Mr. International Leather, where contestants go through a series of interviews with the intention of demonstrating their stage presence, personality, and of course, serving outstanding leather looks.
Selecting a contestant to wear the coveted sash is the finale to the leather weekend and convention, which also has a leather market with a multitude of vendors selling fetish gear, sex toys, and IRL demonstrations on how to use all of it. The Grabby Awards are typically held the same weekend, honoring the best in gay pornography.
Fetish Week London
Recon's London Fetish Week, which usually happens every year in July, came back this year after two years of being postponed, and as expected it came back in FULL FORCE… Or rather, FULL GEAR.
If you want to plan to go to this event in 2023, you should be aware that there is a strict dress code at all of the events, so leather, rubber or some type of fetish sports gear is absolutely REQUIRED to attend. No playing it safe here, boys. So, if that's not a problem for you, then you will definitely get your absolute life (and libido) at this full on week of debauchery in London Town.
This article was originally published on our sister site, Vacationer Magazine.