Eric Poole's Memoir 'Excuse Me While I Slip Into Someone More Comfortable'
"In the great tradition of David Sedaris, David Rakoff, and Augusten Burroughs, memoirist Eric Poole recounts his quirky childhood years in completely hilarious and painful detail."– Kirkus, Starred Review

In Excuse Me While I Slip Into Someone More Comfortable, Eric Poole is a talented high school trumpet player in the late 70s with one working ear, the height-to-weight ratio of a hat rack, a series of annoyingly handsome bullies, and a mother irrationally devoted to Lemon Pledge. But who he wants to be is a star…ANY star.

With equal parts imagination, flair, and delusion, Eric proceeds to emulate a series of his favorite celebrities, such as Barry Manilow, Halston, Tommy Tune, and Shirley MacLaine, in an effort to become the man he's meant to be—that is, anyone but himself.

As he moves through his late teens and early twenties in suburban St. Louis, he casts about for an appropriate outlet for his talents. Will he be a trumpet soloist? A triple-threat actor/singer/dancer? A fashion designer in gritty New York City?

Striving to become the son who can finally make his parents proud, Eric begins to suspect that discovering his personal and creative identities can only be accomplished by admitting who he really is.

Picking up at the end of his first acclaimed memoir, Where's My Wand?, Poole's journey from self-delusion to acceptance is simultaneously hysterical, heartfelt, and inspiring.

Punctuated with highly effective humor, this book could easily serve as a resource for closeted individuals looking to read a success story. A magnetic collection of real stories that sheds a new light on life in the Midwest.
 

Kirkus Reviews
Oh, my… Eric Poole's journey of self-delusion and self-discovery had me laughing one minute, crying the next, and rooting for him every second. This charming book is a TV series waiting to happen!

George Takei
---
[In this excerpt from the first chapter, the year is 1981, and, Eric has been emulating – with, to put it kindly, MIXED results – various celebrities he admires.]

My identity began to fully crystallize when I performed the Barbra Streisand song, On a Clear Day.
As a lounge number.
With jazz hands.
Since my trip to New York a few months earlier, I had become consumed with Broadway musicals. Evita. Sweeney Todd. And my personal favorite, The Best Little Chicken Ranch in Texas (the title used to advertise it in St. Louis, where whores don't exist), which was directed and choreographed by the man I had decided to impersonate.
Emulate.
Tommy Tune was an extraordinary talent from a modest background. He was from the heartland of America. And he was now the hottest director/choreographer in show business. Although, at 19, I was not yet sure of the extent of my own gifts as an actor/singer/dancer, Tommy and I shared the same background and love for the theatre. These commonalities – along with my musical aptitude and desperate desire to be seen – were enough to convince me of my destiny. Surely, all the creative detours I had taken were merely part of the path that had led me to this moment.
Tommy began his career trodding the boards, so the most efficient way to begin getting my name on everyone's lips, I logically surmised, would be to star in a local show. This interim, pre-Broadway step also seemed appropriate given that I had never actually set foot on a stage.
I began my new career with tap dancing instruction given by an eminent local director, Debra Kingston, who gave group lessons in her basement for six bucks a pop. As a theatre professor at Florissant Valley Community College, Debra presided over semi-annual musical productions where some of North St. Louis County's finest talents who couldn't get into a four-year university trundled across the stage in search of transferable credit.
Tommy would be proud, I thought, as I executed a tap combination in Debra's basement with what I felt was a catlike grace, born of the thousands of nights I had spent creeping stealthily around the house to avoid Mother's ire.
"No, no, no!" Debra hollered, putting her face in her hands.
I had seen Fame. So I knew how mercurial theatrical personalities could be in the pursuit of molding their students' talent. And it was thus with fortitude that I accepted Debra's criticism of my tap dancing. No artistic endeavor worth its salt came easy, but with pluck and dedication and Debra's screaming, I would become the Great White Gregory Hines.
Six weeks into these lessons, she took me aside.
"You have a nice singing voice," she said gently. "Why don't we focus on that."
Did I suck? Or had I mastered this form of dance with an ease that indicated a wellspring of talent bubbling up to the surface? Surely Debra's desire to move me into another area of training this soon was a good omen. Stardom was calling my name. At least, I think that was the case; it was hard to be sure with just one good ear.

***

My parents were less enthused about my new interest.
"You know we've always supported your creative endeavors," Mother began, her voice muffled as she Ajaxed the inside of the self-cleaning oven. "Even the stupid ones." Dad handed her a fresh can of cleanser. "You certainly have musical talent, but you shouldn't be wasting it in the theatre – it's filled with liberals and Godless heathens."
"And how are you gonna make a living doing theatre in St. Louis?" Dad added. "Those mimes in front of the Arch make lousy tips."
I couldn't blame these talent-free troglodytes, of course. They had no frame of reference. As 9-to-5 office drones, Mother and Dad couldn't possibly understand the inner whisper of creativity.
After nearly two months of voice lessons standing next to the spinet in Debra's living room, I was, I decided, ready for my close-up. My friend Candace, with whom I commuted to the University of Missouri, St. Louis where we were laboring as sophomores, informed me of auditions for the theatre department's musical, The Pajama Game, and we began plotting our conquest of the stage.
"What song are you gonna sing?" I queried, as we climbed into her car and I twisted the rear-view mirror to check my hair.
"I'm gonna do This Land is Your Land," she said, snatching the rear-view mirror back and placing big Jackie O sunglasses on top of her regular eyeglasses.
"No, you can't!" I cried. "I'm doing a ballad. I've been rehearsing Hard Candy Christmas for weeks!"
"It's the only song I can sing a cappella," she snapped. "Besides, what do you care? We're not going up for the same roles." She paused. "Are we?"
""Oh, forget it," I replied. "I'll do an uptempo number, then, and we'll just see who dazzles 'em."
The inspiration to reimagine On a Clear Day came several days later. And whether it was the snappy swing pacing or the white gloves on my hands, my artistic choices coalesced, I thought, into a performance that – for someone so new to the theatrical arts – positively sparkled.
I was certain the director saw potential in me; when I finished, he said to me with a certain indefinable awe, "Was that for real?"

---
About the Author
Eric Poole's first memoir received rave reviews and was developed as a television series for ABC. He has written for the Huffington Post, CNN, and The Advocate, and spends more time than he would like penning commercials for everything from McRibs to tampons to TV shows about celebrities boxing. He lives in Southern California with his partner of 16 years. This is his second memoir.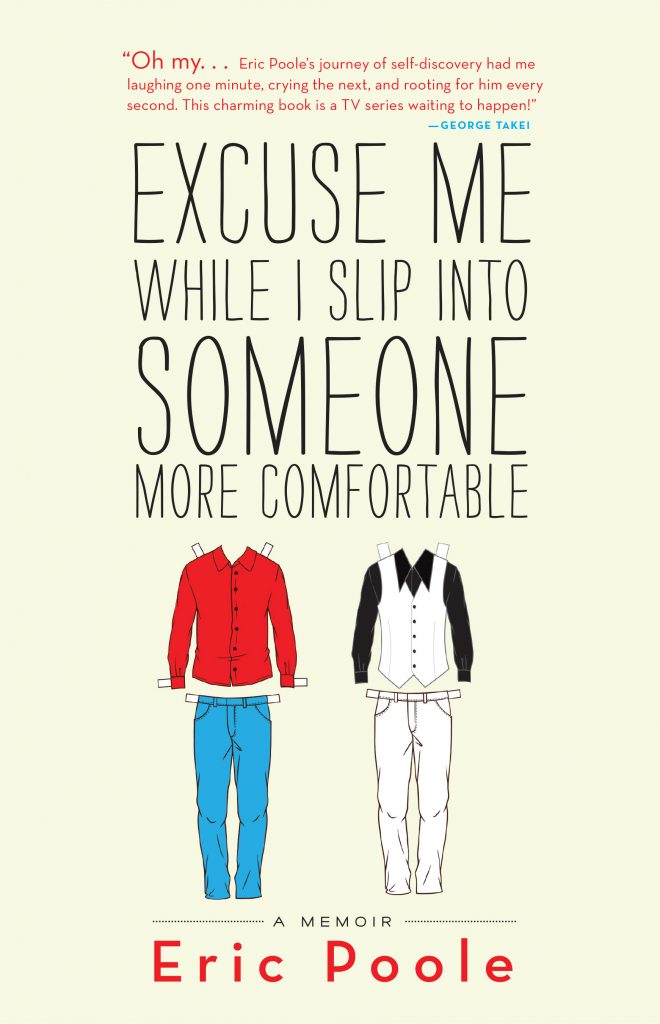 Follow Eric Poole on Instagram and Facebook.
Purchase Excuse Me While I Slip Into Someone More Comfortable on Hardback, Paperback and Audiobook.