El Valentino: Bringing Body Positivity to the Forefront of LA Nightlife
What are the components of the perfect club night? There's the music, of course, spun by a DJ who knows the crowd and can get them moving. The lighting and decorations to give a feast for the eyes. The bartenders keeping the drinks flowing in a swift and friendly fashion. And the go-go's, a sort of living scenery of fantasy boys tantalizing the crowd, keeping the energy going, and inspiring patrons to get their own bodies grooving to the beat.
Regarding the latter, it can be easy to think there's not much to it. You put on a harness, you jiggle around a little, you collect dollars. But not so. Selecting and training the right go-go's for the right party is a talent all its own, just like dancing and working the crowd. And one man in Los Angeles has recently earned himself the reputation of "fairy godfather" of the dancers for his dedication to selecting, training and mentoring them, invigorating the nightlife scene with his own brand of body-positive entertainment as he does so. That man is El Valentino.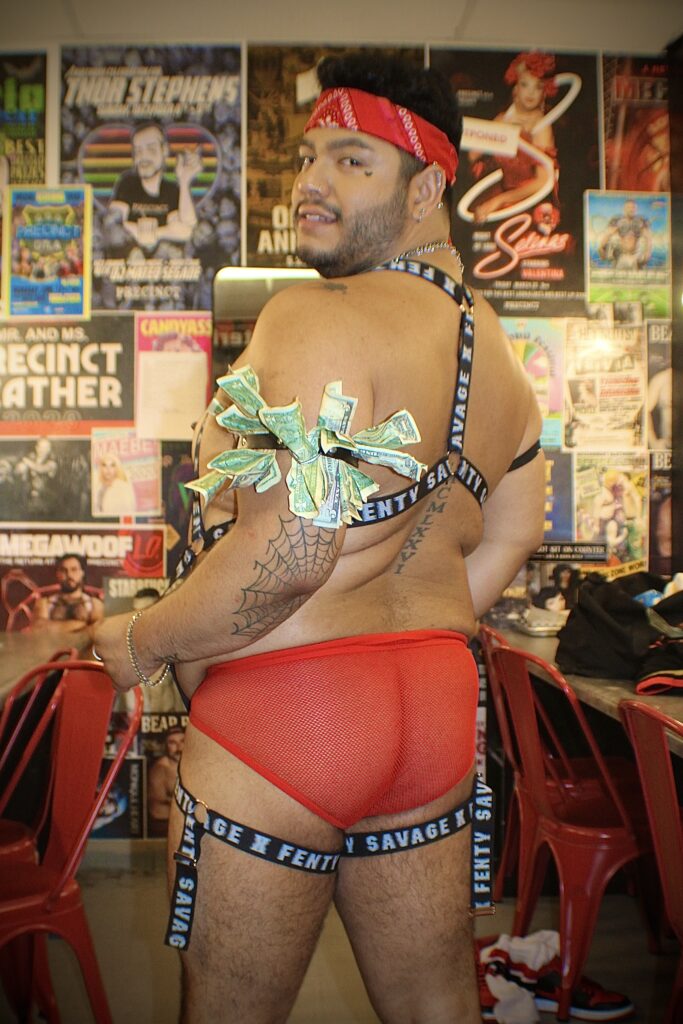 A resident at Megawoof and Club Chub, and host of pole-dancing class/performance night Massive Pole, El Valentino is not just another exotic dancer on the stage strutting and bending to the music — he's also one of the major players behind the scenes, hiring and mentoring the dancers. He's equally comfortable stripping at a private party as he is go-go'ing on a box at Megawoof or performing a solo number as a featured entertainer in Orange County's Bearlesque.
A champion of body positivity, it's no wonder he works steadily with some of the best-known bear and big-boy parties. But beyond those, El Valentino helped start Massive Pole last November at Precinct DTLA to be a body positive cabaret for all body types—male, female, non-binary, and everybody in between. It promptly made an impact. Since January, Massive Pole has been a monthly show at the bar, each evening beginning with a class that draws six to eight students of the craft, followed by a full two-hour show with 12 to 15 performers. There is even a "versus" battle that pits pole dancers head-to-head!
We recently chatted with El Valentino to talk about his projects, opinions, and overall fabulosity.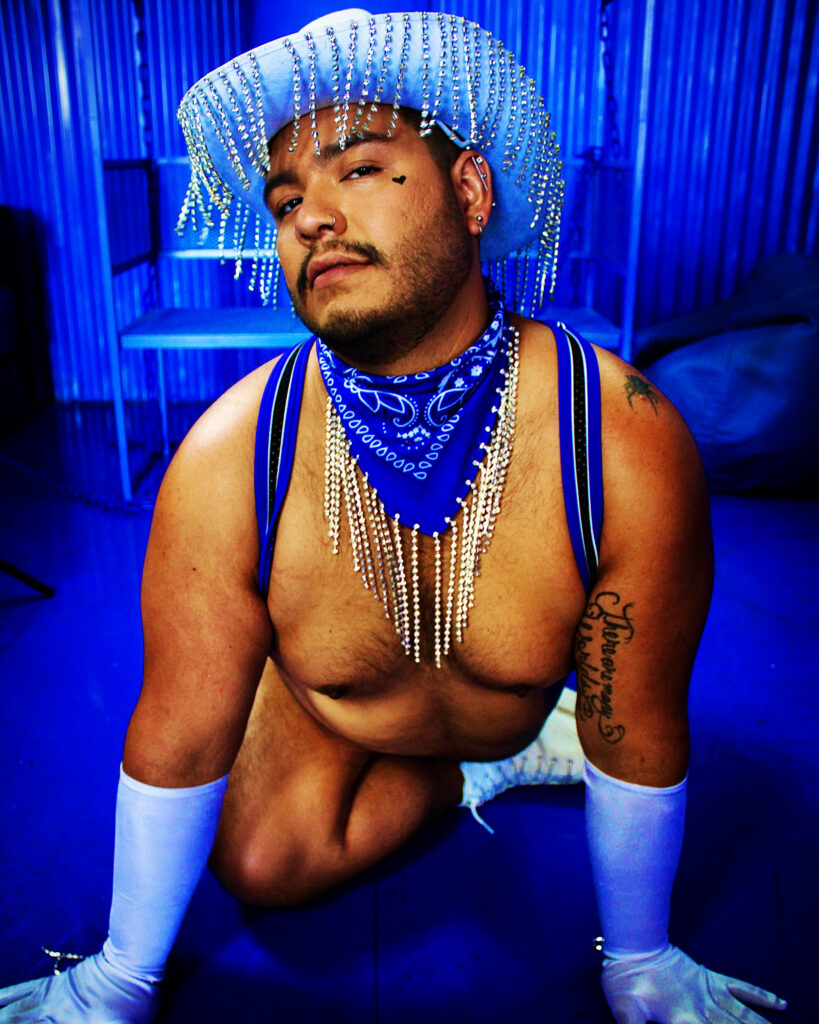 Bear World Magazine: How did you first get into dancing?
El Valentino: I was 17 with a fake ID, chasing a dream.
BWM: Massive Pole sounds like a unique evening—pole dancing classes followed by a cabaret show, all at a gay bar. What's your favorite part about the night?
EV: When Cat Lexington (Cochinxs) came to me with the idea of a body positive pole night I loved it. Just all shapes being seen through a sexy lens.
BWM: Do you ever pluck students straight from the class portion of Massive Pole and ask them to perform?
EV: Actually yes, but with the condition that they have a few classes done and have their confidence up. Most importantly is if they can do a routine safely.
BWM: What do you want the audience to take away from a Massive Pole show?
EV: Damn those are some sexy bitches!
BWM: You are a big boy, but incredibly flexible. Do people ever tell you they didn't think it was possible for them to dance so physically until they saw you do it?
EV: Honestly no. I think that mentality is fading away. You see people in ball culture; or even on Bad Bunny's would tour with bigger bodies dipping and flipping – their size isn't holding them back.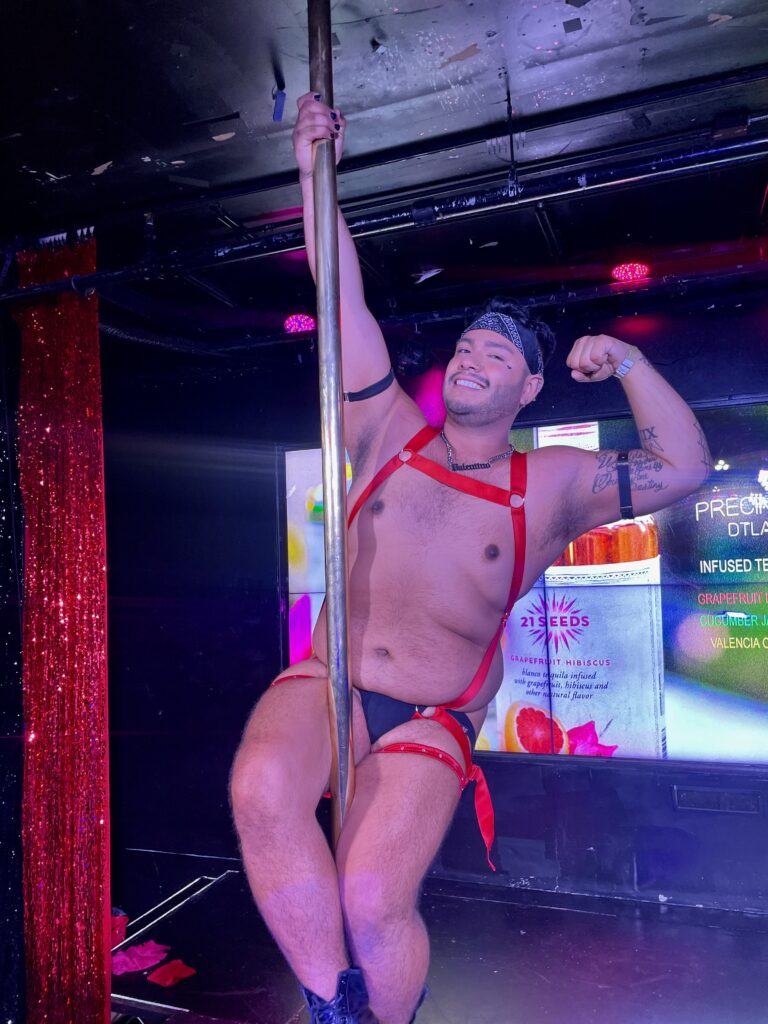 BWM: As a man of many hats—dancer, go-go, stripper, coach, choreographer, talent scout, producer—do you find any one role comes to you more easily than the others? Do you struggle with any of them?
EV: The easiest is being on stage dancing and hyping up the crowd. The hardest is communication with everyone. Events, lineups, dates. So many to keep track of along with making sure everyone is kept in the loop.
BWM: Do you see the larger LGBTQ+ community embracing body positivity at an encouraging pace, or do you think it's still slow-growing?
EV: For sure it's gotten better with time. I think it's moving along at a steady pace. The newer generations have pushed for more inclusivity at a quicker pace.
BWM: We hear you're choreographing an upcoming Megawoof fundraiser… can you tell us more about that? Anything else in the works you'd like to share?
EV: Actually, Megawoof is participating in a fundraiser, the Spirit Royale, a campy cheer competition benefiting The Life Group LA. We will have some familiar Megawoof faces participating. October 19th at the Abbey.
Some personal projects I have coming up are some songs I have been working on with Megawoof resident DJ Santo, under their label, Homo Wreckords. Some other exciting stuff is coming down done the pipeline—just working on finalizing details. But you can always catch me at Megawoof events like the one on Sept. 30th, celebrating eight years of Megawoof U.S. with the original U.K. branch.
---
Keep up with El Valentino by following him on Instagram.