Healthy & Tasty – Chef Derrick Jones shares one of his favorite recipes
Anyone can tell you that a big part of being healthy is eating healthy. And while it is true that you can eat anything you want in moderation, we wanted to find a recipe that you could have a second helping of without any sort of guilt or concern (we're bears for crying out loud!). Enter professional bear chef Derrick Jones.
Now located in New Jersey, Derrick comes from Chicago. He got his culinary degree at Baltimore International College where he learned to cook a variety of cuisine. He has a particular passion for pastries as exemplified by his brand 'The Flour Alchemist' which he started years ago.
We sat down with the multi-talented chef and proud ONYX member to discuss his passion for food and to get a healthy recipe from him that you can try at home.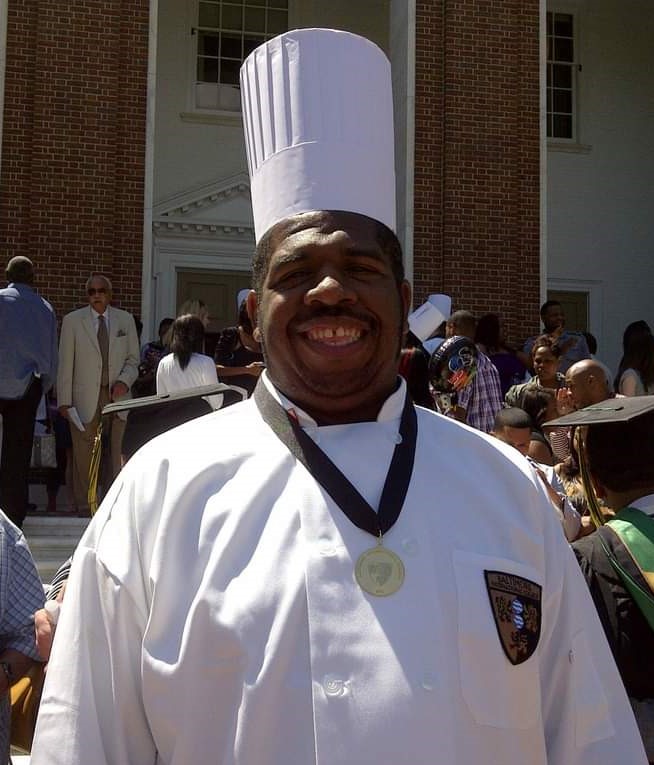 John: Hi Derrick! Thanks for taking the time to chat with us and to give us some insight into food preparation for our health issue. Can you tell me what is your favorite type of food or cuisine?
Derrick: There is nothing better to me than the American Breakfast. It consists of dishes that are extremely versatile. You can have breakfast morning, noon, or night and partake in meals consisting of both sweet and savory dishes.
For instance, a pancake can get syrup in the morning or gravy in the evening, bacon goes with any and everything, and eggs just have infinite possibilities!
The basic ingredients of the American breakfast are the foundation for so many other types of food. For brunch I once made a "Breakfast Jambalaya" replacing the usual meats with more breakfast leaning sausages and instead of serving it on rice I served it with cheese grits, and I made Johnny cakes to go along with it. It was savory but it fit the breakfast theme with just some minor changes to the recipe.
John: Breakfast for dinner is one of my favorites! So, I know you started The Flour Alchemist years ago and have worked at a variety of restaurants. Where are you cooking nowadays?
Derrick: Currently I work in my second favorite kitchen ever, my home. It's my second favorite because my first favorites were the kitchens at school where I could do vast and experimental cooking projects and not have to flip the bill! (Laughs)
John: Yeah I can understand that! (laughs) I know you studied at Baltimore International College but why did you choose to study cooking?
Derrick: I decided to dabble in cooking because of my grandmother.
John: Aww that's sweet!! In addition to your grandmother are there any particular chefs whose food you love or whose story inspired you?
Derrick: There are quite a few chefs I admire, including an ex-boyfriend, but my all-time favorite, hands down is Chef Carla Hall. I have loved her since I first saw her on Top Chef. She is just a great big bundle of positive energy. I have had the pleasure of meeting her a few times, and I am always surprised and delighted that she remembers me.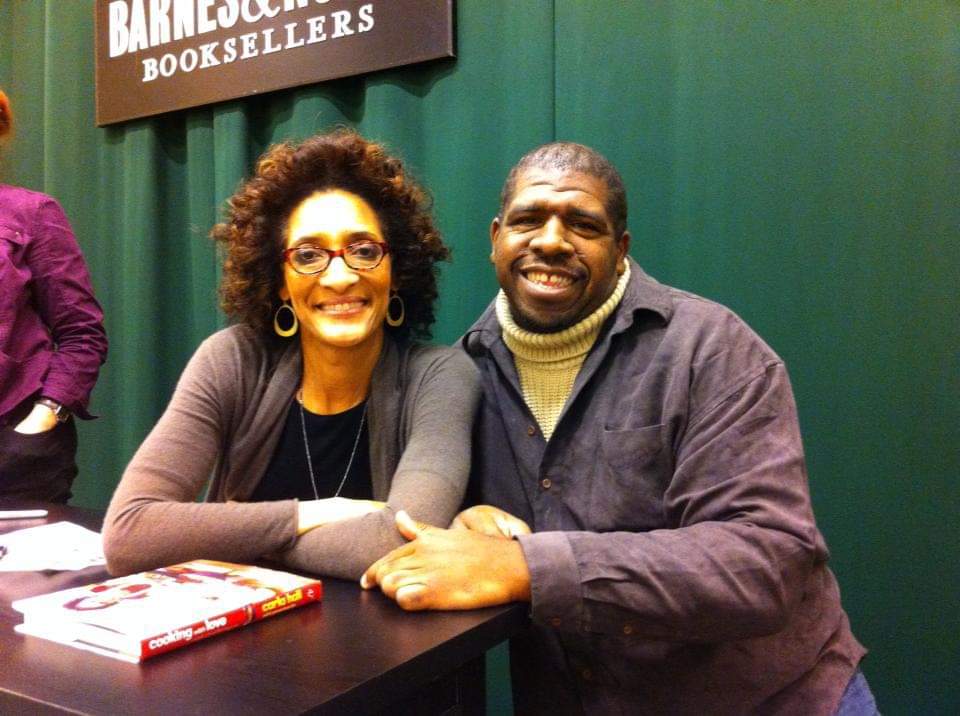 John: She really is a big bright personality. I'm glad to hear she is nice in person too. But now, the age old question Derrick: Is it possible to eat well AND healthy?
Derrick: It is possible to eat good and healthily, but it's all about proportion and moderation. I love making baked goods and incorporating those goods into meals, but I can't eat baked goods every day. I spent a year working at a raw vegan restaurant and it was amazing. The dishes the chefs came up with were good and healthy and while I did not give up meat, I could tell the addition of just a few dishes from the restaurant had a good impact on my health.
John: What tips would you give to someone looking to eat healthier?
Derrick: I'd say find yourself a good doctor that has access to a good nutritionist.
Here is what I have learned, and I am not a medical professional; everyone's body is different. I have an auto-immune disease so I have had to figure out what foods work for me and what can trigger me. My husband is diabetic and allergic to seafood and eggs, so I am limited in terms of what I can cook for him. Everyone's body is different and there is no cookie cutter diet to attain a health goal.
John: Fair enough, though it would be so awesome if there were one! Before I let you go, can you tell us what one of your favorite healthy dishes are?
Derrick: Yes! My easy meaty quick bowl. I love a good recipe that is simple because I know the kitchen can be intimidating for a lot of folks. This is something you can make and store for multiple meals (recipe below).
John: Thank you so much Derrick! I can't wait to try it!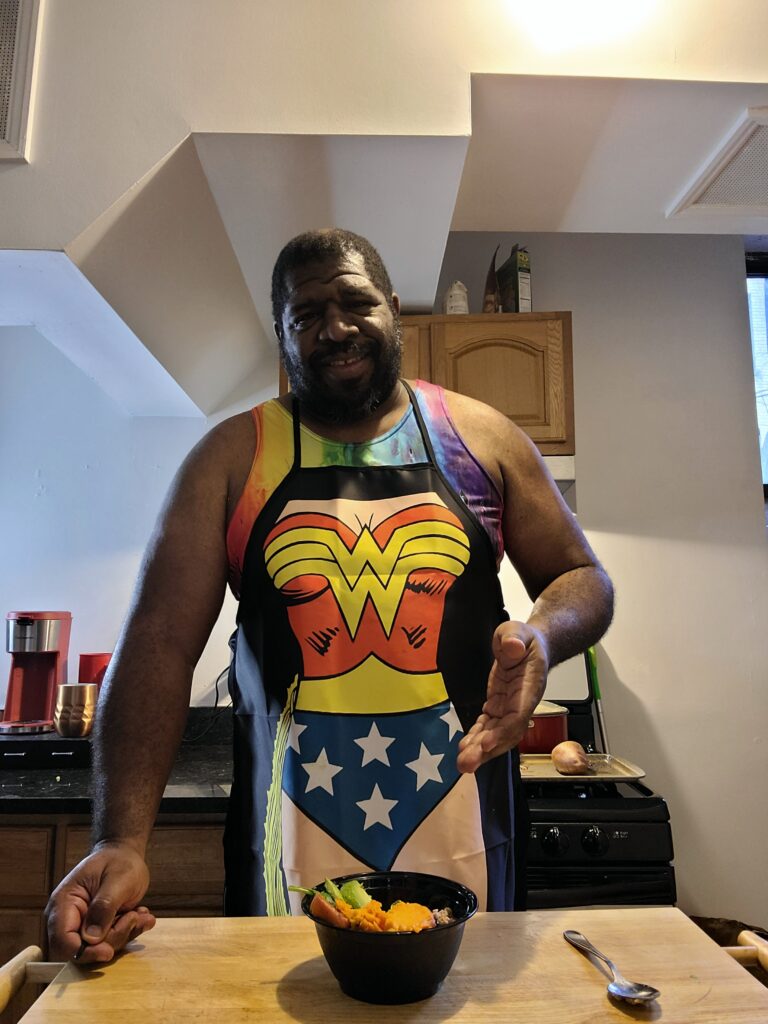 Derrick Jones' Easy Meaty Quick Bowl
Ingredients:
2 pounds ground meat (can be turkey, chicken or lean beef)
1 tablespoon Garlic powder & onion powder
1 teaspoon Paprika, pepper, salt, & ginger (ginger works well with chicken and turkey especially)
1 Tablespoon Red pepper flakes (if you like a little heat add more according to your taste buds.)
1 15oz can of black beans (low sodium)
1 10 oz can diced tomatoes (I like the ones with chilis)
2 cups of Vegetable stock (you can use any stock, I prefer veggie)
1 cup Quinoa
1 bag of spinach
1 large sweet potato
1 large avocado
Directions:
Rinse 1 cup of Quinoa and add to stock on stove, bring to a boil. Turn off the heat and cover. It takes longer to cook this way but it will never burn.
Rinse the sweet potato and bake at 425 degrees for 45 minutes or until soft. Let cool for 30 minutes.
Heat coconut oil (you can use any cooking oil, I love the nutty flavor this oil brings) in a pan and add ground meat. Add the seasonings and cook until done. Add the can of beans and tomatoes and let simmer for 20 minutes until warm and seasoned.
Assemble bowl – quinoa first, then a handful of spinach, then meat mixture and top with sliced sweet potatoes or sliced avocados ( or both! who am I to tell you which fat to prefer, live your life!)
Enjoy!!!!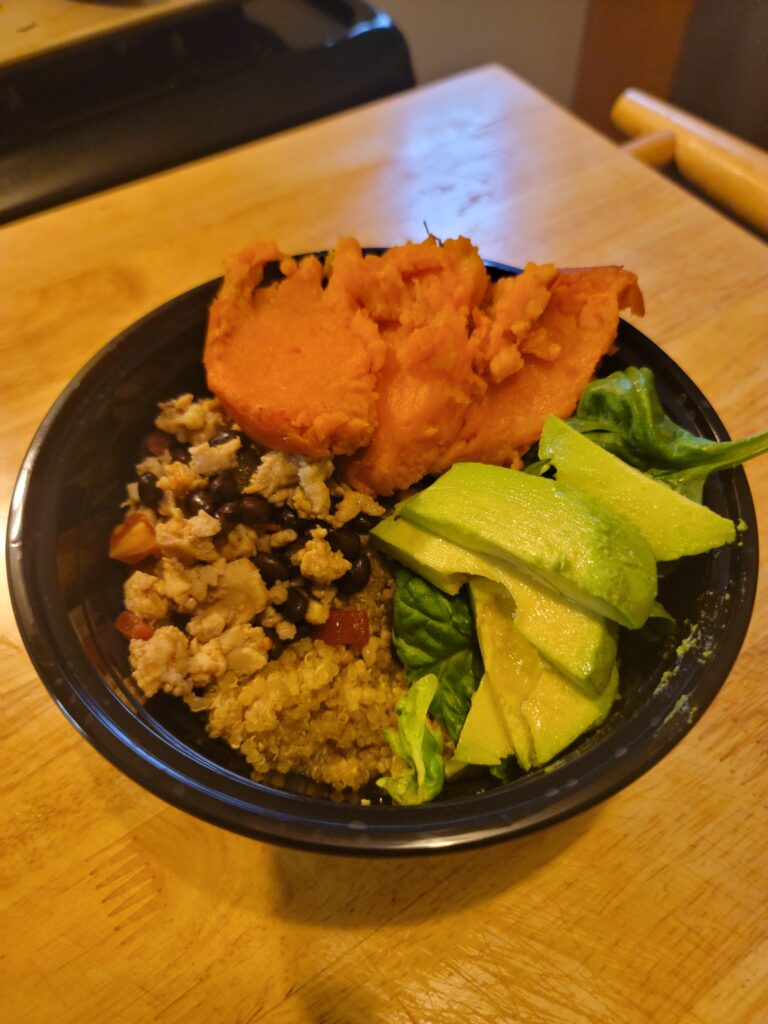 Keep up with Derrick Jones on social media.