Drag Race's Kelly Mantle makes 'A Lasting First Impression' in new film
Drag performer Kelly Mantle shines in a powerfully gripping short film that introduces Queer actor Qya Cristal.
A Lasting First Impression stars Kelly Mantle as Charleigh, a cabaret performer on a journey to self-acceptance and love after being disowned and rejected by her parents and brother, David, for being a drag queen.  When David is killed in an alleyway, his wife is given his cracked cell phone where she discovers texts between her husband and another woman.  Assuming the messages are from her dead husband's mistress, she confronts Charleigh at her place of work, a drag show palace.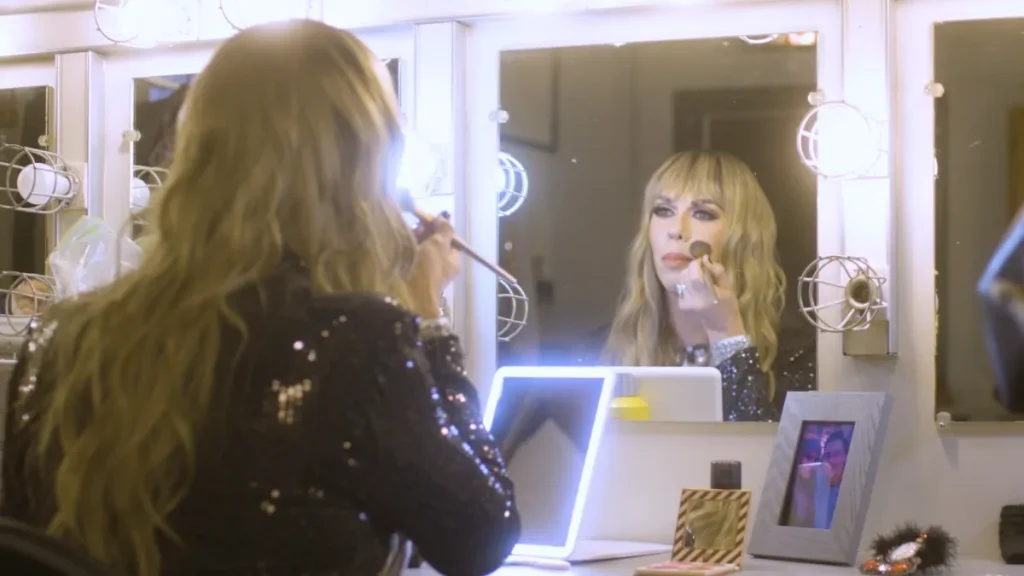 Thus begins a comedy of mistaken identity that would be hilarious if it weren't for all the pent-up emotions from a traumatic past that both women are forced to confront in their fateful meeting.  "It was refreshing to receive a script with a role for a drag queen that was three-dimensional with depth and humor and a character arc," explains Kelly Mantle, best known for competing on RuPaul's Drag Race and making Oscar history as the first openly non-binary person ever to be considered by The Academy for both Supporting Actor and Supporting Actress for their role in the feature film, Confessions of A Womanizer. "Most scripts I receive call for cliché drag queen roles but Charleigh was so authentic and real."
"It was important to cast authentic drag queens in A Lasting First Impression," says screenplay writer, Kayla Romanowski. "We weren't looking for actors to make caricatures of the community. We wanted talent who could bring their own personal experiences into the roles."
Queer actor Qya Cristal, who makes their lead acting debut in the film playing Naomi, agrees. "These are characters that require actors to really sink their teeth into. The script dives deep into who they are, their relationships with each other, and how each strives to cope with loss. In the process of developing Naomi, I called upon my queer ancestors to help me deliver and I was inspired to make them proud."
A Lasting First Impression was shot in four days in various locations in Upstate New York including Albany, Glens Falls, Schenectady and East Greenbush. View the trailer for the film HERE.
"A Lasting First Impression explores important themes of family, death, man vs. society, and love," explains director Chris Gaunt, who also produced, executive produced, and cast the film. "Charleigh is a strong, independent transgender drag performer, but she is desperate for the love and approval from her family. If, after years of treating her poorly, her brother can learn to love the person she is, maybe there is hope for society as a whole."
"We've come a long way in the fight for LGBTQ+ rights but there is still too much violence and hate directed towards the community, especially toward transgender individuals," Gaunt continues.
Mantle agrees. "In these post-Trumpultuous times, we're seeing an onslaught of legislation being created by conservatives in the GOP targeting the basic human rights of LGBTQ folks. It's important for our stories to be told, our voices to be heard and for our art to be seen."
Kelly Mantle shows off their impressive musical chops in A Lasting First Impression.  They sing "Equality," an original song they wrote.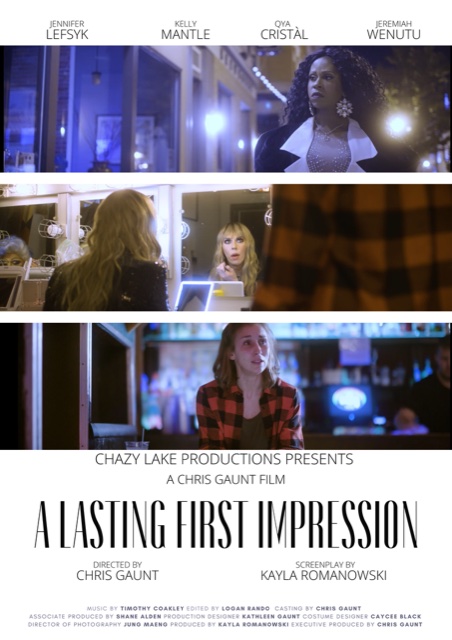 Jennifer Lefsyk plays the role of David's widow who is forced to confront a series of complex emotions beginning with the death of her husband and the real possibility he has been unfaithful in their marriage. "There is so much for Jennifer's character to process in the film," Romanowski attests. "Jennifer expertly portrays the widow's misguided anger and her mixture of emotions after all of the secrets are revealed."
"What I hope viewers take away from the film is that we never know much time we have left to right our wrongs," says Qya Cristal. "The best we can do is to acknowledge past mistakes and work toward mending relationships with loved ones while we can."
"And to our LGBTQ+ family," adds Mantle, "I hope A Lasting First Impression serves as a reminder that in the face of adversity, we must keep resisting, fighting, creating art, and finding strength in our community."