Drag queens and spirits — Chicago Gay Men's Chorus fiercely updates Holiday classic!
Chicago Gay Men's Chorus (CGMC) is serving us queer spirits and drag queens in their updated version of Charles Dickens' A Christmas Carol!
The new and original version of the Dickens' classic, entitled A Christmas Carol: Haunted Homo Holiday, features original music by CGMC Artistic Director James Morehead and book and lyrics by Ashlee Hardgrave. The updated LGBTQ+ journey through a seasonal favorite will also feature over 50 performers, and is sure to delight! The show will be presented virtually only December 4-6, 2020 with a special holiday singalong taking place directly after each performance. Tickets and more information can be found online at cgmc.org/holiday.
This world premier adaptation follows the beary grumpy Ebenezer Scrooge through his journey to kindness and enlightenment with three colorful spirits. "In our version, our spirits are very secure in their sexualities and gender identities," said Morehead.
"Why can't the Ghosts of Holidays Past be a drag queen?" In this version the Cratchits are a chosen family that support one another through tough times. Morehead has a bit of a problem with how easily Scrooge changes his mind when faced with death. "Our spirits give him a little more run for his money, every pun intended, and urge him to commit to doing the work."
The show's music is completely original and was composed by Morehead with Hardgrave writing the book and lyrics. The duo worked through the original Dickens premise and decided what should stay and go.
"We discovered interesting ways to open characters up to options of sexual orientation and gender identity," said Morehead. The show's tunes are pop and musical theatre influenced with a sultry ghost number and a folk family number. A Christmas Carol: Haunted Homo Holiday begins with an original windertide carol and ends with a ballad that encourages all of us to be and do better.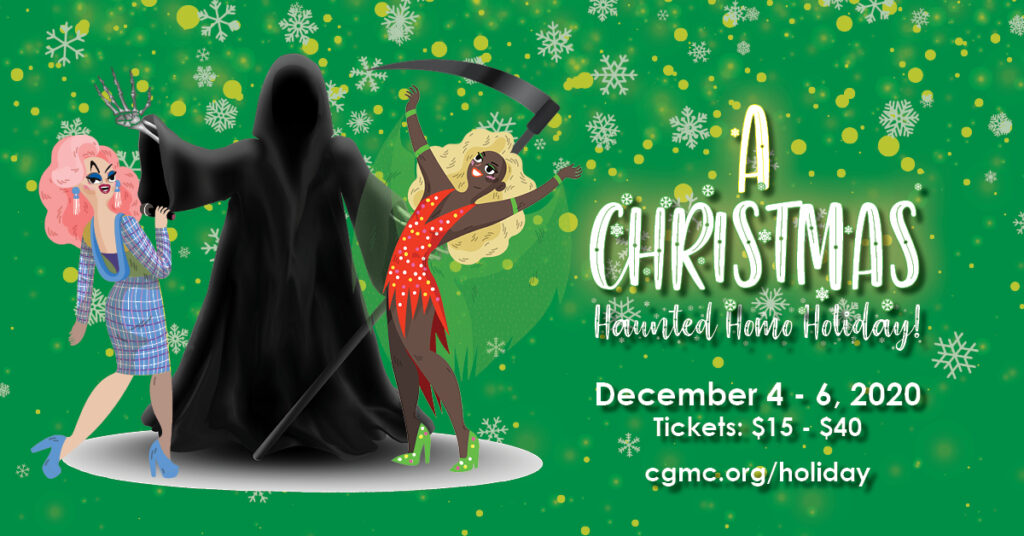 The Chorus continues to fight against COVID-19 and bring fabulous holiday performances to our audience and beyond. Morehead and Hardgrave kept in mind how much time and energy everyone is spending on a screen nowadays while penning the show. Audiences will not have to worry about sitting in front of a screen for too long. An editing team of six are helping to put the performances together. The cast has been working hard to rehearse, record, and perform.
"It's very humbling to record yourself and submit files, and I applaud all the singers of CGMC for their extra work and perseverance," said Morehead. CGMC is embracing all things that benefit an online presentation, so get ready for some fun virtual backgrounds, scenes, and a new and exciting audience chat feature during the performances.
A Christmas Carol: Haunted Homo Holiday is an exciting adventure that aims to get you in the holiday mood. It is certainly tough out there right now, but please join Chicago Gay Men's Chorus for a few laughs and maybe even a special tune at the singalong directly following each performance.

Performances will take place virtually on December 4 and 5 at 8:00 PM CST, and December 6 at 3:00 PM CST. Tickets range from $15 – $40, with an additional per ticket fee. Only one (1) viewing ticket per device, per household. Additional tickets must be purchased separately.
Patrons will receive a specialized link to view the performance at their selected date and time. All sales are final – no refunds or exchanges.
For more information and to purchase tickets, please visit cgmc.org/holiday.
Follow CGMC on Facebook, Twitter, Instagram and YouTube.