Drag Queen Nan Tuckette Brings Comedy, Beauty, and Business all to the Table
Nan Tuckette is a drag queen that brings comedy, beauty, and business all to the table, and if you haven't seen her on the internet yet, I think it's time for an introduction.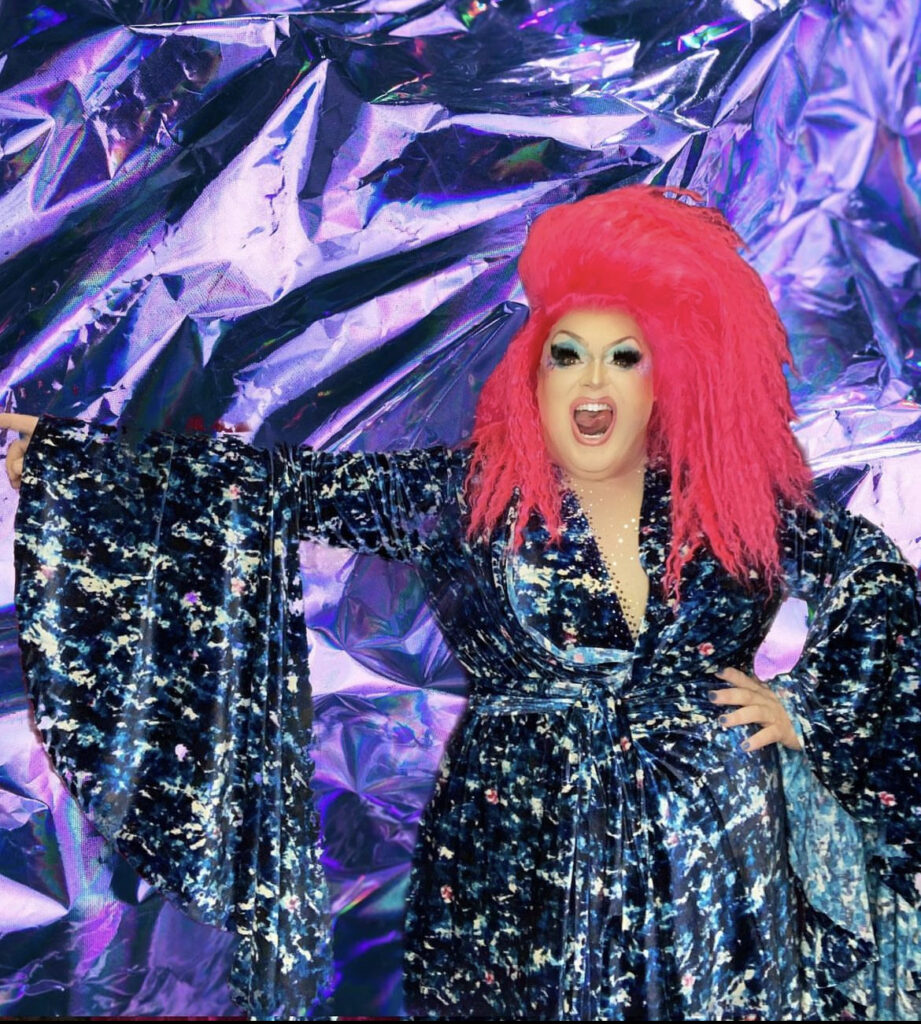 Nan Tuckette is a comedian, drag queen, internet menace, and quadruple threat (as in she can threaten you in multiple avenues) that is seeking to spread her specific brand of delusion around the world!
As a drag artist, she became popular on TIkTok during the pandemic, and uses social media as a means of marketing both herself and her production studio, Butch Kweens, which is comprised of a drag studio that makes wigs, accessories, and costumes, as well as Wear Butch Kweens, a niche swimwear brand.
You can find her online or potentially in your local jail if someone has managed to apprehend her since she loves jewel heists.
She is an Aquarius.
I met her back in 2019 at Drag Con in NYC where she had a booth set up for her business Butch Kweens, where I was greeted with big smiles and colorfully bright and large wigs that were selling off the models as we spoke. Ever since we connected there, I've followed her on social media, notably Tik Tok, where I've seen her hilarious content that garners not just my attention, but millions of other viewers as well.
Check out some of her content below:
I had the privilege of speaking with Nan Tuckette about her drag, her content on Tik Tok, and more, check it out below!
Bryce Quartz: Hey Nan Tuckette, how are you doing today?
Nan Tuckette: Attempting to thrive under capitalism which means I'm suffering but still so pretty. Look at my jewels!
BQ: How long have you been doing drag?
NT: By now, just about 12 years. I should retire but I still want to be on TV so badly!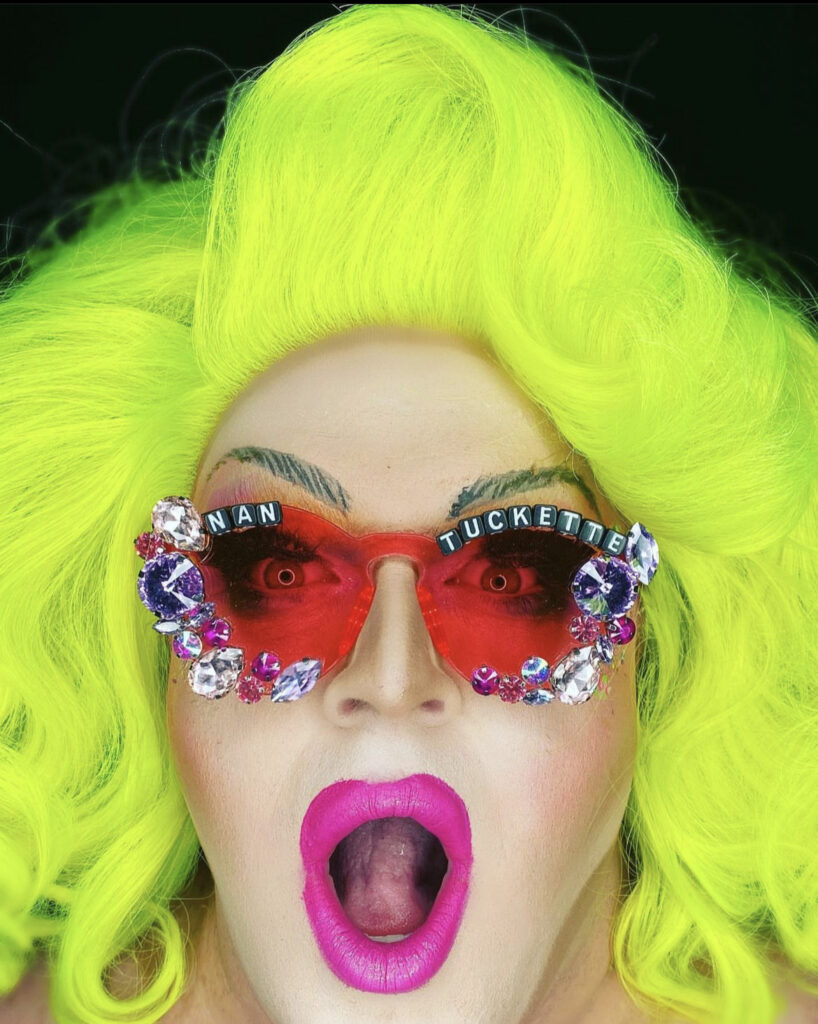 BQ: What does drag mean to you personally?
NT: Drag is my way to express myself in the ways that I couldn't as an actor. I write the jokes, I make the mixes, I make the costumes and wigs- it allows me explore tons of avenues of creation to piece together my shows. It's my ultimate expression of self. Also, free vodka sodas.
BQ: I love your Tik Tok content and so do thousands of others. Can you tell us when and why you started making content on there?
NT: Thank you! Honestly, I had a few people from TikTok ask me about joining the platform after meeting me at DragCon NYC in 2019. I finally caved when I lost my job in tech in the pandemic, and I figured it would be cool to show people how I do drag. When it really took off is when I stopped pretending to be Nina West and started being the horrible witch that I am.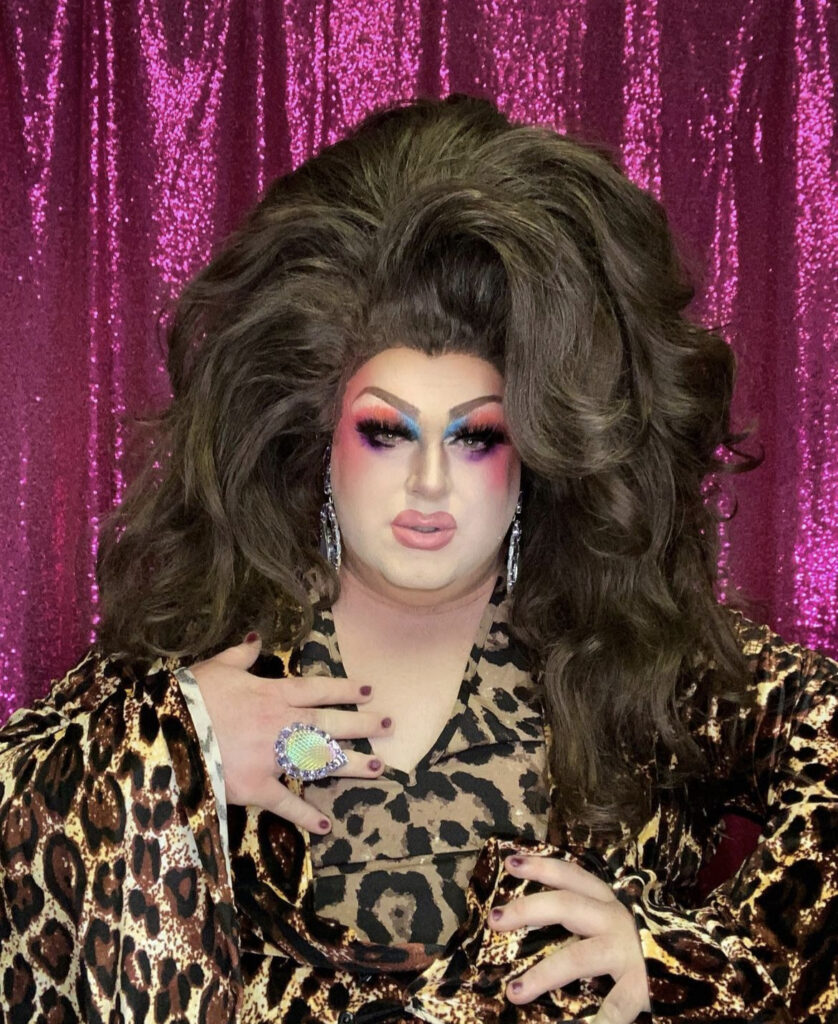 BQ: What has the reception been like to your content? Have you experienced any hate?
NT: I try to sort of be neutral on TikTok and just try to make people laugh. Thankfully, most people get what I'm doing and can enjoy it- anyone can find drag fun and funny. That being said, I get a ton of homophobia aimed at me, even more so since conservatives decided that Drag Queens are public enemy number one. People who couldn't have cared less about drag are now suddenly "crusaders for good" and trying to have us banned. Spoiler alert: calling me names or hurling homophobic insults doesn't upset me. Me reading you for filth in return, however? That's going to sting. Spoiler Alert 2: Drag Queens might have to go a bit underground for now, but at the end of the world, it'll be us and Cher left.
BQ: I met you at Drag Con NYC back in 2019 where you had a booth set up selling amazing wigs among other things. How did you get started with your business?
NT: Yes you did! That weekend was truly so great, and I hope DragCon returns to the east coast, even if not in NYC! My wig business started when I was an actor and wanted something to pay the bills that wasn't waiting tables (I am nowhere near friendly enough). I always liked that wigs helped me "get in character" for shows, and I learned that knowing how to do hair is lucrative in drag, so it was a means to an end turned into a small business. Since losing my tech job, it has become my full time gig, and I love it. I get to make cool shit for cool people, and it really does genuinely spark joy for me to see people wearing my stuff!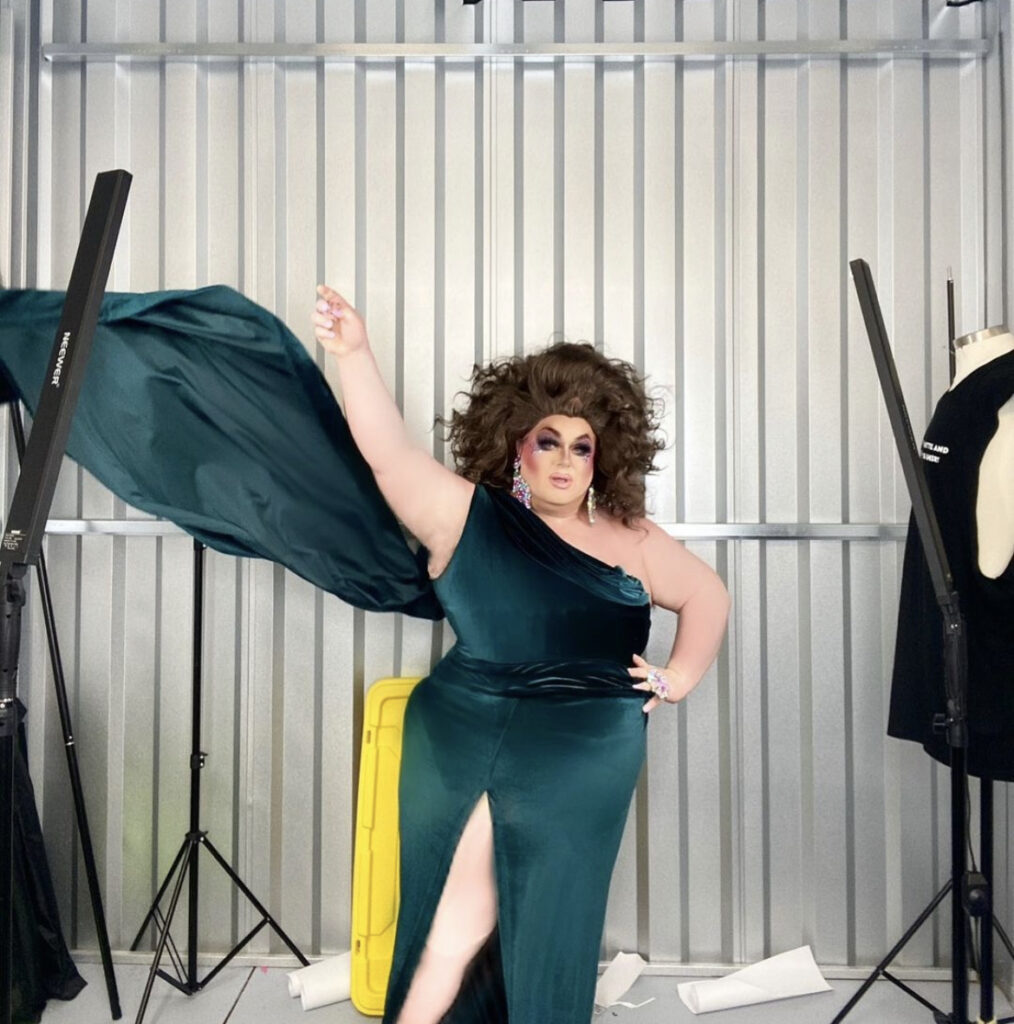 BQ: What is your favorite wig you've ever made?
NT: Oh my favorite wig I've ever made is the most viral wig in the world! The absolutely lovely Scarlet Envy called me as I was driving home from an audition (your loss, Virgin Voyages) and asked if I could get her something made and sent to LA in about 48 hours, so I crafted a slightly smaller version of my signature hair. Little did I know she'd be wearing that very wig when she went super viral with her "Is it me?! Am I the drama?! I don't think I'm the drama." moment. I don't think she knows how absolutely huge that was for me. I owe her a lot!
BQ: When someone watches you perform, what is one thing you want them to take away from your performance?
NT: I want them to be a little scared, a little turned on, and also wondering where their credit card went. Surprise! I am a very powerful witch and I've already stolen your identity!
BQ: What can we expect next from you?
NT: Those who know me well know that I'm not exactly shy about wanting to have a larger platform. So, I'm going to continue writing and producing shows, making ridiculous content on the internet, and grinding until they put me on "the show" or give me a show where I sort of travel the country in a luxury RV and do home renovations but it's sort of just me pointing at things and saying "no". Like Trixie Motel but nowhere near as likeable!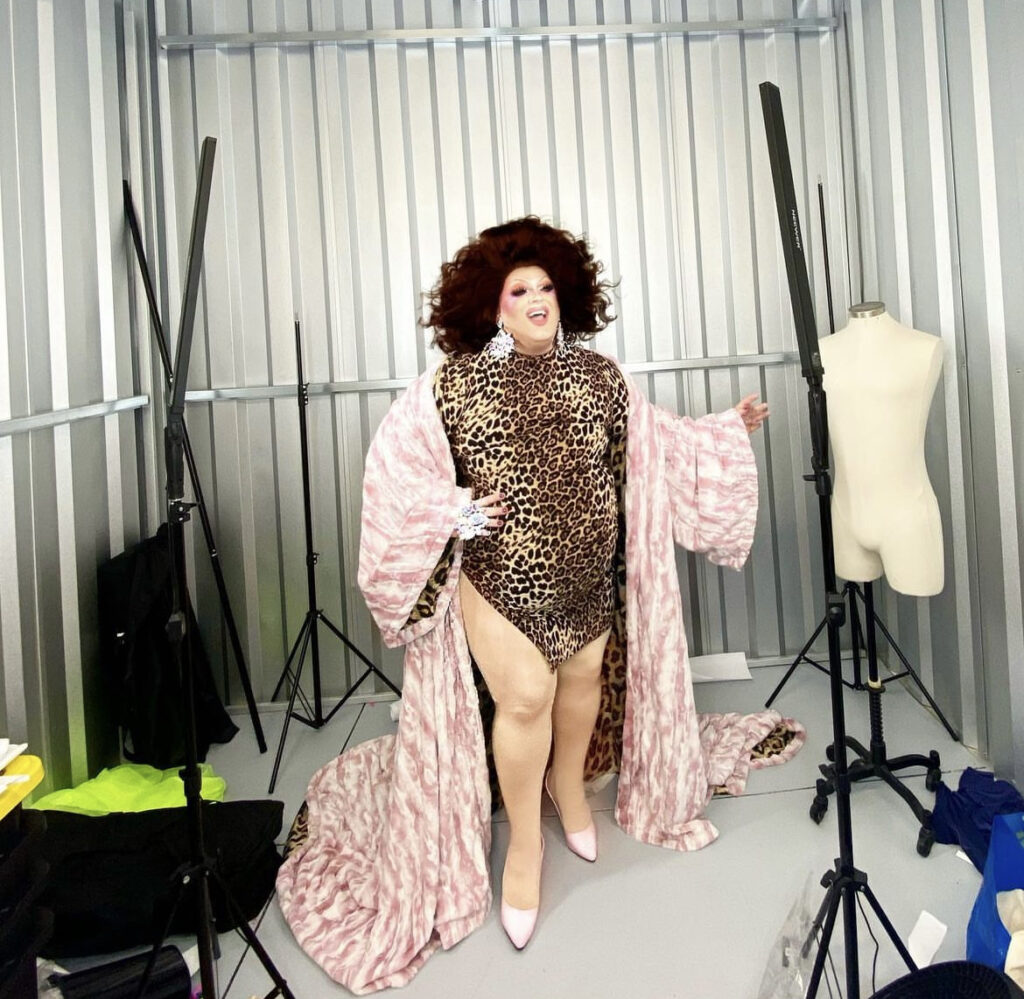 BQ: Are there any other tik tok creators or queer musicians you'd like to shout out?
NT: Bryce Quartz, of course. She's the Beyonce of sluts. Also, I love any gay beefcake making thirsty tiktoks. You're truly doing the lord's work. And above all others- me. I'm a drag queen. I am clinically obsessed with myself. Okay bye! I have to go let my subs out. Someone has to clean the manse.
Thank you for taking the time to speak with me, Nan Tuckette!
Be sure to follow Nan Tuckette across social media to keep up with her antics online in drag, and follow her business Butch Kweens on social media too!
Nan Tuckette
Butch Kweens