Don't miss Tammie Brown's Halloween Spooktacular!
Tammie Brown and Kelly Mantle are set to return to OUTtv with their brand-new holiday special, Tammie Brown's Halloween Spooktacular.
Premiering October 21 and streaming throughout the Trick-or-Treat season, the show stars everyone's favorite comedic drag duo as they fight ghouls, goblins, and crazed fans to keep their Halloween Spooktacular afloat. The hilarious hour of comedy and hijinks includes negligent bodyguards, botched fashion shows, and meet-and-greets gone wrong. Luckily, Kelly Mantle is there to take matters into her own hands… so what could go wrong? Tammie Brown's Halloween Spooktacular features two new singles by Tammie Brown, "Soothsayer" and "Pumpkin Blaster," and guest star appearances by Sonique Love, April Carrión, Fena Barbitall, Todd Glass, and the Sugarbaker Twins.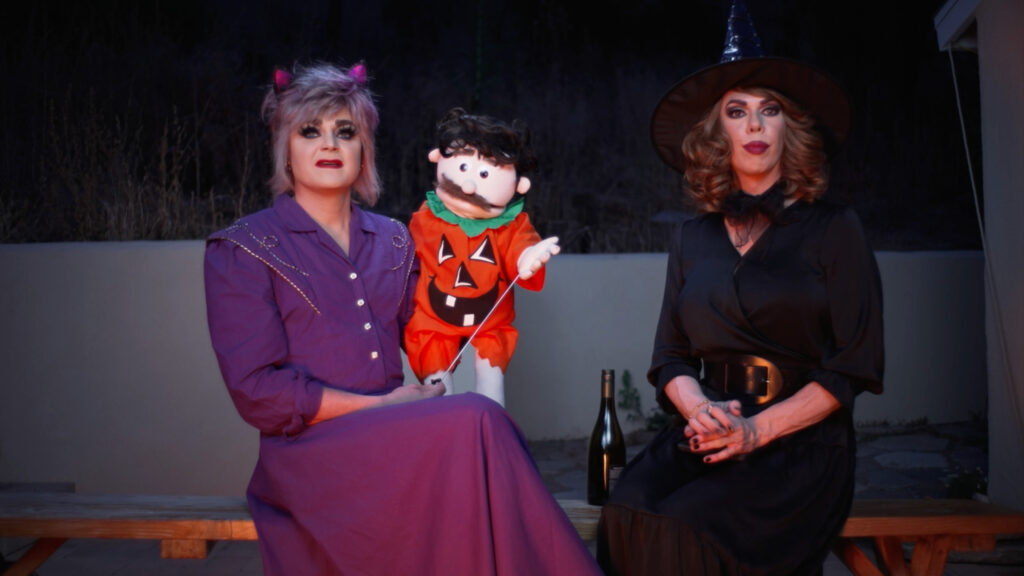 "I love the variety show format," says Brown, the drag persona created by Keith Glen Schubert who is best known for her stand-out appearances on RuPaul's Drag Race and RuPaul's Drag Race All-Stars. She has released four music albums including the popular hit singles, "Port-A-Potty Prostitute" and "Schubert," and regularly performs all over the world. "Tammie Brown's Halloween Spooktacular will introduce new music, hilarious sketches, and a myriad of dynamic guests. It will be a rip-roaring event," she promises.
Tammie Brown's Halloween Spooktacular also sees the return of Kelly Mantle's zany alter-ego, Sheila. "People love Sheila because she has no filter, no censor and no shame," Mantle explains. "She says what we're all thinking. She's bold and blunt, but it goes down smooth like a Pumpkin latte mixed with Southern Comfort."
Kelly Mantle made Oscar history by being the first openly non-binary person to be approved and considered by The Academy for both Supporting Actor and Supporting Actress for their role in the feature film, Confessions of A Womanizer. Mantle is a graduate of Second City in Chicago and has appeared on television in RuPaul's Drag Race, Lucifer, Modern Family and Mike & Molly, among others. Their uncle is the late great Mickey Mantle.
Tammie Brown's Halloween Spooktacular is directed by John Mark, who also created Tammie Brown and Kelly Mantle's half-hour comedy series, The Browns, available on OUTtv.
Tammie Brown's Halloween Spooktacular will be available to stream OUTtv.com and on AppleTV+ via the OUTtv Channel on October 21.
This article was originally published on our sister site, Queer Forty.