Do We Still Need Gay Bars? Bear Author Greggor Mattson Weighs In
Almost half of gay bars closed in the last 20 years. The story goes that increasing mainstream acceptance of LGBTQ+ people, plus dating apps have rendered these spaces obsolete. Beyond that, rampant gentrification in big cities has pushed gay bars out of the neighborhoods they helped make hip. The new book Who Needs Gay Bars? Bar-Hopping Through America's Endangered LGBTQ+ Places by Sociology Professor and fellow bear Greggor Mattson, considers these narratives; and tries to answer the question by not considering whether these spaces are needed, but whom needs them most.
Jarred by the closing of his favorite watering hole in Cleveland, Ohio, Mattson embarked on a 10,000-mile journey across 39 states to paint a complex picture of the cultural significance of these spaces. No longer the only places for their patrons to socialize openly, he finds in them instead a continuously evolving symbol; a physical place for feeling and challenging the beating pulse of sexual progress. These are places of celebration, where the next drag superstar may be discovered in unlikely places. But they are also fraught grounds for confronting the racial and gender politics within and without the LGBTQ+ community.
After reading discovering the premise of the book and reading an excerpt pertaining to bear bars, I sat down with author Greggor Mattson for the illuminating conversation presented below.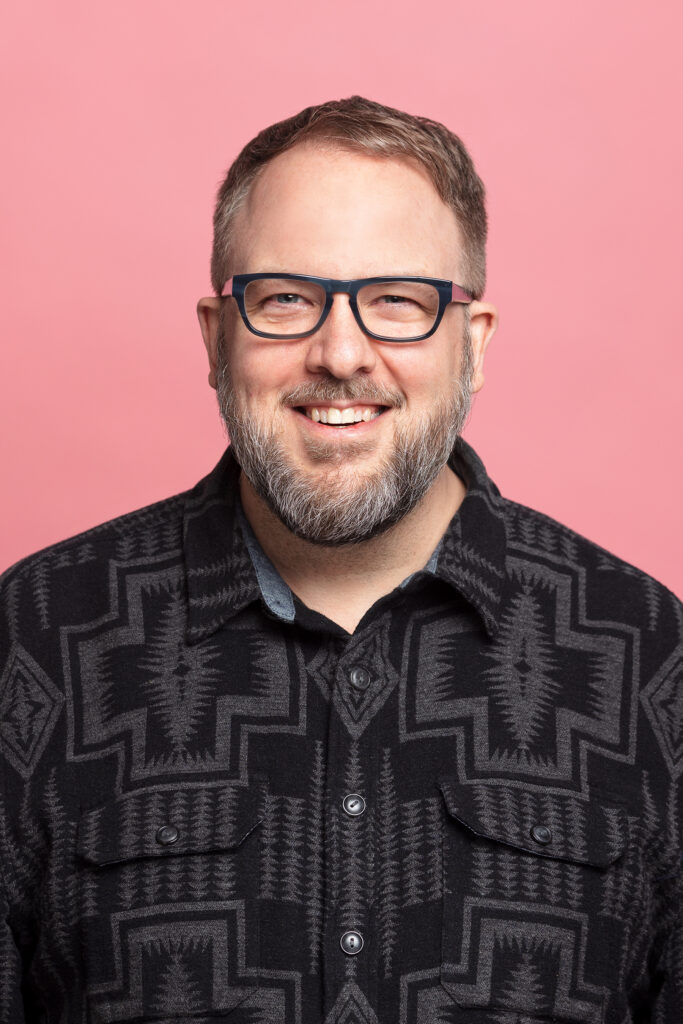 John Hernandez (JH): Hi Greggor! After writing the book and crisscrossing the country….what groups of people within the LGBTQ+ community have you found to need queers spaces the most? And who appears to utilize them the most?
Greggor Mattson (GM): Gay bars are incredibly local. One owner would tell me, "thank goodness for the young folks, older folks don't go out anymore." But then I'd drive three hours down the road and another owner would claim that it was the older folks who were keeping the business open and that young folks were all online. Sometimes friends will tell me "gay bars are a young person's game," but I'd be in bars at happy hour and queer elders would be holding down the bar.
I get suspicious when anyone says "we don't need gay bars anymore." Who is this "we"? We LGBTQ+ people are so vastly diverse, and so deep, it's just not possible for there to be a one-size-fits-all solution. It often seems the people who say "we" don't need gay bars are white cisgender men, which is a privilege, it seems to me, to move through the world with such safety and assuredness.
Other people who want and need a sense of community need something, and in most parts of the country, the only public LGBTQ+ place is a bar. That has pluses and minuses. Pluses: they're fun spaces and we live in a world that has too little queer joy, but they're not accessible to queer young people, to people with substance use issues, or many queer people with disabilities or anxiety. Sometimes the people who need them the most can't access them.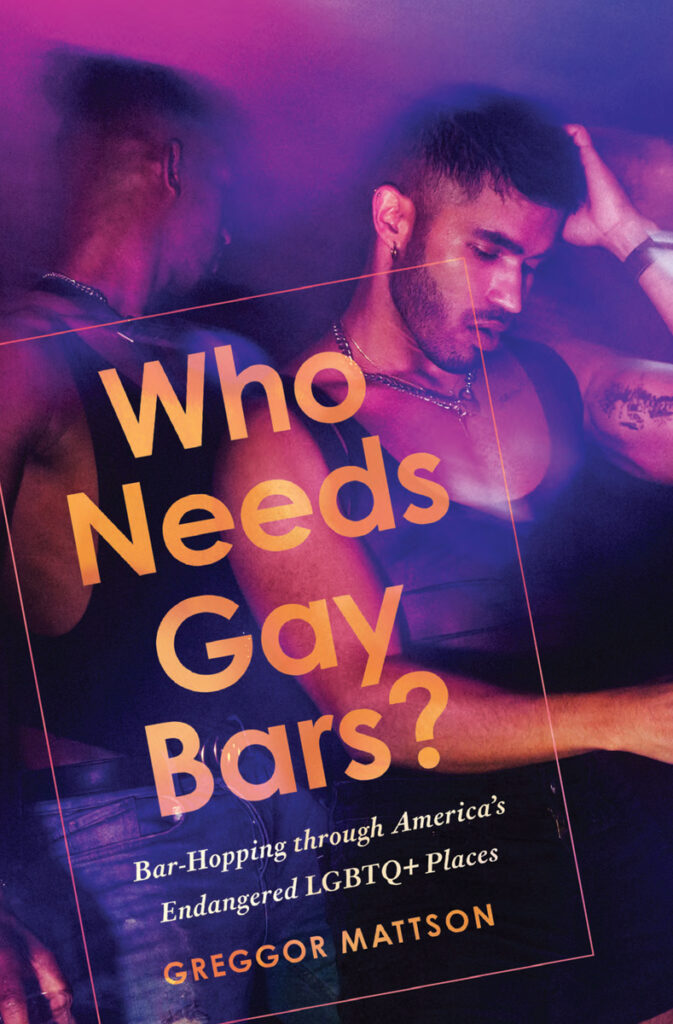 JH: I've previously done features on The Lesbian Bar Project for our sister publication  Vacationer, and they found that there were only twenty-odd lesbian bars left in the United States. Did your research examine queer women's spaces as well?
GM: Absolutely. Six of the chapters profile lesbian bars – each chapter is one bar in a different city about one issue facing LGBTQ+ people and our spaces. I was cautious about approaching lesbian bars because I didn't want to intrude.
I remember when I was a college student in the 90s, to go to Hung Jury in Washington D.C. a guy had to be accompanied by a woman. One solution for my research was I employed a queer femme assistant to approach women's bars, but I needn't have worried. All the lesbian bars that I know of are all-gender bars. Lesbian bars embraced transgender and gender nonbinary folks more intentionally and earlier than many other LGBTQ+ places, and all of them embrace straight cisgender people as well, particularly women, but also men.
To people who are concerned that their queer spaces are "invaded" by straight people, I say look to lesbian bars. They have found a way to nurture and support the women's community and transgender and gender nonbinary people without excluding anyone. I found myself in the lesbian bar of Philadelphia, Toasted Walnut. I went because at the time it was novel that a lesbian bar would be showing RuPaul's Drag Race some lesbians have pointed out that drag queens can be misogynist, even as many drag queens are women. But that night, as I looked around, I saw women and femmes sitting at the prized seats by the bar, trans masc people standing behind them, and against the wall in the back, me and the other cisgender gay guys. Without anyone asking, we had arranged ourselves so that women were first, but we all had a great time. It can be done, having a place open to all but that supports a certain part of the community, and we as individual bar patrons can do it!
In many ways, lesbian bars have faced the same challenges as cruisy men's bars, including bear bars. There has been a dramatic decline in gender segregation over the last 30 years. Now, the most common type of gay bar is one that is open to men and women, and increasingly, to all genders. And there's good news for lesbian bars, too. In the last 2-3 years, they have nearly doubled in number, to 28 now, I think. Bear bars and other cruisy men's bars have been on the decline. But we can still have pop-up bear parties, and I hope that if readers of the book look around and don't see what they need in the bars near them, that they're inspired to go out and start something.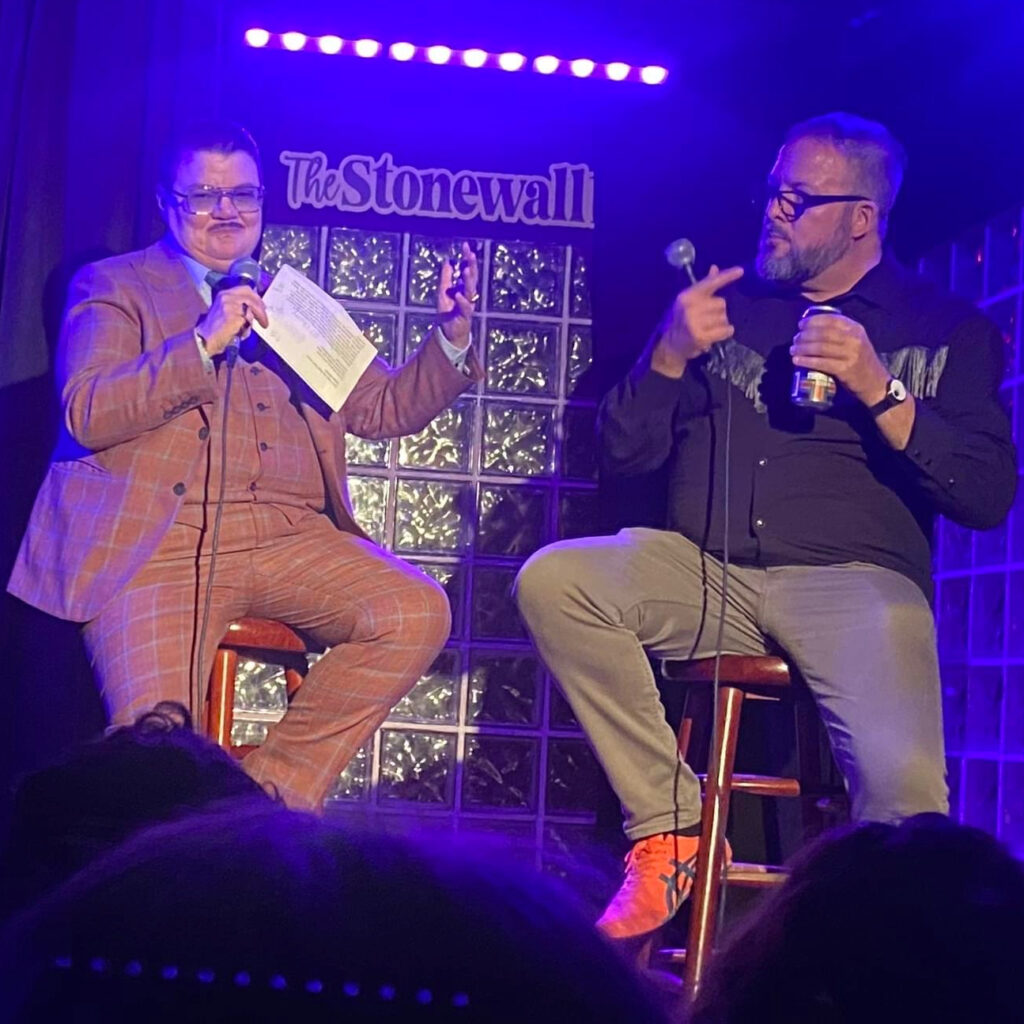 JH: The chapter on Denver's bear bar The Wrangler was quite disturbing with respect to their efforts to keep out drag queens, effeminate gay men and thereby, trans people. It's the antithesis of what we stand for at Bear World Magazine. Do you find this kind of behavior common across bear spaces? Or do you think Wrangler was a product of its time? Are there spaces you're familiar with that get it right?
GM: I think the kind of egregious transphobia and femme-shaming is on the decline, but it's not gone. I love a bear bar – it's where I feel most comfortable. But, I like going with friends, and some of my friends who are slim or femme have been treated very poorly at bear bars and won't go with me, literally out of fear. My partner is slimmer and guys have literally pushed him out of the way to come rub my belly. Not cute. And for that I don't blame the bar – I blame us who are in the bars.
I understand the desire to want a men's space that celebrates men's bodies. But bear bars have a real opportunity to celebrate bigger bodies of all kinds, and there are transgender and gender nonbinary bears. It's fine if you're not attracted to someone. Smile, thank them, and keep it moving. Big guys can have big hearts and there's enough love to go around. The bear bar that's now in Denver, Denver Sweet, has the tagline "the bears you want to party with." That's inclusive while signaling who the place is supporting. That seems smart to me.
JH: Did you always identify with the bear community? What led you to it and when?
GM: I didn't always… I was slim and scruffy but never really an otter when I was younger. I gained a lot of weight on a cocktail of antidepressants, and I lazily let my 90s chinstrap beard grow into a full beard and suddenly hot bears started giving me the time. Bears found me. At the time I was living in the Bay Area, so I'd occasionally take the bus to the Lone Star for beer busts, and those were very welcoming to me. My most memorable bear moment was marching with the bear contingent at Helsinki Pride alongside a giant bear flag some guys had brought from Sweden. So yeah, I identify.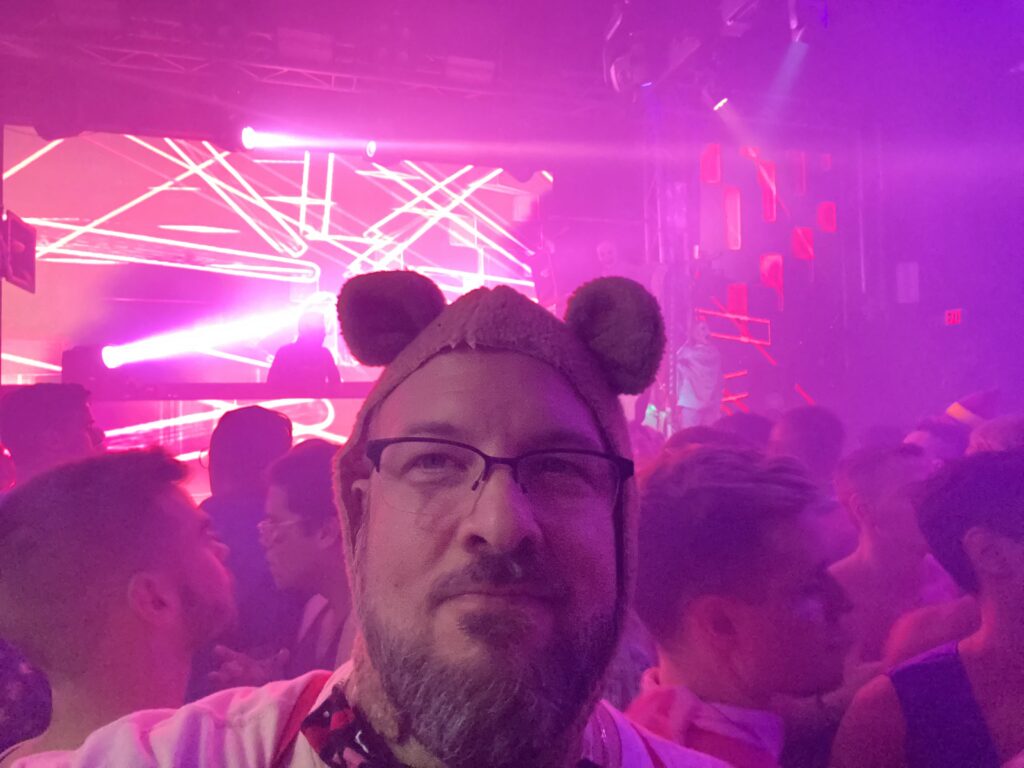 JH: Do you personally still see the value in having gay bars? Why or why not?
GM: Yes, I do. But I also have to be honest with myself: I don't go out that much anymore – more on vacation, or special occasions. I'm mostly at the local gay-friendly pub in my small town. I write about it in the book: what does it mean about the good memories I've made in gay bars that I don't go make more of them now? But I think it's fine not to need gay bars at a certain time in your life. I reserve the right to be one of those retirees at the end of the bar sharing my stories with the youth and reminiscing about the 90s or arguing over why Kylie is better than Madonna. But I get really irritated by people who say "I don't need gay bars, so nobody should need them." Don't tell me what to want. You do you. I'm queer. I want it all.
JH: How do you think gay bars help or hindered your socialization as a gay man?
GM: I learned how to flirt from a lesbian bartender at the White Horse in Oakland. She would slide a napkin over to you and look deep in your eyes and ask you "what would you like?" For those moments you felt like the only person in the bar. I learned that you could make someone feel special with eye contact. That knowledge served me well over the years. I'm also kind of a wallflower who likes people watching. I like seeing all the different ways to be gay. Your way might not be my way, but if you're not hurting anybody, I'm a fan.
Most of us aren't raised in LGBTQ+ families so we have to find our own way, and we need role models. When we're out, we are role models for someone. I'm still learning. One of the things I write about is how it had never occurred to me, until my students pointed it out, that I had the right not to have my nipples tweaked by strangers. I always just took it at bars as something I had to put up with, even if it hurt or felt gross. Now I have better boundaries. Was that hindered by the bar, or by me, or the times? I don't know. But my socialization hasn't stopped. I'm still growing, and I want a bar to be there for when I need inspiration. So even now, I need gay bars, at least sometimes.
---
Get your copy of Who Needs Gay Bars? Bar-Hopping Through America's Endangered LGBTQ+ Places by Greggor Mattson from all fine indie and online booksellers or buy directly from Stanford University Press using code MATTSON20 for 20% off.